Motion Sensor Toilet Bowl Light
Now Going To The Bathroom Is Taken To The Next Level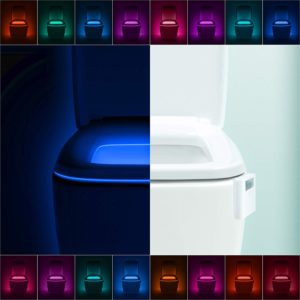 It is not unusual that many people experience, in the middle of the night, having to go to the bathroom. Your challenge is trying to get into the bathroom without waking others up and turning on the bathroom light to see. In the process, your spouse may have awoken or your kids and now both or all of you will not get a full night of sleep. Now, you can use the motion sensor toilet bowl light to use when waking up in the middle of the night to go to the bathroom with one of sixteen different LED lights glowing in the toilet bowl. The motion sensor light illuminates the toilet bowl so you don't have to turn on the bathroom light that may wake up your spouse or kids.
On top of that, you have the option of allowing the unit to carousal through each of the 16 colors every 4 seconds or selecting one color from the sixteen that it will always come on when motion is detected.
The light will turn off automatically when you leave the bathroom or room where you have placed the light to monitor movement. It will also turn off when you turn on the bathroom light. It will also come on automatically when it detects any movement within 16 feet of the sensor. It is quite possible that you may notice the light coming on even when walking past the bathroom. If that is your situation and it bothers you, just keep the door to the bathroom closed so the light will not come on when anyone passes by the bathroom.
It has a flexible arm for you to place the unit just under the toilet lid and will fit all types of toilet bowls. To assist you in controlling the brightness of the glowing light, you can select from five different stage dimmer level options.
Besides all this, it comes with a lifetime warranty that if it should fail at any time you will be sent a new one absolutely free. Now, that is a pretty good warranty for such a low price!
We think that you will like this motion sensor toilet light.
This item also makes for a great gift for any occasion.
Video Toilet Sensor Light
To learn more about it and how it operates, take a look at the short video below. You get a good look on how the light sensor works.
Product Description
This product comes with sixteen different LED color lights that can be used as a carousal which scrolls through each color every 4 seconds, or as a fixed color light of your choice. The unit will come on when the sensor detects motion within 16 feet. It actually acts as a night light so you will not have to turn on the bathroom light to do your business. It turns off within 60 seconds after you leave the room or turn on the bathroom light. To control the brightness, you can choose from five different dimmer level settings. This light comes with a lifetime warranty that at any time it should fail, you will receive a new one absolutely free. This is a great deal because of the low cost of this product.
Product Specifications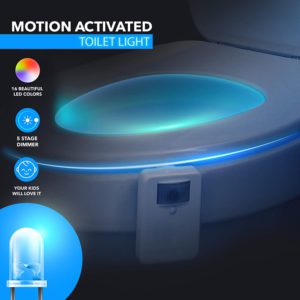 Manufacture: Lumilux Toilet Light
Model Number: SYNCHKG129977
ASIN: B01M2ZI34E
Product Dimensions: 3.5 x 2.37 x 0.75 inches
Weight: 0.64 ounces
Colors: 16 LED
Style: Modern
Material: Plastic
Power Source: 3 AA Batteries
Voltage: 4.5 volts
Wattage: 0.2 Watts
Bulb Type: LED
Batteries Included: No
Batteries Required: Yes
Battery Life: 1-3 Years (Depending upon the brightness and frequency of the settings used)
Flexible Arm: Yes
Brightness Levels: 5
Low Battery Indicator: Yes
Built-In Memory: Yes (unless batteries are removed)
Motion Detector: Yes, detects and senses body heat up to 18 feet away
Lifetime Warranty: Yes
In The Box: 1 LED Sensor Light, Instructions & Warranty
Product Pricing
The price of this sensor light is provided to consumers so they can compare them with other similar products.
Price: $15.95
Note: The price for this toilet sensor light is subject to change without notice and may not be the actual price at the time of checkout.
Product Rating & Customer Reviews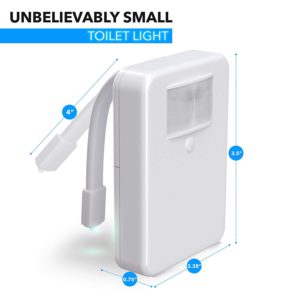 This product is rated 4.6 stars out of 5 by over 3,184 customers which is excellent. You can read all of these reviews about the product by clicking on the following link: Customer Reviews!
Questions People Are Asking
Below are some of the questions people are asking about this product.
Question: How long does the battery last?
Answer: The average battery life on the LumiLux Toilet Bowl Light is 1-3 years, depending on the brightness setting and frequency used.
Question: How close do you have to be to activate the light?
Answer: Approximately 4-5 feet. We have to close the door to that part of the bathroom just so it doesn't turn on when we are walking around in the other part of the bathroom! It's so cool!
Question: How many batteries does it take?
Answer: 3 AA batteries.
Question: How do I select level of brightness?
Answer: By pressing the selection button repeatedly, you can change the brightness level. I believe there are 5 levels.
Question: Is the cover plate made of glass or plastic?
Answer: It is made of plastic.
This product also has 232 answered questions and you can read them all by clicking on the following link: Answered Questions!
 PROS
The light comes on when it detects any motion and shuts off when it doesn't.

Users have the option to choose any of the 16 LED colors to light up the toilet bowl or be used as a carousal to scroll through all light colors every 4 seconds.

The arm is flexible to fit any size toilet bowl.

Select up to five different stage levels of brightness.

The unit comes with a lifetime warranty.
 CONS
Batteries not included.

Must purchase 3 AA batteries separately.

The LED light cannot be replaced if burned out or broken.
Shop Toilet Light
You can shop for this toilet light by clicking on the image below. You will be taken to Amazon where you can place the order.
As an Amazon associate, I earn from qualified purchases.
If you did not see your product here, enter a search term in the box below to search Amazon for other products.
Go back to the Pros Cons Shopping home page.