Making The Best Use of Time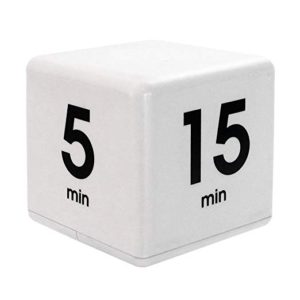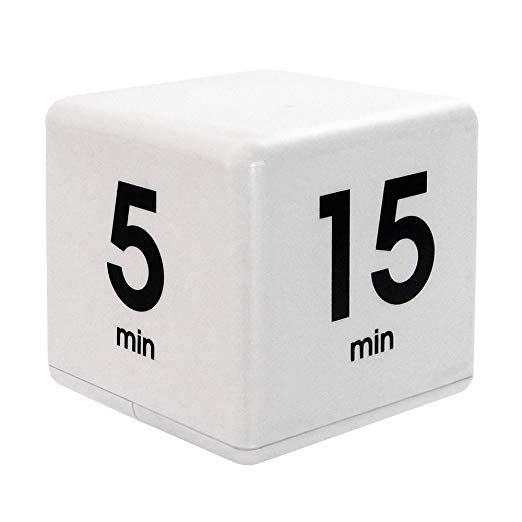 Many people realize that time is very important and we only have so much of it in a day to do our jobs, prepare meals, and kid's homework, etc. Time can be our worst enemy. The Miracle Timecube timer can help to control kids, cooking, reading, playing and watching TV. The white timer cube has four preset minutes' options (5, 15, 30, & 60) to choose from.
You just select the time you want and place the preset minute face showing up near you. This starts the timer to countdown. During this phase, a red light in the cube will be flashing indicating that the timer is active. You can see the digital countdown timer to determine how much time is left. When the timer reaches zero, it will beep. You have the option to have the beep sound on low or high. It will keep on beeping until you place the cube into the zero position. This would be the blank side of the cube.
Note: Some cube models have a zero printed on that side of the cube to inactivate the timer.
The cube will remain in the inactive mode until you flip it to a time you want. This can be for anything including cooking meals. As long as the timer need fits the preset timing options, you have no problem. Otherwise, you need to purchase other cubes that have the preset times you need.
Other timer preset cube minute options are listed below:
Purple: 5, 10, 20, 30
Blue: 1, 3, 5, 7
Yellow: 5, 10, 20, 45
Green: 1, 5, 10, 15
Red: 5, 10, 20, 25
The timer cube requires two (2) AAA batteries to operate. They are not included and must be purchased separately.
If you want to save using your iPhone for timing events, this cube fits the bill.
This product also makes for a great gift.
Product description 
Use the cube timer for timing kids doing homework, brushing teeth, taking a bath or shower, helping them to establish routines, and is a great kitchen timer too. The cube timer can be used to control business meetings, classroom lessons and a game timer. The cube can help people focus, maintaining productivity and a management tool as well. The list of uses of the cube timer is endless.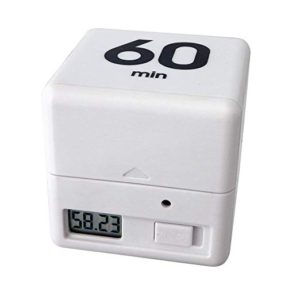 It's very easy to operate. Just flip the cube to the desired time and the countdown begins. A flashing light is seen to indicate the timer is active. You can view the LED digital readout for the remaining time left. When the timer clock reaches zero, it will beep. The beep sound has to settings high or low.
No buttons, switches, or dials are needed to operate this timer, just batteries. It is simple. Place it where you want to hear the beep sound indicating the timer has finished. To turn off the beeping sound, place the cube with the blank space face up. It's a great way to help family members to manage time.
The cube timer can be used for timing games as well as cooking meals. You will have lots of fun using the timer cube. To use the cube it requires 2 AAA batteries that are not included with the purchase.
Product Specifications
Manufacture: Datexx
Model No.: DF-33
ASIN: B0002U72LS
Dimensions: 2.4 x 2.4 x 2.4 inches
Weight: 4 ounces
Color: White
Timing Modes: 4
Preset Times: 5 min., 15 min., 30 min., & 60 min.
Power Source: 2 AAA Batteries (Not Included)
Countdown Digital Timer: Yes
LCD Light Flashes During Countdown: Yes
Alarm Goes Off When Time Has Ended: Yes
Splash Proof ABS Enclosure: Yes
LED Activated Time Indicator: Yes
Alarm Sound Options: 2 (High/Low)
Time Left Display: Yes
On/Off Modes: Yes
Product Cleaning: Yes, Using Soft Dry Cloth
Warranty: 1-Year from Date of Purchase
In The Box: Timer Cube & Instructions
Product Timer Information Tips
Below are some important tips to consider when using this timer cube.
Do not use any alcohol, benzene, or thinners to clean this timer cube.
Do not immerse the product in water or other liquids as it can cause damage to make it not functional.
Do not attempt to disassemble the product.
Do not toss the product cube into the fire.
About the product
Preset time includes, 5, 15, 30 and 60 minutes – available in other colors and time intervals.
No programming needed – simply flip the minute side up and the countdown starts.
Loud unmistakable alarm will ring when the countdown has finished.
Blinking red light indicates the timer is on, digital counter shows the time remaining.
Perfect as a kitchen timer, timer for kids, time management tool or office timer.
Requires 2 AAA batteries to operate.
Product Rating & Customer Reviews
This product timer cube is rated 4.1 stars out of 5 by over 1,220 customers which is very good. You can read all of the reviews about this product by clicking on the following link: Customer Reviews!
Questions People Are Asking About This Product
Below are some examples of the questions people are asking about this product.
Question: How loud is the beep?
Answer: It has a very distinct beep louder than our microwave or oven timer.
Question: It has an On Off switch. But if I just store it on zero, will the battery run down?
Answer: No. The battery will still last for a good while. I forget to turn my cube off all the time and I haven't changed my batteries yet.
Question: Is the cube waterproof?
Answer: No. It is not waterproof. It can stand up to some splashing from the kitchen sink.
Question: How durable is it? What if it drops (perhaps in a busy room with lots of hand preschoolers)?
Answer: Ours has dropped a few times and not broken yet and I've had it about 3 years now. The one time I thought it had broken it turned out to just be a low battery. The one thing I would say about using it in a busy class setting is that kids always want to pick it up and turn it around which means the timer will stop and you can't re-start it where you left off. It's happened to me more than once. The good part about it is that if you've got your hands full with little ones it only takes a split second to set.
Question: Does it make noise (like a ticking sound, etc) as it counts down the time?
Answer: It makes one beep when it begins to time, then it is totally quiet until it beeps to tell you the time is up. You can turn the battery off when you are not using the timer and it flashes a tiny red circle on the side of the time you selected while it is timing. The red light is not bothersome or really bright. It is quiet.
You can read all of the 79 answered questions about this product by clicking on the following link: Customer Questions & Answers!
PROS
Beeps when time has ended.
Beeping sound can be set to high or low.
Comes with four (4) preset times.
Blinking light indicates timer is active.
1-Year Warranty
 CONS
Not waterproof and cannot be inserted in water.
Batteries are not included.
It does not do seconds, only preset minute options.
Product made in China.
Shop Cube Timer
You can shop for this timer cube by clicking on the image or link below. You will be taken to Amazon where you can place the order for the blue, green or white cubes.
As an Amazon associate, I earn from qualified purchases.
Did not find what you were looking for? No problem. Enter a search term in the Amazon Box below to search on Amazon for other products.
Go back to the Pros Cons Shopping home page.