Keeping The Car Cleaned with Ease!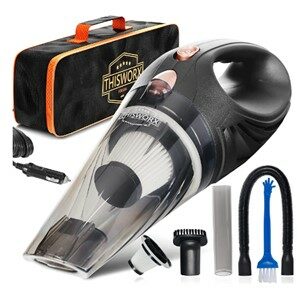 Introduction
Automobile owners experience times when the car gets dirty on the inside with pets and kids. A mini handheld car vacuum can come to the rescue. These car vacuums now come with a long cord or cordless to pick up any loose dirt and debris.
What is nice about these vacuums is they are lightweight and easy to use. Just plug the cord into the 12V cigarette lighter and vacuum away those dirty areas. Or use the cordless model with its rechargeable battery to get the job done.
These vacuums come with attachments that can reach into those hard to get at areas of the car. It has a long enough cord to reach the trunk and keep it clean as well.
It comes with a nice travel case that you can take along when going on a trip or a family vacation in your car or RV. Never leave home without it.
Video – Review of Thisworx Mini Car Vacuum
This an excellent review of the THISWORX mini handheld car vacuum. The review covers what is in the box and how to use the vacuum using all of the attachments.
Vacuum Features
Now, let's focus on some of the basic features of these vacuums. We will describe both the corded and cordless models.
Corded Vacuum Features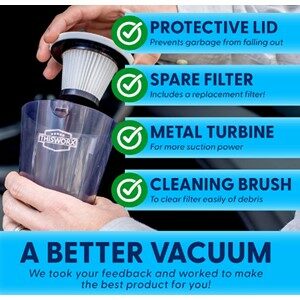 Watts: 106
Amps:8
Weighs:4 lbs.
Model: TWC-01
Flathead Hose
Extendable Tube
Brush Head Nozzle
Metal Turbine
Protective Lid
Cleaning Filter Brush
Carrying Bag
Spare HEPA Filter (Washable)
16' Power Cord (Plugs Into 12V Car Outlet)
Cordless Vacuum Features
Watts: 60
Amps:5
Volts: 12
Weight:5 lbs.
Flathead Hose
Extension Tube
Brush Head
Spare HEPA Filter (Washable)
Cleaning Filter Brush
Carrying Bag
Rechargeable Lithium Battery
Holds Charge: 18 Hours
Push Button Operation
Handles Wet or Dry Spills
Charging Cord (Uses Car 12V Outlet)
PROS
ThisWorx Mini Car Vacuum Filter Cleaner

Lightweight

3 attachments (flathead hose, extension tube, & brush head)
Uses 12V car outlet to operate (Cord Model)
Filter is washable
Filter cleaning brush
Spare filter
16' power cord
CONS
Difficulty in picking up wet spills
Will not clean beyond 16 feet
The motor must be on for the tool to operate
Conclusion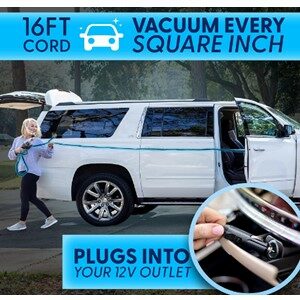 This lightweight car vacuum can do the job in cleaning those hard-to-reach areas of the car. It comes with three attachments that will help in cleaning up any loose dirt and debris. Pets and kids can get dirt and hair that can be found in those areas where it is hard to get at.
The corded model comes with a 16' cord so that it can clean the front and back of the car but also reach the trunk as well. The vacuum uses the cars 12V outlet to operate the tool. Remember, once the cord is plugged into the 12V outlet of the car, the motor must be running for the tool to operate. Be sure to have the car in the outside area and not in the garage when using the vacuum.
Because it is lightweight and easy to handle, it can be used by everyone without any problems.
Shop Handheld Mini Car Vacuum
Shop for the handheld mini car vacuum by clicking on the image below. You will be taken to Amazon where you can purchase the product. While there you can read the customer reviews and the answered questions.
There will be a link for the cordless model for your consideration.
As an Amazon associate, I earn from qualified purchases.
Corded Vacuum Model
Cordless Vacuum Model
Go back to the Pros Cons Shopping home page.