Marcato Atlas Pasta Machine
Make Your Own Great Tasting Homemade Pasta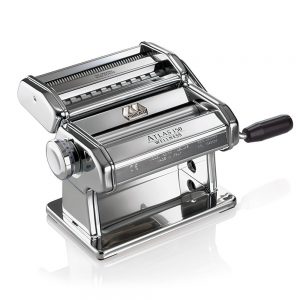 If you are an avid chef in the kitchen, making your own homemade pasta may just be the thing you would like to do but couldn't because you did not have a pasta making machine. Now you can, by using the actual machine that the chefs in Italy use and it's the Marcato Atlas Pasta Machine. Nothing tastes better than fresh homemade pasta and this machine will allow you to do just that. You are in complete control of how thin or thick you want the pasta to a minimum size of 0.6 millimeters to a maximum size thickness of 4.8 millimeters. The maximum width of the pasta is 150 millimeters.
The machine operates by hand with a manual crank. You have the option of ordering the pasta machine motor that attaches easily to the side and is sold separately. The video below shows how this attachment is added to the machine. You can also get other pasta attachments and they all are sold separately.
The machine is made of stainless steel and comes with a 10-year manufacturer's warranty.
Video
Look at the short video to see the unboxing and how the machine works.
What's In The Box
Pasta Machine
Clamp
Hand Crank
Pasta Cutter
Instructions
10-Year Warranty
Product Description
This is a stainless steel pasta making machine made in Italy. You can make pasta thin as 0.6 millimeters to 4.8 millimeters. It allows you to make three different pasta shapes lasagna, fettuccine, and tagliolini. It has an adjustment dial where you control the thickness of the pasta dough. By rolling your own dough the pasta cooks more evenly and absorbs more delicious sauce. The machine wipes clean with a dry brush or cloth after each use. It comes with a 10-year manufacturer's warranty.
BRAND:
Marcato
NAME:
Marcato Atlas Pasta Machine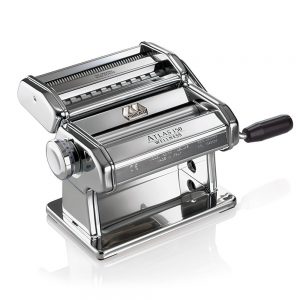 DESCRIPTION: The Marcato Atlas Pasta Machine makes great tasting Pasta that is better than store bought, and has the following features: Made in Italy, Material Stainless Steel, Makes 3 Pasta Shapes, 10-Year Warranty, Weighs 3 lbs., Model Number 8320.
CATEGORY: "Kitchen & Dining", "Kitchen Utensils & Gadgets", "Pasta & Pizza Tools"
PRODUCT #: B0009U5OSO
REVIEW RATING: 4.6 stars, based on 1,999 reviews
Product Specifications
Manufacture: Marcato
Model Number: 8320
ASIN: B0009U5OSO
Weight: 3 lbs.
Dimensions: 8 x 8 x 7 inches
Color: Silver
Product Material: Stainless Steel
Made: In Italy
Includes: Pasta Machine, Hand Crank, Cutter & Instructions
Warranty: 10-Year Manufacturer's Warranty
Product Pricing
The price for this product is provided so consumers can compare them with other similar products.
Machine Only Price: $72.20
Pasta Machine Motor Only: $133.00
Note: The price of these products are subject to change without notice and may not be the actual prices at the time of checkout.
Product Rating & Customer Reviews
This pasta machine is rated 4.5 stars out of 5, by over 2,064 customers which is excellent.
You can read all of the customer reviews about this product by clicking on the following link: Customer Reviews!
Questions People Are Asking About This Product
Below are just some of the questions people are asking about this product.
Question: Is there a website with instructions for the Marcato model 180?
Answer: The Marcato 180 is just a slightly wider version of the Wellness 150. The operation is identical and these machines are very easy to use. There are websites and YouTube videos. Use a search engine like Google. Type in "Marcato 150 directions", you'll get many results. Here a link to one site: http://www.fantes.com/marcato.html.
Question: Sorry, you can't use water to wash this ? Are you suppose to wish the dirt away?
Answer: Use a dry scrubbing brush, like a dry bottle brush to scrub all over. Then wedge a dry dishcloth into the edges and hard to reach places by pressing it in with a skewer (wrapped inside the cloth to prevent scratches)
After that just shake loose any remaining debri.
Question: Does it make round spaghetti?
Answer: Yes, it does, but you must leave the dough thicker than other cuts you may be used to making. After some trial & error I found that rolling the pasta sheets to a #3 on my Atlas 150 prior to running it through the spaghetti attachment made wonderful round spaghetti noodles!
Question: Where is this product made?
Answer: It is made in Italy.
Question: How wide is the papardelle?
Answer: They're just under 1″ wide, which is wider than what we expected.
You can also review the 521 answered questions concerning this product by clicking Here!
PROS
Made In Italy – This is the original world-famous Atlas Pasta Machine where you can make traditional pasta at home. It's made in Italy using stainless steel.
Roll Dough To 150-Millimeters Wide – You can roll the dough to 150 millimeters wide and to a thinness of 0.6 millimeters, and a maximum of 4.8 millimeters.
Easy To Use – You can wipe clean using a clean cloth or a dry brush.
Easy To Make Pasta Shapes – You can order separately additional pasta attachments to easily interchange them for the different pasta shapes and connecting the Pasta Drive Motor.
Manufacturer's Warranty – It comes with a 10-year manufacturer's warranty.
CONS
Price.
Shop Pasta Machine
Shop the Marcato Atlas Pasta Machine. Click the Buy Now button below. Place your order now and be glad you did. Below are some additional attachments that will fit the pasta machine so you can do other pasta types.
As an Amazon associate, I earn from qualified purchases.


Shop for the Pasta Drive Motor attachment to the pasta machine below.
As an Amazon associate, I earn from qualified purchases.
If you did not see your product here, enter a search term in the box below to search Amazon for other products.
Go back to the Pros Cons Shopping home page.