A Colorful Toy To Attract Babies Attention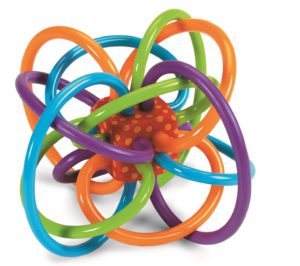 You get the news that you are expecting a child and your husband and family members are excited. You begin to make preparations for the arrival of the baby. But, you are trying to find a toy that he/she will not only enjoy but also help them with their teething experience. Finding something for the little one to chew on gets difficult. The Manhattan Toy Winkel Rattle has come to your rescue. This toy is specifically made for newborns and up to 24 months old. This is truly a must have toy for parents and infants.
This toy is truly amazing. It is made of BPA Free soft plastic tubes, and free of PVC and lead. It's made for chewing and with the baby's small hands, easy to hold. In the middle of this toy contains a cube that has a pleasing rattle sound when the toy is shaken. This infant toy promotes clutching and two-handed play which helps in their coordination.
Unfortunately, you cannot place this toy in the dishwasher or submerged it in water to clean it. It must be totally surfaced cleaned by hand using a mild soap and water and let it air dry.
This multiple newborn toy is an award winner including the Oppenheim Toy Portfolio Blue Chip Award. You can check out the award by clicking here.
You will be taking this toy with you wherever you go; vacation, short trips, visiting friends and neighbors. If you are taking your baby with you anywhere, this toy will be a top priority that's not forgotten.
When you take the product out of the box for the first time, be sure to clean it first before letting your baby play with it. Periodically, you will need to clean the toy when the baby is placing it in their mouth to prevent mold buildup.
Note: Some information has surfaced that this product is being recalled. This is not true. This toy's number is 200940. The toys being recalled from this company are: 206880 DH, EH, & HH, 206871 EH, which is the Color Burst. The toy's lot number can be found printed in the center of the cube and on the hang-tag and product packaging near the UPC code. The recall only applies to units sold from May to September 2016.
Video
You can watch the short video below to see this toy in action.
The Toy's Description
It's a colorful toy that has a maze of soft continuous tubes with stunning colors that will capture a baby's attention. It's lightweight which makes it easy for little hands to grasp and shake as well as to grab and hold. You will find your newborn eager to touch, lift and shake it as soon as their hands are able. In the center of the toy is a cube that contains a quiet rattle to allow the baby to explore sound and cause and effect. The soft plastic loops are made for teething or gumming babies. The toy can also be refrigerated to provide a more soothing experience for babies that have sore gums and teeth. It is free from BPA, PVC and lead.
Product Specifications
Manufacture: Manhattan Toy
Model Number: 200940
Product Dimensions: 5 x 4 x 3.5 inches
Product Weight: 3.84 ounces
ASIN: B000BNCA4K
Recommended Ages: 0 – 2 Years Old
BPA Free: Yes
PVC Free: Yes
Lead Free: Yes
Washable: Yes, surface washing only.
Dishwasher Safe: No. It's not recommended by the manufacture to use in the dishwasher.
In The Box: 1 Toy
Product Pricing
The price for this product is provided for consumers so they can compare them with other similar products.
Price: $10.89
Note: The price of this product is subject to change without notice and may not be the actual price at the time of checkout.
Product Rating & Customer Reviews 
This product is rated 4.7 stars out of 5 which is excellent. You can read all of the 4,221+ customer reviews about this product by clicking here!>
Questions People Are Asking
Below are some of the questions that people are asking about this product.
Question: For what ages would this toy be recommended?
Answer: I would say from around 2-24 months, but as long as your baby is interested in it.
Question: Is this dishwasher safe?
Answer: Yes and it's great for development… I got it when my babies was 3 months and love this cause she just learned to use her hands… Still enjoys it now.
Question: I recently read that this item has been recalled. When is the manufacture date for this item?
Answer: Hello Chinchy99, this version of the Winkel (Manhattan stock# 200940) is not being recalled. The recall issued July 20, 2017 is isolated to the Winkel Color Burst (Manhattan stock# 206880), and is further limited to these lot codes: 206880 DH; 206880 EH; 206880 HH; 206871 EH. The model number and lot code are printed on the center of the cube and on the hang-tag and product packaging near the UPC code and applies to units sold from May 2015 to Sept. 2016. (The Color Burst has the blue and white center cube). Additional specifics can be located at the recall webpage of the CPSC. The original, very popular Winkel Rattle and Teether continues to be a trustworthy developmental toy, routinely safety tested to pass strict CPSC, ASTM, EN71 and Health Canada safety standards.
Question: Is it made of silicone or plastic?
Answer: The Winkel teether has no silicone in any of the components and is made with BPA Free plastic.
Question: Where is this product made?
Answer: It's made in China.
You can read all of the 80 frequently asked questions about this product by clicking here.
PROS
Made of soft plastic material that is perfect for teething or gumming babies.

Lightweight and a good clutching toy.

It's BPA, PVC, and lead free.

It has soft continuous tubes with stunning colors to capture a baby's attention.

Developmental stages for all age babies from 0 to 24 months.
CONS
Cannot be cleaned using a dishwasher.

It needs to be cleaned on a regular basis to prevent mold buildup.
Shop Manhattan Toy Rattle
You can shop for this toy by clicking on the "Buy Now" button below. You will be taken to Amazon to place the order.
As an Amazon associate, I earn from qualified purchases.
Did not find what you were looking for? No problem. Enter a search term in the Amazon Box below to search on Amazon for other products.