Making Waffles From Pancake Mix Can Surprise You With Great Tasting Waffles!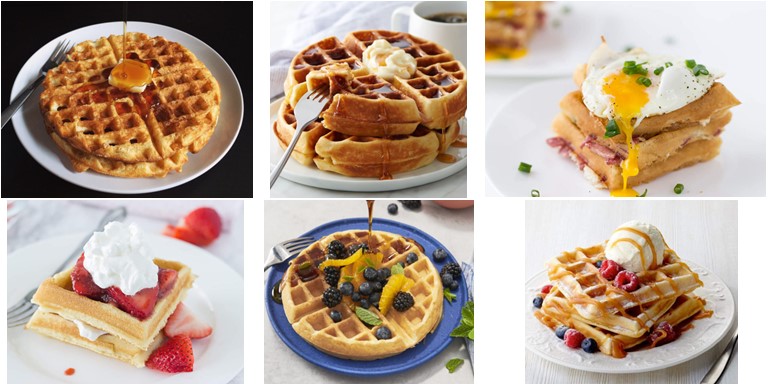 Introduction
Making waffles from pancake mix might sound silly but you can do it. All you do is add a little extra fat and sugar to make great tasting waffles for everyone. Most families have pancake mix in the cupboard and have a waffle iron sitting somewhere in the kitchen cabinets. It may not have been used for a long time and collecting dust.
I think you can remember the time when your mother made waffles for breakfast that were crispy on the outside and tender on the inside. I do, and they sure tasted great! I am sure you do too.
For instance, if you order A Belgian waffle from IHOP, it has 590 calories, 29 grams of fat, and 17 grams of sugar. Making your own at home can be cheaper and less calories.
Pancake mix is slightly different than waffle mix. The main difference between them is the sugar and fat content. A waffle mix will contain higher amounts of both to allow the sugar to caramelize and the fat cooks off to create a crispy golden treat. Also, waffle better is thicker than pancake batter.
In stores today, you will find many pancake mixes indicating that they are for both. The pancake and waffle recipes are printed on the package for you to follow. It all comes down to the waffle maker you have to make the best tasting waffles.
Waffle makers vary from 4 inch sizes to 9 or more inches across. The larger size waffle makers, require more batter to make a waffle. Many recipes can be doubled or even tripled to make enough waffles for those you are serving.
Don't forget to top your waffles with pure maple syrup.
Video – Teaching How To Make Waffles
The short video below prepares a waffle batter recipe you can use and cooks it in the waffle maker. Take a look!
How To Fix A Runny Waffle Batter
When making a pancake batter you are familiar with its runny texture. However, when you are making waffles, you don't want that runny batter. If you should experience a runny waffle batter, don't despair, it can be fixed. We will share a couple of ways to do this:
To thicken waffle batter you can add a tablespoon of flour to the batter. Only add one tablespoon of flour at a time until you reach the desired consistency.
If you want to thicken the batter without using flour do the following: try adding a dry pudding mix, corn flour, or cocoa powder, to the batter to thicken it. Add 1 tablespoon at a time to reach the desired consistency.
Can The Waffle Mix Go Bad?
Now that you have mixed up some waffle batter, can the mix the box or bag go bad? The answer is yes. A package of waffle or pancake mix will generally stay at best quality for up to 12 months at room temperature. Another way is to look and smell the mix and if it develops clumps, an odor, blue-green patches, or if mold appears, then it's old and needs to be discarded.
Both opened as well as unopened pancake & waffle mix has the same shelf life. Just make sure the mix does not encounter any exposure to moisture. You will be able to use it for 3 to 6 months after the Best Before Date when properly stored. The dry mix should be stored in a cool dry place in the bag if it's resealable or transfer mix into an airtight container.
The best way to test if your mix is to old is to make a small batch of pancakes and taste. If they are flat, dense or tasteless, discard the entire box or bag of mix.
Can You Refrigerate Leftover Waffle Batter?
The simple answer is yes. The waffle batter is similar to pancake batter because its base is eggs, flour, and milk. You can keep the batter for up to 3 days after making it by storing it in the refrigerator until it is ready to be used. You may see some of the ingredients separate. Just whisk the batter to reincorrporate them together again.
When storing leftover batter, transfer the batter into an airtight container or a tightly covered jug. Be sure to consume the batter within 3 days. In the freezer, it can last up to 4 months when stored in an airtight container.
How Much Batter Do I Use In My Waffle Iron?
If you have lost your owner's manual for the waffle iron you own, you can use the following as a guide. You may have to change the amout based on your waffle maker by increasing or decreasing the batter to cook.
If you own a 4-inch waffle iron, place 1/3 cup of batter in the center.
If you own a 7 or 8 inch waffle iron, use about ½ cup of batter in the center.
If you own a 9-inch waffle iron, use 1 cup of batter in the center.
The average amount of time to cook waffles will vary from 4 to 6 minutes, depending upon the waffle maker. Some waffle makers have a built-in light, count-down timer, or sound telling you the waffle is done cooking.
Homemade Waffle Recipes
If you prefer not to use store a bought mix, you can make your own waffle mix at home. We will share a couple of them that you can use.
Gluten-Free Waffle Recipe
Ingredients:
2 Cups of all-purpose gluten-free flour
1 tablespoon granulated sugar (sugar-free option: use honey or coconut sugar)
1 teaspoon of gluten-free baking powder
¼ teaspoon salt
½ teaspoon gluten-free vanilla extract
2 eggs, room temperature
1 ¾ cups of milk (dairy-free milk, or buttermilk)
½ cup oil of choice
Directions:
Preheat waffle iron.
Add all the dry ingredients into a large mixing bowl, and whisk until combined.
Add in vanilla, eggs, milk and oil. Mix until the batter is smooth.
Be sure waffle iron is hot before pouring in batter.
Pour mix onto hot waffle iron, about ¼ cup of batter for small square waffles. For larger waffle irons, add more batter. Cook until golden brown, the steaming stops, or the light indicator tells you the cooking is done.
Remove waffle from waffle iron and repeat until all waffles have been cooked.
Top with your favorite toppings.
NUTRITION 1 SERVING: Calories 291; Total Fat 17g; Saturated Fat 2g; Trans Fat 0g; Unsaturated Fat 14g; Cholesterol 51mg; Sodium 356mg; Carbohydrates 29g; Fiber 1g; Sugar 2g; Protein 7g
Notes
You can make the dry ingredients ahead of time and store them in an airtight container. It can be kept in this condition for up to 3 months at room temperature.
Regular Waffle Mix Recipe
Ingredients:
2 cups of all-purpose flour (or substitute whole wheat flour)
2 eggs
1 ¾ cups milk (or buttermilk)
½ cup vegetable oil
1 tablespoon white sugar
4 teaspoons of baking powder
¼ teaspoon salt
½ teaspoon vanilla extract
Directions:
Preheat waffle iron.
Beat eggs in large bowl by hand or hand beater until fluffy. Beat in flour, milk, vegetable oil, sugar, baking powder, salt and vanilla extract, until smooth.
Spray preheated waffle iron with a non-stick cooking spray if you don't have a non-stick waffle iron.
Pour mix onto hot waffle iron.
Cook until golden brown or light indicator on waffle iron signals the cooking is done.
NUTRITION 1 Waffle: 382 calories; protein 8.7g; carbohydrates 38g; fat 21.6g; cholesterol 67.7mg; sodium 390mg; Vitamin A 4%; Niacin 33%; Vitamin B6 4%; Folate 22%; Calcium 23%; Iron 14%; Magnesium 7%; Potassium 5%; Thiamin 37%; Calories from fat 194.7
Conclusion
Waffles can be made using pancake mix. You can even develop your own at home waffle dry mix recipe. Waffles are not the best health conscious breakfast you can serve your family. But, it can be a nice change of pace for special holidays or any time of the year.
All you need is a waffle maker to serve waffles to your family. By the way, homemade waffles are far better than the store bought frozen ones. You can make extra waffle batter and freeze the waffles for up to 4 months. Take out what you need and put it in the toaster for a quick meal. You will experience a great tasting waffle.
We shared that left over waffle batter can keep in the refrigerator for up to 3 days in an airtight container.
Enjoy your homemade waffles!
Shop Waffle Makers
You can shop for some high rated waffle makers by selecting or clicking on the image of interest. You will be taken to Amazon where you can place the order.
As an Amazon associate, I earn from qualified purchases.
–
–
–
–
Shop Dry Waffle Mix
As an Amazon Associate I earn from qualifying purchases.
You can shop for waffle mixes below. Just select or click on an image of interest. You will be taken to Amazon to place the order.
–