Magnetic Push Pins Keep Important Notes Handy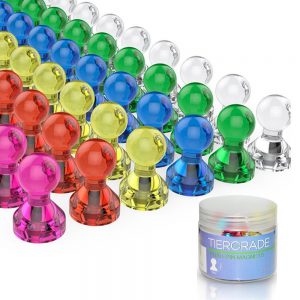 Do you ever have a need to get to important information quickly only to find you may have misplaced it? This seems to happen to almost everyone. Now, the magnetic Push Pins can be used to hold those important photos, notes, papers, or calendar handy on your refrigerator. They come in seven different colors so you can coordinate or organize what you want pined.
The push pin magnets are small and so strong they can hold up to 11 sheets of paper on any metallic surface. These magnets will work on any type of magnetic surface including filing cabinets at work or in your office at home.
The package comes with sixty (60) magnets in seven assorted colors; clear, blue, green, orange, purple, pink, and yellow.
If you should own a stainless steel refrigerator, these magnets will work on them as well.
With these magnets you will have all of the important documents and phone numbers handy when they are needed. Everyone in your household will know where they are in the event of an emergency.
With the smart design they are easy to hold and come with a functional clear plastic container to store them in.
They can be used in the home, office, work or even in the classroom if you should be a teacher. They look bright and cheery and will bring excitement for kids when using them for any school project.
These are safer to use instead of regular pins and will not poke any holes in the pictures or other types of paper being pinned on the magnetic surface.
Another use of these magnets are for decorating the refrigerator during the holidays or special days like birthdays and anniversaries or another magnetic surface in the home.
BRAND:
Tiergrade
NAME:
Magnetic Push Pins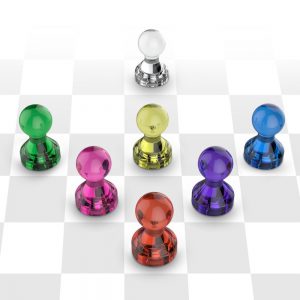 DESCRIPTION: The magnetic Push Pins can be used to hold those important photos, notes, papers, or calendar handy on your refrigerator, and has the following features: Weighs 3.2 ounces, Height: 0.66 inches, Width: 0.43 inches, Material Plastic, Comes with 60 Color Assorted Magnets, Colors Clear, Blue, Green, Orange, Pink, Purple, Yellow, Model Number MM-60.
CATEGORY: "Kitchen & Dining", "Kitchen Utensils & Gadgets", "Kitchen Accessories", "Refrigerator Magnets"
PRODUCT #: B01K70O2HO
REVIEW RATING: 4.8 stars, based on 820 reviews
Product Specifications
Manufacture: Tiergrade
Model Number: MM-60
ASIN: B01K70O2HO
Weight: 2 Ounces
Height Size: 66 inches
Width Size: 43 inches
Colors: Clear (10), Blue (10), Green (10), Orange (10), Yellow (10), Purple (5), Pink (5)
Design: Manget
Warranty: Lifetime
In Package: 60 Magnets in 7 Assorted Colors
Diameter: ¼ of an inch, magnet; 3/8 of an inch, housing
Material: Plastic
Magnets: Neodymium
Product Pricing
The price of these magnetic pins are provided so consumers can compare them with other similar products.
Note: The price of this product is subject to change without notice and may not be the actual price at the time of checkout.
Product Rating & Customer Reviews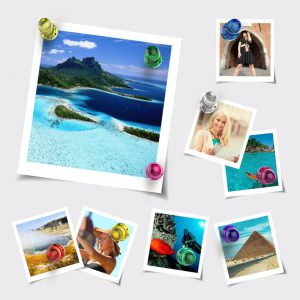 The push pin magnets are rated 4.7 stars out of 5, by over 758 customers which is outstanding.
You can read all of the customer reviews for this product by clicking on the following link: Customer Reviews!
Questions People Are Asking
Below are some of the questions people are asking about this product.
Question: Are these neodymium magnets?
Answer: Yes, and they are safety tested using the official testing method to comply with the United States CPSC part 16 (The magnetic flux field strength is under 12kg2mm2 which is well below the requirement of 50kg2mm2). First and foremost, they strictly adhere to Amazon's magnet policy.
Question: How many pieces of paper does one magnets pins can hold on the white board?
Answer: Realistically, 3-4 as long as there's not a breeze around. They would hold 3 $20 bills to my front door, but the money would fall off if the door was opened or closed too hard.
Question: Can these magnets stick on any surface?
Answer: Ideal for holding printer paper, notes, photos, posters and cards on whiteboards, fridge, bulletin boards, magnetic maps, calendars, lockers, file cabinets and other magnetic surfaces.
Question: Do I have to push while using?
Answer: No, they are magnetic. Just put your paper on the fridge or whatever magnetic surface you have and the pin will hold it in place.
Question: Are these refrigerator magnets hard to take off the fridge?
Answer: No. They are strong for their size, but they are easy to remove when you want to remove them.
You can also review the 197 answered questions concerning this product by clicking Here!
PROS
Won't damage the finish on the refrigerator.
Strong magnets can hold up to eleven sheets of paper on a magnetic surface.
Mush safer and easier to use than regular pins.
Can be used in the kitchen, classroom, home office, and at work.
Great for kids doing artwork for preschool.
Great for displaying student work or hanging posters.
CONS
Magnets do not stick on non-magnetic surfaces such as wood, drywall, regular paint, aluminum, glass, plastic or textile concrete.

Magnets are very small and easy to swallow for small children.
Shop Product Magnets
Shop the Magnetic Push Pins. Click the Buy Now button below. Place your order now and be glad you did.
As an Amazon associate, I earn from qualified purchases.
Did not find what you were looking for? No problem. Enter a search term in the Amazon Box below to search on Amazon for other products.