A New Way To Protect Property!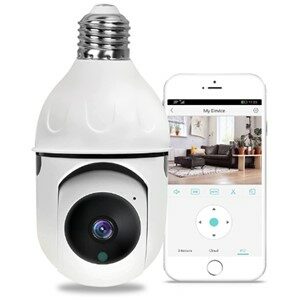 Introduction
The light bulb security cameras are a new way to protect your family from potential intruders. Safety matters today as many homes are being robbed or looted. You need to protect your possessions. The light bulb security camera is a camera that is shaped just like a light bulb that is screwed into any outside or inside light socket can be a solution for this need.
These cameras will take footage of any thing that makes the sensors detect movement that is within 35 feet of the sensor. Whether by day or night, this camera will detect and record anything that moves. Once the sensors detect movement, it begins to record.
Some models have a two-way audio alert that allows the homeowner to communicate with any outside visitor. This is a great way to recognize someone before you allow them to come into your home.
The bulb cameras don't require any wiring to connect. It works with your current Wi-Fi system that is not 5G. It does support 2.4GHz and 1080P HD. All you need to do is to screw the camera into the light bulb socket and download the app to set-up the camera. That's it.
The camera models have a SD Card slot for storage. You also have the option to store the recordings in the Cloud and this service will charge you for the storage. All you do is to select the type of plan you want.
All the bulb cameras do not come with the SD Card as you must purchase this item separately. Generally, they can hold from 32GB and up to 128GB.
What is nice about these cameras is that they work whether they are on or off. In daylight or at night which is very comforting.
Basic Features of The Bulb Camera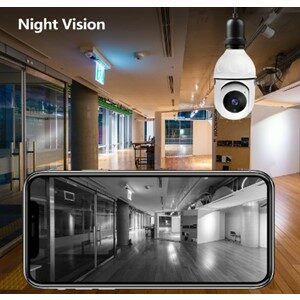 In this section, will try to cover some of the basic features that you will find with most light bulb cameras.
4GHz Wireless Wi-Fi Connectivity Support
1080P HD Resolution
Motion Detecting & Auto Tracking
No wiring is required to install the camera
Clear Night Vision (Full Color Optional)
Pan at 355 Degrees and Tilt at 90 Degrees
Two-Way Voice Audio
SD Card Slot For Storage
Built-In Speakers
Cloud Storage (video can be accessed even if camera is stolen)
Use: Indoors/Outdoors
Digital Zoom
Camera Can Be Shared with Family or Friends
Able To Control The Light Bulb Camera Via App Remotely
Some Models Work With Alexa and Google
Bulb Security Cameras Issues
Before you go out and purchase a bulb security camera, you need to know about some issues that may arise with them.
Camera is limited to 2.4 GHz routers and not 5 GHz routers
When the electrical power goes out, the camera will not record or detect motion
Camera can detect animals within the detection area which will activate the recording video
Some camera models require a subscription to operate when the free trial is over
The effective distance of the motion sensors is up to 35 feet
Some models limit the SD card capacity from 32GB to 128GB
Must install or place the camera close to the router as possible
Install camera at a height of 10 feet to prevent theft
Wi-Fi cameras can be hacked
How To Keep Your Home Security Camera Safe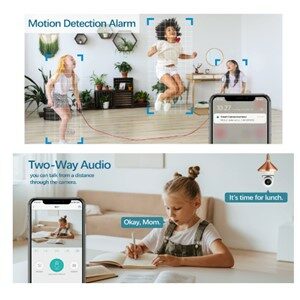 It is essential to keep your outside security camera safe from thieves and from online hackers.
Below are some suggestions to keep your camera safe from hackers:
Select a router with Wi-Fi Protected Access (WPA) or Wi-Fi Protected Access 2 (WPA2)
Enable the cameras built-in firewall if it has this feature
Protect the camera with a strong password
Protect your Wi-Fi router with a strong password
A strong password is one that's a minimum of 12 characters
Use a combination of numbers, symbols, and upper- and lower-case letters
Never use birthdays, the street where you live, or email address
Change your password when any of the following should happen:
A service you use informs you of a security breach.
You suspect someone has attempted to access your account.
You find malware, ransomware, or other unauthorized software on your devices.
You logged into an account using a public computer or while using an unsecured public Wi-Fi hotspot, such as a library or airport.
Change the password once every 2 years.
Keeping Bulb Security Cameras Safe From Outdoor Issues
We will share some suggestions in keeping your outside light bulb security camera safe from theft and other things:
Check your bulb periodically for any bugs or spider webs. Remove any webs and bugs that can block the camera. To stop bugs, use a bug spray and spider webs use petroleum jelly on the area surrounding the camera.
Keep the camera at a height of 10 feet to prevent any buglers from removing the bulb camera.
Keep the camera from fogging up, clouding or condensation. Regularly wipe the lens with a micro-fiber cloth to protect the external surveillance camera.
Light bulb cameras are not a fire hazard as they use LED's, and they emit less heat.
How Does The Light Bulb Security Camera Work?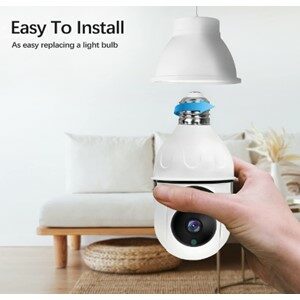 Here is how they work and are very easy to set-up.
Basically, all you need to do is to get the camera out of the packaging.
Screw camera it into any regular light bulb socket (outside or inside).
Connect camera to your homes Wi-Fi system using the app of the manufacture for the camera (Refer to the owner's manual).
Go through the app to create and ID and Password for your system.
The camera can also be used for outside and indoor use.
The camera can be used as a baby or pet monitor.
If you should have any issues, refer to the user's manual for the information in downloading the app and the phone number to contact customer support if needed.
Pros and Cons
We will now mention some of the pros and cons of the light bulb security cameras for your consideration.
PROS
Easy to operate (Just screw the bulb into the socket).
Records all movement it detects movement up to 35 feet away from the sensor.
Cost less than installing a camera system.
Indoor/Outdoor use.
Video quality is excellent.
Two-way audio.
1080P HD resolution
Can monitor and use audio from the app from anywhere using your smart phone
4 GHz Wireless Wi-Fi Network Connectivity
Works well as a baby or pet monitor
Full color night vision
Built-in microphone
Recordings can be stored on an SD Card or to the Cloud
CONS
If Bulb is not high enough (10'), anyone can remove the camera.
Most bulb security cameras use 2.4 GHz and not 5G.
The number of bulbs that can be connected to the system is limited.
Must download the app before the system is functional.
Some models may require a subscription after the free trial is over.
Conclusion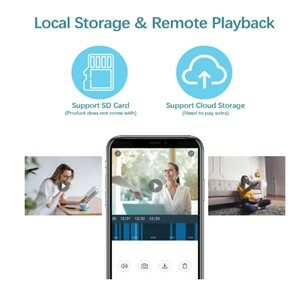 If you are concerned about the security of your home and property, a light bulb security camera can be of help. They are very affordable, and some models do not require a subscription to operate.
They do use an SD Card for storing the video. You do have the option of storing the video into the cloud for a monthly fee. On all of these models, the SD Card is not included and must be purchased separately.
They use your current wireless Wi-Fi that has 2.4GHz is supported. It does support IOS/Android mobile systems. The camera has 360°Pan/Tilt Camera 355°(Level)/90°(Vertical) coverage.
Be sure to do your homework in selecting the best bulb security camera for your use. Check out all of the features and warranty information before purchasing.
The security camera detects motion from any source within 35 feet from the camera sensors.
Besides using the camera for outside use, you can also use it for monitoring newborns and pets.
One amazing feature of these cameras is they come with a two-way audio so you can speak to any visitor outside the door without having to open it. This is great for your security.
The bottom line here is you will like using these cameras. One drawback is the number of bulbs you can connect to the system. Depending upon the model you purchase the actual number of bubs that can be connected will vary.
Shop Light Bulb Security Cameras
You can shop for the light bulb security cameras by selecting or clicking on any image below. You will be taken to Amazon where you can place the order, read customer reviews and answered questions.
As an Amazon associate, I earn from qualified purchases.
Shop SD Cards
You can shop for SD Cards by selecting an image below. You will be taken to Amazon to place the order.
Go back to the Pros Cons Shopping home page.