Legendary Whitetails Flannel Shirt
Nice Shirt To Keep Warm On Cold Days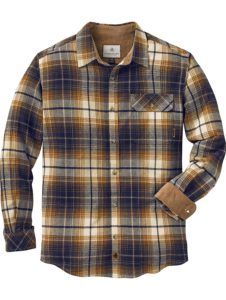 Hunters enjoy the big hunt for game to bring home and celebrate the successful catch with family and friends. And, for some, a trophy to hang on the wall. It's a great feeling when you make the shot that kills the deer, rabbit, or duck. A hunter defines who you really are. It's very important that you wear the proper gear and being warm on those cold days during the hunting season. You need to think about wearing the Legendary Whitetails Flannel Shirt. It's well made, has great quality, and looks great. It will be the one to keep you warm every time when you go out hunting.
This flannel shirt is made of 100% cotton specially woven so it's soft and provides an ease of movement. It has a corduroy lined collar and cuffs that will have lasting durability. Don't forget the chest pocket that has a pencil slot and a button closure and adjustable cuffs. Now, you are really making a statement when you go hunting or just wearing on a cold fall day.
This shirt comes in sizes from small to XXXX-Large so you should find one that fits well. It's important to know that the shirt is subject to shrinking. You may want to buy a size larger so it shrinks to your size. You can machine wash it in cold water and use the gentle cycle which will help keep shrinking to a minimum. Do not bleach, tumble dry on low and do not iron on the decoration.
If you prefer a closer fit, order a size down.
This shirt makes for a great gift for that special person anytime of the year even if you are not a hunter.
What Is Flannel?
Flannel is a loosely knit fabric that is typically made from wool, cotton, or synthetic fibers. It is known for its softness, warmth, and affordability.
Most flannels are composed of wool or cotton fibers, which are prone to shrinking when exposed to heat. Use the low heat setting on your dryer with your flannel fabrics, or better yet, air dry them!
To help you with finding the correct size, take a look at the chart to find the best fitting men's size.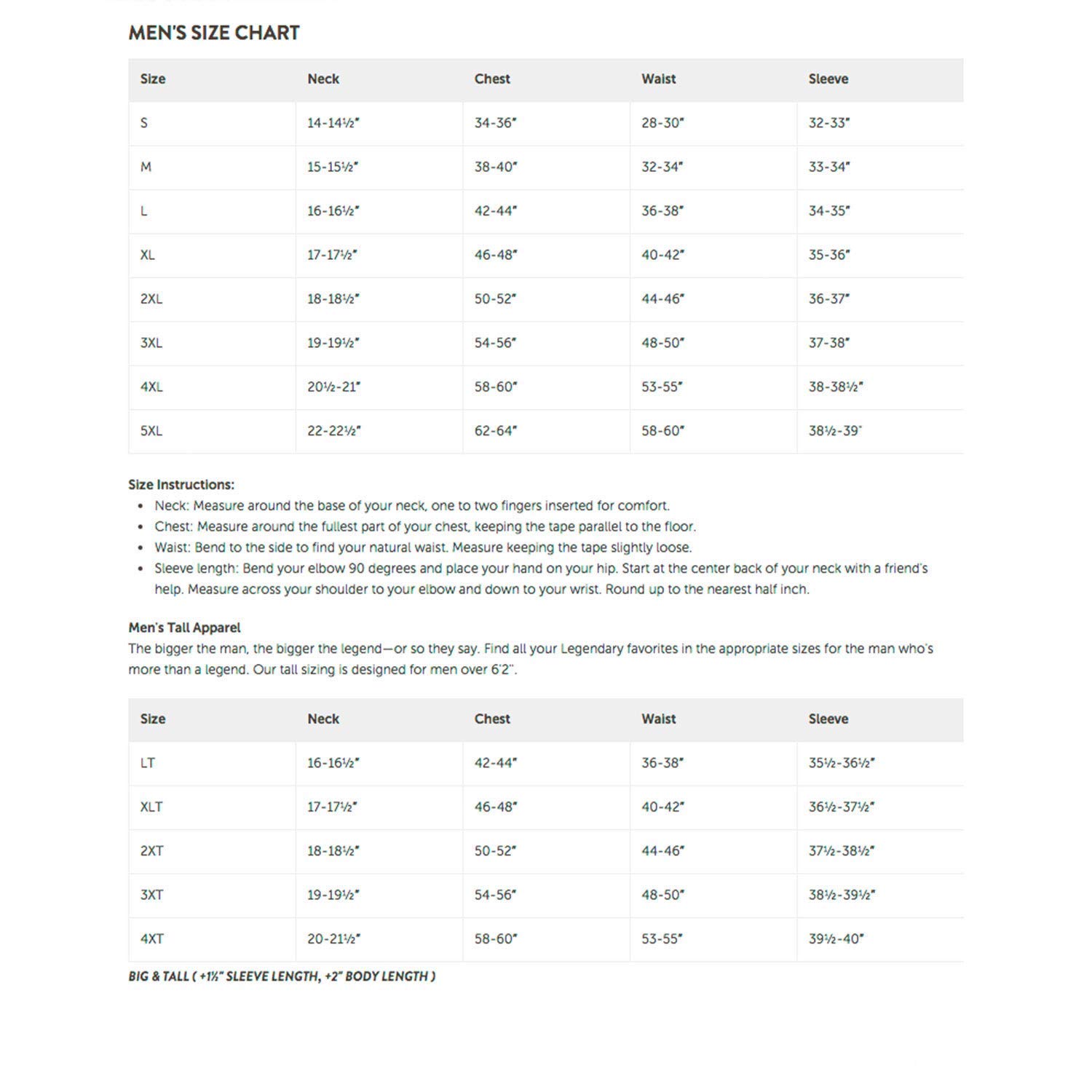 Product Description
This shirt is made with 100% cotton material that is soft brushed flannel that will keep you warm during those cold days whether you are going hunting or not. They come in twelve colors and nine sizes, so a shirt should fit you nicely. These shirts are prone to shrinking especially when exposed to heat. They are machine washable. Use the low heat setting and cold water that helps reduce shrinking.
Product Specifications
Manufacture: Legendary Whitetails
ASIN:  B07FPKGQLH (Large Size)
Material: 100% Cotton
Colors: Army, Arrowhead Heather, Arrowwood Stone Plaid, Barnwood Heather, Barnwood Slate Plaid, Big Game Field Camo, Black Heather, Brick Plaid, Cabin Fever Plaid, Canyon Plaid, Cardinal Chocolate Plaid, Cedarwood Plaid, Charcoal Heather, Cobalt Plaid, Homestead Plaid, Platinum Plaid, Shale Plaid (Note: Not all colors are available in all sizes.)
Sizes: Small, Medium, Large, Large Tall, X-Large, X-Large Tall, XX-Large, XX-Large Tall, XXX-Large, XXXX-Large
Washable: Yes
Product Pricing
The prices for these flannel shirts are provided so consumers can compare them with other similar products. Please note that the price of these shirts are subject to change without notice and may not be the actual price you pay at the time of purchase.
Price: $29.99 (Small, Medium, Large, X-Large, XX-Large)
Price: $34.99 (Large Tall, X-Large Tall, XX-Large Tall, XXX-Large, XXXX-Large)
Product Rating
This shirt is rated 4.4 stars out of 5 by over 2,475+ customers which is excellent.
What Some Customers are Saying About This Shirt?
Below are a few examples of what some of the buyers of this product are saying.
Mary, April 18, 2017, Brick Plaid Color Shirt.
I like it because it's well fitting and keeps me warm.
Mike, November 15, 2017, Charcoal Heather.
Fits comfortably after first wash and it's well stitched. Great value.
Pat, January 26, 2017, Shale Plaid.
It's a great fit, very comfortable and looks great.
Robert, July 1, 2018, Cobalt Plaid.
It is definitely a high quality garment and made with great materials. It's made with excellent high class finishing and is warm.
To read all of the 2,486+ reviews, just click on the following link: Customer Reviews!
What Questions Are Customers Asking?
Below are some of the basic questions people are asking about this flannel shirt.
Question: Is the fabric pre-shrunk?
Answer: No.
Question: Do you have to iron this shirt after washing?
Answer: Not if you remove fairly quickly from dryer. If it is wrinkled I can usually toss in the dryer and refresh.
Question: Do these shirts have gusseted armpits?
Answer: No.
Question: How long did it take to receive this item?
Answer: 3 to 5 business days.
Question: Are these shirts woven plaids or printed plaids?
Answer: These flannel shirts are woven.
Question: Where is the flannel made?
Answer: The flannel is imported from China.
You can read all of the 232 frequently asked answered questions
by clicking on the link.
PROS
Made with 100% cotton soft brushed flannel.
Adjustable cuffs.
Choose from twelve colors and nine sizes.
Will keep you warm on cold days.
CONS
Price.
This shirt will shrink when washed for the first time.
Shop Flannel Shirts
You can shop for this flannel shirt by clicking on the image below. You will be taken to Amazon where you can select the color and size with the order. There you can choose from multiple colors and sizes.
Go back to the Pros Cons Shopping home page.