Now You Can Instantly Make 29 Tools Available On Your Wrist!
Do It Easily and Quickly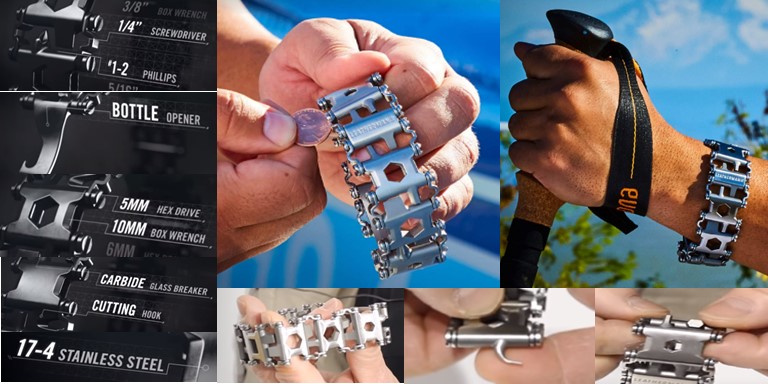 What Are These 29 Marvelous Tools!
Phillips: 1-2
Phillips: #1
Phillips: #2
Flathead: 1/8″, 1/4″, 5/16″, 3/32″, & 3/16″
Box Wrenches: 3/16″, 3/8″, 1/4″, 5mm, 6mm, 8mm & 10mm
Hex Drivers: 3/32″, 3/16″, 1/8″, 1/4″, 3mm, 4mm, 5mm & 6mm
Sim Card Pick
Cutting Hook
1/4″ Socket Adapter
Bottle Opener
2″ Square Drive
Carbide Glass Breaker
What Makes Adding 29 Tools So Easy and Quick?
There are 11 links that are removable so you can fit your size wrist. Each link has 2 tools on it. You can adjust the links for the tools that you use the most.
Just Think! 
✓ 29 Tools Available For Any Emergency
✓ TSA Compliant
✓ Fits All Size Wrists
✓ 11 Interchangeable Removable Links
✓ 25-Year Warranty
✓ Travel Friendly
–
This Is The Most Dynamic and Adjustable Bracelet! 
✓ Always Have A Tool Ready For Any Emergency
✓ Fits Nicely On Your Wrist
✓ Available In Black or Stainless Steel
✓ Removeable Links To Fit Smaller Size Wrists
✓ Makes For A Great Travel Companion
The Leatherman Tread Tool Bracelet Video
Below is a short video directly from the manufacturer introducing the Leatherman Tread Bracelet. Take a look!
Have you ever had a time when you needed a specific tool in an emergency? I am quite sure you have. Now, you can be ready for those emergencies with the Leatherman Tools Tread Bracelet that has 29 different tools ready to be used on your wrist.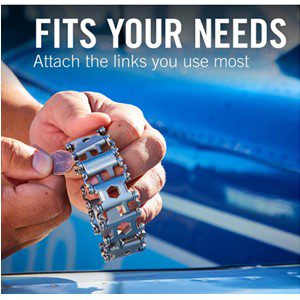 The Leatherman tools tread bracelet can be a very helpful tool in your arsenal.  How many times when you needed a screw driver or some other tool and could not find one? This has happened to me many times. This bracelet will come in handy and be a life saver just for those situations.
Whenever you are out traveling you don't have to cart your whole toolbox with you. What is even more amazing, this the bracelet can be worn on your wrist and is TSA compliant so you can travel with it everywhere you go. So, this tool will always be ready to use whenever it's needed.
The links are customizable so you can place which tools you want and will fit a wrist of any size. Every link but one on the bracelet has tools. So, if you have to remove one, choose wisely. This bracelet is made entirely in the United State in Portland, Oregon.
This tool bracelet makes for a great gift for the handy man or woman of the house.
The PROS CONS Of This Product
Amazon Ratings
This product was rated by over 700 customers and give it an average score of 4.6 which is excellent.
PROS
Made in the USA
Guaranteed for 25 years
Individual links have 2 tools each
Links are removable to fit smaller wrists
Made with 17-4 stainless steel
A tool is available to use in an emergency
TSA compliant
Features 29 different tools
CONS
Price
Must remove links to fit smaller wrists which eliminates two tools per link
OTHER KEY FACTS
Manufacture: Leatherman
Part Number: 831998
Colors: Stainless Steel or Black
Style: Tread
Band Width: 1.2 Inches
Circumference: 8.56 inches
Weight: 5.9 ounces
Material Type: Stainless Steel
Material: 17-4 Stainless Steel
Tool Types: 29 Phillips #1, #2, Flat Head Screwdrivers (6), Hex Drivers (8), Box Wrenches (7), Oxygen Wrench, Cutting Hook, ¼" Socket Drive Adapter, Bottle Opener, 2" Square Drive, & Carbide Glass Breaker
Warranty: 25-Years
One Last Secret
The Leatherman tread tool is available as a bracelet or the band for a Swiss quartz movement watch.
The watch has these favorable features:
✓ Date / Time Functions
✓ Second Hand Sweep
✓ Precision Swiss Ronda 715 Movement
✓ Rotating Bezel
✓ Water Resistant to 200 Meters
✓ Travel Friendly
Shop Leatherman Tread Tool Bracelet and Watch
You will want the worlds first multi-tool handy bracelet watch. You can check the price below.
Leatherman Tools Tread Bracelet
Leatherman Tool Bracelet
Leatherman Tool Watch