Large Insulated Lunch Bag
Keeps Food Hot or Cold for Hours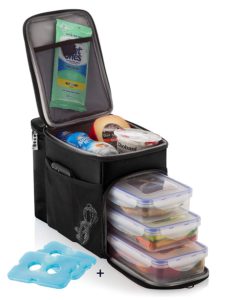 The Zuzuro Large Insulated Lunch Bag is just the right accessory you need to keep food cool or warm, fresh, and organized, when going to school, office, camping, kayaking or hiking. This insulated lunch bag holds up to three containers of food or meals, an insulated bottle holder in the back for up to two 16 ounce bottles of any liquid. The inside insulated lining that is made of thick peva to keep foods hot or warm and cool and cold for up to six hours.
The lunch bag is portable which means it can be taken just about anywhere you travel on vacations or any other place. It means that you will have a hot or cold meal ready to eat whenever you need it.
It has two side mesh pockets for carrying small personal items such as keys, cellphones, or foods that don't require to stay cold or warm. The lunch bag will keep foods fresh and ready to eat wherever you are. The set includes the following items:
Insulated Lunch Bag
3 Large Food Containers (Size 8 x 5.5 x 2 inches)
2 Ice Packs
Padded Strap
Two compartments one to hold the three containers and the other that holds two 16 oz. bottles
In has one mesh pocket on the inside and two mesh pockets on the outside
The quality of this lunch bag is unsurpassed. It has EPA foam, the exterior of the bag is made of ultra-thick and strong 840D polyester material with double stiches, with SBS zippers, which will make it last for a long time.
This lunch bag also comes with a 30 day money back guarantee. If you are not completely satisfied, you can return it for a full refund.
Product Description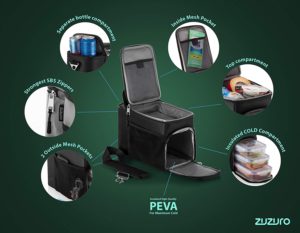 This lunch tote bag is designed to keep foods either cold or hot and ready to eat whenever you need it. It's portable and insulated so it can be taken to the office, school, hiking, camping, at the beach, and family trips or vacations. Because it's insulated very well, it will maintain the temperatures of whatever you decide to pack into it. The material used and the zippers are very sturdy and is built for heavy and daily use. It comes in five colors for is ideal for men, women and kids. It comes with a 30-day money back guarantee if you are not satisfied to return it for a full refund.
Product Specifications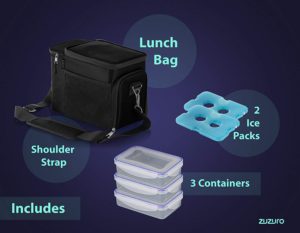 Manufacture: Zuzuro
Sold By: Savanaa
ASIN: B079DZ2L1F
Dimensions: 13.3" (L) x 11.8" (H) x 7.5" (W)
Weight: 2.95 lbs. (Empty)
Colors: Black, Purple, Turquoise, Blue B, Grey B
BPA Free Containers: Yes
Containers: Freezer, Microwave & Dishwasher Safe
Container Dimensions: 8 x 5.5 x 2 inches
EPA Foam Insulation: Yes
Shoulder Strap: Adjustable & Removable
Double Stiches: Yes
Zippers: SBS
Bottle Compartment: Yes (Can fit two 16 ounce bottles)
Outside Mesh Pockets: 2
Inside Mesh Pocket: 1
Interior: Extra Thick Peva Lining
Material: 840D Polyester
Guarantee: 30 Days money back guarantee if not satisfied
In The Box: 3 BPA Free Containers, 2 Ice Packs, Padded Shoulder Strap, 1 Lunch Bag
Product Pricing
The price of this product is provided to consumers so they can compare them with other similar products.
The prices below are for each color:
Black: $27.95
Purple: $29.99
Turquoise: $27.95
Blue B: $27.95
Grey B: $29.95
Note: The prices of these insulated lunch bags are subject to change without notice and may not be the actual price at the time of checkout.
Product Rating & Customer Reviews
This product is rated 4.7 stars out of 5 by 1,162 customers which is excellent. You can read all of the reviews about this product by clicking on the following link: Customer Reviews!
Questions People Are Asking
Below are some questions people are asking about this product.
Question: How long will this keep perishables cold with the two ice packs included?
Answer: About 6 hours.
Question: How many standard size soda cans will fit in the separate can/bottle compartment?
Answer: I was able to fit three. Two standing upright and another settled on its side across the two.
Question: Is the bottle compartment also insulated?
Answer: Yes it is and the ice packs it comes with also fit in the bottle compartment.
Question: Where do the ice packs go?
Answer: They go on the sides of the big zipper compartment where the 3 containers go.
Question: Are the meal prep containers glass?
Answer: The container as well as the ice packs are BPA Free plastic.
You can read all of the 59 answered questions about this product by clicking on the following link: Answered Questions!
PROS
Choose from five different colors.

The three plastic containers are BPA Free.

Three reusable containers that are freezer, microwaveable and dishwasher safe.

Premium insulated lining helps maintain the temperatures of whatever you decide to pack.

The material of the reusable lunch bag as well as the zippers are very sturdy and has been built for heavy and daily use.

Lunch bag is great for the office, school, camping, kayaking, traveling and hiking.

The beverage compartment fits up to two 16 oz. bottles.
CONS
Price.

Limited time to keep food cold is between 4 to 6 hours.
Shop Top Lunch Bag
You can shop for the lunch bag below which is our #1 choice. Just click on the image to be taken to Amazon where you can select the color and place the order. The image below is for the black color item.
As an Amazon associate, I earn from qualified purchases.
Top Lunch Bags
Besides providing our best option, below are the lunch bags that round out our top five lunch bags.
| | | | |
| --- | --- | --- | --- |
| #2. EDC Meal Prep Bag | #3. Lovotek Insulated Lunch Bag | #4. A2S Complete Meal Prep Lunch Bag | #5. Outdoorwares Cooler Insulated Lunch Bag |
Did not find what you were looking for? No problem. Enter a search term in the Amazon Box below to search on Amazon for other products.
Go back to the Pros Cons Shopping home page.