Lightweight Handheld Mixer Makes Mixing Easy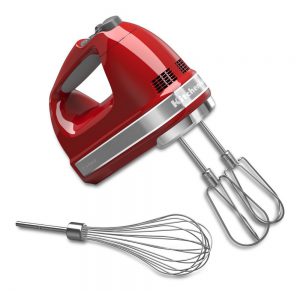 If you are a homemaker that likes to make your own bread, cookies, cakes, whip cream, and dough for pizza and other things, then the KitchenAid 7-Speed Digital Hand Mixer is just the appliance you need. It easily mixes all the ingredients for any recipe that requires mixing.
It is light weight and has 150 watts of power for all your beating needs. It has a soft start feature that helps to prevent ingredients from splattering when you add them into the mixing bowl. The soft grip handle makes it easy to use and provides comfort while mixing.
It also has a lockable swivel cord so you can approach ingredients from any angle without the cord getting in the way. Another nice feature is the beater ejector button to easily remove any accessory from the hand mixer at the press of a button.
Making homemade bread, cookies and cakes just tastes better than store bought products and are more healthier. You will be using this hand mixer for lots of other recipes.
Included with the mixer is a professional whisk. It also comes with a 1-year warranty.
This product makes for a great gift for any occasion.
KitchenAid 7 Speed Hand Mixer Video
Below is a 7 minute video on how to use this hand mixer with various ingredients.
BRAND:
KitchenAid
NAME:
Kitchenaid 7 Speed Digital Hand Mixer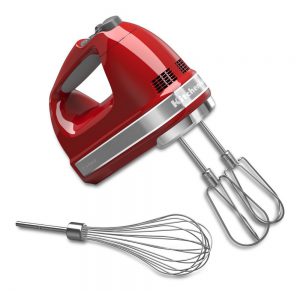 DESCRIPTION: The KitchenAid Hand Mixer is just the appliance you need as it easily mixes all the ingredients for any recipe, and has the following features: 7 Speeds, 5.5′ Cord, Weighs 2 lbs., Wattage 250 Watts, Voltage 120V, 1-Year Warranty, Model Number KHM7210ER.
CATEGORY: "Kitchen & Dining", "Small Appliances", "Mixers", "Hand Mixers"
PRODUCT #: B00C0QJY0O
REVIEW RATING: 4.3 stars, based on 1,345 reviews
Product Specifications
Manufacture: KitchenAid
Speeds: 7 Speeds
Model: KHM7210ER
ASIN: B00C0QJY0O
Soft Start: Yes
Lockable Swivel Cord: Yes
Beater Ejector Button: Yes
Pro Whisk: Yes
Stainless Steel Turbo Beater II Accessories: Yes
Available Colors: Contour Silver, Coco Silver, Empire Red, Liquid Graphite, Onyx Black, Pistachio & White
Wattage: 250 watts
Voltage: 120VAC
Product Dimensions: 3.5 x 8 x 6 inches
Product Weight: 2 lbs.
Cord Length:

5.5 feet

Warranty:

1-Year

Product Assembled:

In the USA, But Parts Imported from China
Product description
The 7-Speed Hand Mixer with Stainless Steel Turbo Beater II Accessories, is ideal for powering through heavy ingredients. The Pro Whisk attachment is included and perfect for whipping egg whites to fluffy peaks or whip cream to top your favorite dessert.
Product Pricing
The price for this product is provided so consumers can compare them with other similar products.
Empire Red Price: $54.99 (Pictured)
Coco Silver: $69.87
Contour Silver Price: $59.99
Liquid Graphite: $112.95
Pistachio: $69.87
Onyx Black: $49.99
White: $59.99
Note: The price for this product is subject to change without notice and may not be the actual price you pay at the time of checkout.
Product Rating & Customer Reviews
Rating: [lusr 4.3]
This hand mixer was rated by over 1,345 customers which is an excellent rating.
You can read all of the customer reviews by clicking on the following link: Customer Reviews!
Questions People Are Asking About This Product
Below are some questions people are asking about this product.
Question: Can you buy a dough hook to go with it?
Answer: No. It is great for quick things, but I do not believe it has enough power to knead dough.
Question: Are the beater shafts plastic or metal?
Answer: They are full metal and work beautifully. This is the best hand mixer I have ever used.
Question: Does it stand firmly on end in between tasks, or is it likely to fall over?
Answer: I tilt it over the edge of the large steel bowl, with the base on the counter, and it seems nicely stable. Or, I just lay it down sideways on the counter. This is a very nice hand mixer, top-rated by Consumer Reports.
Question: I have trouble putting in the second beater and having it stay in. Does this snap right in?
Answer: They only go in one way. Look at the beater and then at the slot the beater goes into and you will see that they are slightly different. If they don't contact the manufacture as yours may have a defect.
Question: Does this do a good job in whipping egg whites for meringue?
Answer: Yes, this is the best mixer I've ever used, I've been cooking/baking for over 60 years.
Question: Are the beaters stainless steel?
Answer: Yes both the beaters and the whisk are stainless steel.
You can review the 185 answered questions concerning this product by clicking Here!
PROS
7 Speeds – Combine ingredients at speed one for slowly stirring in chunky ingredients, speed four for mashing potatoes, speed seven for beating egg whites and whipping meringue.
Soft Start Feature – Feature brings the beaters up to the selected speed gradually to help prevent ingredients from splattering.
Lockable Swivel Cord – Lock the cord into either the left or right side of the mixer so you can approach ingredients from any angle. The round cord is easy to wipe clean.
Soft Grip Handle – The soft grip handle provides comfort while mixing.
Beater Ejector Button – Easily and quickly remove any accessory from the hand mixer with the single-handed press of a button.
CONS
Price.
Product is assembled in the USA, but some parts are imported from China.
Shop Hand Mixer
Shop the KitchenAid 7 Speed Digital Hand Mixer. Click the Buy Now button below. Place your order now and be glad you did. You can select the color with the order.
As an Amazon associate, I earn from qualified purchases.
KitchenAid Hand Held Mixer Hooks
If you did not find what you were looking for, enter a search term in the Amazon Box below to search on Amazon for other products.
Go back to the Pros Cons Shopping home page.