Jumper Cables Come In Handy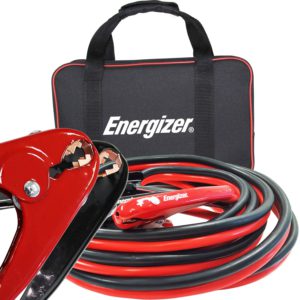 You are getting ready to go to work and discover that when you try starting your car, it won't start. The battery is dead. This usually happens at the most in opportune times.  During the summer, winter, spring or fall.  You need to be somewhere quickly. Instead of having to wait hours for your AAA road assistance to arrive, you can take charge by using Jumper Cable 4 Gauge by Energizer to jump start your car. You can place a set of these jumper cables in the trunk to be ready whenever you need them.
Just use the jumper cables with a car that has a good battery otherwise, you will be waiting for your assistance from the AAA to arrive. All you need is another car to get the job done.
These cables have a length of 25 feet which helps to reach difficult areas where cars cannot be next or close to each other. The cables are easily identified with red for the positive and black for the negative. Also, they are rated for up to 500 amps (4-gauge) and 800 amps (1-gauge) and will jump 12 volt batteries. These cables are ideal for vans, large-size SUVs, full-size cars, mid-size cars, trucks and small/compact cars.
You can easily store these cables as it comes with its own case for storage.
You definitely need to have a set of these cables in the trunk of your car in case the battery should fail. Especially as the battery gets older. The life of car batteries is between 3 to 5 years. It's always nice to have a backup plan in place should you ever need it and that's just what these cables provide.
After you have successfully started a car using jumper cables, the car that had  the dead battery should be left running for up to 15 to 20 minutes to completely recharge the battery.  Or, drive around for a half an hour will also do the job.
Note: The lower the gauge number the thicker the wire.
Using Jumper Cables Video
Check out the short video below on the proper use of jumper cables. Take a look!
Product Description
The Energizer 1-Gauge Cables can give you that much needed boost when your car, truck or SUV needs it. The booster cables are the safest way to transfer power up to 800 amps from a 12-volt or 24-volt automobile battery. The tangle-free cables are heavy duty, flexible and easy to store inside your trunk. With color-coded, ergonomic clamps that fit snugly onto the top-terminal or side-terminal batteries, power will transfer in minutes to start dead or low charged batteries.
Instructions On How To Use The Jumper Cables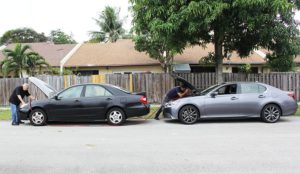 It is very important to follow these instructions for jumping another car when using jumper cables. Below are the instructions on how to jump another vehicle.
Position the vehicle with the good battery as close to dead battery car without touching.
Turn off the charging vehicle and place it in park or in neutral if a manual transmission.
Make sure that all electrical accessories have been turned off in both cars before proceeding.
Connect a RED clamp to the positive (+) terminal of the dead/weak battery car. Next, connect the other RED clamp to the positive (+) terminal of the good battery car. NOTE: Be sure that the positive clamps do not touch any metal other than the positive (+) terminals of both cars. Also, ensure that the negative (-) clamps do not touch any metal surface of both cars while attaching the cables.
Next, connect the BLACK clamp to the negative (-) terminal of the good car battery only.
Next, connect the other BLACK clamp to any exposed non-painted metal part of the dead/weak battery vehicle's frame, manifold, or engine block. Note: You can attach the clamp to a nut or bolt. Warning:

Do not attach the clamp to any moving engine parts, belt parts and the negative (-) terminal of the dead battery's car. 

Start engine in good vehicle first to begin to charge the dead/weak battery in jumped car for 2 to 3 minutes before attempting to start the vehicle with the dead/weak battery.
Start the engine in the dead/weak battery vehicle. If it starts, keep the engine running for about 20 to 30 minutes to charge the battery. Otherwise, you will be repeating this process all over again.
Remove the clamps in reverse order. Start by removing the BLACK clamp on the "jumped" vehicle's engine first. Then remove the BLACK clamp on the good car's battery. Continue until you remove the RED clamp from the good vehicle, and the

RED

clamp from the "jumped" vehicle last. Ensuring they do not touch any metal in this procedure.
If the engine on the "jumped" vehicle does not start. Repeat step 8. This time rev the engine in the good car for 2 minutes. While the engine is being revved, start the engine on the dead/weak battery vehicle. If it starts, go to step 9 above. If the vehicle fails to start, the battery is really dead and has to be replaced. Be sure to keep the engine running for 30 minutes before turning it off once it started.
Product Specifications
Manufacture: Energizer
Model Number: FBA_ENB-125
Model Number: ENB125
ASIN: B078WZ4TQW
Weight: 10.8 lbs.
Dimensions: 25′ x 1 x 0.2 inches
Color: Red/Black
Size: 25 Feet
Clamps: Ergonomically designed and distinctly color coded with shielded surfaces for safety
Cable Length: 25 Feet
Gauge: 1 Gauge, 2 Gauge, 4 Gauge & 6 Gauge
Cable Flexible: -40 Degrees C
Rated Amps: 800 amps
Jump Battery Size: 12 volts
Material: Copper Clad Aluminum
Carrying Case: Yes
Warranty: 2-Years
In The Box: 1 Set of Cables, 1 Carrying Case, Set of Instructions
Product Pricing
The price for these jumper cables is provided to consumers so they can compare them with other similar products.
1 Gauge 25′ Price: $54.97
1 Gauge 30′ Price: $89.97
2 Gauge 16′ Price: $29.99
2 Gauge 20′ Price: $34.99
4 Gauge 20′ Price: $22.97
6 Gauge 16′ Price: $16.97
Note: The prices of these products are subject to change without notice and may not be the actual price you pay at the time of purchase.
Product Rating & Customer Reviews
Rating: [usr 4.8]
This product was rated by 710  customers which gave this product an outstanding rating.
You can read all of the reviews for this product by clicking on the following link: Customer Reviews!
Questions People Are Asking About This Product
Below are some questions people are asking about this product.
Question: Is the wire CCA (copper clad aluminum) or is it pure copper wire?
Answer: The wiring is copper clad aluminum.
Question: Will these work on a 2010 dodge avenger?
Answer: Yes, in fact they should work on any vehicle with a 12V battery and regular terminals. The nice thing about these cables is they are plenty long and are heavy gauge, so shouldn't overheat.
Question: It doesn't look like those clamps open wide enough to securely lock onto my battery post. Some posts are wider than others. How wide do these open?
Answer: They open up to 2 inches.
Question: Will these jumper cables work on side wall batteries?
Answer: Yes, they will work on side wall batteries.
You also can review all of the 105 questions about this product by clicking on the following link: Answered Questions!
PROS
The length of the cable is 25 feet to reach a live battery in all conditions.

The cables have a 800 amp rating. 

They are compatible with most cars, vans, trucks, and SUV's.

Features a heavy duty, tangle free, easy to use booster cable with its own travel bag for storing in the trunk of the vehicle.

All weather use.
Suitable for both top or side post batteries.
CONS
Price.
Shop Jumper Cables
Shop the 1 Gauge Jumper Cable by clicking on the Buy Now button below. Place your order now and be glad you did. Once there you have options to select 2 gauge, 4 gauge or 6 gauge cables at different cable lengths.
As an Amazon associate, I earn from qualified purchases.
If you did not see your product here, enter a search term in the box below to search for other products on Amazon.
As an Amazon associate, I earn from qualified purchases.
Go back to the Pros Cons Shopping home page.