Grind Your Own Coffee Grounds with Ease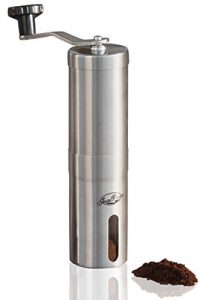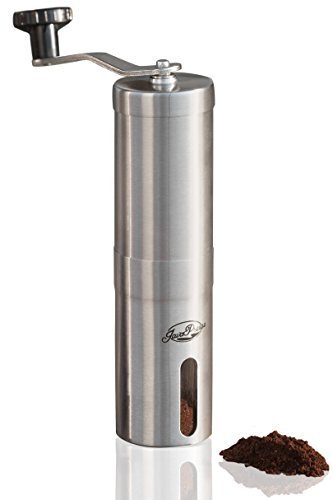 The JavaPresse manual coffee grinder allows you to grind your own coffee beans to the coarseness according to your taste. This makes for great tasting coffee every time. It operates only on hand power and does not need batteries, or power cords to plug-in. The grinder is limited to grinding up to 2 cups of coffee grounds at a time.
It has eighteen different coarse settings to select from so you can have a wide variety of coffee flavors.
Because it's so light, you can take it with you anywhere like camping, traveling either by car or airplane and even hiking. It can be taken apart to fit into a backpack or carry-on bag. So, you can get great tasting coffee anywhere you are on the go, at the office or on trips.
It is quiet enough so when you are grinding in the kitchen you will not disturb those that may be sleeping. It is also built for convenience and easy to clean. You don't need any batteries or power source to grind the coffee.
Besides grinding coffee grounds, it can also grind herbs and dried mushrooms.
This particular model pairs nicely with an AeroPress coffee maker.
The grind top holds approximately 35 grams of coffee beans. The finer the grind the longer it will take you to grind it. The average grind time is between 1.5 to 2.5 minutes depending upon the coarse you use.
When you are grinding be sure to turn the grinding handle in a clockwise direction. Never ever turn the handle in the counter-clockwise direction as you can damage the ceramic burrs.
The bottom line here is you will enjoy using this wonderful grinder for great tasting cup of coffee where you can in control of the coarseness of the coffee bean.
Video on the Grinder
A nice video on how to use this grinder with some great tips.
Eighteen Different Coarse Settings
This manual coffee bean grinder has 18 click coarse settings to select from. Each number below represents a "click" to the left as they are described below.
Coarse: 13-18 clicks
Medium Coarse: 10-12 clicks
Medium: 7-9 clicks
Medium Fine: 4-6 clicks (AeroPress)
Extra Fine: 1-3 clicks
You select the coarseness of the coffee bean that best fits to your taste. This may require having to make some coarse adjustments from time to time.
BRAND:
JavaPresse Coffee Company
NAME:
JavaPresse Manual Coffee Grinder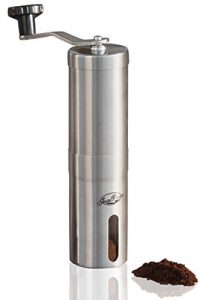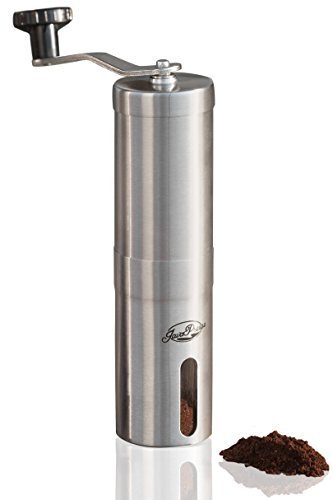 DESCRIPTION: The JavaPresse manual coffee grinder allows you to grind your own coffee beans to the coarseness according to your taste, and has the following features: #1 Best Seller, Weighs 1.8 lbs., Dimensions 1.8 x 7.5 x 1.8 inches, Stainless Steel, 18 Coarse Settings, Grinding Time 1.5 to 2.5 Minutes, Capacity 35 Grams, Model Number JavaPresse Manual Coffee Grinder.
CATEGORY: "Home & Kitchen", "Kitchen & Dining", "Coffee, Tea & Espresso", "Coffee Grinders", "Manual Grinders"
PRODUCT #: B013R3Q7B2
REVIEW RATING: 4.4 stars, based on 4,349 reviews
Product Description
The JavaPresse Manual Coffee Grinder has eighteen different coarse settings to select from that produces great tasting coffee. The manual coffee grinder grinds grounds for up to 2 cups of coffee at time. It can be taken anywhere as it's small enough to fit into a hand bag, and taken apart to save space when traveling. It is easy to clean and built for convenience.
 Product Specifications
Manufacture: JavaPresse Coffee Company
Model: JavaPresse Manual Coffee Grinder
ASIN: B013R3Q7B2
Weight: 1.8 lbs.
Dimensions: 1.8 x 7.5 x 1.8 inches
Capacity: 35 Grams of Coffee Beans
Grinding Time: 1.5 to 2.5 Minutes
Color: Stainless Steel
Comprehensive Guide Included: Yes
Product Pricing
The price for this product is provided to consumers so they can compare them with other similar products.
Note: The price of this product is subject to change without notice and my not be the actual price you pay at the time the order is placed.
Product Rating & Customer Reviews
Rating: [4.3]
This manual coffee grinder was rated by over 5,564 customers which gave this product an excellent rating.
You can read all of the customer reviews for this product by clicking on the following link: Customer Reviews!
Questions People Are Asking About This Product
Below are some of the questions people are asking about this product.
Question: How many cups of coffee is this thing built to make? How long would it take to grind enough for a 12 cup coffee maker?
Answer: Just followed a recipe for cold-brewed coffee which called for 1/2 cup of ground coffee beans. The top holds exactly 1/2 cup of beans. It took 8 minutes to grind.
Question: Will this fit inside an Aeropress?
Answer: This coffee grinder fits perfectly inside the Aeropress.
Question: What grade stainless steel is this? And where is it manufactured?
Answer: We use brushed 304 stainless steel in the grinder. All of our units are designed in California and Seattle, and assembled in China. And we're located in Cheyenne, Wyoming.
Question: What material is the burr made of?
Answer: Ceramic.
You can also review the 358 answered questions concerning this product by clicking Here!
Comparing Manual Hand Grinders
Below is a chart of the three top selling manual hand grinders. You will notice that the main differences are in the price of CNSTAR is the cheapest but it has only a 30 return policy. Our recommended manual hand grinder is the JavePresse as it has a 1-year warranty and is the #1 best selling manual hand grinder on Amazon.
Comparing Manual Coffee Grinders

 
 
 
 
Item
JavaPresse
CNSTAR
Mueller
Price
$23.99
$18.99
$24.49
Batteries Needed
No
No
No
Electricity Needed
No
No
No
Rating
4.4
4.8
4.6
Customer Reviews
4,642
18
183
Click Settings
18
18
18
Removable Hand Crank
Yes
Yes
Yes
Weight
11 oz.
11.4 oz.
10.6 oz.
Dimensions
1.8 x 7.5 x 1.8 inches
9.2 x 2.5 x 2 inches
9 x 2.5 x 2.4 inches
Material
Brushed Stainless Steel
Stainless Steel
Brushed Stainless Steel
Raw Coffee Beans Limit
2 cups
2 cups
2 cups
Grinding Time
2-5 Minutes
2-5 Minutes
2-5 Minutes
Amazon
#1 Best Seller
N/A
Choice
Compact
Yes
Yes
Yes
Portable
Yes
Yes
Yes
Warranty
1-Year
30 Days
N/A
PROS
Built-In Adjustable Grind Selector – You can select up to 18 click settings that ensures you have 100% precision control over the coarseness of your ground coffee.
No Batteries or Power Source Needed – There are no batteries, cords, or an external power source to operate this grinder. You can enjoy fresh ground coffee beans indoors, outdoors or anywhere you go on a trip.
Take It Anywhere

– The coffee grinder is small enough to fit in a handbag, and portable enough to be taken apart to save space when flying, or in a backpack going on a hike or camping.

Convenient Removable Hand Crank

– The mechanism consistently eliminates over 90% of the noise that the electric grinders produce. Imagine grinding your favorite java roast quietly in your office or cubicle or in the kitchen not bothering those in the house are fast asleep.

Burrs Tested – The burrs are design tested through three professional grade inspections up to 5 times longer than stainless steel blades for longer lasting performance.
CONS
The grinder is limited to making 1-2 cups of coffee grounds at a time.
When grinding more than 2 cups of coffee beans, it's recommended that an electric burr grinder be used.
Shop Coffee Grinder
Shop the JavaPresse Manual Coffee Grinder. Click one the Buy Now button below. Place your order now and be glad you did.
As an Amazon associate, I earn from qualified purchases.
If you did not see your product here, enter a search term in the box below to search other products on Amazon.
Go back to the Pros Cons Shopping home page.