Remove Hair On Your Schedule!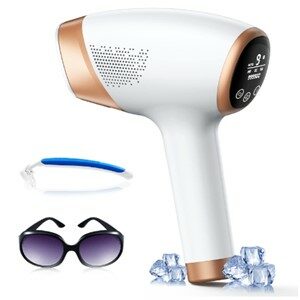 Introduction
The IPL home hair removal device works just like going to the salon but cheaper. This is a home treatment for removal of unwanted hair on the body. It can be used by both men and women. These devices have levels of treatment that damages the tube-shaped sacs within the hair follicles that produce hairs. This damage inhibits or delays future hair growth. It is safe to use, but it only can be used on specific types of skin tones and hair colors.
Now, you can do your own hair removal treatment in the convenience of your own home. You must be aware that these devices are limited to specific skin tones and hair color.
IPL stands for Intense Pulsed Light (IPL). It works by concentrating a beam of light onto hair follicles, heating them up and stunting regrowth.
Is IPL Hair Removal Effective At Home?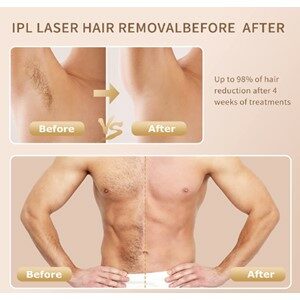 Some studies have shown that individual users can expect up to 92% hair reduction within three treatments. It is possible on skin tones from very white to dark brown. This treatment is not recommended for individuals with very dark skin or those with white, grey, light blonde, or red hair due to the pigments. The bottom line here is yes, you can remove hair effectively at home without having to go to the salon. The effectiveness of these treatments will vary from individual to individual.
Do You Have To Shave To Use IPL?
A quick answer to this question is yes. When you use any hair removal home treatment, before you begin the first treatment, you must shave and clean the surface of the area you want to remove hair from. You will need to do this for all the areas where you want to remove hair on your body in future treatments.
Does IPL Remove Hair Permanently?
When you use the IPL home removable hair treatment device, it will only be semi-permanent. You will probably need to continue treatments until you experience complete satisfaction. In some cases, you may need to continue treating the area for more than one and up to 3 years. The results of permanent hair removal will vary on the individual doing the treatments.
How Long Does IPL Take To Remove Hair?
IPL takes about 6 sessions to get rid of 70% of hair permanently. Also, the way IPL works by killing the follicle mans that in grown hairs will no longer be a problem. There is no need to grow out your hair before treatment as it is necessary to shave (not wax or pluck) on the day or the day before treatment. Be aware that to permanently remove hair can take up to twelve weeks for some individuals.
What Happens When I Stop Using IPL?
As I am not a doctor, but I will give you, my opinion. When you stop using IPL treatments, the effective treated hairs should remain gone. Any other hairs, not treated, will continue to grow as normal.
Does IPL Remove Peach Fuzz?
Yes, IPL does remove peach fuzz and it will remove it permanently using at home IPL devices. IPL is applied through a broad band spectrum of light with multiple wavelengths. Most peach fuzz is on the face and it's a good idea to rid your face of peach fuzz as it helps acne. Peach fuzz can cause acne.
Using IPL at home will take about 6 to 8 sessions and the treatment will last up to 6-12 months. However, IPL at home devices will not work on darker skin types.
Results will vary from individual to individual.
Can I Use The IPL Device Every Day?
No, you should not use the IPL device every day as it can result in irritated skin. It is not harmful, but it will not improve the results.
When you are beginning to use the IPL device for the first time, take it slow for the first 3 to 4 sessions, leaving a 2 week break between treatments for under arms and bikini areas. When doing leg areas, leave 4 weeks between treatments. The hairs on the legs have different growth cycles.
Recommended Skin & Hair Tones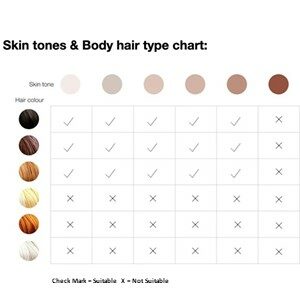 When you are thinking of using a hair removal device to use at home, bear in mind that certain skin and hair tones are not acceptable. See the chart on the right.
The acceptable skin tones are:
White
Lvory
Beige
Light Brown
Medium Brown
The following skin tones are not acceptable:
Recommended hair tones:
Hair tones not recommended:
Platinum Blonde
Red
Grey
White
Beige
Not for tattooed and injured skin
Some Do's and Don'ts After Home IPL
After you have done a home IPL treatment, you need to remember not to do certain things. These are mentioned below.
Don'ts
Don't use the IPL device every day.
No plucking or waxing for a month before the IPL or laser treatment. Hair can be removed only by shaving.
Stay away from the sun for at least 2 weeks before the treatment so the skin won't get tanned. The darker the skin, the less efficient the treatment.
Before any IPL session, shave the treated area. It is recommended that the hair has a growth of 1 to 2mm.
Be sure to clean the area you want to treat. Make sure there is no lotion or cosmetics on your hair or skin. You can wash it or clean it with an antiseptic wipe.
Don't use chemical peels for a 2-week period, prior to any IPL treatment.
If you are on antibiotics, postpone the treatment. They can have an effect on the skin. Also, a risk of getting burned.
Don't wear clothing that will irritate the skin.
Don't apply perfumed products on the treated area at least for 24 hours.
Don't use deodorant after laser hair removal, it will sting.
Do not use retinol products after laser hair removal.
Do's
Do clean the skin with a fragrance free noncomedogenic wash. Moisturize the skin after the treatment.
Do use a numbing cream if you have a low tolerance for pain.
Do stay away from the sun, gym, sauna, and not take hot showers in the first 24-48 hours after the IPL treatment.
Do use a cooling gel after the treatment. It will reduce the heat applied on the skin from the laser hair removal session.
Do use protective glasses for any hair IPL treatment.
Do use sensitive shavers for the face.
Do use a sunscreen with high SPF at least 30 for protection. Reapply if the skin gets wet or you sweat.
Do keep the device away from water or moisture.
How To Use The IPL Device
Below are the instructions for most IPL devices. However, always consult your owner's manual for how to properly use the device.
Shave the area where you want to apply the IPL treatment.
If your device came with sunglasses, put them on.
Turn on the device. (You may need to refer to the owner's manual)
Set the device to the mode level of treatment. (Some models allow up to 9 levels. Most models allow up to 5.)
Press the button for a flash to occur on the area of skin to be treated.
If you have a larger skin area, you can press and hold down the button over the area of treatment. You should see flashes of light as you move the device over the area of skin to be treated.
When done, turn off the device and remove the sunglasses.
Note: Your device will have a maximum level of flashes already built-in the system. They will vary from 200,000 to 999,999. Refer to the owner's manual for the number of flashes your device has.
PROS
Can be used in your home or apartment
Cost less than going to the salon
Treatments are done on your schedule
Can be used by both men and women
Can be used on many areas of the body including the face (Limited to specific models)
Easy to use
CONS
Must clean and shave the area to be treated before use
Limited to the number of flashes the device has
Not for tattoo and tanning skin
Limited to specific hair colors and skin types
Initial purchase is expensive
Conclusion
Using an IPL hair removing device is a great way to save money in having to set up appointments with your salon. Now, you can remove hair at your convenience, in your own home, and on your own schedule.
Before selecting an IPL device, if you are interested in one, contact the manufacture first before purchase. Ask the customer support rep if your skin type and hair color is recommended and can it work on the face. Knowing this ahead of time will prevent you from returning the device because it did not work for your skin or hair type after applying a couple of treatments.
These devices can be used by both men and women.
Some models allow you to remove peach fuzz from your face and others do not. Be sure your device you select will allow you to do the treatments you are going to use it for.
Remember, do your homework first before purchasing the IPL hair removal device. Be sure it will do all that you want, and it will work for your skin type and hair color.
When using the IPL treatments, you should see some results in a little as 3 weeks. For complete hair removal, you need to continue the treatments up to 12 weeks. Schedule the treatments once per week.
Shop IPL Hair Removal Devices
Now, shop for a IPL hair removal device from those listed below. Just select an image and you will be taken to Amazon to place the order. While there, you can check out the answered questions and customer reviews.
As an Amazon associate, I earn from qualified purchases.
Go to the Pros Cons Shopping home page.