Mount iPhone Easily and Safely In Your Car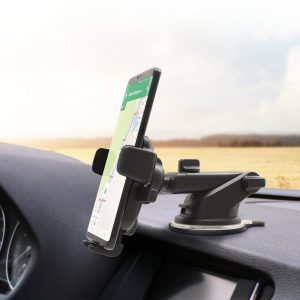 Do you own a iPhone or Smartphone? If you do, you probably take it with you wherever you go and don't leave home without it. This is especially true if you need to use the car for an errand, picking up kids at school, or going to work. The iOttie Easy One touch 4 Dashboard Windshield Car Mount Holder is just the device you need to keep the phone handy. This car mount is amazing. You can install this holder on the dashboard or the windshield. The suction cup sticks securely to most surfaces and is easily removable to be used again and again.
What is nice about this iPhone holder is that it can be placed in landscape or portrait orientation just by a turn of the telescopic arm. The telescopic arm extends from 4.9 to 8.3 inches. Which gives you the desired look you are looking for. The only limitation is to the width of your iPhone or Smartphone. The unit holds phones that have widths between 2.3 to 3.5 inches.
This mount holder pivots 225° arc for a variety of optimal positions after it is mounted. Giving you many different looks for your Smartphone.
Prior to ordering this dashboard holder, measure your device to ensure it fits into the dimensions stated. The touch mechanism allows you to easily mount and remove your smartphone with one simple hand motion.
Another great feature of this holder is that it can be mounted on any desk surface. So, if you should work at home or at the office at work, you can mount it on your desk which makes is very handy to answer it. You will not have to go into your purse or pocket to answer it.
Important Notice: Prior to installation be sure that the surface area of the dashboard and the product have a temperature above 40 degrees Fahrenheit.
Easy One Touch Video
Check out this short video showing you how you can mount the unit on the dashboard or windshield. Take a look!
Dashboard Mounting Instructions
iOttie Super Strong Suction Cup

Place the dashboard pad in the area where the product will be installed and rub firmly. Let the pad sit for 30 minutes before placing the rest of the unit on it.

Take the unit and set it on the pad. To secure it firmly in place, pull down the lever.
Loosen pivot knob to adjust the angle to your liking.
Insert iPhone in the holder.
Lower the adjustable Foot for larger smartphones.
For extra reach, flip the mount over and pivot the Telescopic Arm.
Loosen the knob to extend the Telescopic Arm.
The Telescopic Arm rotates for landscape or portrait viewing.
Windshield Mounting Instructions
Place the unit in the location on the windshield and pull down the lever to secure it in place.
Make adjustments as necessary to fit the device.
Place iPhone or smartphone in holder.
To remove iPhone just press it in to release it from the holder.
Note: The suction cup is reusable. Rinse it in warm water to restore stickiness. Let it air dry. Then reinstall it on the dashboard, windshield or desktop surface.
Product Description
The Easy One Touch 4 provides a compact, versatile, and highly functional mounting solution. It offers a redesigned telescopic arm which extends up to 5 inches to provide users with even more viewing angles. Also included is an adjustable bottom foot that not only moves left and right but also up and down. As always, the Easy One Touch 4 includes the powerful iOttie sticky gel pad. The Easy One Touch 4 has one last exciting feature: new compatibility. Phones up to an impressive 3.5 inches will fit safely into this mount. Mount Smart. Drive Smarter!
BRAND:
iOttie
NAME:
iOttie Easy One Touch 4 Dashboard Windshield Car Mount Holder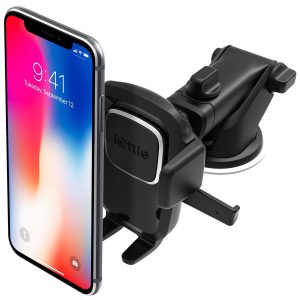 DESCRIPTION: The Easy One Touch 4 provides a compact, versatile, and highly functional mounting solution, and has the following features: Weighs 7.2 Ounces, Dimensions 3 x 5 x 9 inches, One Touch Lock & Release, Color Black, Suction Cup Dimensions 3 inches, Orientation Portrait & Landscape, Mount Location Windshield & Dashboard, Warranty 1-Year, Fits Phones Between 2.3 to 3.5 inches in width, Model Number HLCRIO125.
CATEGORY: "Automotive", "Interior Accessories", "Consoles & Organizers", "Dash-Mounted Holders"
PRODUCT #: B076B27WP6
REVIEW RATING: 4.3 stars, based on 602 reviews
Product Specifications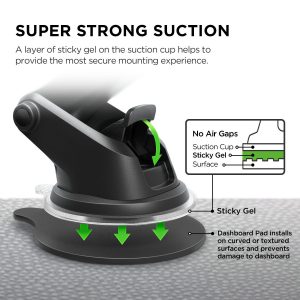 Manufacture: iOttie
Model Number: HLCRIO125
ASIN: B076B27WP6
Dimensions: 3 x 5 x 9 inches
Weight: 7.2 Ounces
Color: Black
Lock & Release: One Touch
Mount Location: Windshield or Dashboard
Style: Dashboard
Adjustable Foot: Yes, Vertically or Laterally
Orientation: Portrait and Landscape
Telescopic Arm: Extends from 4.9 – 8.3 Inches
Suction Cup Diameter: 3 Inches
Pivots: 225° arc for a variety of optimal positions
Universal Mount: Holds all phone and case combinations from 2.3 -3.5 inches
Warranty: 1-Year Hassel Free (Save original receipt)
Product Pricing
The price for this mount holder is provided to consumers so they can compare them with other similar products.
Price: $24.95
Note: The price of this product is subject to change without notice and may not be the actual price you pay at the time of purchase.
Product Rating & Customer Reviews
Rating: [usr 4.1]
This product was rated by 2,697 customers.
You can read all of the 2,697 reviews for this product by clicking on the following link: Customer Reviews!
Questions People Are Asking About This Product
Below is a small sample of some questions people are asking about this product.
Question: Can you plug in a charger and aux cable on iPhones at the same time?
Answer: Yes, I do it everyday. I listen to audible over aux and use GPS. I've had the older model of this on my windshield.
Question: How does it handle vibration?
Answer: It's not too bad at all. I have mine mounted on the windshield, so it vi rates a bit more since it doesn't have the same level of support as mount dashing.
Question: What is the size of the sticky pad, (across) and will it stick to a windscreen?
Answer: The sticky pad is 3 inches in diameter. If you are referring to the the windshield, the pad should stick to it, however, the suction cup built into the unit should be sufficient to hold onto the windshield without the use of the pad.
Question: Is the dash mount pad reusable & be purchased separately for use of the mount in more than one car?
Answer: No this is not to be removed from the dashboard after you have put it in place.
You can review all of the 639 answered questions about this product by clicking Here!
PROS
Universal Mounting – Holds all phone and case combinations from 2.3 – 3.5 inches.
Easy One Touch Lock & Release –

The enhanced universal Easy One touch mounting system locks and releases the device with just a push of a finger.

Dashboard Mounting –

The suction cup sticks securely to most surfaces, and is easily removable.

Adjustable Viewing –

The re-designed Telescopic Arm extends from 4.9 – 8.3 inches and pivots on a 225° arc for a variety of optimal positions.

Warranty –

iOttie guarantees a hassle free 1 year warranty.
CONS
Price.

Limited to phone widths between 2.3 – 3.5 inches.
Shop Car Mount
Shop the iOttie Easy One Touch 4 Dashboard Mount. Click the Buy Now button below. Place your order now and be glad you did.
As an Amazon associate, I earn from qualified purchases.
If you did not see your product here, enter a search term in the box below to search for other products on Amazon.
Go back to the Pros Cons Shopping home page.