Make Great Tasting Meals All With One Appliance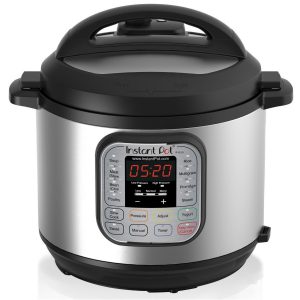 The Instant Pot DUO60 7-in-1 programmable pressure cooker not only provides some great tasting food but also cooks up to 70% faster and is seven appliances in one. It even reduces the energy usage by 70%, thus saving you money on your electric bill.
The Instant Pot is a pressure cooker, slow cooker, rice cooker, steamer, sauté, yogurt maker and warmer all in one appliance. Now, you can make great tasting meals while you are away at work and it will be ready to serve when you get home.
You can pressure cook at the low setting about 7 psi or high which about 11 psi and while it's cooking it is very quiet. It will however, give off rings or bell sounds to inform you that the cooking process is completed.
You can take meats and vegetables directly from the freezer and cook them in the Instant Pot along with any other additions with no thawing required.
Cooking time with this pressure cooker is reduced by up to 70% and energy savings are also 70% which helps the budget and pocketbook.
Another nice feature of this pressure cooker is you can program it ahead of time so the food cooks while you are away and will be ready when you want it.
When cooking foods in this pressure cooker do not fill the bowl above 2/3 full.
Product Description
Instant Pot is a smart Electric Pressure Cooker designed by Canadians aiming to be Safe, Convenient and Dependable. It speeds up cooking by 2~6 times using up to 70% less energy and, above all, produces nutritious healthy food in a convenient and consistent fashion. It has 14 built-in smart programs (Soup, Meat/Stew, Bean/Chili, Poultry, Sauté, Steam, Rice, Porridge, Multigrain, Slow Cook, Keep-Warm, Yogurt, Pasteurize & Jiu Niang) cook your favorite dishes with the press of a button.
A 24-hour timer allows for delayed cooking. Automatic keep-warm feature holds the temperature of the food until you serve it. Instant Pot generates almost no noise and leaks no steam. It traps all the aromas in the food without heating up the kitchen. The 3-ply bottom stainless steel inner pot is extremely durable and leaves no health concerns associated with non-stick coatings. The slim body design has lid holders for both left and right handed users.
The brushed stainless steel exterior is finger print resistant. Its elegant and durable design makes it easy to clean and pleasurable to use for the years to come. Instant Pot Duo uses the latest technology with an embedded microprocessor, which monitors the pressure and temperature, keeps time and adjusts heating intensity.
Care and Maintenance
Regular care or maintenance is essential in ensuring that this product is safe for use. If any of the following circumstances take place, please stop using the appliance immediately and contact the Instant Pot support team.
Power cord and plug suffer from expansion, deformation, discoloration, damages, etc.
A portion of power cord or the plug gets hotter than usual.
Electric pressure cooker heats abnormally, emitting a burnt smell.
When powered on, there are unusual sounds or vibrations.
If there is dust or dirt on the plug or socket, please remove dust or dirt with a dry brush.
Contact By Email: support@instantpot.com
Phone:

1-800 828-7280
Instant Pot Cooking Temperatures
Some of you may want to know the temperature cooking ranges for the main settings of this pressure cooker. The temperature ranges are in F:
Working Temperature: 239F – 244F at HIGH, 229 – 233F at LOW
Sauté: NORMAL 320 – 349F, MORE 347F – 410F, LESS 275 – 302F
Keep Warm: 145 – 172F
Slow Cook: 190 – 210F
Yogurt Function Up to 99 hrs.: Normal 96.8 – 109.4F, Less 86 – 93.2F, More 180F
Keep Warm Function: Up to 99 hours 50 minutes 145 – 172 degrees F
Slow Cook Function: From 0.5 to 20 hours at 190 – 210 degrees F
BRAND:
Instant Pot
NAME:
Instant Pot DUO60 7-in-1 Programmable Pressure Cooker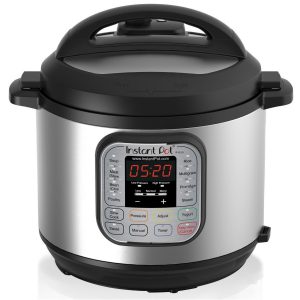 DESCRIPTION: The Instant Pot programmable pressure cooker not only provides some great tasting food but also cooks up to 70% faster and is seven appliances in one, and has the following features: LED Display, Wattage 1000 Watts, Pressure Cooking Time Up to 4 Hours, Capacity Size 6 Quarts, Voltage 120V, 14 Built-In Programs, 12 Preset Temperatures, Dishwasher Safe, 1-Year Warranty from Date of Purchase, Model Number IP-DUO60.
CATEGORY: "Tools & Home Improvement", "Kitchen & Bath Fixtures", "Bathroom Fixtures", "Bathtub Faucets & Showerheads", "Showerheads"
PRODUCT #: B00FLYWNYQ
REVIEW RATING: 4.6 stars, based on 27,111 reviews
Product Specifications
The specifications below are for the IP-DUO60 Pressure Cooker:
Manufacture: Instant Pot
Model Number: IP-DUO60
ASIN: B00FLYWNYQ
Dimensions: 4 x 12.2 x 12.5 inches
Inner Pot Dimensions: 3 x 8.66 inches
Weight: 8 lbs.
Material Type: Stainless Steel
Color: Silver
Wattage: 1000 watts
Pressure Cooking Time: Up to 4 hours
Capacity Size: 6 Quarts
Voltage: 120V
Delayed Cooking Feature: Yes, up to 24 hours
Element Power: 60Hz
Display: LED
Smart Built-In Programs: 14
Safety: UL/ULC Certified and 10 Safety Features
Control Type: Button
Dishwasher Safe: Yes
Preset Temperatures: 12
Warranty: 1-Year from date of purchase
In The Box: 1 Pressure Cooker with Lid, Steamer Rack with Handles, Rice Paddle, Soup Spoon, Measuring Cup, Instructions, and Recipes
Product Pricing
The prices for this product are provided to consumers so they can compare them with other similar products.
3 Quart Price: $69.95
6 Quart Price: $98.00 (Pictured)
8 Quart Price: $139.95
Note: The prices for these pressure cookers are subject to change without notice and may not be the actual price you pay at checkout.
Product Rating & Customer Reviews
Rating: [lusr 4.6]
This pressure cooker was rated by over 32,130 customers which gave this product an excellent rating.
You can read all of the customer reviews by clicking on the following link: Customer Reviews!
Questions People Are Asking About This Product
Below are a sample of the questions that people are asking about this product.
Question: How much meat can fit into the 6 quart Instant Pot? Looking to understand how many pounds of common meats like, chicken, pork, or a chuck roast will fit?
Answer: In my 6 qt. I've done a 6lb boneless leg of lamb, a 5lb pot roast, and at least 5 pounds of pork shoulder (albeit, it was cut into smaller, serving size pieces).
Question: Can this be used as a deep fryer?
Answer: No.
Question: What setting do you use on the mini instant pot when you don't have a manual setting?
Answer: The Manual setting has been renamed as "Pressure cook" in the newer versions. When you see a recipe calling for Manual selection, choose "Pressure cook" which is same thing.
Question: Are glass lids available for this unit?
Answer: Glass lids are sold separately.
Question: What is the difference between this and a a crock pot?
Answer: A crock pot only cooks slowly. A pressure cooker cooks very quickly under pressure. This unit does both and does rice cooking and is a steamer as well.
You can also review all of the 1000+ answered questions concerning this product by clicking Here!
PROS
Easy One Touch Controls – It's simple as pressing a button.
Adjustable Temperature Settings – Less, Normal and More – 3 temperatures in 'Saute' for searing, simmering or thickening and 3 temperatures in 'Slow Cook' to provide greater flexibility.
Replaces 7 Common Kitchen Appliances – Replaces the Pressure Cooker, Slow Cooker, Rice Cooker, Steamer, Saute, Yogurt Maker, preparing healthy, and making tasty dishes up to 70% faster and using less energy.
Ten Safety Features – Safety lid lock, thermal electrical fuse, leaky lid detection, lid position detection, over pressure protection, anti-blockage vent, automatic temperature control, high temperature monitoring, excess pressure protection, and UL certified
Instant Pot is carefully designed to eliminate many common errors that could cause harm or spoil food. It passed the stringent UL certification giving you uncompromised safety and peace of mind and protects you with 10 proven safety mechanisms and patented technologies.
Consistent Results Using 3 Generation Technologies – Built-in microprocessor monitors pressure, temperature, keeps time, adjusts heat intensity and duration to prepare healthy, tasty dishes.
Warranty – 1-Year from the date of purchase.
CONS
Price.
It takes between 8 to 10 minutes for the pressure to build-up.
Shop Instant Pot Pressure Cooker
Shop the Instant Pot DUO60 7-in-1 Programmable Pressure Cooker. Click on the Buy Now button below. You can select the 3, 6, or 8 quart size cooker. Place your order now and be glad you did.
As an Amazon associate, I earn from qualified purchases.
If you did not see your product here, enter a search term in the box below to search other products on Amazon.
Go back to the Pros Cons Shopping home page.