Make Great Tasting Meals 70% Faster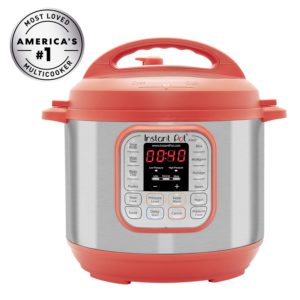 If you are like most people you have probably heard of pressure cookers and the news you heard about them was not favorable. Don't worry. You can take those fears away as the Instant Pot Duo 7-in-1 Programmable Pressure Cooker will remove those doubts and fears. This is an amazing appliance. It has seven kitchen appliances all wrapped up in one unit. Pressure cooking will cook foods up to 70% faster than normal cooking methods because of shorter cooking times. That alone should be something to think about if you are concerned about meal time preparation.
The bottom line here is you will save some money because of the faster cooking times. Besides that, it replaces seven kitchen appliances.
You can stew, sauté, steam slow cook, make rice, and keep food warm for up to 10 hours. This seven in one programmable pressure cooker replaces the following kitchen appliances:
Pressure Cooker
Slow Cooker
Rice Cooker
Steamer
Sauté
Yogurt Maker
Warmer (Keeps food warm for up to 8 hours)
The great thing about pressure cookers is all of the food, while it's being cooked, is cooking in their natural juices which enhances the flavor. Once you use this appliance you will think of additional recipes to use in this pressure cooker. Your family members will rave about the taste of the foods they eat.
Once you have set the function or time, you can walk away and let it do it's job. After the cooking time is done, the unit automatically goes into the warm cycle mode until it's turned off. It will also beep to notify you that the food is done and the cooker needs to be depressurized before opening the lid.
The Instant Pot pressure cooker is the number one pressure cooker in America and on Amazon. The enclosed recipe booklet contains recipes you can use if you don't have any.
This appliance also make for a great gift for any occasion.
Topic Table of Contents
Below are links to the topics that may be of interest to you. Just select the topic of interest and you will be taken to that section. Or, you just scroll down to view them all.
Unboxing & Assembly Video
Benefits of A Pressure Cooker
Instant Pot Specifications
Instant Pot Features
Six Steps You Need To Do Before Pressure Cooking
Depressurizing Methods
Instant Pot Pressure Cooker Safety Tips
Water Test Video (Before Using Pressure Cooker for the First Time)
Product Rating & Customer Reviews
Questions People Are Asking About This Product
Pros/Cons
Shop Instant Pot Pressure Cookers
Unboxing & Assembly Video
Below is a shout video showing the unboxing and assembly of the pressure cooker right out of the box. Take a look!
Unboxing & Assembly Video

Benefits of A Pressure Cooker
Besides providing great tasting foods, the pressure cooker cooks the food in their natural juices which adds flavor to the food being cooked. The Instant Pot Pressure Cooker also has other functions that you don't have to purchase other appliances and makes for room and space on the kitchen countertop.
Other huge benefits is the time saved in meal preparation. Foods cooked in the pressure cooker cook up to 2 to 6 times faster saving you money by using up to 70% less energy.
The Instant Pot has 10 built-in safety features that makes pressure cooking a lot easier and safer.
The appliance acts as a rice cooker, slow cooker, pressure cooker, yogurt maker, food warmer, steamer and sauté.
Instant Pot Specifications
Manufacture: Instant Pot
Models: Duo 60, Duo 80 & Duo Mini
Weight: 11.8 lbs. (Duo 60), 15.8 lbs. (Duo 80), 8.65 lbs. (Duo Mini)
Dimensions: 13.4 x 12.2 x 12.5 inches Duo 60, 14.8 x 13.2 x 10.4 inches Duo 80, 11.8 x 10.5 x 10.98 inches Duo Mini
Colors: Black, Red, Teal, White
Wattage: 1000 Watts (Duo 60) 700 W (Duo Mini), 1200 (Duo 80)
Size: Duo 60 6 quarts, Duo 80 8 quarts, Duo Mini 3 quarts
Programmable Settings: 14 (All Models)
Multi-Functions: Braising, Pressuring Cooking, Stewing, Steaming, Simmering, Slow Cooking, Sauté/Browning, Fermenting, Making Yogurt and Keeping food warm.
Delayed Cooking: Yes, up to 24 hours
Keep Warm: Up to 10 hours
Easy To Clean: Yes
Steam Release Pressure Limit: 16.68psi
Slow Cook Function: 0.5 – 20 Hours
Dishwasher Safe: Yes, Steel Inner Pot and Steam Rack
Safety Features: 10
UL/ULC Certified: Yes, all models
Serves: 2-4 (Duo 60), 4-6 (Duo 80), 1-2 (Duo Mini)
Inner Pot: Food Grade 304 Stainless Steel (no chemical coating)
Heat Distribution: 3-Ply Bottom For Even Distribution
Power Supply: 120V – 60Hz
Warranty: 1-Year
In The Box: 1 Pressure Cooker, Rice Paddle, Soup Spoon, Measuring Cup, Steam Rack, Condensation Water Collector, Recipe Booklet & User Manual
Instant Pot Features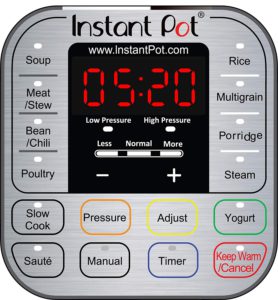 Below are some of the safety and regular features of this pressure cooker to keep your mind as ease.
Safety Features
Pressure Regulator Protection
Leaky Lid Protection
Extreme Temperature & Power Protection
Excess Pressure Protection
Safety Lid Lock
Lid Close Detection
Anti-Blockage Vent
Automatic Pressure Control
Automatic Temperature Control
High Temperature Warning
Regular Features
Advanced Microprocessor Technology
10 Built-In Programs (Meat/Stew, Poultry, Sauté, Soup, Bean/Chili, Congee, Steam, Multigrain, Rice and Slow Cook
3 Adjustable Modes
Delay Cooking Timer (Up to 24 hours)
Automatic Keep Warm (After food is done, this feature is automatically turned-on
Manual Setting (Up to 2 hours)
3-Ply Bottom Stainless Steel Grade 304 Bowl
Recipe, Cooking Time Table & Instructions
Six Steps You Need To Do Before Pressuring Cooking
To help you in your using the pressure cooker, below are some steps that will assist you.
Determine the amount of time needed to cook food
Lid is clean and ready to go
Place the food into the inner pot (stainless steel bowl)
Install lid
Plug in cord to an electrical outlet
Choose and press the function key
Depressurizing Methods
After the food is done, you will need to depressurize the unit before you can take the food out of the pressure cooker. Below are the two methods you can use do this.
Naturally – Allow the unit to depressurize normally and will take between 10 to 20 minutes depending on how much food is being cooked. Note: The unit will depressurize even during the "Keep Warm" cycle.
Quick Release Method – Turn the steam release handle to the "Venting Position". Note: Do not use the quick release method when using the Congee Function or cooking any sticky foods. This may cause some foods to squirt out of the release handle.
Note: The preheat cycle for the Instant pot can vary from 10 to 20 minutes depending upon what you are cooking and the amount of food being cooked. If the food is frozen, the preheat cycle can be up to 30 minutes.
Instant Pot Pressure Cooker Safety Tips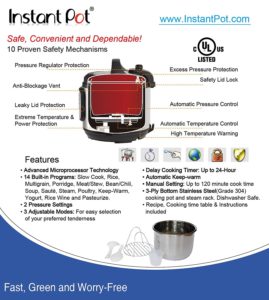 Below are some safety tips:
Do not use the pressure cooker for other than intended use.
Do not place the pressure cooker in a heated oven.
Do not fill the inner pot above the Max Fill Line.
Never open the pressure cooker until the unit has cooled and all internal pressure has been released.
Never deep fry or pressure fry in the unit with oil.
Do not move the unit or force to remove the lid when the unit is in operation.
Do not cover the pressure valves.
Do not place the unit on an unstable location.
Do not use the unit on newspaper, foam, or other object that can easily block the vent holes at the bottom.
Before each use, check the anti-block shield, float valve and exhaust valve are clear of any obstruction.
Wipe the surface of the inner pot and the heating plate to ensure they are free of any foreign objects.
If an extension cord is used, use only a 3-wire that has a 3-prog grounding plug and a 3-slot receptacle that will accept the plug on the appliance. The electrical rating of the cord must be at least 12 amps and 120 volts.
Stop using the pressure cooker if power cord is damaged, discolored, or deformed. The pressure cooker heats abnormally, emitting a burnt smell. A portion of the power cord gets hotter than usual. When powered on there are unusual sounds or vibrations. Note: Phone customer service at 1-800-828-7280 if you should experience any of these. You may have a faulty cooker. Email: support@instantpot.com Support Ticket: instantpot.com/support
Do the initial test run as it helps you to get acquainted with the Instant Pot. It just takes 3 to 5 cups of water and a few minutes. Another main reason is to ensure that the pressure cooker is working properly. See the water test video below.
Replace the sealing ring every 2 to 3 years. Or, if you should notice any cracks, leaking, or deformation of the sealing ring.
Water Test Video
Below is a short video on how to do the water test to help you get acquainted with the Instant Pot Pressure Cooker. Take a look!
Product Rating & Customer Reviews
This pressure cooker is rated 4.6 stars by over 34,405 customers which is excellent. You can read all of the reviews about this product by clicking on the following link: Customer Reviews!
Questions People Are Asking About This Product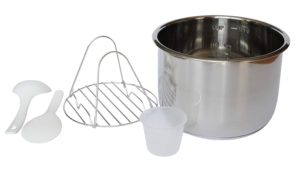 Below is a sample of some of the 1000+ questions about this product. You can read them all by clicking on the following link: Answered Questions!
Question: How long does it take to come up to pressure?
Answer: Depends on what is being cooked. If you have a cup of liquid in there it will pressurize in about 10 minutes. If you are using several cups of liquid and have frozen ingredients then it will take much longer.
Question: What is the difference between this and a crock pot?
Answer: A crock pot only cooks slowly. The instant pot is a pressure cooker – which cooks very quickly under pressure- so the meat and veg become very tender. But you can also cook slowly using the crock pot button.
Question: Does this cooker beep when done?
Answer: Yes, it does.
Question: Can you brown food using the Instant Pot?
Answer: Yes by using the sauté feature setting.
Question: Does this model have a baking function?
Answer: No. Pressure cookers cannot be used for baking.
PROS/ CONS
PROS
Replaces seven kitchen appliances.
Foods cook up to 2 to 6 times faster saving you meal time preparation.
Uses up to 70% less energy.
Ten programmable functions & 14 function keys.
Ten built-in safety features.
24 hour delayed cooking timer.
The auto keep warm function keeps food warm for up to 10 hours.
Dishwasher safe.
Cooks food directly out of the freezer without thawing.
CONS
Price.
The preheat cycle can vary from 10 to 30 minutes.
Cannot be used in countries outside the USA.
Made in China and shipped from Canada.
Shop Instant Pot Pressure Cooker
Instant Pot Pressure Cookers
You can shop for your Instant Pot pressure cooker that best fits your needs below. Just click on an image where you will be able to place the order on Amazon and get the latest price.
The sealing rings are for the thee types of pressure cookers. Just select the image where you can place the order on Amazon and check out the latest price.
As an Amazon associate, I earn from qualified purchases.
| | | |
| --- | --- | --- |
| Duo 60 | Duo 80 (8 qt.) | Duo Mini |
Sealing Rings
| | | |
| --- | --- | --- |
| Instant Pot 6 qt. Sealing Ring | DUO80 Sealing Ring 2-Pack | Sealing Ring DUO Mini |
Did not find what you were looking for? No problem. Enter a search term in the Amazon Box below to search on Amazon for other products.
Go back to the Pros Cons Shopping home page.
Instant Pot DUO60 6 Qt. Pressure Cooker
$99.99
Replaces 7 Kitchen Appliances
9.5/10
Uses 70% Less Energy
9.5/10
10 Built-In Safety Features
9.5/10
Cook Food Up To 2 - 6 Times Faster
9.5/10
Pros
Uses 70% Less Energy.
Dishwasher Safe.
Replaces 7 Kitchen Appliances.
Has 10 Built-in Safety Features.
Foods Cook Faster.
Cons
Price.
Cannot be used overseas.
Made in China.