Match Wardrobe With A Good Looking Watch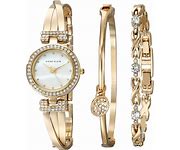 Women like to wear nice clothes and have a stylish wardrobe. Sometimes wearing a fine dress watch will complete the outfit with a nice look. You want to look your best when you attend a special event or occasion. How to buy the best women's dress watch will provide you with some great watches to help match your wardrobe and the occasion you find yourself in attending.
Watches not only tell time but they also can make a statement and show your personality and style.
Watches can be worn for special events, occasions, and casual wear. You be trying to find watches that fits the occasion it's needed for. The important rule here to follow is do not rush to buy. Take your time in selecting the watch or watches that fit your style, and wardrobe. It's that simple.
Selecting the Best Watch
There are some occasions for buying a watch. It could be for casual wear, making a fashion statement, or a gift. Below are some things to look for when selecting the best watch for you or someone else.
Budget
Watch Materials
Where Will The Watch Be Worn
Style
What Is Your Budget?
Your budget. Before you begin to shop for any timepiece, you will need to establish just how much you are willing to spend. Since, women's watches come in a wide variety of price ranges, you need to fix the price range before starting. Look for watches that fall between the low and high ranges you have established. Some brands of watches are very expensive and you don't want to break the bank. Always consider your budget when you shop for a watch.
Watch Materials
Watch materials. Watches come in various types of materials like the watch band. Is leather your preference? Do you prefer a metal bracelet such as stainless steel? The watch you select must fit comfortably and look nice. Leather, re
sin, rubber or stainless steel bands are your choices. You must decide on which type of material you like best on the watch. You also need to consider if you are allergic to certain types of metals like gold, silver, or stainless steel.
The watch crystal is next. The crystal comes in three types; plastic or acrylic, mineral, or sapphire. Determine which one you want your watch to have.
Where Will The Watch Be Worn?
Besides the budget, this is probably the next most important factor in deciding the best watch for you. Will the watch be needed for scuba diving? If yes, be sure to purchase a "Diver's" watch. For any other water related activity be sure it's stamped "water resistant" on the dial. If you should need a dress watch, it should be formal, classy and fits your style. When you have decided on the purpose, select the best watch brands that fits into your price range and material desired.
What Is Your Style?
This of course, will vary from person to person. You alone know your specific style and color. Make sure the watch fits your style of flashy, conservative, or making a fashion statement, pick the best watch brands that meet your terms.
As you can see, this will not be easy. However, with a little time and patience, you will find a watch that fits into your mold. Remember, stick within your budget range, style type, where it will be worn, and material the watch should have.
Watch Features
When trying to determine the best dress watch to buy you must decide on the features you want it to have. Let's take a look at some of them.
Features
The features of any watch must fit the main reason to purchase it. So, before shopping, you can select and note the specific features your watch must have. This will help keep the expense of the watch within the budget range you have set.
Below are some of the basic features any watch may have:
Brand or Manufacture
Weight
Case Material
Band Material
Band Color
Dial Color
Movement
Bezel
Water Resistance
Crystal Type
Clasp
Of the features mentioned above, the major ones that will impact cost the most are; brand, case material, movement, water resistance and crystal type.
Dress Watch Styles
Dress watches can come in the following styles:
Chronograph – This style watch is for keeping a log for timing events or activities. Can also be used as a sports watch.
Sports – This style of watch is for diving, swimming, running etc.
Dress – This style is for looking your best for any occasion.
Luxury – This style of watch is for making a fashion statement.
Each of the above styles can be used for specific occasions or events. For example, luxury watches can be very expensive like any Rolex model, and some are very nice that carry a price tag of under $100.
Crystal Types
Crystals on watch faces come in the following types:
Acrylic or Plastic
Mineral
Sapphire
As you go from top to bottom, the cost of the crystal increases and so will the watch.
Selecting Your Watch
When selecting any watch you must decide the occasion it will fit. If for normal or casual wear, an inexpensive one can be an excellent choice. If it's for a special occasion like a wedding, anniversary, birthday or graduation, or promotion, a more expense watch may be appropriate. If it's for a gift, you will need to consider the recipients needs and style. If for everyday wear or work a model for under $100 probably will meet the need. If it's for scuba diving or underwater adventures, a water resistant or "Diver's" watch will be required.
Here are some simple watch guidelines to follow:
Determine the occasion and use of the watch.
Determine the style of watch. As mentioned above, there are four styles; chronograph, dress, luxury or sports watches. Decide on the style.
Look for the manufacture or brand of watch you are interested in.
How much can you afford to spend? Have a range of prices in mind before you begin.
Movement Type – There are four types; automatic or self-wind, battery, manual wind or solar. Determine the movement you want the watch to have.
Place all watches you have looked at and are thinking about purchasing into categories. Place the selections in the following order: price, crystal type, case material, band, movement, and color. If for diving, water resistance level and if "Diver's" is printed on the dial face. Note: This is a must for scuba diving.
Compare all the selections. If price is not an issue, look for the overall impression each one gives you. Select only those that make a good first impression. Or, if buying for everyday wear, one that fits your overall dress style.
Go to any jewelry store or a store that sells watches and look for your style watch with the features you want. Try it on. How does it feel? How does it look on you? Look in a mirror to see the best results. Ask the rep if the watch comes with a warranty. If yes, ask what is covered with it. If it's a battery operated one, do they replace the batteries. If not, where?
The price for the style of watch may vary from store to store. However, the features of the watch will not. You may also want to check out your watch online at Amazon or other online watch selling sites. You can read the customer reviews and get a sense of how they feel about the watch.
After doing all of this homework, you are ready to make your purchase either online or at the store.
Conclusion
As you can see, finding a dress watch does take some time and effort. Knowing the reason for its purchase and the budget you have available are probably the two most important areas prior in making any watch purchase.
As you review the watches within your price range, just focus in on the features you want the watch to have. Some of these features are; movement, crystal type, case material and water resistance, just to name a few. Each of these features does impact the final cost of the watch.
When you have made the decision on the model, wear it with pride and be prepared to provide answers when asked by others why you selected it.
Shop Women's Dress Watches
Below are some great looking women's dress watches. Click on the image of the watch of interest. You will be taken to Amazon where you can place the order.
As an Amazon associate, I earn from qualified purchases.
| | | | |
| --- | --- | --- | --- |
| Anne Klein Women's Dress Watch & Bracelet Set | Anne Klein Women's Watch & Bracelet Set Glossy Black | Anne Klein Diamond Women's Black Face Watch | Nine West Women's Dress Watch |

Anne Klein Watch & Bracelet Set
| | | |
| --- | --- | --- |
| Anne Klein Gold Tone Ladies Watch | Seiko Women's Watch | Shengke Ladies Watch Rose Gold |
Did not find what you were looking for? Enter a search term in the Amazon Box below to search on Amazon for other products.