Pocket Watches Bring Fashion, Style and Class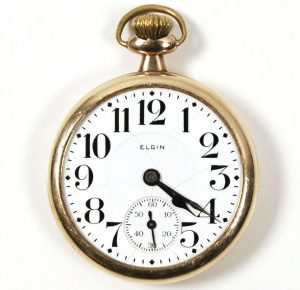 Even though pocket watches may seem to be out of style today, as most wear wrist watches, they still can bring fashion and style to those that own one. Pocket watches were in fashion from the 16th century right up until the end of World War I. In the United States, they were extremely popular when the railroads were being built as conductors used them to help keep the trains running on schedule. How to buy a pocket watch will provide you with some ideas in selecting the one that's best for you.
Most people today check the time using their cell phone, iPod, iPhone, or wrist watch. This can be very cumbersome if you are in a very important business conference listening to a presentation. You can easily pull out your pocket watch and view the time which will not be rude to the speaker.
Pocket watches can make a stylish fashion statement and at the same time keep your wrist free of jewelry for work that requires a hands-free arms free environment. Pocket watches come in various styles so you should be able to match one with your wardrobe without difficulty.
Many pocket watches can have special designs, decorations or have engraving printed on them which may be used for special ceremonies or award presentations. The use of pocket watches will never grow old but can leave a lasting impression on both the giver and receiver of the pocket watch.
Pocket Watch Tips Video
Below is a short video on pocket watch tips. Take a look!

How To Wear A Pocket Watch
If you should be a receiver of a pocket watch, you should know how to wear it when going out. How you wear a pocket watch is primarily up to you. However, most pocket watches can be kept in a shirt, pants, and vest or jacket pockets. A chain usually comes with the pocket watch. In some instances, the chain is already attached, or it is an accessory and needs to be added to the watch separately. This provides options to use the chain or not. If a chain does not come with the watch, a watch chain should be purchased in case it's needed later.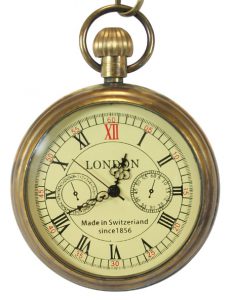 The chain is attached to any of the pockets by a loop or buttonhole. This is so when you bend down it will prevent the watch from falling out or if you lose your grip when holding it. You can also clip the chain to any of your belt loops if a buttonhole is not available.
The pocket watch should be in an area or pocket where it can be easily removed to check the time.
If you should own an open face pocket watch, when placing it in the pocket, always place the crystal face towards you. This helps to protect the crystal from getting scratched when bumped.
How To Buy A Pocket Watch Video
Below are some things to look for when buying a pocket watch.
Choosing a Pocket Watch
Choosing a pocket watch may not be as easy as you think. You must consider your wardrobe and the price range you are willing to spend all before you start looking for one. Primarily, pocket watches come in metal cases, in various styles and colors. You will have to narrow in on these options. The metal pocket watch comes in brass, steel, gold, or silver and can be engraved for decoration or a special message.
One of the biggest problems with pocket watches is that they are easily damaged when dropped. That is why they come with a chain or have a loop so a chain can be attached to it to prevent it from being dropped accidentally.
Owning a pocket watch does come with special treatment and care. Over the years you will be glad you did as the watch will provide you with great satisfaction.
Pocket Watch Option Tips
To help you in your decision, below are some tips that should be helpful.
Determine the price range (low to high)
Determine its usage (casual ware, dress, or fashion statement)
Determine the design, pattern or decoration
Determine the case metal type (brass, gold, silver, stainless steel)
Determine the case type (Open, Hunter, or Demi-Hunter)
Determine the type of movement (self-wind or battery operated quartz)
Determine the color of the watch
Determine the color of the dial face
Pocket Watch Brands
Once you have settled on the options the pocket watch should have, you are now ready to look for your watch among the following brands:
Above $50 Brands
Charles Hubert

Bulova Pocket Watch In Box

Gotham

Jian Company
Mudder classic
Orient
Regent Hills
Tissot
Below $50 Brands
Ampm24
Hamilton
Jechin
Lowpricenice
ManChDa
Mudder
Sibosun
Topwell
The above brands are more of the dress to luxury type pocket watch brands. The price ranges will vary by company. Look them over to determine if one fits within your budget.
Choosing A Chain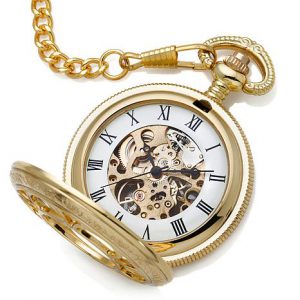 Some pocket watches are antiques and should be handled with care. This care should be done regardless if the watch was purchased brand new or if it was a hand me down from your grandparents.
Most pocket watches come with a matching chain. However, some may not, and that means you will need to purchase one separately. You can purchase chains in a variety of different lengths to use according to where the watch will be kept, depending upon your wardrobe. Try to match the material and color of the pocket watch so it will all will blend nicely and not stand out.
Pocket Watch Cases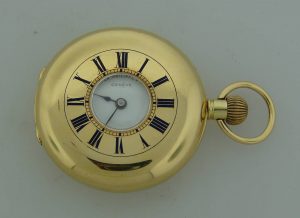 Below are the three basic types of pocket watch cases:
Hunter-Case – This is a pocket watch that has a lid over the dial of the watch to protect the crystal, hands and the dial.
Open Case – A case where the watch has no metal cover over the dial or crystal.
Demi-Hunter Case – This is a case that has a small window in the front cover through which the hands, or part of the watch hands, may be viewed.
Decide on which pocket watch case your watch should have.
Pocket Watch Case History
In prior years, a pocket watch case could be special ordered and they were made in the following types of metals: gold, sterling silver, coin silver,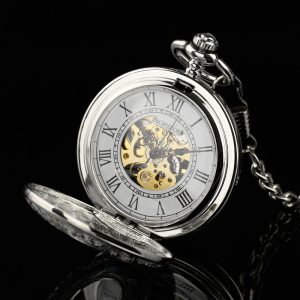 nickel, and plated brass. Pocket watches were made with two major components; the case and watch movement. Both were independent of each other and could be made by different manufactures.
Today, there are two main types of pocket watch movements: mechanical (self-winding) and quartz (battery operated).
If you should own or purchase an antique model, the watch is would using a key after opening the back case. Some pocket watches have the stem at the 3 O'clock position and this is known as a "side winder".
Some antique pocket watches require the setting of the time by actually moving the hands manually and not using the stem.
Ten Common Pocket Watch Concerns
If you own a pocket watch, note some of the most common concerns they have. If your watch came with the manufacture instructions, refer to them. Otherwise, you can follow the one listed below:
Broken Mainspring – It will need to be replaced. It's recommend changing the mainspring if possible when cleaning the pocket watch as they are inexpensive and simple to replace.
Broken Crystal – Have it replaced if it's an antique. Otherwise, replacing the crystal may be more expensive than buying a new watch.
Self-winding Models – Try to make a habit of winding the watch at the same time each day.
Adjust The Time Daily – Do this at the same time you wind the watch.
Pocket Watch Chain – Always use the pocket watch chain as this helps prevent the watch from any potential accidents.
Prevent Scratching – Do not keep the pocket watch in the same pocket as the keys or loose change. This helps to prevent the scratching of the case and crystal.
Improper Pocket Watch Storage – When not in use, store the pocket watch in a soft cloth bag and place it sitting up the right way. If it has a cover over the face, ensure it is properly closed. It may also be stored hanging on a jewelry stand by its bow.
Cleaning – Most pocket watches require maintenance cleaning about every 3 to 5 years, depending upon usage and care. Check the manufactures recommendations for oiling and cleaning intervals. This should be in the manual or instructions that came with the pocket watch at the time of purchase. If not, check on the manufacturer's website or contact them at their customer support center for their recommendation.
Battery Replacement – The battery operated pocket watch requires changing about every 1 to 2 years, unless otherwise stated in the instructions.
Regular Inspection – Be sure to regularly inspect the pocket watch for cleanliness, damage, and its accuracy of timekeeping. Give attention as necessary to any issues you may notice. If you own an antique watch, any problems are best left to a specialized watchmaker or jeweler.
Conclusion
Pocket watches are very fashionable and can be coordinated with your wardrobe. They are even nice for casual wear and to even give as gifts. You want to select one that not only fits your style, but also provides a fantastic first impression when one sees it. You may even receive some nice complements as well.
Pocket watches are affordable but also can be expensive, especially antiques. You must decide beforehand how much money you are willing to spend on one. Then, try to find one that fits into this price range along with the features you want.
Shop Pocket Watches
As an Amazon associate, I earn from qualified purchases.
Go back to the Pros Cons Shopping home page.