Non-Stick Poached Egg Makers
Makes Poaching Eggs Easy!
Now, Poached Eggs The Way You Like Them!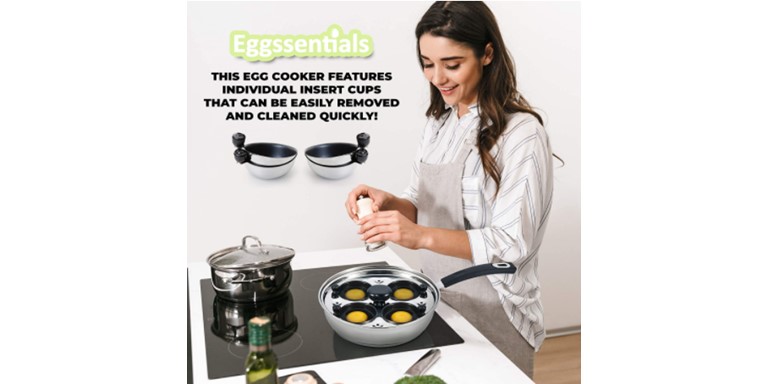 Introduction
Most people know that breakfast is the most important meal of the day. A poached egg maker can make this meal more nutritional and a great way to start the day. How to buy a poached egg maker that doesn't stick will help you start your day off right with a nutritional meal using eggs. If you are an egg lover, you will find useful ways to use your poached egg maker.
Poached eggs can be used for a variety of meals using different ingredients. So you can be creative when planning the family breakfast, lunch and dinner meals.
The non-stick egg cups makes it easy to remove the eggs after cooking. The cups can be placed in the dishwasher for easy cleaning and be ready to go for the next meal.
Video – How To Use An Egg Poacher Pan
This is a great video showing how to use an egg poacher pan.
Product Specifications
Weight: 3 Lbs.
Dimensions:5 x 8.5 x 2.5 Inches
Nonstick Cups: 2, 4 or 6 Individual 75ml Insert Cups with Knobs
Induction Stove Compatible: Yes
Stainless Steel Body: Yes
Pan Base: 3 Ply Base for Even Cooking
PFOA Free Nonstick: Yes
Machine Washable: Yes
Silicone Handle: Yes
What Is The Product?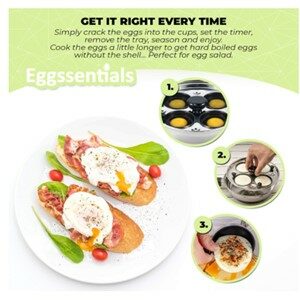 The product were are writing about is the Eggssentials poached egg maker.
These models come in 2, 4 or 6 cup poaching sets and each cup holds up to 75ml.
Each poacher cup is made with a PFOA free non-stick coating surface which makes it easy clean-up after cooking.
Each cup has a knob for easy handling.
They are large enough to hold extra-large and jumbo size eggs.
The product comes with a tempered glass lid, removable tray, and stainless steel body and 3-ply aluminum.
This model egg maker is compatible with induction stoves.
The pan also doubles as a sauté pan for other cooking chores.
The see through glass lid allows you to monitor eggs during cooking. The steam vent locks in the proper amount of moisture so the eggs are cooked perfectly the way you like it.
Who Created The Product?
This egg poacher maker was created by PremiumWares and goes by the name of Eggssentials. They exclusively make 2, 4 or 6 egg poach maker sets.  
How Does The Product Work?
The egg poacher works very simply by placing a half-an-inch of water in the bottom of the poacher pan. Then, bring the water to a boil. Once it's boiling, let it simmer. You can either spray each cup with nonstick spray or butter (not necessary) or crack an egg into each cup. Insert cups into the tray on the pan. Cover with pan with glass lid. You will notice steam forming inside. The steam does the cooking. Cook the eggs to your desired liking. Usually about 5 minutes from start to finish. Once finished, use the knobs on the cup to pour egg or eggs out. Enjoy!
What Do You Get With The Product?
You have the option of buying a 2, 4 or 6 cup egg poacher. They all come with the following:
See Through Glass Lid
Nonstick Cups With Knobs
PFOA Free Nonstick Material Made In USA
Spatula
Insert Tray To Hold Eggs
Stainless Steel Pan
Seller Sends Out Recipe Booklet By Email After Purchase
It's Compatible with An Inductive Stove
My Opinion of The Product?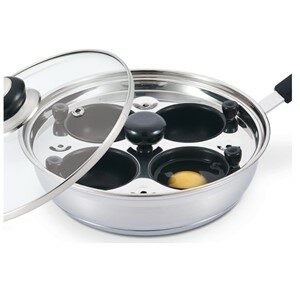 After trying a silicon poacher and a muffin tin that failed to make a perfect poached egg come out right. I finally found the perfect poacher product that cooks the eggs perfectly every time. Today, I tried this pan poacher and what a difference it made. My eggs were cooked just the way I like them in 5 minutes. With the see through glass lid I can keep watch on the cooking process to ensure they are cooked right the way I like. This is a great feature. The knob at the end of the cup is great for easy removal from the tray.
Before, I tried cooking a batch of poached eggs without using any oil in the cups. This was a mistake. I highly recommend that you spray them first. The eggs will come out very easy and not require much cleaning. The batch without the oil took a little extra effort to clean them and more difficult to remove from the cup.
The bottom line is just follow the instructions and you should experience a poached egg to your liking. Just like I did. Another plus is they are easy to clean. You can place them in the dishwasher so they are ready to use the next time you want a poached egg for breakfast or any other meal.
The material used is high quality and I highly recommend this poacher. I also lse the pan to fry my favorite meats and make sauces too.
Is It Safe To Eat Poached Eggs?
After poaching the egg, be sure to eat it right away. Waiting to eat the egg or keeping it warm for longer than two hours before eating it increases your chances of becoming infected with salmonella. If you do not finish the egg and wish to save it for later, be sure to refrigerate it. You must also wash your hands and any cooking utensils that may have made contact with the egg while it was still raw with soap and water in order to kill off any salmonella bacteria that may be present.
The first preventative measure is to keep the egg refrigerated until it is time to poach it. If the egg is cracked or dirty in any way, throw it away and select a different egg. In addition, select only pasteurized eggs to reduce the chance of the egg being infected with salmonella in the first place.
Product Pros
Can be used with an inductive stove
See through glass lid makes it easy to see the cooking process
Knobs on cubs for easy removal
PFOA free nonstick material made in USA
Easy cleanup
3-ply aluminum bottom provides even heat distribution
Pan can double as a sauté pan
Removable egg holding tray
Product Cons
Requires spraying cups for easy cleanup and egg removal
Plastic handle may emit an odor when hot
Conclusion
I think that a significant information about the Eggssentials Egg Poacher Sets has been made. If you are looking for a poacher that offers multiple egg sets, Eggssentials fits that bill. Check. Looking for a see through glass lid. Check. Looking for PFOA free nonstick material made in USA. Check. Can be used on inductive stoves. Check. Removable tray so pan can double as a sauté pan. Check. Provides even heat distribution. Check.
You can't go wrong with this egg poacher set.
Shop Eggssentials Egg Poacher Set
Just click on the image or check on Amazon button for the latest price. While there, you can select the set size with your order. You can also read the customer reviews and answered questions before purchase.
As an Amazon associate, I earn from qualified purchases.
Go back to the Pros Cons Shopping home page.