Cutting Shrubs Is So Much Easier!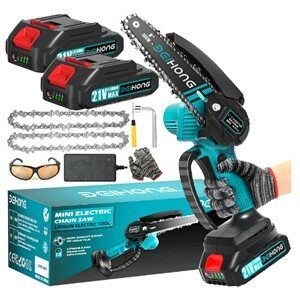 Introduction
Winter and the spring rains have come and gone and now you notice that the hedges, flower bed and bushes need some trimming. The handheld chainsaw can do the job. Some of the branches that need to be trimmed can be quite large and require lots of strength to squeeze the shears or trimmers. Sometimes the shears can slip out of your hands and cause an injury to yourself. Now, use the handheld mini saw to make doing this chore easier.
Trimming is a pain but can be even easier when using a tool that helps you control how it's used. It also can be used in tight spaces that can be difficult in reaching with trimmers or shears.
What we are describing is a handheld power tool called "the cordless minisaw" that is light-weight and easy to use. It can cut into those difficult thick branches that a trimmer or shears cannot do.
It also makes doing the trimming sessions a lot easier and quicker.
Video – Cordless Mini Chainsaw
This is an excellent video showing you how to assemble the tool, cutting firewood and trimming bushes and trees.
What is A Cordless Mini Saw?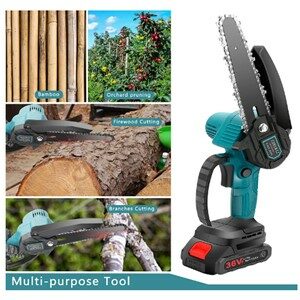 A cordless mini saw is just what the title says. It is a small chainsaw that can cut through tough and small branches of trees, shrubs, and bushes. It can cut through up to 3-inch diameter logs or branches.
Since, it is small and lightweight, you can control it better. Most of these tools weigh less and 2 pounds for easy control. This mini chainsaw can be used with one hand.
They do not have a cord that can get in the way or accidently be cut by the saw. It operates on a lithium battery. Most of these tools provides up to 30 to 40 minutes of continuous power and the battery recharges within 1 to 2 hours.
The design of this tool is a high-powered chainsaw and it's shrunken down into a portable size and has enough power to do the job. You will be amazed on how well this saw really works.
How Does It Work?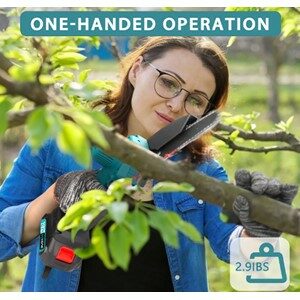 You just insert a fully charged battery into the battery holder and you are ready to go. It has a trigger that you press to operate the chainsaw. Place the saw on a branch or shrub you want to cut and press the trigger. Guide the saw through the branch you want to cut or remove. Once cut, release your finger from the trigger and remove the limb or branches that were cut.
When using this tool, you may consider using some ear and eye protection to help control the noise of the tool and flying debris from shrubs and bushes.
You continue doing this for all the areas that need to be trimmed.
After you have completed trimming, store the tool away in a safe dry place and recharge the battery. Now, the tool will be ready for the next time you need to use it.
PROS
Lightweight
No Cord or Gas Needed
Operates up to 40 minutes on a single charge
Easy to control and operate with one hand
High efficiency motor
Weighs less than 3 pounds
CONS
Takes up to 3 hours to recharge the battery
Periodically must tighten the chain
Some assembly required before use
Requires oil for lubrication
Conclusion
I think you will agree that using this mini chainsaw will come in handy for those chores thar require you to trim bushes and cut branches from trees. The tool is very lightweight and easy to handle using only one hand.
No more worries about any cords to break and gas that puts gases into the air and damage the environment.
It operates on a lithium battery that provides up to 40 minutes on a single charge. It has sufficient power to cut through a 6-inch-wide tree branch.
You will be amazed on how well it operates, cuts, ease of control which will make your work easier. This tool is great for use on a farm or large wooded areas around your yard.
Shop Cordless Mini Chain Saws
You can shop for the cordless mini chain saw by selecting a product of choice below. You will be taken to Amazon to place the order.
As an Amazon associate, I earn from qualified purchases.
Go back to the Pros Cons Shopping home page.