A Slow Cooker That Is Set-it & Forget It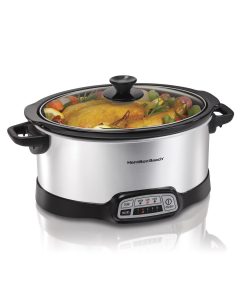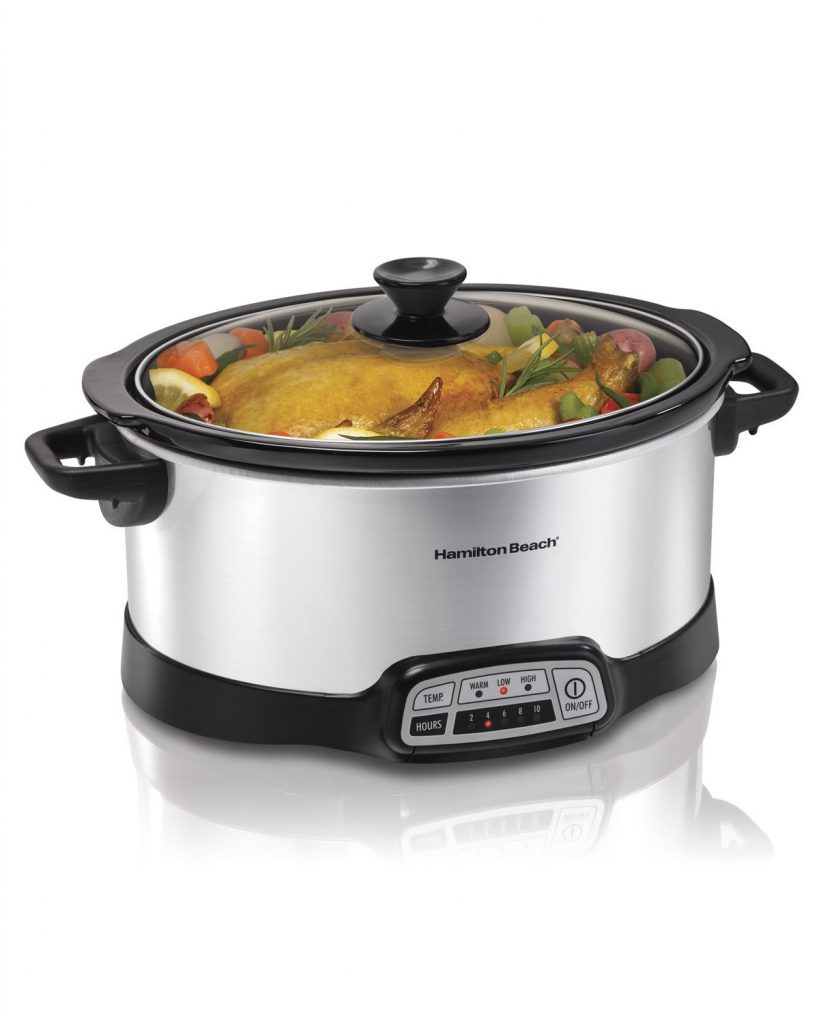 You probably can remember the good of days when your mother was cooking something that just smelled good and the aroma was all over the house. You knew that what you were going to eat was going to taste great. Well, you can duplicate this by using a Hamilton Beach Programmable Slow Cooker. Once you place in the pot the foods you want to cook, it's just "set it and forget it" routine.
Foods cooked in a slow cooker will taste just as good as grandma's. Foods usually are being cooked at a low temperature which can help tenderize the less expensive cuts of meat. It also helps bring out the flavors in the foods. A wide variety of foods can be cooked in a slow cooker which includes: soups, stews, casseroles, and much more.
Another advantage of using slow cookers is they use less electricity than an oven which can save you money on the electric bill.
Slow cookers today may be known as a crock pot and are becoming more and more popular to use and is becoming one of the appliances needed in the kitchen.
To learn more about slow cookers just click on the link.
What is a slow cooker?
Basically, the slow cooker is a household kitchen device having a program control. It is a pan with non-stick coating and a tight-fitting lid, which is powered by electricity, and can be programmed to cook different kinds of foods.
Depending on the addition of water or oil and used by other devices, it can also serve as pan, oven or steamer. At the same time, due to uniform heating and calculating cooking time, you do not need to worry that food will burn. The appliance also has a timer function that allows you to delay the start and start cooking without you being present and for a specific amount of time. And a common warm function allows you to leave the remains of left over foods to be eaten later. At the same time, despite the long-term operation, power consumption is quite low, especially when compared to electric ovens.
Hamilton Beach Slow Cooker
This is a programmable appliance that requires no watching or stirring. There is no need to monitor the cooking process. The wraparound element provides an even amount of heat that doesn't require any stirring.
BRAND:
Hamilton Beach
NAME:
Hamilton Beach Programmable Slow Cooker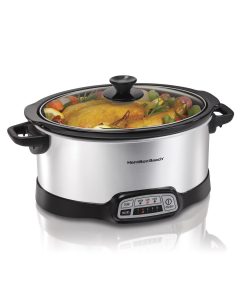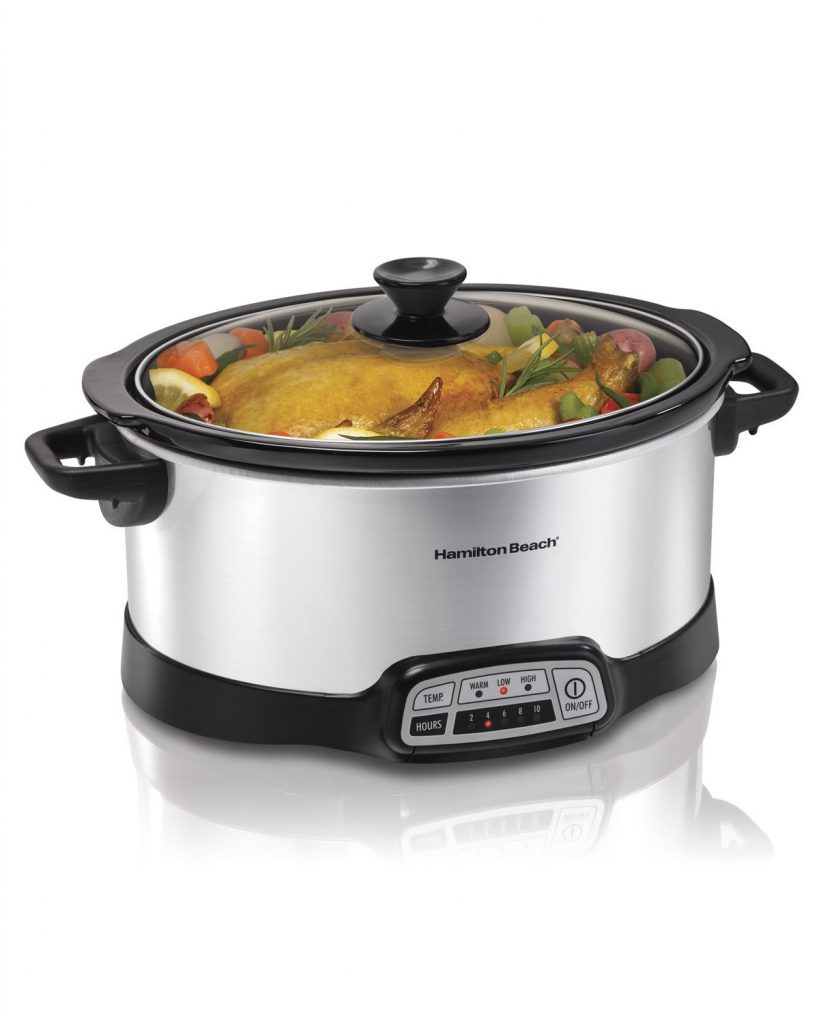 DESCRIPTION: The Hamilton Beach Programmable Slow Cooker cooks foods slowly so that even the toughest meat get tenderized and tastes great and has the following features: Capacity 7 Quarts, Wattage 340 Watts, Holds 5 lb. Roast or 7 lb. Chicken, Dishwasher Safe, 8 Programmable Settings, Weighs 12.3 lbs., 2 to 10 Hour Time Settings, 1-Year Warranty, Model Number 33473.
CATEGORY: "Home & Kitchen", "Small Appliances", "Slow Cookers"
PRODUCT #: B00B7N00JU
REVIEW RATING: 4.4 stars, based on 1,286 reviews
Product Features
Manufacture: Hamilton Beach
ASIN: B00B7N00JU
Temperature Settings: Warm, Low or High (Automatically shifts to warm when cooking time is up)
Capacity: 7 Quarts
Weight: 12.3 lbs.
Cooks while you are away: Yes
Programmable: Yes
Wraparound element for even heating: Yes
Does it have a non-stick coating: No
Removable, dishwasher safe stoneware & lid: Yes
Meat Capacity: Holds a 5 lb. roast or a 7 lb. chicken
Easy to cleanup: Yes, and lid and stoneware are dishwasher safe
Time Settings: 2, 4, 6, 8, or 10 hours of cooking time
When Time Is Up: Automatically shifts to WARM
Dimensions (inches): 9.9 H x 17.6 W x 11.7 D
Color: Silver/Black
Wattage: 340 watts
Number of Programmable Settings: 8
Model: 33473
Warranty: 1-Year
Product Pricing
7 Quart Size: $34.99
6 Quart Size: $38.99
4 Quart Size: $34.99
Note: The prices for these products are subject to change without notice and may not be the actual price you pay at the time of purchase.
Product Ratings & Reviews
Rating: [usr 4.4]
The Hamilton Beach 7-quart slow cooker was rated by over 1,2876 customers which gave this an excellent rating.
You can read all of the customer reviews for this slow cooker by clicking on the following link: Customer Reviews!
Questions People Are Asking About This Product
Below are a few of the questions that people are asking about this product.
Question: Where is this product made?
Answer: It is made in China.
Question: What is the material of the crock pot ? Is it metal, ceramic or cast aluminium ? Also is it non stick?
Answer: The "inside" is ceramic stoneware, the outer heating unit is aluminum. Somewhat nonstick but doesn't have a nonstick coating. If something got too well done and was hard to remove, just put water in it and let it set for a while. It always washes easily with dish soap and water.
Question: Does the temperature switch to warm automatically after the heating time is finished?
Answer: Yes, at the end of the cooking time, the slow cooker will automatically switch to the warm setting.
Question: Does this have a timer for overnight cooking?
Answer: This model has 2,4,& 6 hour timer. After the selected timer expires, it goes into warmer mode, up to 8 hours. If you don't want to use the timer, you can just turn it on, and it will stay on until you shut it off.
Question: Can you use a 240v plug with this appliance?
Answer: No.
You can also review the 196 answered questions concerning this product by clicking Here!
Tips On Choosing A Slow Cooker
Choose an appliance that has replaceable bowls.
The number of programs in a slow cooker is not as important for the ability to change the cooking time and temperature.
A slow cooker with the function of a pressure cooker is more convenient and practical.
The removable lid of a slow cooker that is easy to clean.
A bowl with handles is more convenient.
Choose a slow cooker that has a large capacity.
Slow Cooking Tips
Save time & effort: One of the main attractions for many is the ease of a slow-cooker so when you're looking for recipes, avoid those that suggest a lot of pre-preparation. For many dishes, particularly soups and stews, you really can just throw all the ingredients in.
Get Ahead: If you're short on time in the morning, prepare everything you need for your slow-cooked meal the night before, put it into the slow-cooker dish, cover and store in the fridge overnight. Ideally the dish should be as close to room temperature as possible, so get it out of the fridge when you wake up and leave it for 20 minutes before turning the cooker on. If you need to heat your dish beforehand, then put the ingredients in a different container and transfer them in the morning.
Save money: Slow cookers are great for cooking cheaper cuts like beef brisker, pork shoulder, lamb shoulder and chicken thighs. You use less meat as slow-cooking really extracts a meaty flavor that permeates the whole dish. Bulk up with vegetables instead.
Trim the fat: You don't need to add oil to a slow cooker, the contents won't catch as long as there's enough moisture in there. You don't need a lot of fat on your meat either. Normally when you fry meat, a lot of the fat drains away, this won't happen in a slow cooker so trim it off, otherwise you might find you have pools of oil in your stew. This will give you a healthier result and it'll still be tasty.
Go easy on the liquid: Because your slow cooker will have a tightly sealed lid, the liquid won't evaporate so if you're adapting a standard recipe, it's best to reduce the liquid by roughly a third. Liquid should just cover the meat and vegetables. Don't overfill your slow cooker or it may start leaking out the top and food won't cook as well. Half to two thirds full is ideal and certainly no more than three quarters.
Thickening: Just as the liquid doesn't reduce it also doesn't thicken. You can roll meat in a small amount of seasoned flour before adding it to the slow cooker or use a little corn flour at the end. If you want to do the latter, take a teaspoon or two of corn flour, mix it to a paste with a little cold water. Stir into your simmering slow cooker contents, then replace the lid.
Slow is good: Use the "low" setting as much as you can as most dishes benefit from a low gentle heat which brings out the flavors. This also means you won't need to worry if you're heading out for the day, it'll take care of itself.
Leave it alone: Slow cookers are designed to do their own thing so you don't need to keep checking the contents. Every time you take the lid off it will release some of the heat, so if you keep doing this you'll have to increase the cooking time. Set it and forget it!
When to add food: Ideally you want to choose recipes where most, if not all, of the ingredients can be added at the beginning, leaving you free to do other things. However in most cases, pasta, rice and fresh herbs will need to be added towards the end.
How long should I cook it for?: If a dish usually takes:
15 – 30 mins: Cook it for 1 – 2 hours on High or 4 – 6 hours on Low
30 mins – 1 hour:  Cook it for 2 – 3 hours on High or 5 – 7 hours on Low
1 – 2 hours: Cook it for 3 – 4 hours on High or 6 – 8 hours on Low
2 – 4 hours: Cook it for 4 – 6 hours on High or 8 – 12 hours on Low
Note: Root vegetables can take longer than meat and other vegetables so put these near the heat source, at the bottom of the pot.
PROS
1). Save Time – With slow cooker you do not need to stand all day at the stove – it is fully automatic work.
2). Healthier Eating – Some recipes are impossible without oil, especially when you are cooking on the stove, but this appliance allows you to cook without it.
3). Easy To Clean – The most important advantage about slow cooker is that is easy to clean it. You just need to pull out removable pot and put some hot water and soap.
4). Save Money – Using a slow cooker uses less electricity and thus saving you money on the electric bill.
5). Planning Ahead – With the programmable timer, you can plan meals ahead of time and have the meal cooking while you are away at work and be ready when you get home.
CONS
1). Price. Spending 30 to 50 dollars can be expensive if you are on a limited budget.
Shop Hamilton Beach Slow Cooker
Shop the Hamilton Beach Programmable Slow Cooker. Click the Buy Now button below. You can select the 4, 6, or 7 quart size. Place your order now and be glad you did.
As an Amazon associate, I earn from qualified purchases.
If you did not find what you were looking for here, enter a search term in the box below to search for other products on Amazon.
Go back to the Pros Cons Shopping home page.