Fill Your House with The Smell of Fresh Homemade Bread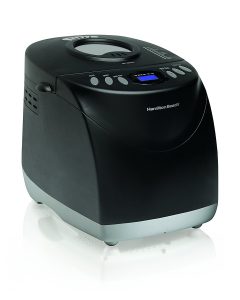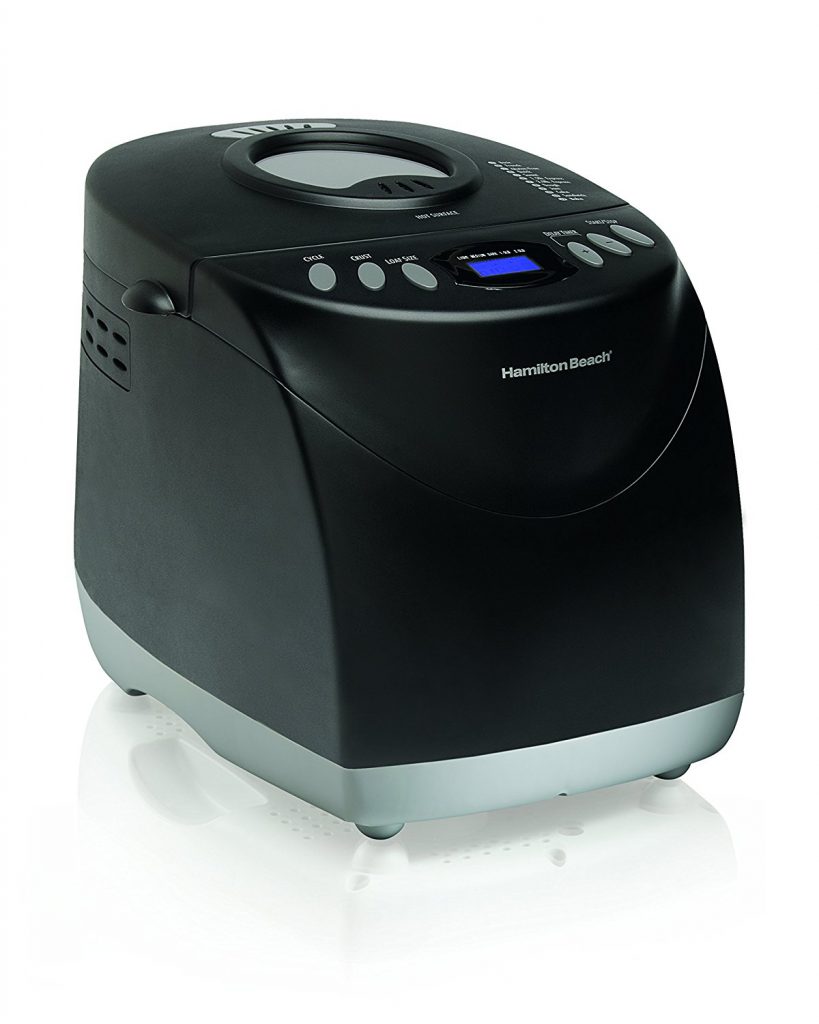 Do you remember the days of smelling of fresh homemade bread baking? Most of us growing up do remember this very well. This is a smell that is hard to resist. The Hamilton Beach Programmable Bread Machine will bring back those days when your mother was baking homemade bread in the oven. It will give off the same odors that you will remember years ago. Now, with the modern bread machines, you can bake different kinds of bread using the "set it and forget it" bread makers. Which is making bread a whole lot easier than your mother using an oven.
With the Hamilton Beach bread machine you have up to twelve different settings for making bread and even jams. This bread machine is amazing because you can make gluten free bread for those in the family with celiac disease or gluten allergies.
You can turn your kitchen into a professional bakery with not all hard work as the machine does most of the work for you. Just add in the properly measured ingredients, choose the appropriate cycle, and press the start button. That's it. Using your bread machine is much cheaper than buying the bread in the store. Best of all, you know what the ingredients are because you put them in the bread machine by using fresh ingredients and not with all those preservatives. It can't get any better than that.
With this bread machine you can make your bread as crispy as you like it with the three crust settings light, medium and dark. This machine can make up to 2 lbs. of bread for those hungry bread eaters in your family.
The bread will be soft and fluffy and the baking items are easy to clean in the dishwasher. This bread machine also makes for a great gift for any occasion.
Types of Breads This Machine Can Make
The following are the types of breads and others things that the programmable bread machine can do.
White
Wheat
Country
Sourdough
French
Homemade Jam
Gluten Free
Whole Grain
Pizza Dough
Cake
Flatbread
Croissants
As you can see, the types of breads are limitless. You can use some of your own pass me down bread recipes or the ones that come with the bread machine.
Product Description
The Hamilton Beach Home Baker allows you to turn your home kitchen into a professional bakery with hardly any work required. Just add in the properly-measured ingredients, choose the appropriate cycle, and start. In no time, you'll be enjoying a loaf of a piping hot, crispy bread. Whether you're looking to make pizza dough with hand-tossed delicacy or a difficult gluten-free recipe, this bread-maker is here to accommodate. Different crust settings allow you to select the darkness of the final product. An alarm lets you know the right time to add in mixers.
BRAND:
Hamilton Beach
NAME:
Hamilton Beach Programmable Bread Machine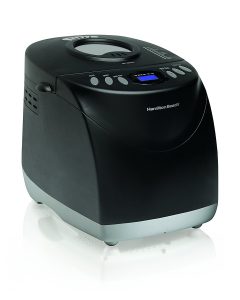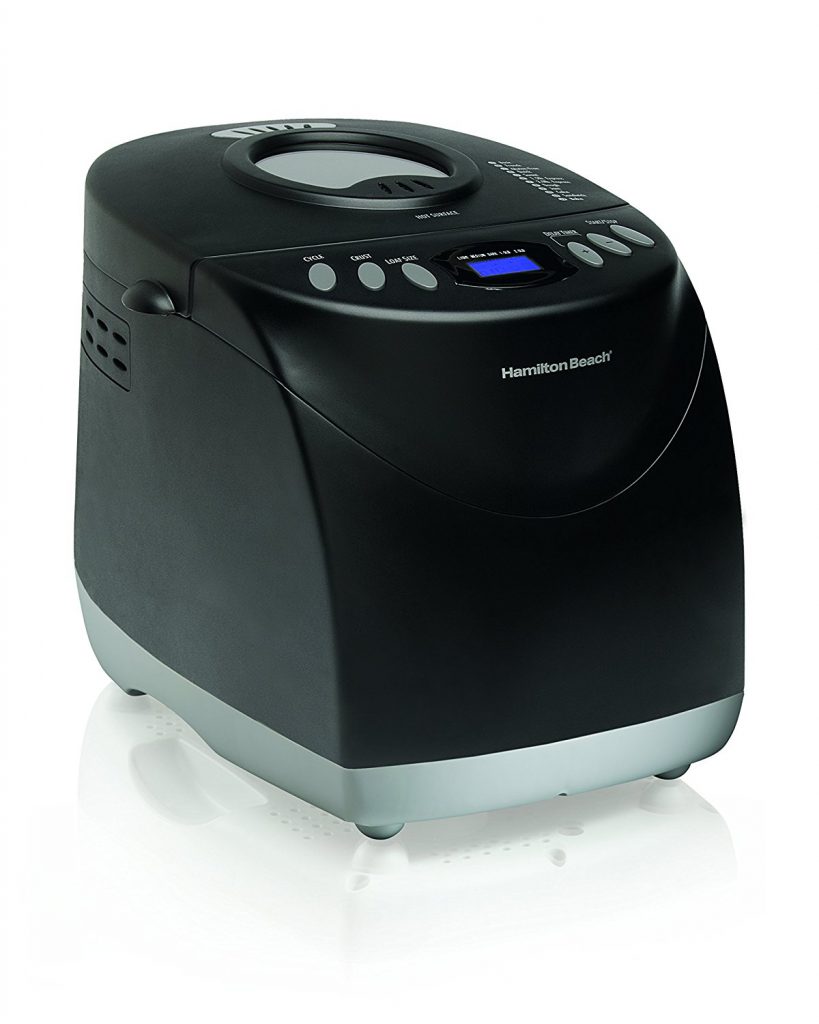 DESCRIPTION: The Hamilton Beach Programmable Bread Machine makes your favorite homemade bread that is hard to resist and has the following features: Non-Slip Feet, LCD Display, 12 Settings, Weighs 12.75 lbs., Delay Timer, Audible Reminder for Fruits and Nuts. 1-Year Warranty, Model Number 29882.
CATEGORY: "Kitchen & Dining", "Small Appliances", "Bread Machines"
PRODUCT #: B005EPRF1I
REVIEW RATING: 4.2 stars, based on 1,561 reviews
Product Features
Manufacture: Hamilton Beach
Model: 29882
ASIN: B005EPRF1I
Color: Black
Dimensions: 16.38 x 12.38 x 12.75 inches
Weight: 12.75 lbs.
Material Type: Plastic
Settings: 12 (French, gluten-free, quick bread, sweet, 1.5-lb express, 2-lb express, dough, jam, cake, whole grain and bake.)
Non-Slip Feet: Yes
Display Type: LCD
Kneading Paddles: 2
Warranty: 1-Year
Make bread without those preservatives and trans fats
Includes whole-grain and gluten-free recipes from Bob's Red Mill Natural Foods
Perfect for dough prep for rolls and pizza
Light, medium, and dark crust settings
Delay timer to let you add the ingredients and begin the baking process later
Audible reminder to add fruits and nuts
Nonstick pan for easy cleanup in the dishwasher
Large digital display timer
Nonslip feet
Cool touch body
Includes an extra kneading paddle
12 cycles: basic, French, gluten-free, whole grain, quick bread, sweet, 1.5 lb. express, 2 lb. express, dough, jam, cake, and bake
Note: When the bread is done baking, the system automatically keeps the bread in the warm setting for up to 1 hour.
Baking Cycle Times
Basic Cycle: 1.5 lb.: 2 hrs. 53 min.
Basic Cycle: 2 lb.: 3 hours
French 1.5 lb.: 3 hrs. 40 min.
French 2 lb.: 3 hrs. 50 min.
Gluten Free 1.5 lb.: 3 hrs. 32 min.
Gluten Free 2 lb.: 3 hrs. 40 min.
Quick Cycle: 1 hr. 40 min.
Sweet 1.5 lb.: 2 hrs. 50 min.
Sweet 2 lb.: 2 hrs. 55 min.
1.5 lb. Express: 58 min.
2 lb. Express: 58 min.
Dough: 1 hr. 30 min.
Jam: 1 hr. 20 min.
Cake: 2 hrs. 50 min.
Whole Grain 1.5 lb.: 2 hrs. 55 min.
Whole Grain 2 lb.: 3 hrs.
Bake: 1 hr.
Removing Cooked Bread from the Bread Maker
When the baking is complete, the unit will automatically switch to the Keep Warm setting for up to 1 hour. Press and hold START/STOP button for 2 seconds to end this cycle before removing the bread pan.
When the timer says the bread is done, the bread and baking chamber will be hot and oven mitts should be used. Remove the bread pan by lifting the handle and turning it counterclockwise to unlock it from the chamber base.
Carefully shake the bread upside down until the loaf falls out of the bread pan. Allow loaf to cool on a wire rack for 10 minutes before slicing.
Fresh baked bread is best when consumed as soon as possible. To store, wrap the cooled unused portion in foil or a plastic bag to preserve freshness. Bread can be frozen for up to six months.
Product Pricing
The price for this bread machine is provided to consumers so they can compare them with other similar products.
Note: The price of this bread machine is subject to change without notice and may not be the actual price at the time of purchase.
Product Rating & Customer Reviews 
Rating: [usr 4.4]
This programmable bread machine was rated by 5,495 customers and gave this product a very good rating.
You can read all of the customer reviews by clicking on the following link: Customer Reviews!
Questions People Are Asking About This Product
Below is a sample of some of the questions people asked about this bread machine.
Question: Is it noisy?
Answer: You definitely know when it's mixing and kneading. It thumps and bumps and whirs. These sounds are not overly loud or offensive. There are several periods of beeping to alert you to add raisins, seeds at the proper time and at the end of the cycle to remind you to remove the loaf.
Question: What material is the paddle made out of?
Answer: Teflon coated aluminum and is quite sturdy.
Question: How much "waste" in the loaf from the paddle? Like how big/deep is the cavity from the paddle?
Answer: Not really anything is wasted just a small hole like the size of a quarter or less then it's really not a hole either.
Question: Does your bread comes out very dark and hard from bottom even in light crust setting? 
Answer: Sounds like you might be adding too much flour. Be sure to scoop the flour with a spoon into the measuring cup and then level off with the straight edge of a butter knife. Do not scoop the flour with a measuring cup or pat it down. It's very important not to pat it down because this will cause the bread to have too much and it will be heavier and with a weird texture. Also, be sure to refrigerate the bread yeast if you have a jar and you've opened it. Be sure any packets of bread yeast haven't reached their expiration date. Be sure not to forget to add the salt, oil, sugar. Do not leave anything out. Follow the recipe exactly, be sure to add the flour to the cup correctly and your bread should turn out delectable.
You can read all of the 460 asked questions by clicking on the following link: Answered Questions!
PROS
12 Settings Including Gluten Free – Developed with nutrition in mind, settings include: French, Quick Bread (no yeast), Sweet, 1.5-lb Express, 2-lb Express, Dough, Jam, Cake, Whole Grain and Bake. Audible reminder for adding fruits and nuts.
Large Digital Display With Delay Timer – View and select the cycle, crust, and loaf size. Use delay timer to add ingredients and begin the baking process later — perfect for breakfast and entertaining.
Nonstick & Easy To Clean

– Interior pan removes for easy cleaning in the dishwasher.

Two Kneading Paddles

– Two kneading paddles are included let you use one while the other is in the dishwasher.

Easy To Use Bread Machine

– Carefully designed to make bread-making simpler than ever, the machine includes a detailed manual with easy-to-follow instructional drawings, custom recipes, and baking tips.
CONS
Price.
Noisy during the mixing and kneading cycles.
Shop Bread Machine
Shop the Hamilton Beach Programmable Bread Machine. Click the Buy Now button below. Place your order now and be glad you did.
As an Amazon associate, I earn from qualified purchases.
Oster CKSTBRTW20-NP Bread Machine
Zojirushi BB-PAC20BA Bread Machine
Sunbeam 005891-000-000 Bread Machine
Bread Machine Comparison Chart
| | | | | | | | | | | | |
| --- | --- | --- | --- | --- | --- | --- | --- | --- | --- | --- | --- |
| | Bread Machine Comparison | | | | | | | | | | |
| Brand | Model # | Price | Weight | Bread Settings | Cooked Bread | Crust Settings | Programmable | Watts | Baking Time | Rating | Reviews |
| Oster | CKSTBRTW20-NP | $52.49 | 8 lbs. | 12 | 2 lbs. | 3 | Yes | 650 | 1-3 hrs. | 4.1 | 3,518 |
| Hamilton Beach | 29882 | $60.96 | 12.8 lbs. | 12 | 1.5 & 2 lbs. | 3 | Yes | 600 | 1-3 hrs. | 4.4 | 1,261 |
| Zojirushi | BB-PAC20BA | $294.35 | 22.1 lbs. | 15 | 2 lbs. | 3 | Yes | 600 | 2 hrs. | 4.5 | 1,735 |
| Sunbeam | 005891-000-000 | $58.96 | 18.6 lbs. | 12 | 1.5 & 2 lbs. | 3 | Yes | 600 | 1-3 hrs. | 4.3 | 1,989 |
If you did not find what you were looking for, enter a search term in the Amazon Box below to search on Amazon for other products.
Go back to the Pros Cons Shopping home page.