Make Two Sandwiches At The Same Time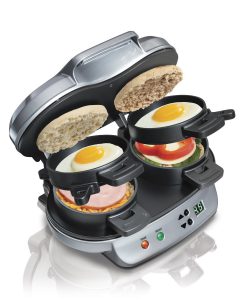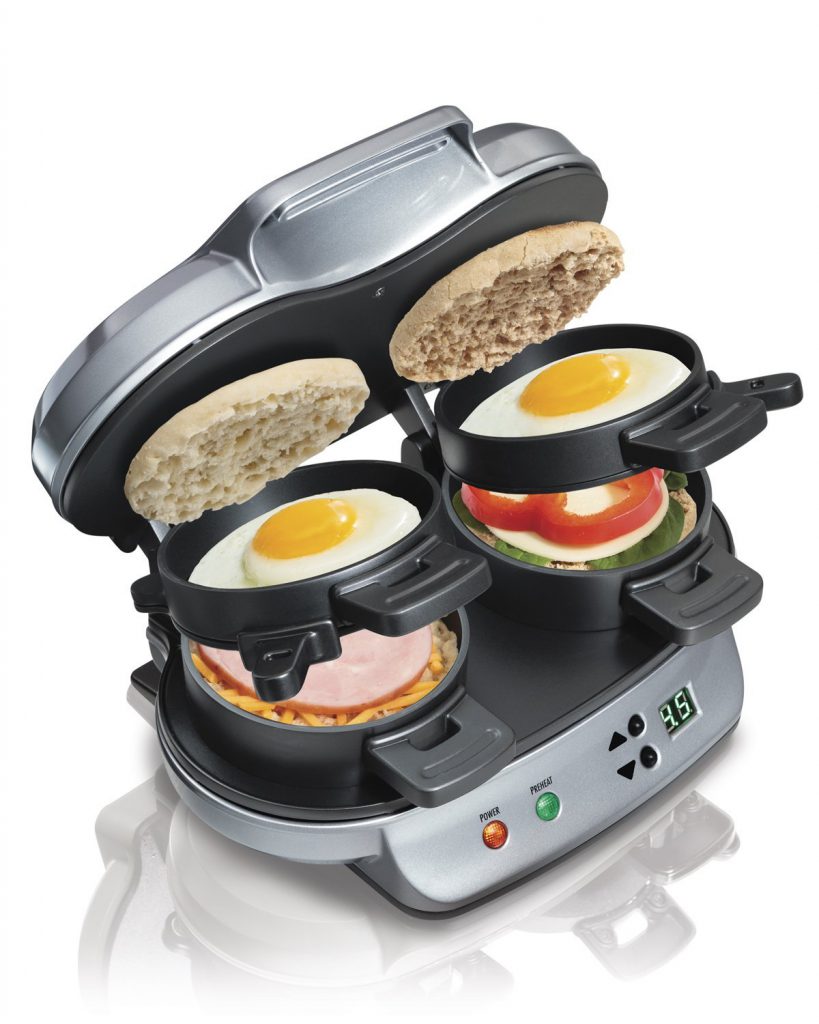 If breakfast is like at my house at your house, you probably find it to be the most hectic time of the day. This is especially true for families with young children. And, it's difficult to get them to eat something before going off to school. Most people know that breakfast is the most important meal of the day. With all of those hunger pangs early in the morning how do you cope with people rushing through a meal or gobbling down whatever's handy in the kitchen. This is where the Hamilton Beach Dual Breakfast Sandwich Maker comes to your rescue.
You will not believe just how quickly and good these sandwiches are when they come out of the sandwich maker. They will satisfy those hunger pangs with ease.
What is so nice about this machine is you get to make the breakfast sandwiches using fresh ingredients of your choice. Not having to go to the fast food restaurant and can save you some money in your food budget.
All you do is choose your bread and layer on the fixings: egg, cheese, any precooked meat, or any additional ingredients of your choice. The ingredients list is endless. The reason is you know just what your family likes on their breakfast sandwiches, so you can prepare them the way they like them.
You can make two sandwiches at the same time and both can have different ingredients of your choice. They cook in five (5) minutes or less. They are cooked to perfection and to your preferences. You know when they are done because of the built-in digital timer to let you know when the cooking process is completed.
If you are concerned about clean-up don't worry, all removable parts are washable or they can go into the dishwasher. All of the cooking parts are made with a non-stick coating for easy cleaning.
This item makes for a great gift for those going to college or any other occasion.
Hamilton Beach Sandwich Maker Video
Below is a great short video on the use of this sandwich maker. Take a look!
Go Healthy or Hearty
If you want to explore a healthy breakfast alternative and eat less processed food, the Breakfast Sandwich Maker can help you here as well. Your sandwiches could include whole-grain English muffins or bagels, low-fat cheese, egg whites, and your choice of veggies, lean meat, or a vegetarian option.
On the other hand, when you want to indulge in a satisfying, protein-packed sandwich, the Breakfast Sandwich Maker is ready to oblige. To make this kind of breakfast sandwich, use a whole egg and layer on your favorite cheese and meat. You can even use a pancake as the bread and pour syrup on your finished sandwich. What you make and how you eat it is completely up to you. Since you can make two at once, each can be customized you your liking.
BRAND:
Hamilton Beach
NAME:
Hamilton Beach 25490A Dual Breakfast Sandwich Maker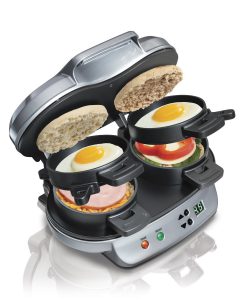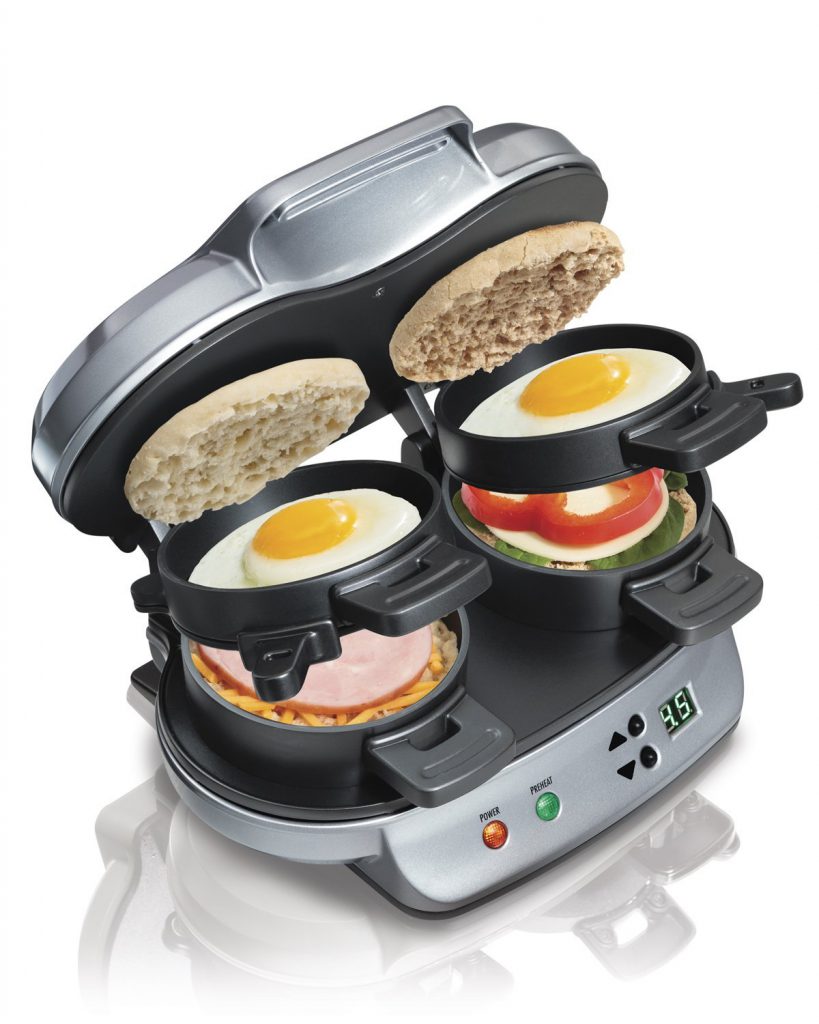 DESCRIPTION: The Hamilton Beach Sandwich Maker makes 1 or 2 breakfast sandwiches using fresh ingredients of your choice, and has the following features: Automatic Timer, Dishwasher Safe, Voltage 120V, Weighs 2 lbs., Ready In 5 Minutes, Model Number 25490A.
CATEGORY: "Kitchen & Dining", "Small Appliances", "Specialty Appliances", "Sandwich Makers"
PRODUCT #: B00N3L2DMG
REVIEW RATING: 4.5 stars, based on 5,019 reviews
Product Features
Below is a description of the product features for the dual sandwich maker:
Manufacture: Hamilton Beach
Model Number: 25490A
ASIN: B00N3L2DMG
Dimensions: 7.8 x 10.4 x 5.9 inches
Weight: 2 lbs.
Makes: 1 to 2 sandwiches at a time
Color: Silver
Automatic Timer: Yes
Dishwasher Safe: Yes
Cooking Time: Ready in 5 minutes
Easy Cleanup: Yes, all parts are removable for cleaning
Voltage: 120V
Wattage: 1200 Watts
Country of origin : China
Product Ratings & Customer Reviews
Rating: [usr 4.5]
This product was rated by over 5,015 customers that gave this excellent rating.
You can read all of the customer reviews for this product by clicking on the following link: Customer Reviews!
Questions People Are Asking About This Product
Below is a small sample of the questions people are asking about this product.
Question: Does it work to make one sandwich instead of two?
Answer: Yes you can. Both sides will heat up but only one is used.
Question: After using this product, is there any smoke? Asking because dorms have fire alarms and I want to avoid triggering it.
Answer: I haven't had any issues with smoke and I used this within 10 feet of my smoke detector and it's never gone off.
Question: About how long does it take to make a sandwich?
Answer: About five minutes.
Question: Are the trays Teflon coated?
Answer: Yes, they are.
You can also review the 433 answered questions concerning this product by clicking Here!
Product Pricing
The price of this product is provided so consumers can use it as a comparison with other similar products.
Note: The price of this product is subject to change without notice and may not be the actual price you pay at checkout.
Cheddar, Apple, Bacon, and Egg Croissant Sandwich Recipe
Ingredients
2 mini croissants, halved
4 Tablespoons shredded cheddar cheese
8 thin slices Granny Smith apple
2 slices precooked bacon, cut in half
2 large eggs
Directions
Preheat Dual Breakfast Sandwich Maker until green Preheat light comes on.
Lift cover, top rings, and cooking plates.

Place half of croissant, cut-side up, in each bottom ring of Dual Breakfast Sandwich Maker. Top with cheese, apple slices, and bacon.

Lower cooking plates and top rings. Add an egg to each cooking plate. Pierce yolks with a fork or toothpick.

Top with remaining croissant halves, cut-side down.

Close cover. Cook 4 to 5 minutes.

Rotate cooking plate handles out until they stop.

Lift cover and rings and carefully remove sandwiches.
PROS
Makes 1 or 2 sandwiches.
Ready In 5 Minutes.
Easy cleanup as all parts are removable and can be cleaned in the dishwasher.
Use your own fresh ingredients separately for each sandwich.
Automatic time to let you know when sandwiches are ready.
CONS
Timer does not shut-off machine just lets you know when it's done.
No power off switch.
Must manually pull cord from socket.
Any meat used must be precooked.
Shop Sandwich Maker
Shop the Hamilton Beach 25490A Dual Breakfast Sandwich Maker. Click the Buy Now button below. Place your order now and be glad you did.
As an Amazon associate, I earn from qualified purchases.
Did not find what you were looking for? No problem. Enter a search term in the Amazon Box below to search on Amazon for other products.
Go back to the Pros Cons Shopping home page.