Cooking Without Oil Makes Food Healthier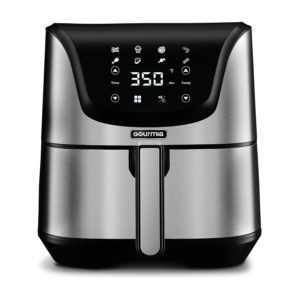 or

Eating foods that are made with no oil is hard to do today. Of course, using no oil is a way of eating healthier. Enjoying your favorite foods without fat or oil seems impossible to the average consumer. However, coming to the rescue is the Gourmia GAF635 Digital Multi Mode Air Fryer. This appliance can cook foods fresh or frozen using air and not all that fat or oil which makes for better tasting meals. The appliance makes for healthier cooking which is good for the entire family.
It makes foods crispy on the outside and moist and tender on the inside. Plus, it cooks food 30% faster than using the oven as it uses 1700 watts of power. Another plus of this appliance is you can clean it using the dishwasher. The cooking parts comes with a nonstick coating which makes for easier cleaning of the air fryer.
The appliance uses the RadiVection 360° Technology that circulates hot air rapidly in all directions to ensure that the foods cook evenly and great tasting foods.
To aid in cooking good tasting meals, the fryer has eight preset settings to select from or you can manually adjust the digital settings for a personalized cooking experience.
As the fryer cooks meat, fish or fowl, any fat will drip down to the bottom of the drawer pan. This can be easily drained and cleaned after cooking.
Be sure to allow enough room from the wall and the top of the cabinets for the appliance to vent.
So, if you are looking for eating meals quicker and healthier than this air fryer will fit your needs.
Video Review
This is a short review video of the air fryer. Take a look!

Product Description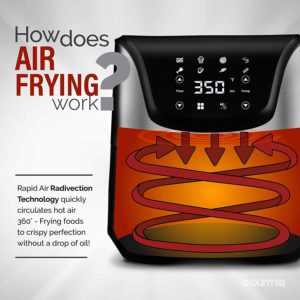 The air fryer not only fries but also roasts, bakes, broils and grills your favorite foods without the fat. The cooking system makes foods crispy on the outside and tender on the inside. It uses air to cook the food evenly and does it up to 30% faster than using the oven. The cooking materials are easy to clean because it dishwasher safe. The cooking pan has a six quart capacity. Any fat that comes off the meat while cooking drips at the bottom of the rack. This means less fat and healthier eating. The air fryer requires no oil for cooking any meat. It comes with a recipe booklet to assist in making great tasting meals.
Product Specifications
Manufacture: Gourmia
Model Number: GAF635
ASIN: B07KJQ7CJ2
Dimensions: 15 x 15 x 17 inches
Drawer Dimensions: 9 x 4 inches
Weight: 16.25 lbs.
Color: Black
Material Type: Stainless Steel
POFA Free: Yes
Preset Modes: 8
Capacity: 6 Quarts
Dishwasher Safe: Yes
Watts: 1700
Power: 120V, 60Hz
Timer Control: 60 Minutes
Auto Shutoff: Yes
Temperature Control: 400 Degrees F
Warranty: 1-Year from Date of Purchase
In The Box: Air Fryer, 6-Qt. Drawer, Basket, 4 Skewers, Instructions & Recipe Booklet
Air Frying Cooking Tips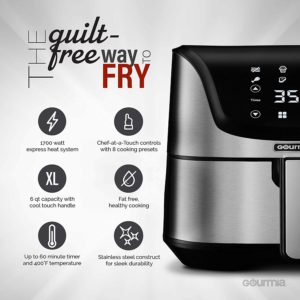 Below are some air frying cooking tips.
Smaller ingredients usually require a slightly shorter preparation time than larger ingredients.
Shaking smaller ingredients halfway through the preparation time optimizes the end result and can help prevent unevenly fried ingredients.
Add 1 Tablespoon of oil to fresh potatoes for a crispy result. Fry your ingredients in the air fryer within a few minutes after you add the oil.
Do not prepare extremely greasy ingredients such as sausages in the air fryer.
Snacks that can be prepared in an oven can also be prepared in the air fryer.Use pre-made dough to prepare filled snacks quickly and easily. Pre-made dough also requires a shorter preparation time than home-made dough.
Place a baking tin or oven dish in the air fryer basket if you want to bake a cake or quiche or if you want to fry fragile ingredients or filled ingredients.
Note: Because the rapid hot air technology instantly reheats the air inside the appliance, pulling the pan out of the appliance during use, for a short amount of time, will not affect the process.
Tip 1: If you set the timer to half the preparation time, your timer will ring when you have to shake the ingredients. However, this means that you have to set the timer again to the remaining preparation time after shaking.
 Tip 2: If you set the timer to full preparation time, there is no timer bell during cooking. Before finishing, you can pull out the pan at any time to check the ingredients cooking condition. The power will shut down automatically and, will only resume after you slide the pan back into the appliance (timer always counts down in this situation).
Air Fryer Cleaning Tips
Follow some of the tips below for cleaning the air fryer:
Remove the main plug from the wall outlet and let the appliance cool down. Note: Remove the pan from the air fryer to let the air fryer cool down quicker.
Wipe the outside of the appliance with a moist cloth.
Remove the basket from the pan. Clean the pan and basket with hot water, some dish washing soap and a non-abrasive sponge. Tip: If dirt is stuck to the bottom of the pan or basket, fill the pan and basket with hot water and some dish washing soap and let the pan and basket soak for approximately 10 minutes.
Clean the inside of the air fryer with hot water and a cleaning brush to remove any food residues.
Clean the appliance after every use.
Make sure the appliance is completely cooled off before cleaning.
Do not use metal kitchen utensils or abrasive cleaning material to clean the pan and basket, as this may damage the non-stick coating.
Product Rating & Customer Reviews
Rating: [usr 4.6]
This product was rated by over 27 customers. You can read all of the reviews about this product by clicking on the following link: Customer Reviews!
What People Are Saying About This Product
I like this air fryer and it is great for cooking for two people.
Nice design and cooks very well.
Cooks very well and my feta meat was cooked all the way through.
 What Questions People Are Asking
Below are some of the few questions people are asking about this product. To read all of the 69 questions, click on the following link: Answered Questions!
Question: Does the bottom get hot and can it sit on wood?
Answer: Yes, to both.
Question: How many people can you cook for?
Answer: It has a 6 quart capacity and probably can cook for 2 people.
Question: Can you buy or purchase accessories for this fryer?
Answer: You will have to contact the manufacture.
Question: What can you cook in this fryer?
Answer: Fresh or frozen meat, fish, vegetables and fries without using any oil.
Question: Does this fryer have a shut-off timer?
Answer: Yes it does.
PROS
Easy to clean using dishwasher.
Cooks faster than using an oven by 30%.
Cooks all foods without using any oil.
Fat drips off meat while cooking.
You can broil, grill, roast, bake and fry.
Eight preset settings of popular dishes.
Adjust cooking times up to 60 minutes and temperatures up to 400 degrees F.
CONS
Price.
Product made in China.
Shop Air Fryer
You can shop for this air fryer by clicking on the image or link below. You will be taken to Amazon where you can purchase the product.
As an Amazon associate, I earn from qualified purchases.
Did not find what you were looking for? No problem. Enter a search term in the Amazon Box below to search on Amazon for other products.
Go back to the Pros Cons Shopping home page.
Gourmia GAF635 Digital Air Fryer
$109.99
Foods Cook Up To 30% Faster
9.0/10
Most Foods Cook Without Adding Oil
9.0/10
Fat Drips Off Meat While Cooking
9.0/10
You Can Broil, Grill, Roast, Bake and Fry
9.5/10
Has 8 Preset Setting For Popular Dishes
9.5/10
Pros
Foods cook up to 30% faster.
Cook most foods without adding any oil.
The fat drips off meat while cooking.
Has 8 preset settings for popular dishes.
Cooking times and temperatures can be adjusted.