Home Generators For Power Outages
Are You Concerned About Losing Power? Be Prepared! The Best Solution Is Generators For Home Power Outage. We Present Many Types, Brands and Models.
Gone are the days when the rainstorms, thunderstorms and hurricanes are mild and localized. These days no house is safe from losing power for long periods of time; therefore it is smart to have a backup system in place.
Home generators consist of two types: portable (movable) and standby or stationary (unmovable). We will provide information on both types for easy reference.
Portable and Standby Generators Pros Cons
Portable and Standby Generators have two things in common: both must be located outside and away from the home; both rely on some type of gas for power; however they have many differences. Their differences are expressed in the Pros and Cons Of  Generator Types.
The Portable Generator
Portable Generator Pros
✔ The generators are smaller.
✔ The cost is less.
✔ The generator is movable.
Portable Generator Cons
✔ They use gasoline which is composed of carbon compounds which release carbon monoxide which is life threatening if too much is breathed.
✔ Each house item to be supported must be plugged into a separate generator socket.
✔ Extension cords will probably be required because the item's cord is not long enough and manufacturers do not recommend using extension cords.
✔ The cords must be strung through an open window or something to the portable generator which lets moisture and rain into the home.
✔ The tank must be filled often with gas which makes it difficult to leave the house.
✔ Pouring gasoline into a hot engine requires caution.
✔ Fumes from the gas can filtrate into the home.
As can be seen from above, the portable generator, though more economical, has many cons.
The Standby Generator
Standby Generator Pros
✔ The generator usage is completely automated. A transfer switch is activated when the electricity fails and the standby generator automatically begins operation.
✔ It runs on natural gas which is methane based without carbon monoxide emissions.
✔ The natural gas is self feeding which eliminates the need for manual fuel filling.
✔ Natural gas delivers good clean power.
✔ It is capable of running an entire household of items.
Standby Generator Cons
✔ It costs a lot more to install.
✔ The unit is larger.
See what this professional installer of generators has to say about the differences between the Standby and Portable Generator.
Take a look!
Portable and Standby Generators
Portable Generators
In general, from the perspective of convenience, cost and safety, portable generators are less expensive, easier to move around but more dangerous because of the fuel used to run them, usually gasoline. Some models use propane gas.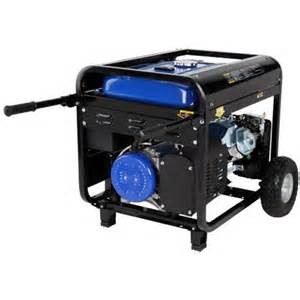 Also, you are restricted to the number of appliances you can have running during an outage. The portable generators have a limited number of outlets available for this purpose. You will have to decide on which appliances will be connected to the generator when an outage strikes. They will require using proper extension cords that reach the generator. You may want to consider using different colors to know which appliance is connected to which outlet on the generator.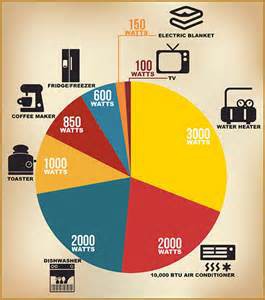 You will have to do some homework to determine the total watts required to keep the appliances running during an outage and purchase a generator that has that number of rated watts.
The displayed chart gives you an idea of the wattage used by items in the home. This will give you a starting point to determine what you may need.
Stationary or Standby Generators
Besides being more expensive, stationary or standby generators must be installed by a professional since they operate on natural gas or liquid propane. However, they will be able to provide power to your whole house during an outage and will automatically come on even while you are away from your home. They come with higher rated watts that will provide enough power for your whole house.
Consumer Reports
Consumer Reports does an annual testing of products and generators are  included. They have rated 46 models. We have included some of the key features to be considered for generators and have compared several generators for your consideration.
The features rated for every model includes overall score, ease of use, power delivery, noise, power quality and run time range in hours. You should be able to find a generator that fits your budget.
Portable and Standby Generator Safety Video
It is always wise to know all about portable and standby generators before making your purchase. It is important to know the safety rules when running one of these units. which also includes safety. Below is an excellent video showing you how to properly use these units.
Portable and Standby Generator Safety Video

Here's how we define the rated features.
Overall Score: Based on power delivery, power quality, run time, noise, and ease of use.
Ease of Use: Includes starting, transport, and helpful features such as fuel shutoff.
Power Delivery: How much wattage models delivered and how well they handled surges in power demand over various loads.
Noise: Measured at 23 and 50 feet from the generator. Use hearing protection when standing close to the generator.
Power Quality: A generators ability to deliver power smoothly, with consistent voltage.
Run Time Range: The average of how long a generator ran, over various loads, on a full tank of gasoline or diesel fuel, a 20 pound tank for propane-based portables, or a 250 gallon propane tank for stationary models.
Based on reviews by consumer and tests performed by Consumer reports, the following models were identified and received a very good score are listed below. The rating scale used is as follows: 1-20 Poor, 21-40 Fair, 41-60 Good, 61-80 Very Good, 81-100 Excellent. The rating score of the unit is in (). The units that are recommended or a best buy are indicated in [].
Portable Generators
Honda EU7000is (79) [Recommended]
Rigid RD906812B (78) [Best Buy]
Kohler PRO7.5E (73) [Recommended]
Generac RS7000E (72) [Best Buy]
Troy-Bilt XP7000 30477 (72) [Best Buy]
Honda EM6500SXK2 (70) [Recommended]
BlackMax BM90700B (70) [Recommended]
Briggs & Stratton 30470 (69) [Best Buy]
Briggs & Stratton 30549 (69) [Recommended]
Westinghouse WH7500E (69) [Recommended]
Honda EU6500iS (69) [Recommended]
Predator 68530 (68) [Best Buy]
Generac GP5500 5939 (67) [Best Buy]
North Star 165603 (66) [Recommended]
Champion 41537 (66) [Recommended]
Yamaha EF7200DE (65) [Recommended]
Powermate PMD146500 (65) [Recommended]
Stationary Generators
Small Stationary Generators
Kohler 8.5 RES-QS7 (92) [Recommended]
Generac 6237 (91) [Best Buy]
Generac CorePower 5837 (77) [Recommended]
Briggs & Stratton 40445 (73) [Tested – No Recommendation]
Large Stationary Generators
Cummins 13GSBA-6722B (93) [Recommended]
Kohler 14RESAL (93) [Recommended]
Generac 6241 (91) [Recommended]
Briggs & Stratton 40401 (86) [Recommended]
GE 40324 (83) [Tested – No Recommendation]
GE 40448 (74) [Tested – No Recommendation]
Getting Familiar With Generators
It is very important that you read the owner's manual before you even start or use your generator for the first time. Become familiar with the maintenance that's required in keeping your unit in tip top shape. By performing the regular maintenance you keep the warranty in effect. Some of the maintenance will require you to change the oil at regular intervals and filters.
It is wise to keep a backup supply of these items on hand for emergencies. If you have a gasoline powered model, store the fuel in the proper containers. Add a gasoline stabilizer to the gas to preserve it longer. Otherwise, you will have to get fresh gas every thirty (30) days and dispose of the old gas according to local ordinances.
Buy a generator that has sufficient outlets for your needs.
Final Tips
It's highly recommend that you perform a test run if you have a portable generator to ensure everything is running smoothly and you will know what to do when the power actually goes out. This will help you from panicking when an actual storm hits and an outage strikes. You may need to keep a flashlight handy so you can safely get to the generator in the dark if the outage occurs at night.
In some cases, for portable generators, you may have to run the generator once for ten minutes every thirty days. Verify your models requirements by reviewing the manufacturer's instructions that come with your unit.
Before purchasing a generator determine the total wattage requirements for all household appliances first.