Dispense Dog Treats While Away From Home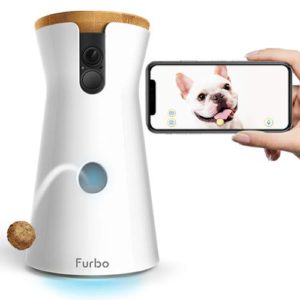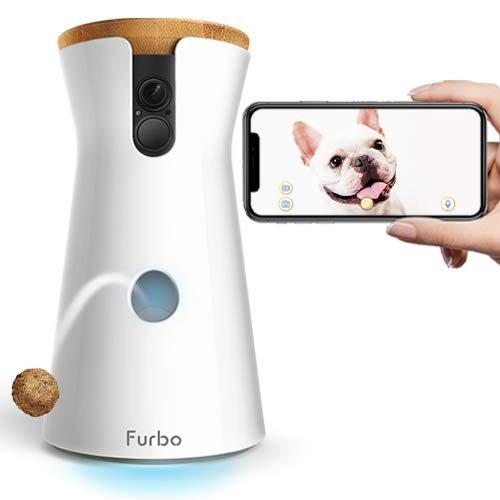 All dog owners just love their dogs which is normal. However, when you go to work or have to go on a business trip, you may be concerned about how well your pet is doing when away. The Furbo Dog Camera with treat Dispenser can help you as it can monitor your pet through the app and see him while you are away. The Furbo will provide video of your pet anytime throughout the day. At your command, it will dispense treats to your dog. You can even talk to your dog to help calm him down using the 2-way audio feature.
Now, when you are away, you can monitor your pet all during the day while at work. If your dog should have a barking problem, the Furbo will give you a barking alert so you can talk to your pet and dispense him a treat. This is all done through your Wi-Fi network at home using a Smartphone or Android app. For the best Wi-Fi connection and results, it's advisable to place the Furbo close to the router as possible.
You can set the Furbo camera anywhere has it has three stick plugs for permanent placement. Be sure to place the camera in the room where your dog is most of the time and can be observed while you are away. Be sure to place Furbo above his height.
This system allows you to link to multiple phones but only one can actually be connected and watching the camera at a time.
The following dog treats works very well with this camera. They are listed below:
Zukes Mini Naturals
Dog for dog mini treats
Pet Botanic mini reward
Wellness petite treat
Blue wilderness blue bits
Natural balance L.L.D.
Table of Contents
Below are the topics that are covered in this article. You can select anyone of interest and go to that section or just scroll down to view them all.
Training Your Dog Using Furbo Dog Camera Video
Product Features
Unboxing & Setup Furbo Video
Product Specifications
Product Rating & Reviews
What Questions People Are Asking About This Product
Pros/Cons
Conclusion
Shop Furbo Dog Treat Camera
Training Your Dog Using Furbo Dog Camera Video
This is an excellent video providing dog owners with tips on how to train your pet using the Furbo Dog Camera. Take a look!
Product Features 
Below is a summary of the features of this Furbo camera.
Live HD Video Streaming – It provides 1080p with a 160 degree wide-angle view day and night to monitor your pet. It even has night vision to monitor him at night.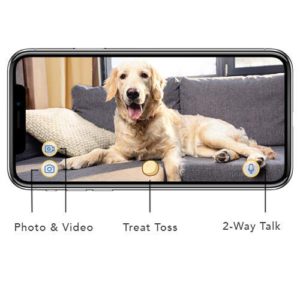 Interactive Treat Tossing – While you are at home or away, you can dispense your dog's favorite treat using the treat dispenser. This is great way to help calm down your pet do to intruders or someone walking by. You can also give him a treat when he is good. 
2-Way Audio – You can talk to your pet anywhere using the 2-way audio system to help calm your pet down.
Barking Alert – The Furbo will detect if your pet is excessively is barking and will send you an alert. You can talk to your pet and even dispense him a treat. The barking sensor can be adjusted to your pets sensitivity.
Photos & Videos – You can take selfies of your pet whenever he is facing the camera.
Real Time Alerts – The camera comes with a 90-day free trial of Cloud Recording, Smart Alerts, and a daily dogie diary. This is an optional subscription and you can cancel at any time.
The Furbo provides without a subscription, tossing treats, see, talk, and receive barking alerts. It you want to use the subscription service, here it what it provides. After the 90-day free trial period is over, there is a fee of $6.99 a month or $69.00 per year if you want to continue the subscription.
Real-Time Smart Alerts – This includes:
Dog Activity Alerts – You will be alerted when your dog is active like jumping on furniture or chewing on cords. It will also alert you if he suffers from separation anxiety through patterns like constant pacing or licking feet.
Person Alerts – Know when a person comes into view whether it's an intruder, mailman, spouse or partner.
Dog Selfie Alert – Furbo will detect when your dog is facing the camera where you can snap a selfie of him.
Each alert can be turned on or off according to your needs.
Even-Triggered Cloud Recording – You will discover what you are missing when you are away and find out what triggers your dog's barking.
Dog Diary – You can watch highlights of your dog's day in 60 seconds. You can download it and save it for memories.
Unboxing & Setup Furbo – Video
The video below shows the unboxing of the Furbo Camera and how to set it up. Take a look!
Product Specifications
Manufacture: Furbo
Model Number: 001-01WHTOA-1
ASIN: B01FXC7JWQ
Dimensions: 5.9 x 4.7 x 8.9 inches
Weight: 3.5 lbs.
2-Way Audio: Yes
Barking Alert: Yes
Tosses Treats: Yes
Night Vision: Yes
Assembly Required: No
Works with Alexa: Yes
Treat Capacity: About 30
Video Capture Resolution: 1080p
Recording Video: Manually Through the App
Automatically Sense Motion: No
App Cost: Free
Wireless Communication Technology: Wi-Fi, Bluetooth
Compatible Devices: iPhone, iPad, Apple Watch, iPod Touch, iOS 8.0 or Later, Android 4.3 Jelly Bean and Up
Warranty: 1-Year with 30 day money back guarantee
In The Box: 1 Furbo Dog Camera, 2m USB Cable, Power Adapter, Quick Start Guide
Product Rating & Reviews
This product is rated 4.0 stars out of 5, by over 3,166 customers. You can read all of the reviews about this product by clicking on the following link: Customer Reviews
What Questions Are People Asking About This Product
Below are just a sample of the 946 questions people are asking about this product. You can read all of the 946 questions and answers by clicking on the link. https://amzn.to/2XsVIYC
Question: What do the different color lights mean?
Answer: White Light: When Furbo is plugged in the first time. Green Light: When you can first setup Furbo. Purple Light: When Furbo is not connected to the Wi-Fi Network. Yellow Light: When Furbo is connected to the Wi-Fi network. Blue Light: When Furbo is being used (logged on to the app).
Note: Dogs can see the color yellow and blue.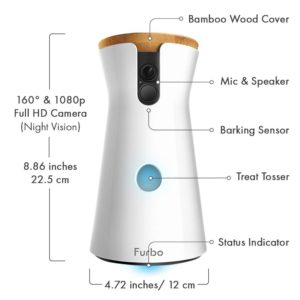 Question: I just got my Furbo and I can't decide on where to place it. Do you have any ideas?
Answer:  Depending on where your dog usually wanders, you can place Furbo anywhere at home away from direct sunlight and moisture. It's recommend placing Furbo 12 to 20 inches above the floor, or based on your dog's height. You will find a set of three fixed 3M double-sided tape mounted on the bottom of your Furbo unit to aid with stabilization. If you own a tripod, you can also use the tripod mounting sockets on the bottom of Furbo to attach it to your tripod.
Question: I have a Verizon hotspot…..how much data would it use if you had it connected for a couple of hours or more?
Answer: If you choose to use 720p HD quality: you will use approximately 29MB of your internet data to watch your doggy for 5 minutes. If you choose to use 320p HD: you will use approximately 6.6 MB of your internet data to watch your doggy for 5 minutes. Also, we recommend the WiFi upload speed to be at least 100KB/s (or 800kbps) to maintain the best video streaming quality.
Question: Does this work if I'm out the country?
Answer: Yes, the Furbo will work even if you're not in the country as long as your connected to Wi-Fi you can access the Furbo.
Question: Does it automatically restore once it has been disrupted? As per Wi-Fi connection.
Answer: As long as your Furbo is plugged in, it will always try to reconnect to your router. It's highly advisable that you place your Furbo near your router to have a stable connection.
PROS/CONS
PROS
1080p quality HD video and 160 degree wide-angle view.
Night vision.
2-way audio feature allows you to speak to your dog.
Barking sensor to alert you when you're pet is barking.
Tosses treats at your command whether at home or away through app.
1-year warranty.
CONS
Price
After 90 days, real-time alerts subscription expires and requires a monthly or annual fee.
For best results, Furbo should be placed near the router.
Conclusion
Having a way to keep an eye on your pet is just what the Furbo Dog Camera offers pet owners with the 160 degree wide-angle HD lens. This camera also has night vision. This is done through the Wi-Fi network in your home. You can even dispense dog treats while at work and see your pet eating them. If your dog should bark excessively, you will get a dog bark alert on your phone. Even when you are out of the country, you can keep a close eye on your pet. Using the 2-way audio system, you can speak to your dog to help calm him down when he is barking. This camera is a must for all pet owners.
 Shop Furbo Dog Treat Camera
You can shop for this dog camera by clicking on the Buy Now button below. You will be taken to Amazon where you can place the order and get the latest price.
As an Amazon associate, I earn from qualified purchases.
Did not find what you were looking for? No problem. Enter a search term in the Amazon Box below to search on Amazon for other products.
Go back to Pros Cons Shopping home page.