Sealing Food Makes For Great Savings On Food Budget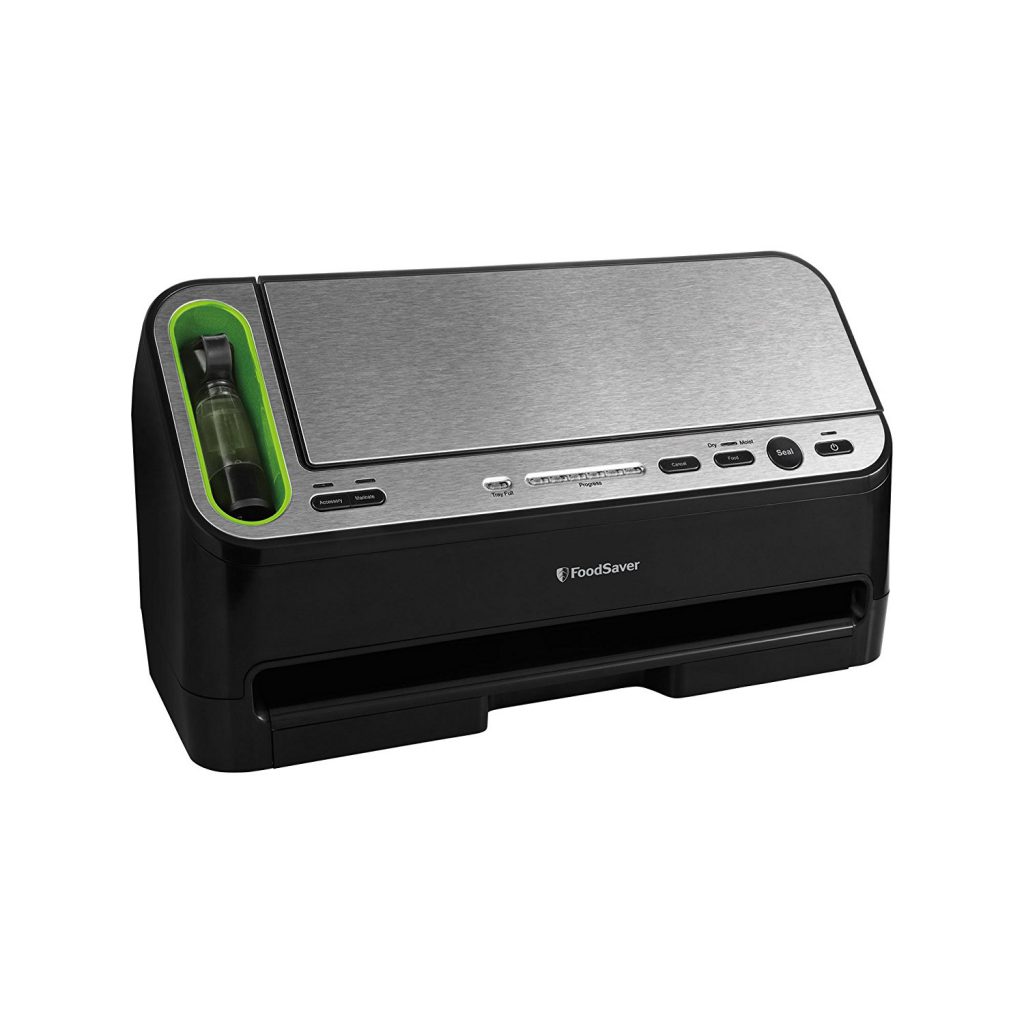 Many families that have to buy food in a grocery store usually purchase enough to last for a week's worth of meals. This may include meat, fruit and fresh vegetables. The problem is if for any reason some of these items are not used or cooked, they spoil easily and have to be trashed. The FoodSaver V4440 Vacuum sealing System now will take those food items and store them up to five times longer. You just take them out of the freezer or refrigerator and drop the bag into boiling water or the contents and place them into a pot or pan and cook normally.
Vacuum sealing foods will over time save you lots of money by not having to throw out food that is spoiled. You can vacuum seal meats, cheeses, vegetables, dry, wet and non-food items as well. This appliance is great for singles living in their own apartment that will help them save money on their food budget.
One huge advantage of owning a food saver is when going to the store you can purchase items in bulk, saving you money, and then vacuum sealing them to be used whenever you need to use them for a meal later.
This model FoodSaver is a 2-in-1 appliance that allows you to vacuum seal using bags, canisters, and containers. It has a convenient place to store rolls and a cutter to cut them to the size you need. The storage compartment can hold up to a 25 foot size roll to a maximum width of 11 inches.
The bags and roll that comes with the starter kit are BPA free. It also has a nice dishwasher-safe drip tray that holds excess liquids during the sealing process. It is also easy to remove for cleaning and is dishwasher safe.
The FoodSaver Vacuum Sealing System helps keep food fresh up to 5 times longer, compared to ordinary storage methods, allowing you to save up to $2700 per year (based on buying in bulk, on sale, and preventing waste). The system removes air, one of the main causes of mold and food spoilage, from bags and creates an airtight seal to lock in freshness.
This vacuum sealer comes with a 5-year limited warranty.
FoodSaver Vacuum Sealing Appliance Tips
Below are some tips on using the FoodSaver appliance:
Do not use the appliance on wet or hot surfaces, or near a heat source.
Wait 20 seconds between seals to allow the appliance to cool.
Do not place on or near a hot gas or electric burner, or heated oven.
Extreme caution must be used when moving products conta

FoodSaver Fresh Food Storage Chart

ining hot liquids.

To protect against electric shock, do not immerse any part of appliance, power cord or plug in water or other liquid. Unplug the cord from the outlet when not in use and before cleaning.
Do not operate appliance with a damaged power cord or plug and operate the appliance if it malfunctions or is in any way damaged.
Avoid overfilling, always leave 4-inches of bag material between bag contents and top of the bag. This allows room for the bag material to cinch tightly against the food and prevents the bag from pulling out of the vacuum channel during the sealing process. Then leave at least one additional inch of bag material for each time you plan to reuse the same bag.
During the vacuum packaging process, small amounts of liquids, crumbs or food particles can be inadvertently pulled into the Vacuum Channel. Empty the Drip Tray and clean it after each use.
When you are vacuum packaging items with sharp edges (dry spaghetti, silverware, etc.), protect bag from punctures by wrapping item in soft cushioning material, such as a paper towel. You may want to use a canister or Mason jar instead of a bag.
When using accessories, remember to leave one inch of space at top of canister or container.
To prevent wrinkles in the seal when vacuum packaging bulky items, gently stretch bag flat while inserting bag into vacuum channel and continue to hold bag until vacuum pump starts.
Marinating Tips
Your FoodSaver Vacuum Sealing System has a special Quick Marinate Cycle which will last about ten minutes. The FoodSaver Quick Marinating Canister (not included) is the perfect FoodSaver accessory for marinating foods.
During the Marinate Cycle, the vacuum pump will "hold" the vacuum for several minutes then release the vacuum, allowing the food to "rest" for 30 seconds. This process then repeats. This "pulsing" action of "vacuuming and resting" will allow for quicker more flavorful marinating.
Important Note: During the Quick Marinate Cycle, make sure knob on lid of the Quick Marinating Canister is set to OPEN. Do not set knob to Vacuum
during the Marinate Cycle.
To preserve food safely, after completing the marinating cycle, the appliance will signal with short beeps to indicate your Quick Marinate Cycle is completed. Press any button to silence the signal. You may now cook or refrigerate your marinated food.
BRAND: FoodSaver
NAME: FoodSaver v4440 Vacuum Sealing System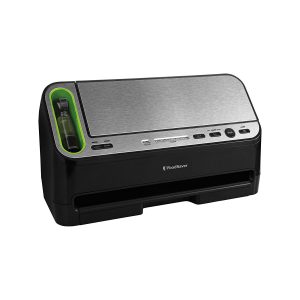 DESCRIPTION: The FoodSaver V4440 Vacuum sealing System now will take food items and store them up to five times longer saving you money, and has the following features: Weighs 10 lbs., 11 x 20 x 12 inches, Bag Material is BPA Free, Color Stainless Steel & Black, 5-Year Warranty, Model Number FSFSSL4440-000 .
CATEGORY: "Kitchen & Dining", "Small Appliances", "Specialty Appliances", "Vacuum Sealers"
PRODUCT #: B00DI342B4
REVIEW RATING: 4.5 stars, based on 958 reviews
Product Specifications
Manufacture: FoodSaver
Model Number: FSFSSL4440-000
ASIN: B00DI342B4
Weight: 10 lbs.
Voltage: 120V
Color: Stainless Steel/Black
Dimensions: 11 x 20 x 12 inches
Maximum Roll Storage: Fits Up To a 25' Roll
Starter Kit Includes: (1) 11"x10' Roll, (3) 1-Quart Seal Bags, (2) 1 Gallon Seal Bags, (3) 1-Quart Zipper Bags, (2) 1 Gallon Zipper Bags
Attachments & Indicators: Retractable Handheld Sealer, Tray Full Light, Progress Display Lights, Seal Button, Accessory Mode, Marinate Mode, Cancel Button, Food Settings, & Power Button
Warranty: 5-Years Limited
Product Pricing
The price for this product is provided to consumers so they can compare them with other similar products.
Note: The price of this product is subject to change without notice and may not be the actual price you pay at checkout.
Product Rating & Customer Reviews
Rating: [usr 4.4]
This product was rated by over 1,132 customers.
You can read all of the reviews for this product by clicking on the following link: Customer Reviews!
What Questions People Are Asking
Below is a sample of some questions people are asking about this product.
Question: Do you know what the difference is between the 4840 and this one 4440?
Answer: The only difference between the V4440 and V4840 models is the placement of the buttons. They both have all the same features and functions.
Question: What size roll and bag is recommended?
Answer: 8″ x 20′ or 11″ x 20′.
Question: How many bags can I vacuum and seal continuously?
Answer: I used to do 30+ bags. It needs at least 10 seconds in between before you start sealing another bag. If you press the seal bottom right away, the red light will blink. It means the machine is not ready to seal.
You also can read all of the 360 answered questions concerning this product by clicking Here!
PROS
Retractable Handheld Sealer – The built-in handheld sealer seals zipper bags, canisters, containers and marinates food in minutes.
Convenient Roll Storage – The convenient roll storage compartment holds rolls up to 25' long. It also has a cutter to make custom sized bags.
Automatic Operation – The auto detects the FoodSaver bag and starts vacuum sealing leaving your hands free.
Airtight Seal – It removes air from specially designed bags. The bag material heat seals to keep air out and prevent freezer burn. They can store foods up to 5 times longer. They are PBA free.
Seals Delicate Foods – Seals all types of foods including delicate items such as muffins, cookies, fruit, and more.
Dishwasher Safe Drawer – The pull out drawer is easy to clean and dishwasher safe. It also catches excess liquids during the sealing process.
Food Settings – It has a Moist/Dry food settings for optimal sealing of these items.
Warranty – Comes with a 5-year product warranty.
 CONS
This is a very expensive appliance.
Cannot store rolls larger than 25 feet in the compartment.
Does not come with jar accessories and containers. They must be purchased separately.
Shop FoodSaver Vacuum Food Sealer
Shop the FoodSaver V4440 Vacuum Sealing System. Click the Buy Now button below. Place your order now and be glad you did.
As an Amazon associate, I earn from qualified purchases.
Did not find what you were looking for? No problem. Enter a search term in the Amazon Box below to search on Amazon for other products.