Mixing Bowls That Last A Lifetime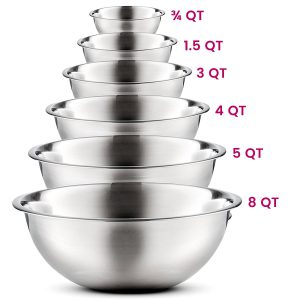 All homemakers every once in a while will want to make a dessert homemade or from a mix that will require the need of using a mixing bowl to perform the task easily. The Finedine Stainless Steel Mixing Bowls will do that and make your kitchen look great at the same time. These stainless steel bowls come in a set of six bowls. The shiny finish will last you a lifetime. These bowls can be used for mixing, tossing, marinating, serving fruit salads, and whisking to aid in food preparation.
What is so nice about these bowls is they are made with commercial grade metal that won't stain or absorb odors and will resist rust for years of durability. They also can be used in the refrigerator, freezer, and are dishwasher safe for quick and easy meal prep and cleanup.
These bowls have been designed to make preparing meals a breeze. A wide rim ensures a seamless pour every time for less spills when pouring batters. Its rolled rim allows the user to have a sturdy grip every time they handle the bowls; especially convenient for mixing and beating.
The 6 piece set of bowls is nestable by stacking them to fit very nicely anywhere and come in the following sizes:
¾ quart
5 quart
3 quart
4 quart
5 quart
8 quart
They stack within each other so they will fit on the counter or in a cabinet.
These bowls also make a great gift for any occasion and are affordable.
Made of Polished Stainless Steel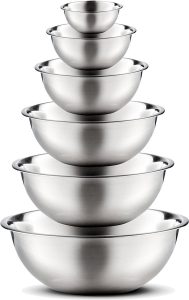 These bowls are made of premium stainless steel that resists scratches and bumps for a shiny finish that lasts and lasts. Unlike wood and plastic, stainless steel does not absorb bacteria or smells ensuring food tastes fresh and crisp every time. The bowls are refrigerator and freezer safe; ideal for prepping meats or preparing salads for later. Wash the bowls easily in the dishwasher or wash them by hand.
BRAND: Finedine
NAME: Finedine Stainless Steel Mixing BowlsDESCRIPTION: The Finedine mixing bowls are made with commercial grade metal that won't stain or absorb odors and will resist rust, and has the following features: #1 Best Seller, 6 Stainless Steel Bowls To Mix & Toss Salad, Material Polished Stainless Steel, Weight 2 lbs., Bowls Consist of ¾ quart , 1.5 quart , 3 quart , 4 quart , 5 quart and 8 quarts, Number FD-SK101.
CATEGORY: "Home & Kitchen", "Kitchen & Dining", "Dining & Entertaining", "Bowls"
PRODUCT #: B01HTYH8YA
REVIEW RATING: 4.6 stars, based on 3,064 reviews
Product Specifications
Manufacture: Finedine
Model: FD-SK101
ASIN: B01HTYH8YA
Dimensions: 4 x 3 x 6 inches
Weight: 2 lbs.
Stackable: Yes
Material: Polished Stainless Steel
Product Pricing
The price of this product is provided for consumers so they can compare them with other similar products.
Note: The price for this product is subject to change without notice and may not be the actual price you pay when you place the order on Amazon.
Product Rating & Customer Reviews
Rating: [usr 4.6]
This product was rated by over 3,060 customers which gave this high rating on this product.
You can read all of the customer reviews by clicking on the following link: Customer Reviews!
Questions People Are Asking About This Product
Below are some of the questions people are asking about this product.
Question: Can these stainless steel bowls be heated on the stove?
Answer: I don't know that it's made for direct heat, but I did use it to create a double boiler (I placed the bowl in near-boiling water) to melt some chocolate chips without any problems.
Question: Where are these bowls made?
Answer: They are made in China.
Question: Do these bowls come with lids?
Answer: No, they do not.
Question: Do the inside of the bowls have measuring lines and numbers?
Answer: No they don't.
Question: Are these bowls oven safe? I found a recipe that requires a metal bowl to be put in the oven.
Answer: These bowls are unfortunately not oven safe. These bowls are primarily used as mixing bowls.
You can also read all of the 89 answered questions concerning this product by clicking Here!
PROS
Easy to Grip Rounded-Lip Rim – The easy to grip rounded-lip on this set makes handling easier and generous wide rim allows contents to flow evenly when pouring.
Polished Stainless Steel – These bowls are made with commercial grade metal that can be used as both mixing bowls and serving bowls. The metal won't stain or absorb odors and resist rust for years of durability.
Stabilizing Bottom – A flat, stable bottom is an essential attribute to the functionality of a mixing bowl. These bowls feature a flat bottom on each of the bowls that ensures they stay put and balanced while mixing, whisking, and beating.
Nestable – The perfect solution to tidying up an already cluttered kitchen. These convenient bowls nest inside each other conserving space in kitchen cabinets, cupboards, and counter tops. Their compact stack ability makes it almost like you're storing away one bowl versus 6.
Easy Cleanup – This incredible stainless steel mixing bowl set is refrigerator, freezer, and dishwasher safe for quick and easy meal prep and clean up.
CONS
These mixing bowls do not come with lids.
The bowls cannot be used in the microwave.
Shop Stainless Steel Bowls
Shop the Finedine Stainless Steel Mixing Bowls. Click the Buy Now button below. Place your order now and be glad you did.
As an Amazon associate, I earn from qualified purchases.
Did not find what you were looking for? Just enter a search term in the box below to search for other products on Amazon.
Go back to the Pros Cons Shopping home page.