Easy To Read Temperatures From Hot To Cold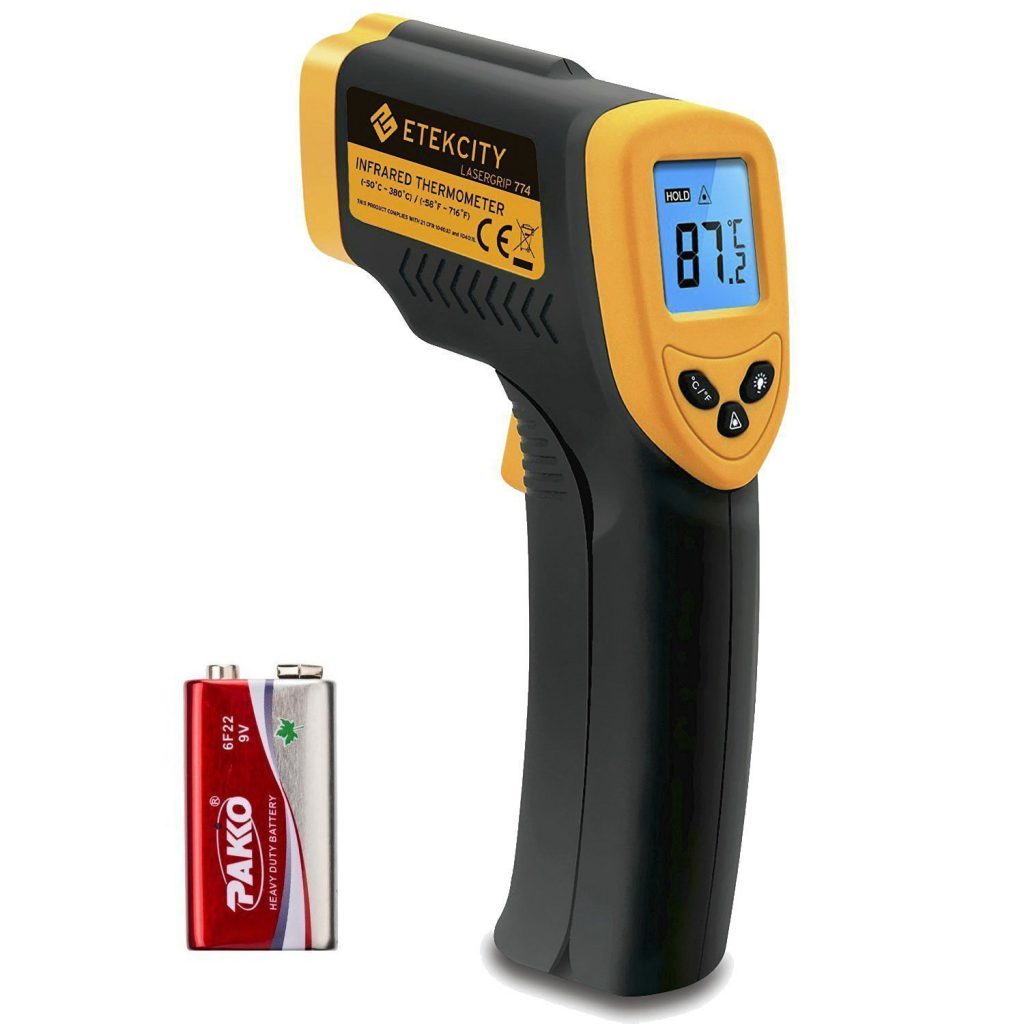 The Etekcity Digital Laser Infrared Thermometer is a device that lets you safely measure surface temperatures on inanimate objects from a distance. You can measure temperatures ranging from -58 degrees F up to 716 degrees F. With this device, you can measure oven temperatures, liquids including coffee and tea, and air vents. The list of using this scanning device is endless. You can switch easily from Fahrenheit or Celsius with the press of a button. However, this device cannot determine the inside temperature of meat cooking on a grill or in the oven, just the outside.
You will not receive accurate measurements when trying to get the temperature of humans or animals, just on inanimate objects. This device is FDA, FCC, CE, and ROHS approved.
The product has better accuracy because of the distance to spot ratio is 12:1. Which means, you can measure targets at greater distances when compared with other Infrared Thermometers.
It has an LCD backlit viewing screen so you can easily read the temperature of the object you want to measure. The screen holds the reading up to 15 seconds to give you time to record the measurement before it disappears. It also has a low battery indicator so you will not run out of battery juice and an auto shut-off feature to extend the life of the battery.
Another nice benefit of this digital thermometer is the laser beam that it emits. If you should have any pets like a dog or cat, they will have fun trying to catch the dot the beam emits on the floor. You can move it around providing exercise for them on days they cannot go outside to play.
It has an accuracy temperature rate of any object to ±2% or 2℃/℉. You'll always know the exact point of measurement without hesitation.
It operates on a 9-volt battery which is included.
Etekcity Laser Infrared Thermometer Video
This is a short video on how the Laser 774 model works. Take a look!
BRAND: Etekcity
NAME: Etekcity Laser Infrared ThermometerDESCRIPTION: The Etekcity Laser Thermometer is a device that lets you safely measure surface temperatures on inanimate objects from a distance, and has the following features: #1 Best Seller, Weighs 4 ounces, Dimensions 3 x 3.9 x 1.4 inches, Auto Shut-Off, LED Backlit Display Maximum Distance 17″, 12:1 Distance Spot Ratio, Temperature Accuracy: + or – 2 degrees centigrade, 2-Year Warranty, Model Number Lasergrip 774.
CATEGORY: "Kitchen & Dining", "Home Brewing & Wine Making", "Measuring & Testing", "Thermometers", "Infrared Thermometers"
PRODUCT #: B00837ZGRY
REVIEW RATING: 4.5 stars, based on 6,802 reviews
Product Features & Specifications
Below are some of the main features and specifications of this product.
Manufacture: Etekcity Corporation
Model: Lasergrip 774
ASIN: B00837ZGRY
Battery Operation Type: DC 9 volt (Included)
Low Battery Indicator: Yes
Weight: 4 ounces
Dimensions: 3 x 3.9 x 1.4 inches
Colors: Yellow/Black & Blue/Gray
Warranty: 2-years
Temperature Accuracy: + or – 2 degrees centigrade
Measurement Range: -58 F to 716 degrees F (50 C to 380 C)
Response Time: < 500ms
Resolution:1 F / C
Emissivity: fixed, 0.95
Distance Spot Ratio: 12:1
Maximum Output: < 1 mW
Laser Guided Targeting: Yes
Battery Usage Time: Up to 12 hours
Auto Shut-Off: Yes, after 15 seconds of no activity
LCD Display: Yes, backlit
Recommended Temperature Accuracy Distance: 17 inches or 36 cm
In The Box: 1 Laser Thermometer, 9 volt battery, user manual
Note: The device cannot measure the temperature of objects behind glass. Inaccuracy may result when exposed to steam, dust or any other contaminants in the air.
Product Pricing
The price for this product is provided to consumers so they can compare them with other similar products.
774 Model Price: $14.39 (Yellow/Black)
Note: The prices are subject to change without notice and may not be the actual price you pay when you place the order on Amazon.
Product Rating, Customer Reviews & Product Questions
Rating: [usr 4.5]
This product was rated highly by over 6,800 customers which gave this excellent rating.
You can read all of the customer reviews for this product by clicking on the following link: Customer Reviews!
You can also read the 491 answered questions concerning this product by clicking Here!
PROS
Versatile Design – Infrared Technology makes this thermometer handy to use when cooking and barbecuing, performing auto maintenance, doing home repairs, and a host of other tasks.
Better Accuracy – The Distance to Spot Ratio is 12:1, meaning the Laser grip 774 can accurately measure targets at greater distances.
Target Quicker – A built in Laser gives you the precision to hone in on the exact space you want to measure.
Low Battery Life Indicator

– The LCD screen is backlit, also has an Auto-Off function to extend the battery life, and features a low battery indicator so you never accidentally run out of juice.

Measures in Celsius or Fahrenheit (Range: -58℉~716℉ / -50℃ to +380℃).
Built-in laser for precisely aiming.
CONS
Battery life varies depending upon usage.
Shop Laser Thermometer
Shop the Etekcity Laser Infrared Thermometer. Click the Buy Now button below. Place your order now and be glad you did.
As an Amazon associate, I earn from qualified purchases.
Did not find what you were looking for? No problem. Enter a search term in the Amazon Box below to search on Amazon for other products.