Make Hot Water for Tea In Minutes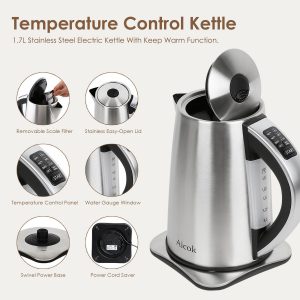 If you happen to be a tea lover, than the Electric Tea Kettle with Temperature Control by Aicok may be the one just for you. It has six temperature settings to heat water for the different types of tea etc. Not only that, the hot water can also be use for instant cocoa, oatmeal, noodles and much more. You can brew hot water for your own favorite tea and will keep the water warm for up to two hours. The kettle is made of stainless steel which is durable, rust resistant, and should last you for a long time.
The unit packs 1500 watts of power to boil water quickly under 10 minutes. The six temperature water settings for specific tea types are listed below.
160°F for Delicate Tea
175°F for Green Tea
185°F for White Tea
190°F for Oolong Tea
200°F For French Press Coffee
212°F for Black Tea or Instant Cocoa, Oatmeal, Soup, Noodles
The kettle panel has a keep warm feature setting that will keep the heated water warm for up to 2 hours.
The kettle itself is cordless, sits on a base during the heating cycle, and has a cord to plug into the outlet. So, the kettle can be easily removed off the base without the cord getting in the way of pouring hot water.
It also has a push button lid and has boil dry protection.
This item also makes for a great gift for tea lovers.
Aicok Electric Tea Kettle Video
Below is a short video on how this tea kettle works. Take a look!
Product Description
Aicok electric temperature control tea kettle has 6 temperature settings, to ensure the best tasting tea, coffee, soup, oatmeal and noodles every time. It has 1500 watts of power that makes for a fast boiling time. It has a warm setting to keep the water warm for that second cup. It comes with a 2-year warranty. The kettle is made with stainless steel that is rust resistant and should last a long time.
When storing the kettle unplug the cord and store the unit in a ventilated dry place.
BRAND:
Aicok
NAME:
OXO Good Grips Fat Separator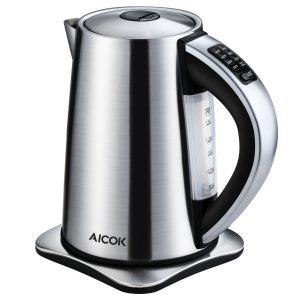 DESCRIPTION: The Electric Tea Kettle with Temperature Control by Aicok is just for you. It has six temperature settings to heat water for the different types of tea etc., and has the following features: Weighs 3.41 lbs., Dimensions 9.8 x 10.1 x 7.6 inches, Stainless Steel Material, Wattage 1500, Voltage 120V, Capacity 1.7 Liters or 57 Ounces, Model Number KE7466TJ-ET.
CATEGORY: "Kitchen & Dining", "Coffee, Tea & Espresso", "Electric Kettles"
PRODUCT #: B07313C4CH
REVIEW RATING: 4.3 stars, based on 569 reviews
Product Specifications 
Manufacture: Aicok
Model Number: KE7466TJ-ET
ASIN: B07313C4CH
Operating Power: 1500 Watts
Weight: 3.41 lbs.
Voltage: 120V
Frequency: 60Hz
Kettle Body: Stainless Steel
Dimensions: 9.8 x 10.1 x 7.6 inches
Water Gauge: BPA Free Plastic
Capacity: 1.7 Liters or 57 ounces
Boiling Time: 5 to 10 Minutes
Temperature Settings: 6
Keep Warm Button: Yes
Auto Shut-Off: Yes
Boil Dry Protection: Yes
Warranty: 2-Years
In The Box: 1 Tea Kettle, 1 Base w/cord, Owner's Manual
Customer Service Email: service@aicok.cc
Product Pricing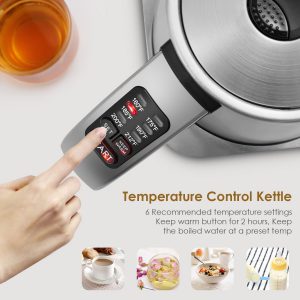 The price for this product is provided to consumers so they can compare them with other similar products.
Note: The price of this product is subject to change without notice and may not be the actual price you pay at the time the order is placed.
 Product Rating & Customer Reviews
Rating: [usr 4.3]
This product was rated excellent by over 569 customers.
You can read all of the reviews for this product by clicking on the following link: Customer Reviews!
Questions People Are Asking About This Product
Below are some questions that people are asking about this tea kettle.
Question: Does it shut off automatically once water is boiled?
Answer: Yes it does! Once the water gets to a boil, which for me is about 6 minutes and 45 seconds, the kettle automatically switches off. I hear a click and the light in the switch turns off as well. 
Question: Can I clean it in the dishwasher?
Answer: The owner's manual says not to immerse the kettle in water because of the electrical connections in the bottom. Wiping it out with a clean cloth is all that is necessary, unless you live in an area with hard water, in which case heating up a mixture of white vinegar and water will clean the inside.
Question: Is this kettle for international travel?
Answer: You could; however, if the real question is will the plug fit in electrical outlets over seas, then NO. You will still need an adapter for whatever region you are going to.
Question: Where is this product made?
Answer: It is made in China.
Question: Can you set this one for specific temperatures or does it only go to boil?
Answer: It only goes to boil and then shuts off. If you don't want the water to boil, you can manually shut the kettle off.
You can read the rest of the  113 questions about this product by clicking on the following link: Questions People Ask!
PROS
Automatic Shut-Off – The kettle will shut-off when it reaches the temperature you selected or when it runs dry.
Durable Stainless Steel – The kettle is durable and will last you a long time because of the Premium 304 stainless steel that is strong to corrosion and helps prevent rust.
Warm Setting – The warm setting keeps the water warm for up to two hours.
Memory Setting – It also has a 90 seconds setting memory that's lightning fast to use again as it remembers the last temperature setting.
Fast Electric Kettle – It packs up to 1500 watts of power to quickly bring water to a boil within 5 minutes.
Temperature Settings – The kettle has six different temperature settings to ensure the proper water temperature is reached for the type of tea being used.
CONS
Price.
The filter located at the spout needs to be cleaned regularly.
 Shop Electric Tea Kettle
Shop the Electric Tea Kettle With Temperature Control. Click the #Buy Now button below. Place your order now and be glad you did.
As an Amazon associate, I earn from qualified purchases.
Did not find what you were looking for? No problem. Enter a search term in the Amazon Box below to search on Amazon for other products.