Now An Easier Way To Open Jar Lids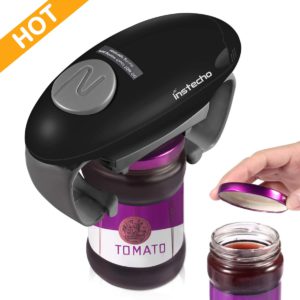 Introduction
Do you have difficulty in trying to open manufacturer's jar lids? If you are like most of us, you probably do. It seems like it's getting more difficult to open jar lids today using your hands. As we get older or have some handicap like arthritis, sometimes it is hard to open jars lids using your bare hands. It takes a lot of strength and senior adults may have difficulty in removing jar lids. Now, the electric jar opener seniors manufactured by Instecho is available to take that painful chore away and make opening jar lids easier.
Using the electric jar opener will make opening jar lids a breeze as you don't need your hands to open lids anymore. The unit is restricted to opening jar lids as small as 1.18 (30mm) inches to a maximum of 3.46 (88mm) inches wide. There is no size limit as to how tall the jar or bottle can be as long as the lid fits within the range previously mentioned.
If you suffer from arthritis or have hand pain, using this kitchen device will be effortless. All you need to do is push a button for the opener to operate. The opener does all the work for you. This kitchen aide will be handy in using it to remove all lids in the future.
The opener is made with high quality material and is convenient and safe to use anywhere. It will even open slippery and even wet jars as it does not have any blades to hurt you. Its design is environment friendly too.
The jar opener is powered by two AA batteries that must be purchased separately. They will open approximately 240 lids before they need replacing.
This jar and bottle opener is not limited to just home use as it can also be used in restaurants or anywhere where jar lids need to be opened.
Note: The device is not made or guaranteed to work on plastic jars. Using this opener may cause damage to the jar during the opening process. However, some plastic jar lids are able to come off without much damage. Use this product on plastic jars at your own risk. The manufacture does not honor the warranty on any broken units when it has been used on plastic jars.
This kitchen device makes for a great gift for any occasion.
Product Description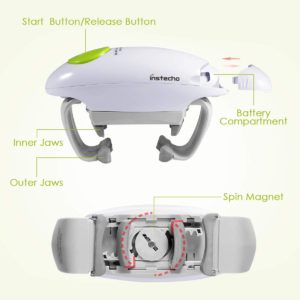 The electric jar opener uses a hands-free operation to screw off jar lids. Individuals with hand pain or arthritis will have no problem using this jar opener. With a push of a button the lid will be turned and will adjust to the width of the lid from 30mm to 88mm wide. The unit uses 2 AA batteries to operate and will open about 240 jar lids before running out of power. It only weights about 12.8 ounces so it is very light to handle.
The unit is small enough to fit in the kitchen drawer. It doesn't matter how large the bottle or jar is as long as the lid fits within the range size width. It does not require any pulling and twisting to remove the lids. It is also powerful enough to remove factory-sealed jars. You will be glad you have this kitchen aide on hand to use on those hard to open jar lids.
How To Operate The Jar Opener
Follow the steps below on how to operate this electric jar lid opener.
Step 1: Place the bottle or jar on a flat surface.
Step 2: Place the jar opener on top of the bottle or jar, and then press the button and hold it for three seconds then release it to make the inner jaws to catch the cover or lid and bottle or jar body.
Step 3: When the rotation is complete, press the button to release the bottle body.
Step 4: Make sure the cover has been separated with the bottle or jar body.
Step 5: Store the opener in kitchen drawer.
Product Specifications
Manufacture: Instecho
ASIN: B07KWCPX41
Weight: 12.8 Ounces
Dimensions: 8.5 x 4.2 x 2.8 inches
Colors: Black, Red & White
Power: 2 AA Batteries (Not included)
In The Box: Opener & Instructions
Product Rating & Customer Reviews
Rating: [5.0]
This opener is rated vary high by over 980 customers.
You can read all of the reviews about this product by clicking on the following link: Customer Reviews!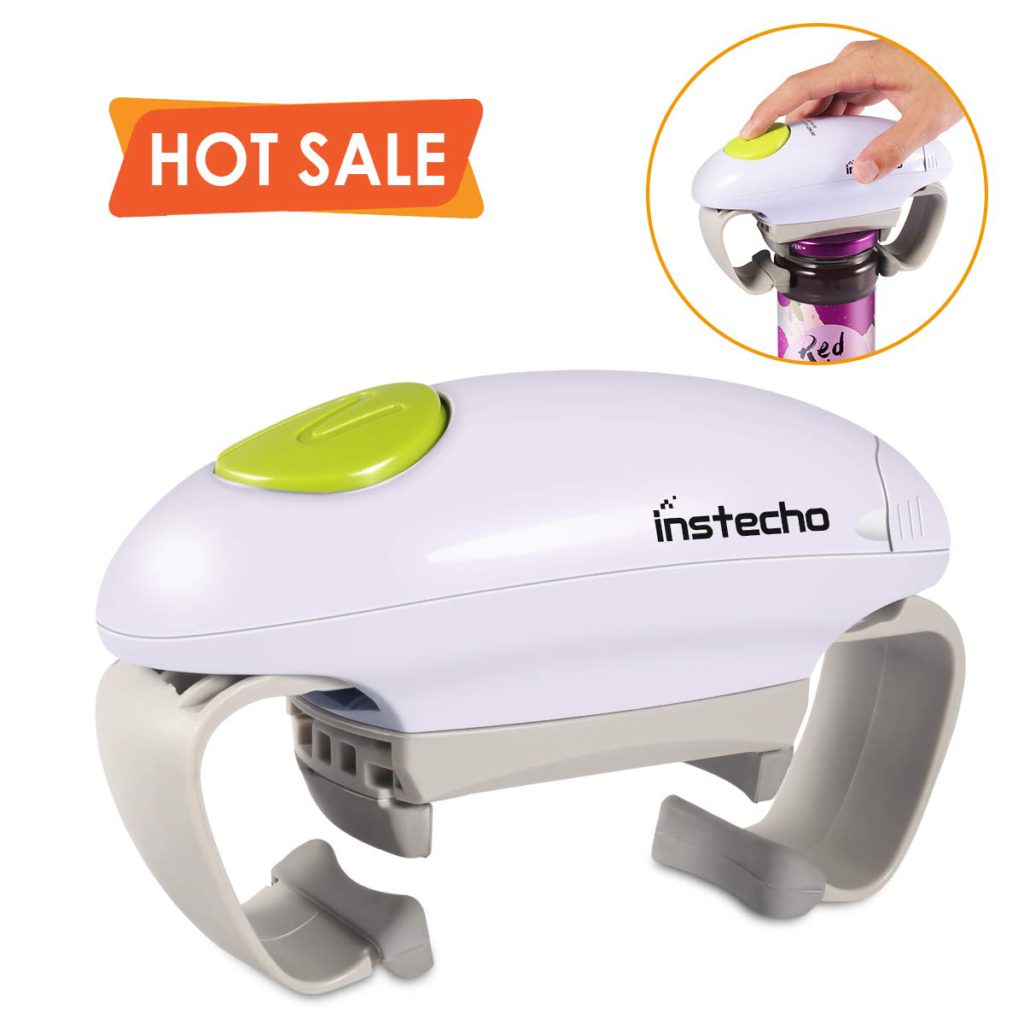 PROS
Batteries last for up to 240 jar lid openings before they need replacing.
Easy to handle and safe.
Great for individuals that suffer from arthritis or have hand pain.
No bottle or jar is too tall for this opener to work.
Does not require using any hands to open jar or bottle lids.
Fits jar or bottle lids between 1.18 and 3.46 inches in width.
Fits into the kitchen drawer for easy storage.
Effortless as it requires the push of a button to operate.
CONS
2 AA batteries are not included.
Laud noise as it is opening lids.
May take anywhere from 15 to 50 seconds for the unit to loosen or remove lid from jar and reset depending upon size of lid and jar being opened.
Works best with glass jars and may have some difficulties with plastic ones.
Questions About Electric Jar Openers
Can opener for people with disabilities? Answer: Yes, this opener can aide anyone who may have disabilities in trying to open jars or cans. Its automatically perfect for individuals with arthritis or hand pain, requires no manual labor. The tool does all the work.
What is the best jar opener for people with arthritis? Answer: Any electric jar opener that will automatically open jar lids for those suffering with arthritis should work well. At the press of a button the lid of the jar will come loose for you to remove. We can recommend the KITCHENMUH Electric Jar Opener or the Robo Twist.
How do you use an automatic jar opener? Answer: Basically, you just have to follow the instructions that came with the tool. Just balance the unit on the jar you want opened and press and hold the button for three seconds. The unit will close and open the lid. This can take anywhere from 20 seconds to 1 minute depending upon the type of lid you want opened.
Shop Electric Jar Openers
You can shop for the electric jar openers by clicking on the link below for the color you want. You will be taken to Amazon where you can place the order.
As an Amazon associate, I earn from qualified purchases.
Go back to the Pros Cons Shopping home page.