Keeps Any Room Warm or Cool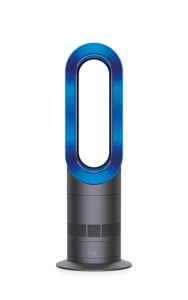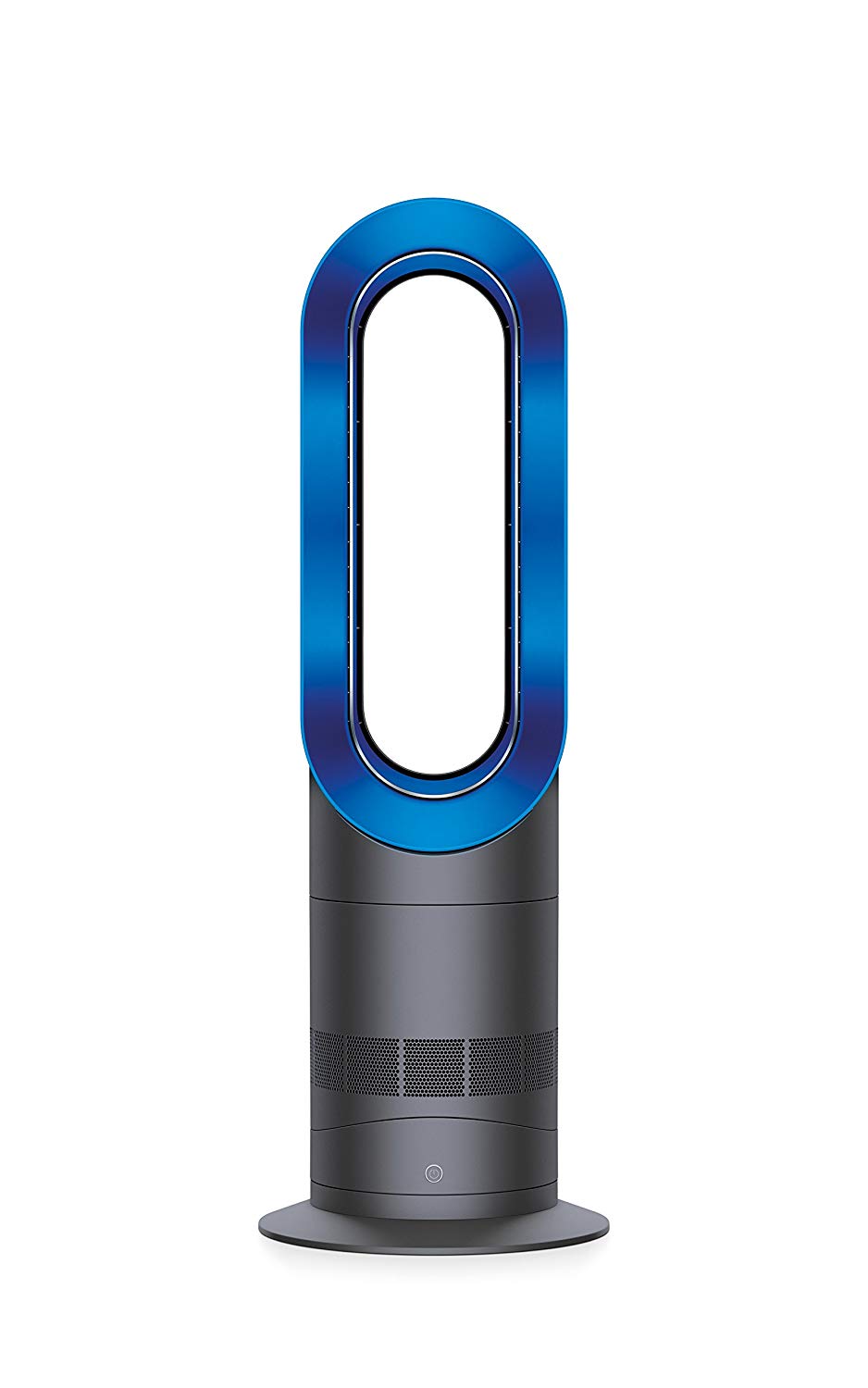 You may have experienced times throughout the year where you wanted a fan to cool things down and in the colder months a heater to warm a room up. Now, you can use the Dyson hot cool jet focus AM09fan heater that does both whenever you need it. It's great at any time of the year whether it's hot or cold outside. This fan/heating unit works year round in the summer to cool the room down and provide heat to a room when it's cold during the winter.
This powerful fan has a patented air multiplier technology that projects heating or cooling into any room quickly and evenly that makes for a comfortable environment. Some homes or apartments may experience some loss of heat on extremely cold winter days and this unit will provide that extra needed heat.
A great feature of this fan is that it has a built-in safe mechanism to automatically shut-off if it should be tipped over on its side. Since it has no blades, it is safe for kids and pets not to injure any fingers, toes or paws. It also has no exposed heating elements so it won't have any burning smell as it operates.
The fan unit has a sleep time that can be set for 15 minutes to 8 hours and a curved side to store the magnetized remote on the unit's side. So you never have to worry about losing the remote. It will always be there when you need it.

The cooling mode only blows air at room temperature. It is not and does not act like an air conditioner. It has two modes of air flow:
The jet mode blows air more directly at the object. The diffused mode blows air in a wider area of the room. Using the remote, you can change the mode of operation the speed of the fan with a push of a button.

The thermostat monitors the room's temperature and when it reaches the set temperature it automatically shuts off and will come on to maintain that temperature throughout the day.
Another nice feature is the remote that comes with the machine is magnetized so it will attached itself to the top of the fan unit.
Note: This fan will not operate unless you have the remote.
This product also comes with a 2-year manufacturer's warranty.
Video
Below is a short video on the review of this fan heater and its features. Take a look!
Video of Dyson AM09 Hot Cool Bladeless Fan

Product description
This fan heater operates both as a fan and a heater. Using air multiplier technology is creates a powerful stream of airflow into any room using the jet focused mode or the wider diffused mode. It also has a sleep timer to select from 15 minutes to 8 hours and oscillation control. It has no blades that spin which can cause injury to pets and children. The remote control is magnetized for easy storage on the top of the machine. Now, you can blow air temperature air or heat treated air anywhere you need it.
Product Specifications
Manufacture: Dyson
Model Number: 302200-01 (Black), 61874-01 (White), 302198-01 (Blue)
ASIN: B00SMLKEUK (Black)
Dimensions: 8 x 6 x 23.4 inches
Weight: 6.3 lbs.
Colors: 4 (Black/Nickel, Iron Red, Iron/Blue, White/Silver)
Cord Length: 6.6 Feet
Prong Type: 2 Prong Polarized
Fan: Yes
Heater: Yes
Sleep Timer: Yes
Timer Range: 15 Minutes to 8 Hours
Thermostat: Yes, for heating only
Temperature Control Range: 33 to 99 Degrees F
Year Round Use: Yes
Wattage: 1500W (2000 Peak watts when first turned on)
Voltage: 120V, 60 Hz
Air Flow Modes: 2 Jet & Diffused
Amps: 12.5
Product Made: In Malaysia
Warranty: 2-Years
Customer Service: 1-866-693-9766
In The Box: Tower Fan/Heater, Base, Remote, & Manual
Product Pricing
The prices for the Dyson fans are provided so consumers can compare them with other similar products.
Black/Nickel: $404.49
Iron Red: $383.74
Iron/Blue: $439.99
White/Silver: $349.99
Note: The prices of these Dyson fans are subject to change without notice and may not be the actual price you pay at the time of purchase.
Useful Tips
Below are some useful tips on the use of this fan/heater AM09 model.
Plug the cord into a separate electrical wall socket.
The unit uses 12.5 amps and you may have to shut off other electrical devices on the same line when using the fan so you don't blow a circuit breaker or fuse.
Do not plug the cord into an extension cord as it might overheat as it takes up to 2000 watts when it is first turned on.
When setting the temperature for any room, the thermostat will maintain the desired temperature and not waste any energy by shutting off.
Product Rating & Customer Reviews
Rating: [usr 4.0]
This product was rated by over 500 customers. You can read all of the reviews by clicking on the following link:
Customer Reviews!
Questions People Are Asking About This Product
Below are some of the questions people are asking about this fan heater.
Question: Is there a difference between the AM05 and the AM09 models?
Answer: Based on what I have read, the AM09 has a couple of major differences. As I understand it, the AM09 is 75% quieter than the previous model. The second improvement is an option to select coverage of the airstream so it is narrow to blow in a focused stream, or wide to disperse the stream around the room.
Question: How hot is the unit when in heat mode? Will it burn someone who touches it?
Answer: It does get warm to touch. As with any heating element, it's best not to touch it.
Question: How big is the maximum room cover of the fan?
Answer: The manual does not cover this question. In my experience it does fine in my room that is 10' x 20'.
Question: Is this unit Wi-Fi enabled?
Answer: No. It's just a heater and fan only.
Question: How long does it stay on?
Answer: The heating element stays on a maximum of 8 hours.
Question: How do you clean the filter holes when they get dirty?
Answer: This unit does not have a filter. To clean the holes use a vacuum or with compressed air.
You can read all of the 207 questions by clicking on the following link: Answered Questions!
PROS
Provides both heat and cool airflow.
Setting the temperature for heating any room from 33 to 99 degrees F.
Automatically shuts off when the unit is falls or the desired temperature is reached.
Has no moving blades to cause injury to pets or children.
Two modes of operation.
Magnetized remote that stores on the machine.
Two year limited warranty.
CONS
Price.
It's not programmable.
Does not operate without the remote.
It does not act like an air conditioner for cooling.
Shop AM09 Fan Heater
You can shop for the AM09 fan heater below. Just click on the link below and you will be taken to Amazon where you can select a different color than the link to purchase.
As an Amazon associate, I earn from qualified purchases.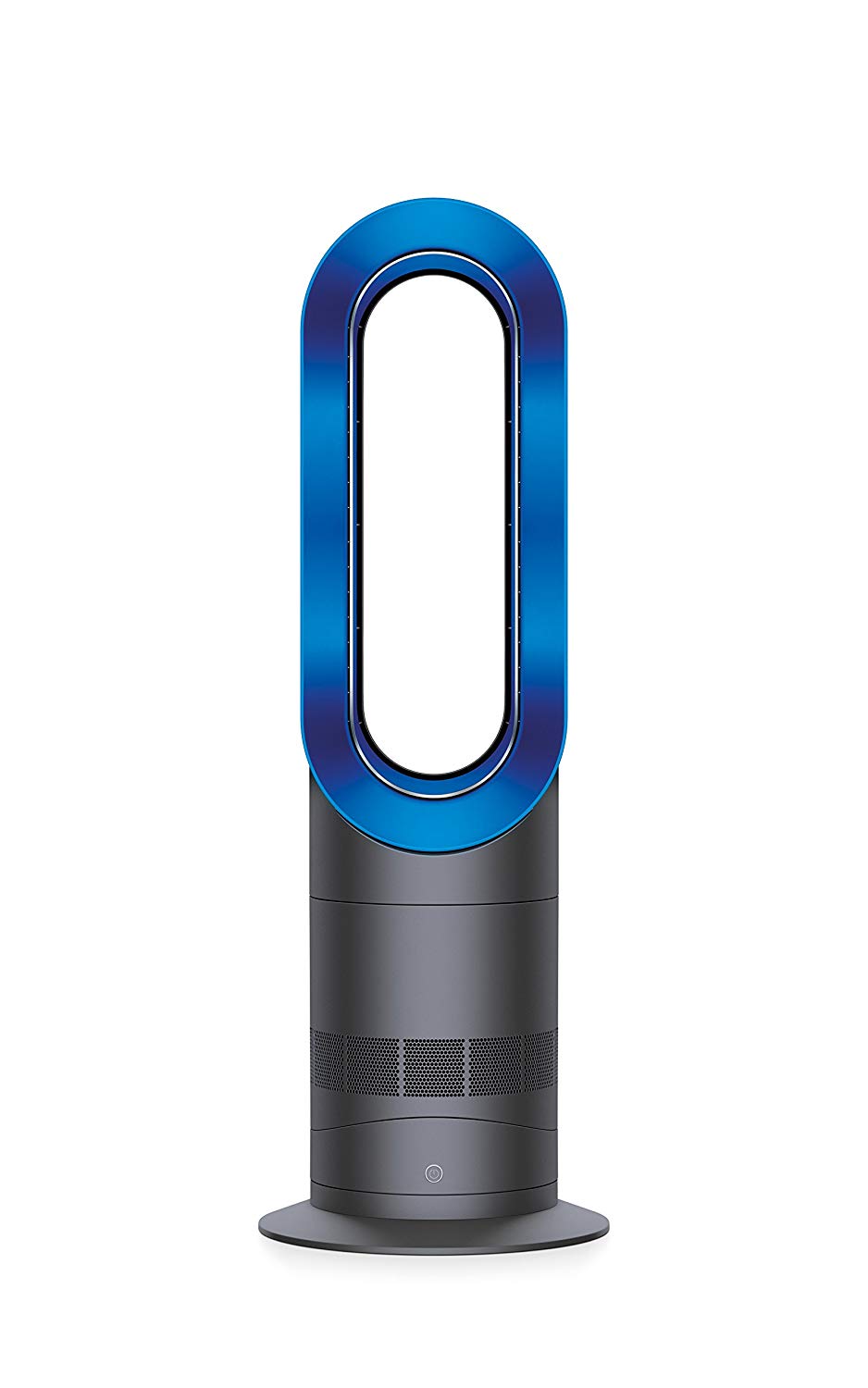 Dyson AM09 Fan Heater Iron Blue
Shop For Remote Control Replacement
In the event you may have lost or misplaced the remote control, you can purchase a replacement by clicking on the image below where you can purchase the product on Amazon.
Did not find what you were looking for? No problem. Enter a search term in the Amazon Box below to search on Amazon for other products.
Go back to the Pros Cons Shopping home page.