Drone Flying Instructions Helps Beginners To Fly Drones Properly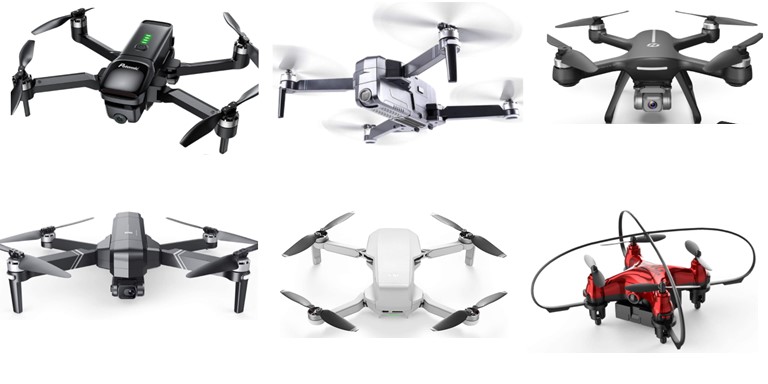 Introduction
Drone flying instructions will help users to become familiar with and learn how to fly a drone. Become familiar with the FAA drone flying rules for safety. If you are a beginner in drone flying you will need a drone that has WiFi 802.11ac connection for it to function.
The price points on drones vary from under $100 to over $2000 or more. For a beginner, look for a drone that is around $200. If you damage it, you won't be out much money. As you become familiar with them and learn how to operate the drone safely, you can upgrade to a more costly model. As you move up in price, you will be getting more quality and features.
Drones weighing under 250 grams and are used for recreational purposes don't have to be registered with the FAA. However, all flyers must obey some basic FAA rules and these will be mentioned below.
For drones that weigh 250 grams or more, flyers must not only register it with the FAA, but also pass the
Part 107 exam if you are flying commercially. All other drone pilots must take the Recreational UAS Safety Test when flying recreationally.  They also must be registered every three years.
In 2023, the FAA will require all drones to broadcast their location and not just the location of the drone. You will be required to broadcast an identification number that law enforcement will cross-reference with your registration number, and the drone's speed and attitude. All drone pilots must comply with this new rule. A copy of the press release can be read by clicking HERE! The new rule takes effect beginning September 16, 2023.
Part 107 Test Questions Format
The format of the 60 question exam is as follows:
Regulations: 15 Questions
Airspace & Requirements: 8 Questions
Weather: 11 Questions
Loading & Performance: 7 Questions
Operations: 13 Questions
All questions are multiple choice with 3 answers: A, B, or C. When taking the test for the Part 107 exam for the first time it must administered only by the FAA at one of the 700 testing centers and cannot be taken online. Check the FAA's website for a location nearest you. This is a very hard exam. You just might want to think about taking a pre-test exam to get familiar with the type of questions being asked on the exam.
Basic Drone Training Exercises For Beginners & Video
If you are a beginner to drone flying, the video below will help you in becoming a more experienced drone pilot. Practice each skill and master it before moving on to the next skill. Do this with all the skills in the video. We recommend viewing the video in its entirety first to determine if your drone can perform all of the skills mentioned. Only practice the skills that your drone will allow you to perform.
By practicing these exercises, you will become a better and more skilled dual-stick pilot and a safer pilot prepared for different emergency situations. These are the skills you need to practice in the order listed until you feel comfortable.
 Step 1: Get experience hovering at eye level.
 Step 2: Practice hovering and 360 yaw at eye level.
Step 3: Get target experience by practicing takeoffs and landings at eye level and land the drone on a location of your choice. Then takeoff and land on a different location. Continue to do this until you are comfortable.
Step 4: Get experience flying in a square pattern with no yaw at eye level.
Step 5: Learn flying in a circle pattern with no yaw at eye level.
Step 6: Learn how to fly out and back and land.
Step 7: Practice flying a square pattern with yaw at eye level.
Step 8: Learn how to fly at the maximum altitude of 400 feet or 120 meters. Set your drone to this altitude or less. FAA requires all drones to fly at this altitude or lower in the United States.
Step 9: Practice the birds eye view or the top down on the camera if yours has a gimble. Skip this step if your camera does not rotate up or down.
Step 10: Practice the orbit effect or point-of-interest (POI). This is where you focus the camera on a point of interest while the drone is orbiting.
Step 11: Practice triggering the return to home feature (RTH).
Step 12: Learn the dronie exercise (See the video on how this is done).
Step 13: Practice flying close to objects. This helps you get comfortable when flying in areas with little spaces.
Step 14: Practice flying in tripod mode (S=Sport, P=Positioning, T=Tripod). This mode is the slowest in speed. It will help you get comfortable in focusing and taking video or pictures when flying in slow mode.
Step 15: Try flying the drone without a GPS signal. This helps you to fly your drone in places where the GPS signal is low or not available. This takes lots of practice.
FAA Drone Registration
To fly recreationally you don't need a license if the drone is under 250 grams and does not need to be registered with the FAA. If your drone is 250 grams or more the registration fee is $5. You must also take the TRUST exam for flying drones recreationally. To enroll for the TRUST exam to fly recreationally Click HERE! Scroll down to the "Flying Recreationally" section. Click on the The Recreationally UAS Safety Test (Trust) link on the page. Just follow all of the prompts.
If you want to fly commercially, the fee for the Part 107 exam is $175 besides the $5 registration fee for the drone. The test is very extensive so allow sufficient time in studying before taking the real exam. You also must take the test at an FAA authorized facility for the first time. The exam is 60 questions and you must pass it with a score of 70% or 42 correct answers.
FAA Drone Flying Rules
For beginners, you will need to become familiar with the rules to obey when flying your drone. Below are some of the basic flying rules you need to obey.
The done can fly no higher than 400 feet (Unless you have a FAA Part 107 license)
Keeping the drone within your visual line of sight
Comply with all airspace restrictions
FAA's Temporary Flight Restrictions (TFRs)
Not interfering with other aircraft
Never fly over groups of people
Never fly under the influence of drugs or alcohol
Not Flying In National Parks, Prisons, Stadiums, Raceways, During Sporting Events, White House, DOD Facilities and Military Bases
Not Flying In State Parks (Check with your state on which parks are authorized)
Not Flying In City Parks (Check with the city to determine which parks are authorized)
Obeying State & Local Laws
In California, you must get permission from an individual first before recording or filming them.
Always check with the FAA if you are uncertain of the authorized places to fly the drone or if any new areas or zones have been added.
As long as you follow the FAA rules for drones you should not have any problems when flying your drone.
Avoid The Following Mistakes
All new flyers will make mistakes as they learn how to fly a drone. Below are some of the basic ones that you can avoid.
Powering On When The Drone Is Not Level – Be sure to boot up the drone when it's lying on a flat or level position.
Losing Orientation – This happens when the drone yaws left or right.
Crashing on Takeoff – This happens when not giving the drone enough throttle when taking off.
Letting your batteries Get Too Low – Drone batteries are not made to drain down to 100%. When flying keep the battery power at 20% or above for sufficient power to return home. You might want to consider doing this when the power level reaches 30%.
Flying drone Too High and Too Far Away – Never let your drone get out of sight. This is one of the FAA rules when flying. The FAA requires you to fly no higher than 400 feet.
Hitting Something You Didn't See – Like power lines and small tree branches. If you are not sure of objects, investigate the area before flying so you know where they are.
Landing Too Fast – Remember, when taking off the drone goes up quickly. When landing, the drone comes down slower and needs enough power to complete the landing. Otherwise, it will be landing at its current location when the battery ran out of power.
The video below will explain all of the above mistakes. Take a look!
Common Drone Questions
What happens if a drone goes out of range? – Drones have a limited range. When the drone is flying out of that range, then the signal you need to control the drone is lost. Therefore you can no longer control the drone and will crash or land somewhere.
What happens when drone battery dies? – When a drone runs out of battery power two things can happen. First, the drone can decide to auto land or return to home (common in drones like the DJI series). Second, the drone can simply fall out of the sky because it doesn't have enough battery power to keep the motors running. Keep a close eye on the battery level when flying.
How long will a drone last? – Overall, 20 minutes is the most common drone flight time. However, how many minutes a drone can fly depends on the price and type of drone. The average drone flight time is about 5-10 minutes for a beginner drone, 15-20 minutes for a mid-range drone, and 20-30 minutes for a prosumer vehicle.
What size drone requires a license? – Anyone who wants to fly a drone that weighs 250 grams or more, whether commercially or recreationally, will have to be accredited. To obtain this, a user will have to complete an online education course of basic flying rules, watch a video and complete a quiz afterwards.
How To Operate a Drone? – The FAA guidelines for safe operation of drones for recreational use requires you to keep the drone within your visual line of sight. How far you can physically keep a clear view on your drone will depend on the terrain, nearby obstacles and air conditions. But realistically with an unobstructed view, you can only really clearly see your drone from about 1,500-2000 feet away. That's less than half a mile. And at that distance, you're going to have a hard time telling your drone from a bird.
Do Drones Need Wi-Fi or Cellular Service To Fly? – Drones can be flown easily without cellular service or wi-fi, and can also be flown manually without even a GPS signal. While flying this way would leave you without a lot of features and information about your flight, it is possible to do it. It also takes lots of practice to do this type of flying comfortably.
PROS
Makes for a great hobby
Fun to use
Easy to control and maneuver
Drones under 250 grams don't require registration or passing an exam
Offers taking pictures or video of different landscapes
Take aerial view photography
Drones can fly in difficult areas to access
CONS
Weather can affect drones
Can cause damage to property and injure people
Short flight times
Conclusion
Flying a drone can be a very rewarding and fun hobby by taking pictures or video of different landscapes. But, at the same time, learning how to operate the drone in all types of conditions. With lots of practice you can become a good drone pilot.
If you follow the FAA rules for drones you should have no worries about issues with violating any of them. Remember, if your drone weighs 250 grams or more, it must be registered and you have to take an exam. Either the commercial Part 107 exam or reactionary TRUST exam. There will be fees for registering the drone with the FAA as well as a fee for taking the Part 107 exam.
Enjoy your drone flying!
Shop Drones
As an Amazon Associate I earn from qualifying purchases.
Shop for drones by clicking on an image of interest. You will be taken to Amazon to place the order. The drones below will have some 250 grams or more and some that are under.
–