Homemade Fizzy Liquid Drinks Made Easy
Now, you can make your own homemade carbonated soda fizzy drinks at any time. No more buying all those 1 or 2 oz. liter bottles or cans of soda taking up valuable space in your cupboard or pantry. The DrinkMate Carbonated Soda Maker does all kinds of drinks besides water when compared with other brands on the market and takes up less space. If you like bubbles, you will want a DrinkMate Soda Maker in your home.
What is different from this unit verses the Sodastream? The DrinkMate unit carbonates anything where the Sodastream does only water. The carbonation release is controlled on the DrinkMate. This feature is not on the Sodastream. The DrinkMate will carbonate any liquid that doesn't contain pulp. Sodastream only carbonates water. With Sodastream, If you want to add flavors, it must be done following the carbonation process where this is not required with the DrinkMate.
The DrinkMate can add carbonation to any liquid and does not use electricity or any batteries. Thus, saving you money. So, no cords will be in the way when making your carbonated drinks and will not be a hazard to kids.
This unit can carbonate all liquids accept for liquids containing pulp as previously mentioned. If you like apple juice, no pulp orange juice, pineapple juice, cranberry juice, tea, wine and water, they all can be carbonated. You can even make your own soda using syrup that you can buy in your local store.
The carbonation of liquids is endless. You can also restore flat pop, carbonate wine, and make your own special fizzy drinks.
The bottle that comes with the unit is BPA-free with a volume mark line.
This unit is easy to clean. All you do is use warm water after each carbonation session. Do not place it in the dishwasher.
The unit comes with a 3 oz. starter CO2 tank which will produce about 10 Liters of carbonated drinks. The unit can hold any 60L CO2 tank which must be purchased separately.
DrinkMate Video
Below is a short video on how the DrinkMate carbonated soda maker works.
DrinkMate Tips
It is especially important to chill the liquid before carbonation for best results. You get to control the amount of CO2 carbonation you want in the liquid to have to suite your taste.
To defuse the carbonation, it has a patented detachable Fizz infuser and a two button release of the CO2 in the bottle that the Sodastream does not have.
You can use the Sodastream CO2 tanks but not their bottles in the DrinkMate unit.
BRAND:
DrinkMate
NAME:
DrinkMate Carbonated Soda Maker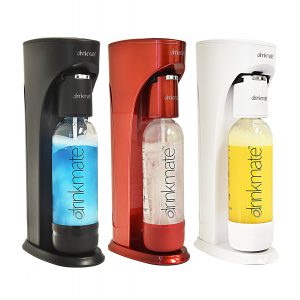 DESCRIPTION: The DrinkMate Soda Maker Allows You to Carbonate Any Liquid Except Pulp, and has the following features: Carbonation Lasts 2 Days, Capacity 1 Liter, Weight 4 lbs., Uses Any 60L Carbonators, No Electricity or Batteries Required, Bottle BPA Free, Restores Flat Pop, Model Number 410-02-3z.
CATEGORY: "Home & Kitchen", "Kitchen & Dining", "Small Appliances"
PRODUCT #: B018K1C3KK
REVIEW RATING: 4.1 stars, based on 294 reviews
Product Features & Specifications
Manufacture: Drinkmate
Model No.: 410-02-3z
ASIN: B018K1C3KK
Colors: Black, Red, White
Dimensions: 5 x 11 x 17 inches
Weight: 4 lbs.
Carbonators: Uses 60L CO2 cylinders (Note: Sodastream 60L CO2 tanks will fit in this DrinkMate Soda Maker)
Carbonation: Lasts up to 2 days with cap on
Bottle: BPA Free
Starter Canister: 3 oz. CO2 (Makes up to 10 1 liter bottles)
Operation: No electricity or batteries needed
Easy to Clean: Yes (warm water only. Do not put in dishwasher)
Carbonation Liquids: All liquids except those containing pulp
In The Box: You get the machine, 1 bottle, 1 3 oz. CO2 canister, manual and recipes
Product Pricing
The prices for this product is provided to consumers so they can compare them with other similar products.
Black: $98.35
Red: $98.35
White: $98.35
Note: The prices of these products are subject to change without notice and may not be the actual price you pay when you place the order.
 Product Rating & Customer Reviews
Rating: [usr 4.1]
This product was rated by over 294 customers who rated this soda maker with a very good rating.
You can read all of the reviews for this product by clicking on the following link: Customer Reviews!
What Questions People Are Asking About This Product?
Below are some of the questions that are being asked about this product.
Question: Can I use Sodastream co2 tanks or the drink bottles?
Answer: Yes, on the carbonator tank, but unfortunately not on the bottle. They have a different threads and stops, but you can carbonate in the Drinkmate and poor it into the Sodastream bottle.
Question: Where is this machine manufactured?
Answer: The machine itself is manufactured in China, like lots of other USA brands. But the CO2 is filled in Michigan and the whole kit was repacked in USA, so it is a mixture.
Question: Does the water have to be cold, or will it work with water directly from the tap?
Answer: It will work with both, but works better using cold water.
Question: How long does a cartridge last?
Answer: In 3 months of use we've found that a cartridge will carbonate about 60 liters of liquid.
Question: Does the Drinkmate mini version of this product carbonate all beverages as well or just water?
Answer: It carbonates all beverages besides water except liquids containing pulp.
You can also read all of the 169 answered questions concerning this product by clicking Here!
PROS
1). Carbonate Anything – DrinkMate is the only carbonation beverage maker that allows you to carbonate any type of liquid.
2). Easy To Operate – Uses no electricity or batteries.
3). Patented Detachable Fizz Infuser – The bottom has two release buttons that allows for better control on the releasing of CO2.
4). Quick Connect Bottle – The bottle is made of plastic and is BPA-free and has a volume mark line.
5). CO2 Tanks – This machine uses any 60L CO2 tank including Sodastream.
CONS
1). Price.
2). Cannot carbonate liquids that contain pulp.
Conclusion
As you can see, owning your own carbonation maker will turn your favorite beverages into bubbly ones. Your kids will enjoy using and even drinking some beverages they may not like. The unit carbonates all types of liquids accept for pulp. Now, enjoy your own fizzy beverages in your own home.
Shop Product Link
Shop the DrinkMate Carbonated Soda Maker. Click the Buy Now button below. Place your order now and be glad you did.
We have provided additional links for extra 1L bottles and 60L CO2 tanks.
As an Amazon associate, I earn from qualified purchases.


DrinkMate 1L Bottle


60L CO2 Cylinder (Sodastream)


If you did not find what you were looking for here, enter a search term in the box below to search other products on Amazon.
Go back to the Pros Cons Shopping home page.