Using PPR-252 Wand Makes Dog Bathing Much Easier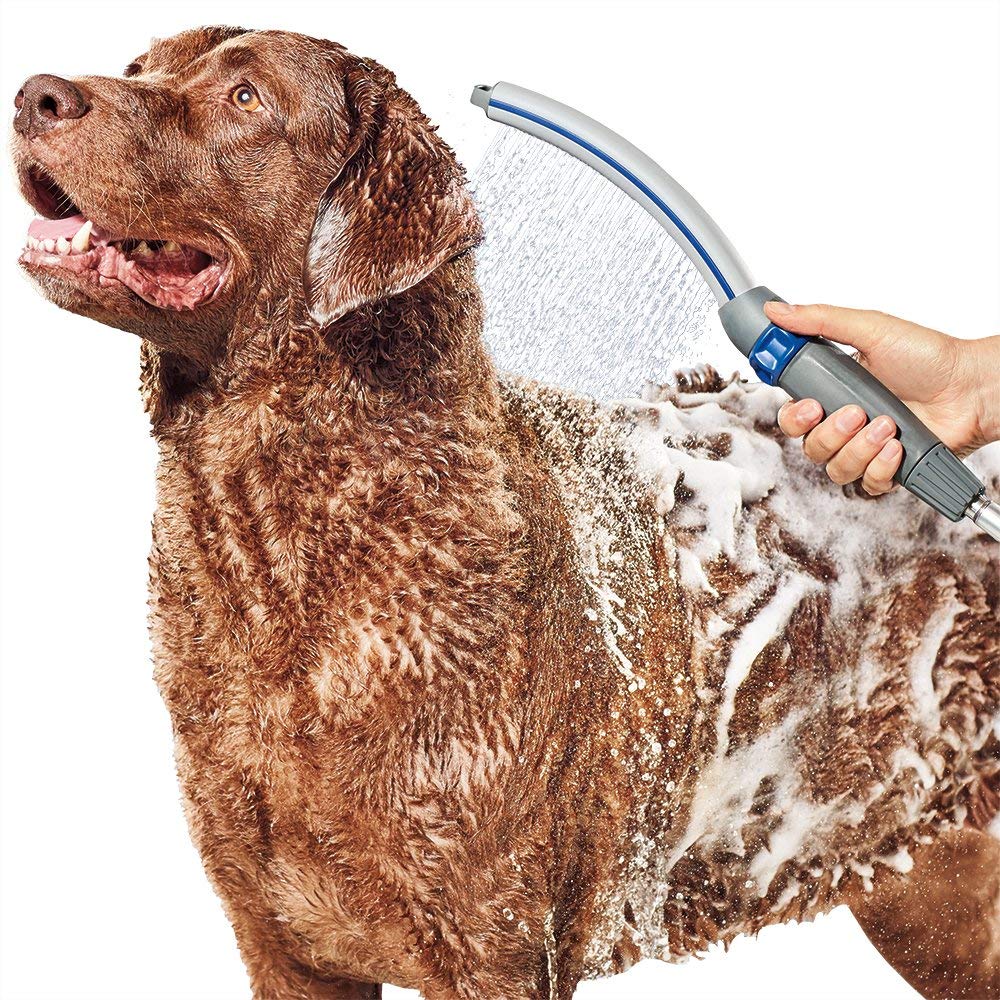 Dog owners know that their pets get dirty at times and they will need to be bathed. This is a constant chore that most dog owners may dread as some dogs put up a battle when they get wet.  This is true when pets are playing in the woods or park in the rain or after the storm is over. Pets just seem to get their paws muddy and their coat wet and smelly. There are times that you must wash your dog to clean him to remove that excess dirt and grime. Bathing your pet on a regular basis is also good for his health. Just like humans, they also need washing and grooming. You can use the Waterpik PPR-252 Pet Wand Pro Dog Shower, which is a dog shower attachment, to do the job outside or inside the home. It is a great handy way to give your pet a bath anytime it's needed.
This dog shower has a wand shape handle for water to come out that makes bath time fast and efficient for both you and your dog. It has an 8-foot flexible hose to reach those difficult areas and is gentle. It comes with an indoor diverter for easy installation in your shower. Now, you can make bathing your pet not a chore but a wonderful way to keep him clean. It has a watercomb spray that is powerful enough to remove dirt, shampoo, and suds.
Remember, to keep water from your pet's eyes and ears. To prevent water from getting in his ears you can place some cotton in the ear canal. Don't forget to remove them after the shower.
You can also use this wand outdoors as it comes with an outdoor adapter that you can connect to the outdoor hose. Either way, you can give your pet his bath on a regular basis. You can hold the wand in one hand as you remove soap and conditioner. It also has several water flow settings to choose from.
The suction cup hook that comes with the system can be used to hang up and store the wand while lathering the pet and after you are finished bathing him.
This item is simple to install in your bathroom or for use outside using the attachments that are included in the kit. This should make bathing your pet an easier chore and keeping him clean as well. As far as frequency of baths, I recommend you bathe your dog whenever he's dirty, stinky and/or has skin allergies or a minor skin infection, but at least once a month.
This unit also comes with a limited lifetime warranty. You need to save the receipt as proof of purchase for any warranty use on the product. You can contact customer service at 1-800-525-2774 between the hours of 7 am and 5 pm Mountain Time.
Waterpik PPR-252 Pet Wand Video
Below is a short video on how this pet wand works.
Pet Bathing Tips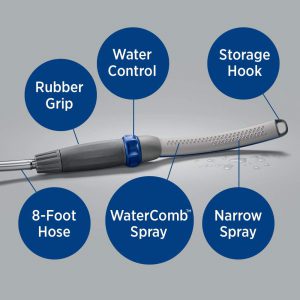 As it gets time to bathe your pet, here are some helpful tips to consider. The tips below are for bathing your dog inside using the shower or tub.
Be sure to have all the items needed for bathing close by. This includes dog specific soap or shampoo and conditioner, and drying towels.
Block the drain before bathing your pet to prevent the dog's hair from plugging it up. Steel wool works well.
Put in a non-slip surface before bathing your pet. This can be a towel or a nonskid rubber mat. This helps prevent slipping.
Be sure to use lukewarm to slightly warm water. Hot water will burn his skin.
Place cotton balls into his ears to prevent water from getting into them and remove them when done.
Do not lather your pet's head to avoid getting shampoo and suds into his eyes.
Brush your dog before bathing. This removes any mats that may have stuck to the pet's coat. They are easier to remove when dry than wet.
Towel dry your pet after the bath. Get as much water out of his coat as possible. You may need to use more than one towel.
If you do use a blow dryer (one that's designed for dogs), be sure to use the low heat setting to prevent the pet's skin from getting burned. Note: Since a blow dryer is noisy it just might scare your pet. Do not use unless your pet is comfortable with it.
Rewarding Treats. Reward your dog with some treats and verbal praise when done.
Product Description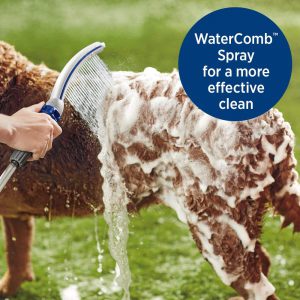 The Waterpik pet wand Pro dog shower can be used for indoor and outdoor use with the attachments that are included. It is a fast and easy way to wash pets at home. This wand can wash dogs of all sizes and shapes. The unique water comb spray provides maximum cleaning coverage and enough power to clean and rinse thick fur and the spray is narrow to reach those hard and sensitive areas.
Product Specifications
Manufacture: Waterpik
Model: PPR-252
ASIN: B01N4LM3SV
Item Weight: 5.6 Ounces
Color: Blue & Gray
Product Material: Plastic
Dimensions: 1.5 x 1.5 x 13.5 inches
Hose Length: 8 Feet
In The Box: Pet Wand Pro, 8-Foot Flexible Hose, Outdoor Hose Adaptor, Suction Cup Hook, Indoor Shower Diverter & Manual
Product Pricing
The price for this product is provided for consumers who want to compare them with other similar products.
Price: $36.39
Note: The price of this product is subject to change without notice and may not be the actual price you pay at the time when the order is placed.
Product Rating & Customer Reviews 
Rating: [usr 4.6]
This product was rated by over 513 customers who gave it an excellent rating. You can read all of the reviews for this product by clicking on the following link: Customer Reviews!
What Questions People are Asking About This Product?
Below is a small sample of some questions people are asking about this product.
Question: Does the actual tub run while using this?
Answer: No, the water only comes out through either the hose nozzle or the shower head, depending on which way the switch is turned.
Question: Does it run continuously or is there a shut off option?
Answer: Mine works as Randall described. No shut off, just a slow trickle.
Question: What is the best tool to use to dog bathing? This tool is OK?
Answer: This tool is wonderful. Soothing spray that doesn't frighten my dog, plus it has long hose that keeps water in tub instead of spraying all over the floor. I wish I would have found it years ago.
Question: How well does this work on dogs with thick coats?
Answer: I have 2 Siberian Huskies and the reason I bought this was because of the fantastic reviews it had about it's water strength and convenience. I absolutely love this product. It makes giving our big, fluffy dogs easy. I like that I can cut the water down with a twist and sit the mechanism in the tub while I get more soap or whatever I need to do without fully turning the water off.
You can read all of the 67 frequently asked questions about this product by clicking on the following link: Frequently Asked Questions!
PROS
Professional-grade dog shower wand with multiple settings.

Unique wand shape that provides full coverage to wash pets.

Contoured water combing spray.

It can be used for both indoor and outdoor use.

8-foot extra-long flexible hose for extended reach.

Variable water flow dial.

Suction cup hook for storing wand during and after bathing.

Works very well on dogs with thick coats.

Limited lifetime warranty. 
CONS
Price.

No turn-off water switch as it stays on until you turn off the water supply.
Shop Dog Shower Wand
You can shop for the Waterpik PPR-252 Wand by clicking on the "Buy Now" button. You will be taken to Amazon to place the order. There is a link for a shampoo and conditioner. Just click on the "Buy Now" button.
As an Amazon associate, I earn from qualified purchases.
Did not find what you were looking for? No problem. Enter a search term in the Amazon Box below to search on Amazon for other products.
Go back to Pros Cons Shopping home page.