Have Your Coffee Ready Before You Get Up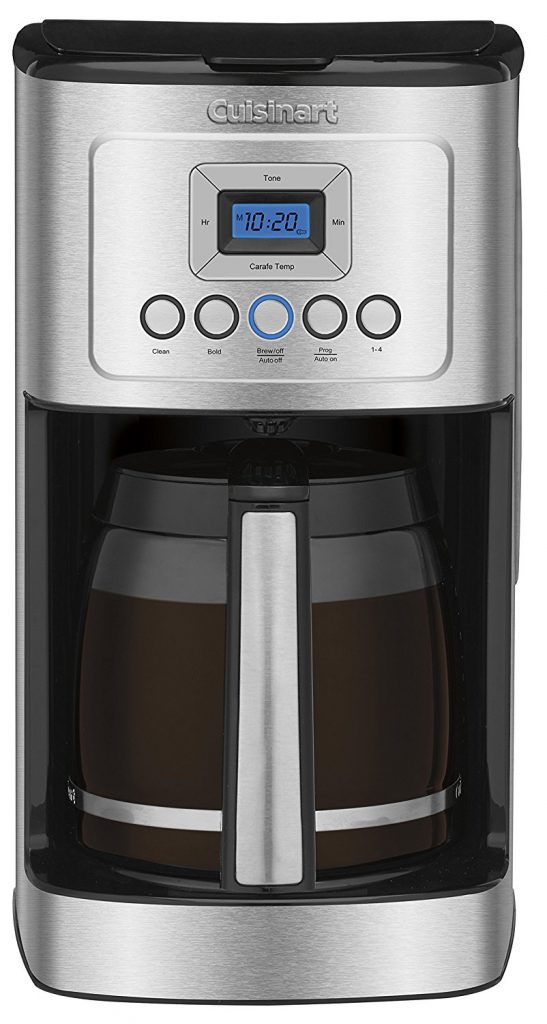 If you are like most individuals, when you get up in the morning you like to have that first cup of java to jump start your busy day. The Cuisinart DCC-3200 Coffee Maker is just the right appliance that provides you with programming the time when you want the coffee to be done. So it's ready when you get up in the morning.
You can wake up to freshly brewed coffee at the time you want it. You also control the number cups of coffee the machine should brew anywhere from 1 to 4 cups. You also have the option to make a full carafe of 14 cups as well or anywhere in between 5 to 14 cups.
This unit has a 24-hour programmability option to select the exact time for the coffee to brew and be ready at the time you wake up in the morning. It also has an auto shut-off feature from 0-4 hours.
Another great feature of this coffee maker is you can select the type of brewing flavor for the coffee; regular or bold.
The coffee keeps warm by the hot plate by using one of the three settings you can select from; low, medium or high.
It has an easy to read LCD backlit display and comes with a 3-year warranty from the date of manufacture.
It also is BPA Free filter.
Product Video
Below is a great introductory video on the Cuisinart DCC 3200 coffee maker functions and use. Take a look!
BRAND:
Cuisinart
NAME:
Cuisinart DCC-3200 Coffee Maker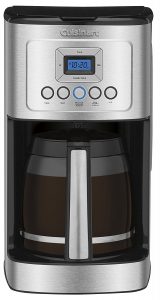 DESCRIPTION: The Cuisinart Coffee Maker Allows You to Wake Up To Coffee When You Want It and has the following features: Capacity 14 Cups, Auto Shut-Off, 24 Hour Programmability, BPA Free, Weight 8 lbs., Back Lit LCD Display, Settings 1-4 Cups, 3-Year Warranty from the date of manufacture, Model Number DCC-3200.
CATEGORY: "Home & Kitchen", "Kitchen & Dining", "Coffee, Tea & Espresso Appliances", "Coffee Machines"
PRODUCT #: B00MVWGQX0
REVIEW RATING: 4.0 stars, based on 5,410 reviews
Product Specifications
Manufacture: Cuisinart
Model Number: DCC-3200
ASIN: B00MVWGQX0
Weight: 8 lbs.
Dimensions: 8 x 9 x 14 inches
Carafe Holds: 14 cups
Carafe Material: Glass
Colors: Stainless Steel & Black/Silver (Pictured), Copper & White
24 Hour Programmability: Yes
Auto Shut-Off: Yes, 0-4 hours
Self-Clean Function: Yes
BPA Free: Yes
Filter: Gold Tone
Material Type: Plastic
Backlit LCD Display: Yes
Flavor Types: Regular or Bold
Settings: 1-4 cups
Brewing Time: 5 to 8 minutes 8 – 10 cups, full pot about 15 minutes
Warranty: 3-Years from the date of manufacture
Hot Plate Temperature Settings: Low, Medium, & High
Manufactured: In China
Voltage: 120V
In The Box: 4 sample #4 filters, 1 measuring spoon, 1 charcoal filter, 1 gold filter, 1 14-cup carafe, manual, and coffee maker.
Product Description
Turn up the flavor and the temperature on your coffee with this 14 cup coffee maker. It uses cutting edge technology which gives you hotter coffee without sacrificing the taste. Choose between regular or bold flavor and set the brew-time up to 24 hours ahead so your next cup is ready when you are. The backlit LCD is easy-to-read, a ready tone can be turned on or off, and an indicator light signals when it's time to decalcify.
Product Pricing
The prices for this product is provided to consumers so they can compare them with other similar products.
Stainless Steel: $74.99
Copper: $86.65
White: $98.18
Note: The prices of these products are subject to change without notice and may not be the actual price at the time the order is placed.
Product Rating & Customer Reviews
Rating: [usr 4.0]
This coffee maker was rated by over 5,410 customers.
You can read all of the 5,410+ customer reviews by clicking on the following link: Customer Reviews!
What Questions Are People Asking?
Below is a small sample of some of the questions people are asking about this product.
Answer: How long does it take to brew?
Answer: Not long at all – I wold say maybe 5 min for 8 – 10 cups of coffee.
Question: Is the carafe glass or stainless steel?
Answer: It is made of glass.
Question: What is the temp of the brewed coffee or water used for brewing?
Answer: According to Cuisinart Customer Service its 185 degrees.
Question: What size paper coffee filters fit this brewer?
Answer: As the manual states, you will need the #4 cone filters.
Question: I would like to know if it leaks water down the back and onto the counter when you raise the lid to make new coffee?
Answer: No it doesn't. The condensations merely drips back in the water reservoir.
You also can read all of the 1000+ answered questions concerning this product by clicking Answered Questions!
PROS
1). State of The Art Technology – Ensures hotter coffee without sacrificing flavor or quality.
2). Brew Strength Control – Allows you to select regular or bold coffee flavor.
3). Adjustable Temperature Control – Allows you to select the temperature control setting to keep the coffee warm to hot.
4). Programmability – It's fully automatic with 24-hour programmability to have the coffee ready when you need it.
5). Auto Shutoff Feature – You can select from 0 minutes to 4 hours for the unit to automatically shut-off.
6). Filter – Reusable Gold tone filter, commercial style long lasting permanent filter.
7). Warranty – The unit comes with a warranty 3-years from the date of manufacture.
CONS
1). The filter must be changed every month.
2). No warning when the filter needs to be changed.
3). The new charcoal filter requires some preparation before using.
4). Warranty period starts from the date of product manufacture not when you buy it.
Shop Coffee Maker
Shop the Cuisinart DCC-3200 Coffee Maker. Click the Buy Now button below. Place your order now and be glad you did.
You will also find links for coffee filters as well.
As an Amazon associate, I earn from qualified purchases.
In the event you did not find what you were looking for, just enter a search term in the Amazon Box below to search for other Amazon products.
Go back to the Pros Cons Shopping home page.