Extra Burner Ready for Any Emergency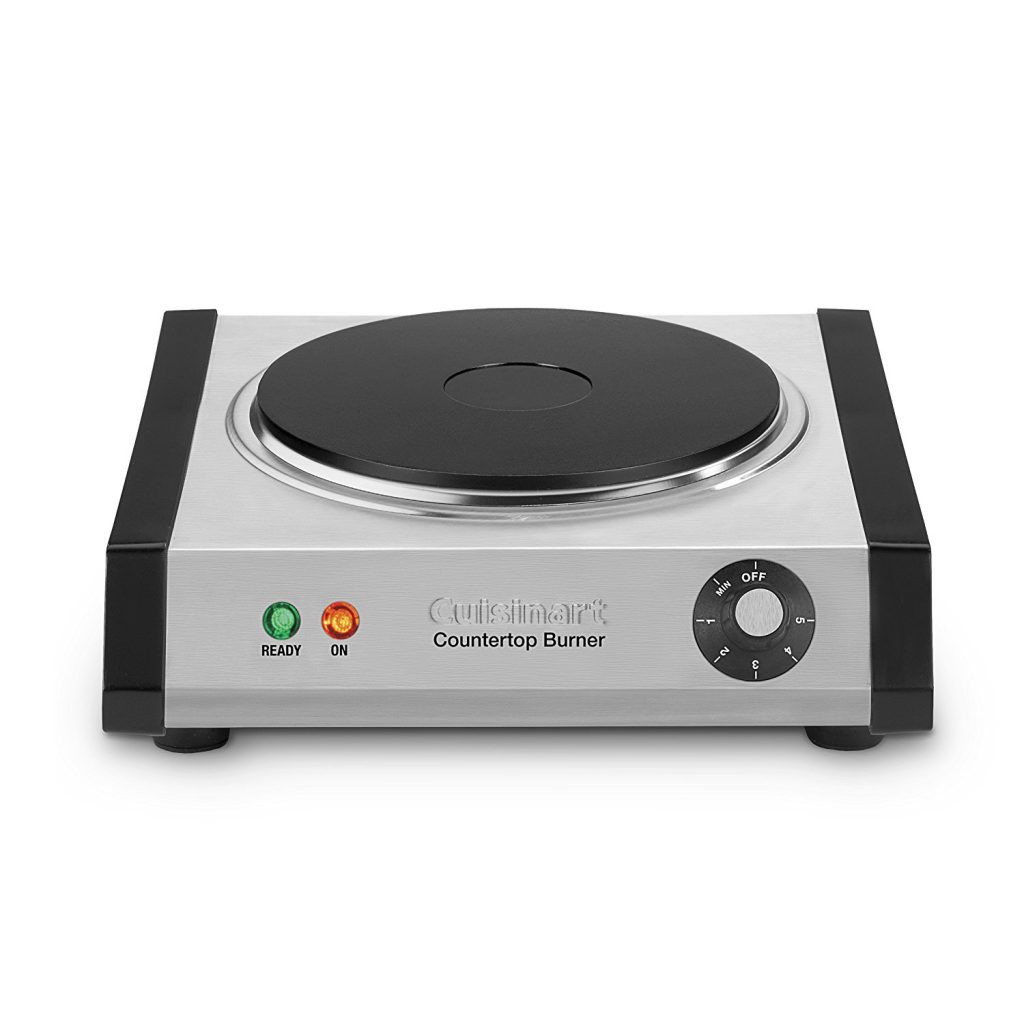 There may be times throughout the year when you could use an extra burner for food preparation or just to keep some foods warm during a party or birthday celebration. The Cuisinart cast-iron single burner model CB-30 has just come to your rescue. This burner provides up to 1300 watts of power with a 7-inch burner. These burners are great for the kitchen or dorm at school or any other use.
The hot plate is made of heavy-duty cast-iron for durability. The heating element has six settings to choose from. It has some safety features such as Ready or On to let you know the unit is on and when the desired temperature has been reached according to the setting used.
This hot burner can be used for cooking, boiling, and frying. There is no limit to the types of food you can cook using this burner.
When using the burner, place a pot or pan, in the center of the burner. It is recommended that you use a pot or pan that is the same size as the burner. After you are finished using the burner, be sure to turn the knob to the "Off" position. This unit does not come with an auto shut-off feature.
It's important to note that when using this appliance, provide at least 4–6 inches of air space above and on all sides for air circulation.
The cord of this unit is only three feet in length and the length is for safety reasons. You can use an extension cord with this unit. Be sure that the extension cord is out of the way while you are using the burner. Someone could trip over the cord and burn or hurt themselves.
The burner can be cleaned. See the cleaning and maintenance section below for more information.
CB-30 Video
Below is a short 2 minute video on the burner. Take a look!
Cuisinart Burner Tips
Below are some handy tips that should be read before using the burner for the first time.
Before using the burner for the first time, it should be heated up at the maximum setting for a period of 4 minutes without a pot. This will burn off any residue on the burner plates.
The cast-iron burner may smoke the first time it is used — this is normal, and the smoke will burn off within a few minutes.
This unit should not be used as a portable heater.
Do not leave the unit on without any pots/pans on the solid burner after the initial burn-off process.
Cleaning & Maintenance
Reasonable care of this appliance will ensure many years of service from your unit. Avoid dropping items on the burner rings and solid burners.
Turn temperature control dial(s) to the OFF position.
Always unplug unit from electrical outlet and allow to cool before cleaning.
Never immerse unit in water or other liquids.
For easy cleaning, the burners are sealed. Do not attempt to separate burners from the unit.
Use a damp, soft cloth or sponge to clean the surface of the solid burners, burner rings, nonskid feet and housing unit. Never use harsh abrasives or steel wool pads on any part of the burner as they may scratch the surface or damage the unit.
Thoroughly dry burners and burner rings.
There are no user serviceable parts. Any servicing other than cleaning should be performed by an authorized service center.
BRAND:
Cuisinart
NAME:
Cuisinart Cast Iron Single Burner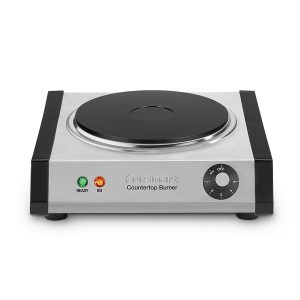 DESCRIPTION: The Cuisinart cast-iron single burner model CB-30 allows you to have an extra burner handy for any emergency, and has the following features: Weighs 6.85 lbs., Dimensions 5.8 x 15.4 x 13.8 inches, Material Stainless Steel, Color Silver/Black, Wattage 1300 Watts, Cord 3′ Long, Burner 7″ Wide, 6 Heating Adjustments, Made In The USA, Hot Plate Material Cast-Iron, Model Number CB-30.
CATEGORY: "Kitchen & Dining", "Small Appliances", "Countertop Burners"
PRODUCT #: B01IA3H8QM
REVIEW RATING: 4.3 stars, based on 1,098 reviews
Product Specifications
Manufacture: Cuisinart
Model: CB-30
ASIN: B01IA3H8QM
Weight: 6.85 lbs.
Dimensions: 5.8 x 15.4 x 13.8 inches
Wattage: 1300 Watts
Amperage: 10.8 Amps
Cord Length: 3 Feet
Burner Width: 7 Inches
Maximum Cooking Weight: 50 lbs.
Hot Plate Material: Heavy Duty Cast-Iron
Settings: 6 Heating Adjustments
Indicator Lights: Yes, Ready/On
Product Material: Stainless Steel
Nonslip Rubber Feet: Yes
Made: In the USA
Warranty: 3-Years (Original proof of purchase is required)
Consumer Service Center: Call toll-free at 1-800-726-0190.
Product Pricing
The price for this product is provided to customers so they can compare them with other similar products.
Note: The price of this product is subject to change without notice and may not be the actual price you pay at the time of purchase.
Product Rating & Customer Reviews
Rating: [usr 4.1]
This product was rated by over 536 customers.
You can read all of the customer reviews for this product by clicking on the following link: Customer Reviews!
Questions People Are Asking
Below are some of the questions people are asking about this product.
Question: Can this burner be placed directly on the counter top without scorching the counter top?
Answer: Yes. you should keep it a few inches away from any vertical surface like a wall or back splash though.
Question: Does this burner have an automatic shutoff?
Answer: No it does not.
Question: What will clean spill stains on cooking burner when just a wet sponge isn't enough; small amount of dish detergent and wipe/rinse well?
Answer: When I Got Stains bun on it I use the Spray Call Formula 409 or Ajax with a Little water let it sit for couple minutes and the Scrub it Off with a Sponge that had one side Green and one side yellow ?. That's all. I never get any problems cleaning the burner with these Items.
You can also read all of the 259 answered questions concerning this product by clicking Answered Questions!
PROS
The hot plate is made of heavy-duty cast iron for durability.

It has 1300 watts of power for quick heat-up and heat retention throughout the cooking process.

6-setting adjustable temperature control from low to highest heat.

Ready and safety "on" indicator lights.

"Coil-less" cooking surface for easy cleanup.

Made in the USA.
 CONS
Cord is only 3 feet in length.

A $10 shipping and handling fee is assessed for returning the item.

It's not an induction hot plate burner.

Does not have an auto shut-off feature.
Shop Cast-Iron Burner
Shop the Cuisinart Cast-Iron Single Burner. Click the Buy Now button below. Place your order now and be glad you did.
As an Amazon associate, I earn from qualified purchases.
If you did not find what you were looking for here, you can enter a search term in the box below to search other products on Amazon.
Go back to the Pros Cons Shopping home page.