Make Eating Nice Again!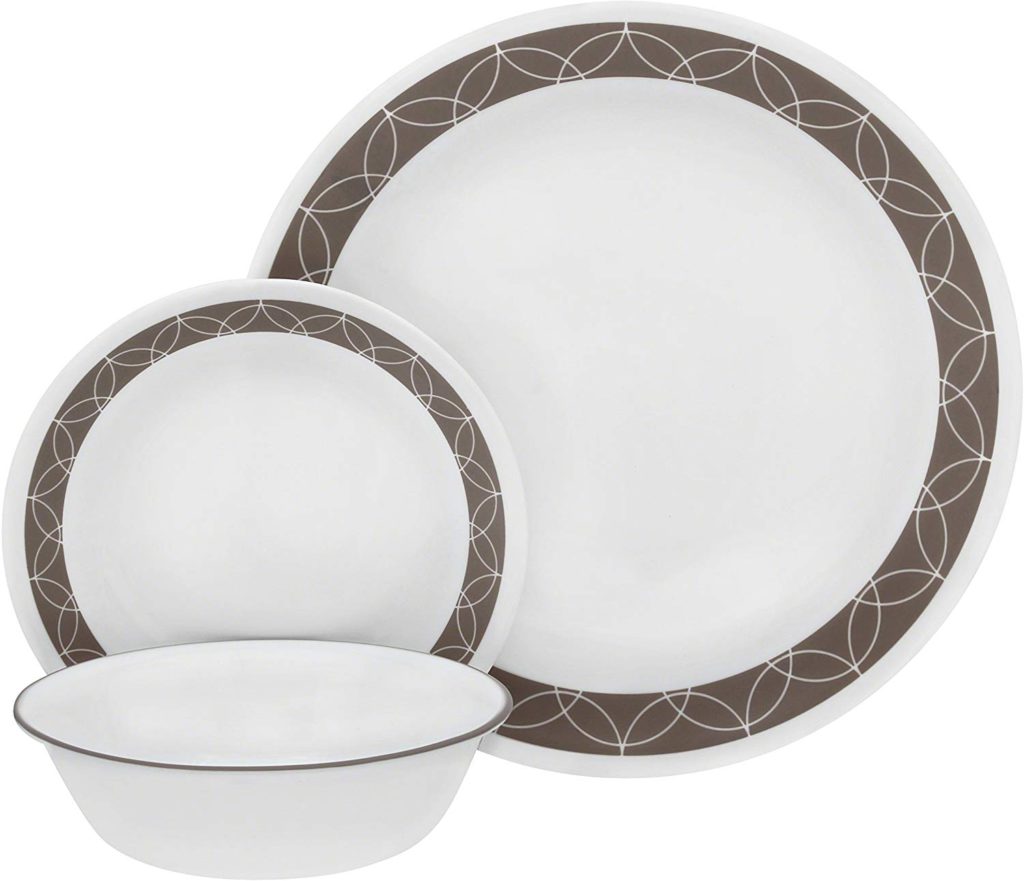 I think you will agree that every family would like dinnerware that stands up to the bangs and bumps that are bound to happen in any home. The Corelle 18 Piece Set (service for six) is made from triple-layer strong glass that is thin, lightweight, translucent, and durable for every meal. This dinnerware will stand up to those bangs and bumps. The dinnerware is non-porous, ultra-hygienic, easy to clean, and won't crack or chip under pressure even when placed in the dishwasher. All dinnerware in this set is lead free.
The set that is pictured on this page is the most popular pattern on Corelle's website. The pattern is Sand Sketch. Even if you don't like this pattern, you can choose from twelve others. In the shop section, we have provided links to the top 4 patterns.
This is an 18-piece dinnerware set makes for a great starter set for newlyweds or small families of six or less. The set includes 6 plates, 6 bowls, and 6 appetizer plates for a total of eighteen pieces. The set comes with a three year warranty. These plates and bowls are exclusively made in the United States and not in China.
What is nice about this set is its break and chip-resistant, microwave safe, dishwasher safe and can save space by being stacked. It also comes in thirteen different colors and patterns to choose from.
For instance, this dishware can be used for pre-heating up to 350 degrees. When taken out of the microwave, the dish may be hot. It depends on how long they were being microwaved. You may have to use a heat glove to remove dishes from the microwave.
This dinnerware set is easy to clean as it can be cleaned using the dishwasher.
Makes for a great gift for any occasion.
Product Specifications
Manufacture: Corelle
Weight: 10.19 lbs.
Material: Tempered Glass Laminated Into 3 Layers
Dimensions: Cereal/Soup Bowls 6.75 inches & holds 18 ounces, Dinner Plates 10.25 inches, Appetizer Plates 6.75 inches.
Colors: Black/White; City Block; Classic Café Blue; Country Cottage; Crimson Trellis; Memphis; Mystic Gray; Ocean Blues; Old Town Blue, Sand Sketch; South Beach; True Blue & Winter Frost White
Patterns: 13
Service For: 6
Lead Free: Yes
Dishwasher Safe: Yes
Microwave Save: Yes
Bowl Lids: No
Preheated Max Temperature: 350 Degrees
Where Made: USA
Warranty: 3-Years
Customer Service Number: 1-833-455-5018
In The Box: 6 Bowls, 6 Dinner Plates, & 6 Appetizer Plates
Product Rating & Customer Reviews
This dinnerware set is rated 4.4 stars out of 5 by over 1,300 customers which is excellent. You can read all of the reviews about this product by clicking on the following link: Customer Reviews!
Questions People Are Asking About This Product
Below are just a few questions people are asking about this product. You can read all of the 130 questions by clicking on the following link: Answered Questions! Answered Questions!
Question: Do the dishes get hot in the microwave?
Answer: They don't get hotter than any other porcelain, ceramic, glass dish. It just depends on how long you have them in the microwave.
Question: Is old town blue a dark navy compared to the true blue which is more of a royal blue?
Answer: The Old Town Blue is a dark navy blue. It's not the same bright blue as the True Blue design.
Question: Are these lead free? Mixed answers in this review section.
Answer: All of our dinnerware is compliant with California Proposition 65. This is the strictest standard in the world for heavy metals. Corelle Manufacture
Question: Do these plates scratch easily? The last couple of sets I had scratched very easily…
Answer: I had a set for 30 years that never scratched, gave them to my granddaughter and bought these plain white dishes. Haven't had them a month yet, but no problems with scratches yet. Put them through the dishwasher and uses flatware with them. No abrasive cleaners should be used on Corelle dishes… use baking soda if you're trying to get existing marks out.
Question: Will it be the 18 piece set or do you get the 16 piece with the mugs?
Answer: This set comes with 6 dinner plates, 6 appetizer plates and 6 cereal bowls for a total of 18 pieces. They do not come with mugs. They must be ordered separately.
Dinnerware Care and Tips
 Below are some great tips on using this dinnerware set.
Please note that all glass and porcelain can be broken take care when handling them.
Do not use under a broiler/grille, under a microwave browning element, in a toaster oven, or on or near any other direct heating source such as range heat vents, pilot lights, open flames.
Do not add liquid to a hot item, place a hot item on a wet surface, or handle with a wet or cold cloth. These sudden temperature changes may cause the item to break or shatter.
Handle hot items with a dry cloth or potholder.
Do not use to microwave popcorn or to hold or support popcorn bags or with foods with special browning wrappers.
Do not use abrasive cleanser, scouring pads, or any object that will scratch dinnerware.
Do not heat an empty vessel in a microwave oven. It may become too hot to handle, crack or break.
Do not heat a small amount of food in larger dish in a microwave oven. It may become too hot to handle, crack or break.
PROS
Microwavable and chip resistant.
Made from triple-layer strong glass that is thin, lightweight, translucent, and durable.
Made in the USA.
Plates and bowls are stack-able.
Lead free.
Ultra-hygienic, non-porous and easy to clean.
3-year customer warranty.
CONS
Price.
Matching mugs or glass tumblers must be purchased separately.
Shop Corelle's Dinnerware Sand Sketch Pattern
To purchase this pattern, just click on the image below. You will be taken to the Amazon ordering page to see the latest price. There, you also have access to the other patterns by Corelle and can change the order if you wish.
As an Amazon associate, I earn from qualified purchases.
| | | |
| --- | --- | --- |
| #2. Black & White Mix Pattern | #3. City Block Pattern | #4. Classic Café Blue Pattern |
Go back to the Pros Cons Shopping home page.
Corelle 18-Piece Dinnerware Set
$49.99
Microwavable and Chip Resistant
9.5/10
Bowls & Plates Are Stack Able
9.0/10
3-Year Consumer Warranty
9.0/10
Pros
Microwavable and chip resistant.
Lead free.
Bowls and plates are stackable.
3-Year consumer warranty.
Product made in the USA.
Cons
Price.
Matching mugs or tumblers must be purchased separately.