Now Clean Without Hurting Your Back!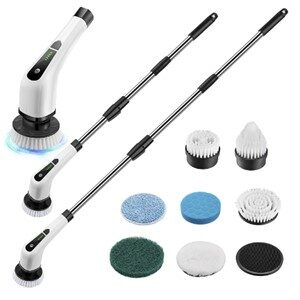 Introduction
Cleaning the bathroom, tub and shower can be challenging if you suffer a physical impairment. Save your back by using the cordless electric spin scrubber. This device comes with interchangeable brushes to scrub those hard to reach at areas. It has detachable sections and an adjustable handle that expands from 26 to 45 inches to reach those hard areas.
The rotating brushes operate between 300-400 rpms depending upon the model. The brush heads are made of thick PVC bristles that are not easy to shed.
Getting on our hands and knees to clean can be difficult especially if you suffer from arthritis or other type of physical ailment that prevents you from bending or working on your knees.
The cordless spin scrubber can clean grout, walls, glass, sinks, tubs, showers, floor and tile. This is a great new way to clean without having to bend or kneel to scrub out stains and dirt.
Video – Using the Cordless Spin Scrubber
This is an excellent video showing what the unit comes with and how to use this scrubber.
What Is An Electric Spin Scrubber?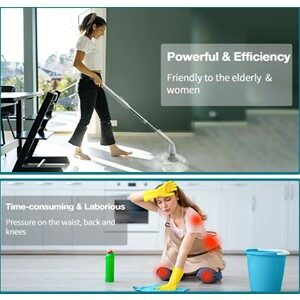 It is an appliance or device that uses its internal battery to scrub surfaces that needs hard or soft scrubbing using any of the attachment brush heads. These appliances come with multiple types of brushes to clean specific areas. All you do is remove the brush and reattach the specific brush for the job.
Most of these devices will operate up to 90 minutes on a single charge. A fully depleted battery will take up to 3 hours to fully recharge.
The spin scrubber can clean or scrub sinks, tubs, showers, glass, wall grout, floor grout, walls, baseboards, toilet, and tile.
The handle of the device, depending on the model purchased, will expand from a minimum of 43 to a maximum of 55 inches. The extension helps you to clean to those hard-to-reach areas.
The speeds of these devices will vary from 300 to 400 rpms.
Regardless of which model you purchase; you will save your knees and the bending of your back to clean the tub and shower.
The noise level of these devices is under 70 decibels.
How To Use the Spin Scrubber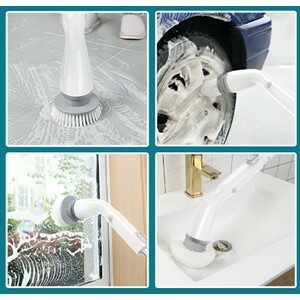 The scrubber device usually comes with three (3) sections: the brush head, extension rod, and motor handle. All you do is to interlock each piece starting with the brush head.
Once all of the pieces are attached, you just place one of the brushes to the brush head and turn on the device.
Be sure to follow the instructions on the cleaner being used. The scrubber does not have any cleaner on it. Place the cleaner on the area that needs to be scrubbed. Be sure to attach the proper brush type or the area that needs to be cleaned.
Turn on the device and the brush head will begin rotating 360 degrees. Place the brush on the area to be cleaned and allow the brush to clean the area. Move the unit so it scrubs all of the cleaning compound on the floor, wall, and corners. You may have to change brush heads for tile grout and corners. If you don't know which brush to use, consult the instruction manual.
After scrubbing is done, just rinse the area with water.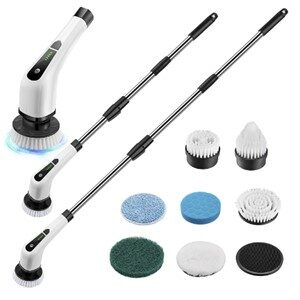 Features of Spin Scrubbers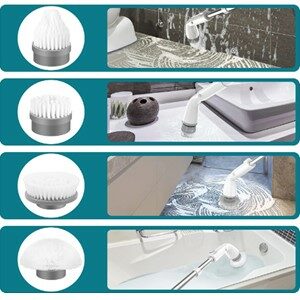 Now let's describe some of the basic features of cordless spin scrubber models.
The handles come in sections for attachment
Recharge cable
Operates up to 90 minutes on a single charge
RPM's vary from 300 to 400
Cleaning head brushes included vary from 4 to 7
Takes about 3 hours to recharge the battery
The brush heads are easily attachable
The brushes are made of nylon plastic
Built-in rechargeable battery
Speeds vary from one to two
Dome brush (round for cleaning tub, shower, sink)
Large flat brush (cleaning large surface areas)
Small flat brush (cleaning small areas)
Corner brush (cleaning grout, edges, corners & tight spaces)
Note: Some models offer additional brushes such as a cone brush, and mop pads.
Before shopping for your scrubber, determine which features are a must. Then, review all of the models and select the best one with the features you need.
PROS
Lightweight
Multiple brush heads
Cordless
Up to 90 minutes on a single charge
Scrubs multiple types of surfaces
Some models have dual speeds
Noise level is under 70 decibels
CONS
Takes up to 3 hours to recharge battery
Must charge battery before first use
Conclusion
Now you can clean those tuff areas of the shower, bathtub, walls and floors without having to bend down or go on your hands and knees. Thus, saving you back pain.
The cordless spin scrubber has multiple attachment brushes to fit the area that needs to be cleaned.
They operate on a built-in battery that runs up to 90 minutes on a single charge.
The appliance is easy to attach the brush heads and assemble the handle sections. They also come apart easily for storage.
Shop Spin Scrubber
Shop for the spin scrubber below by selecting or clicking on the image below. You will be taken to Amazon where you can make the purchase. While there, you can read the customer reviews and answered questions about the model.
As an Amazon associate, I earn from qualified purchases.
Accessories Kits
Go back to the Pros Cons Shopping home page.