Organize Your Messy Trunk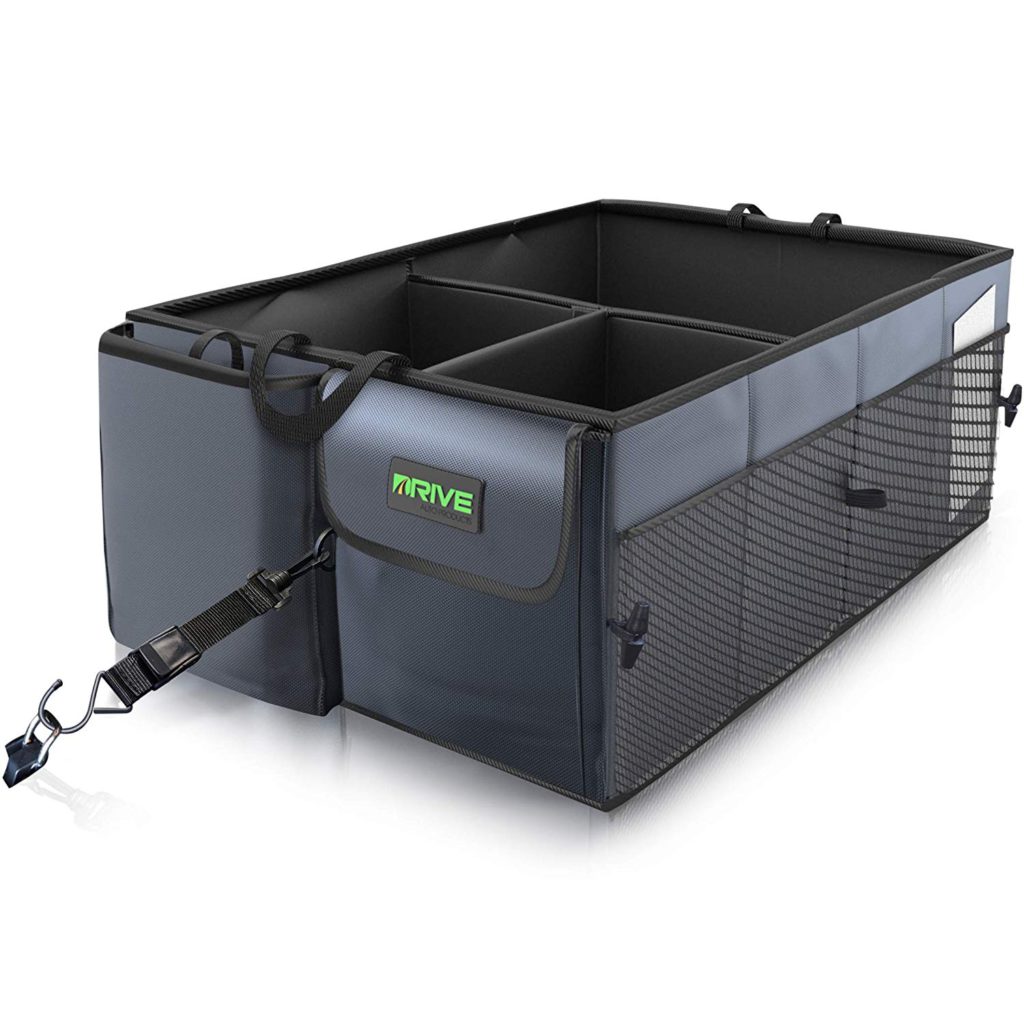 Have you ever found yourself having problems in organizing your car's trunk? If you are like most of us, the car trunk probably is a little messy and needs some organization. This is where the Car Trunk Organizer that's made by Drive Auto Products will gladly come to your rescue. This organizer fits into the trunk of your car, SUV or truck. It has several compartments to fit shopping bags when going to the store, pet supplies, office supplies and other things. Or, if you prefer the tools that are in the trunk taking up valuable space. Placing the loose items in the trunk into the car organizer prevents them from moving around by staying in a compartment.
The organizer can hold up to 30 lbs. maximum load.
The car organizer is water resistant and is made of Oxford premium 600D fabric. It has two straps that attach to anything to clip on which keeps the organizer from moving around in the trunk or front and back seat of your car.
It has two front and eight side pockets for a total of 10, that will fit coffee mugs, water bottles, an iPhone, Cell Phone or anything else you want to fit into them. Now, when going to the office the files and papers will be organized and not all over the back seat.
The product is collapsible so it will fit into small areas when not in use. This is also great for storing the organizer until it's needed. Every panel is reinforced with thirteen stiff base plates which makes for a more solid base.
Now you have the perfect caddy for travel coffee mugs, water bottles, cell phones, spare keys, work binders, folders, and paperwork, you name it!
Make sure that you get your car organizer so you can turn a car's messy trunk into an organized one. It comes in three colors black, gray and tan to fit nicely with your car's interior.
Besides all this, it comes with a 1-year warranty right out of the box. You can extend this warranty to 5-years when you register your order ID or email address using the included insert card for this purpose.
Manufacturer's Response To Three Questions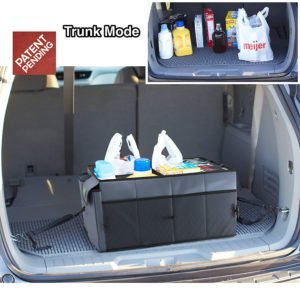 I wrote the manufacture about three issues that were mentioned in the reviews and they are: Warranty Period, Handles, and Straps. Below is their response.
Warranty is 1-year out of the box, and 5-years when registering your order ID or email address using the included insert card.  The warranty covers workmanship or material defects.
Maximum load is 30 pounds.  The first failure point would be the bottom of organizer would yield it's structure.  At one time there was a weak spot on the way the handles were being sewn, however that has been addressed using updated materials, attachment location, and method.  Any reasonable failure at the straps would be covered under warranty.
Straps are very strong, like bull.  The issue we have seen on occasion is the locking mechanism, which is a molded plastic clamp, should be properly pressed closed for maximum hold.  We have been resistant to make this piece metal due to weight, cost, and sharp edge risk.  Additionally there was one lot straps manufactured by factory line which did not follow specs, and some of those made it out into the field with a weak sewing spot.  (Since has been addressed and inspected at end of line).
Organizer Video
Below is a short video about this product. Take a look!
Product Description
This is a car trunk or back seat organizer that has compartments in which to place things into. It can be attached to existing hooks using for child safety and those inside the trunk. It has 2 front and 8 side pockets to store other things like water bottles, iPhone, coffee mugs and other things you want. It's great for shopping, holding pet supplies, office supplies, office papers, files or documents, and loose tools sitting in the trunk. Now, turn a messy unorganized trunk into an organized one.
Product Specifications
Below are the specifications for this product.
Manufacture: Drive Auto Products
Model Number: 635635176471
ASIN: B01F9IS2Y8
Item Weight: 3 lbs.
Dimensions: 23 x 17 x 10.8 inches fully open
Colors: 3, Black, Gray, & Tan
Maximum Load: 30 lbs.
Folding: No
Sturdy Panels: Yes
Waterproof: No
Water Resistant: Yes
Front Pockets: 2
Side Pockets: 8
Can Fabric Be Cleaned: Yes, Hand cleaned only with soap and water.
Fabric: Oxford 600D
Steel Tipped Tie-Down Straps: Yes, 2
Carrying Handles: Yes
Item Collapsible: Yes
Fits: Most Cars & Truck Trunks
Warranty: 1-Year out of the box. 5-years when registering your order ID or email address using the included insert card.
Product Pricing
The price of this product is provided for consumers so they can compare them with other similar products.
Price: $23.61
Note: The price for this product is subject to change without notice and may not be the actual price you pay at the time of order.
Product Rating & Customer Reviews 
Rating: [usr 4.6]
This organizer was rated by over 2,340 customers that gave this product an excellent rating. You can read all of customer reviews by clicking on the following link: Customer Reviews!
Questions People Are Asking About This Product
Below are some of the questions people are asking about this product.
Question: Are the walls of this trunk ridged or floppy?
Answer: They are ridged. There is a plastic material inside the fabric to give it strength.
Question: What is the maximum weight this trunk can hold?
Answer: About 30 lbs. if you want to lift it out of the car. More if you let it sit in the car and remove articles from the trunk.
Question: What exactly is the quality of nylon material used?
Answer: The trunk organizer is made with Oxford 600D Polyester.
Question: Is it water proof or water resistant?
Answer: It is not waterproof. It can be cleaned using a damp cloth but should not be immersed in water.
This product has 126 frequently asked questions and you can read them all by clicking on the following link: Frequently Asked Questions!
PROS
Features 2 front and 8 side pockets.

Uses a tie-down strap system that attach to seat anchors.

Fits in most cars, SUV's and truck trunks or back seats.

Three compartments to store and organize stuff.

Three colors to choose from to match the car's interior.

Collapsible design to allow for adaptable sizes to fit your car and for storage.

Can hold up to 30 lbs. maximum load.

1-Year consumer warranty.
CONS
Price.

You may notice a manufacturing smell when opening the organizer from the clear outer packaging, and it typically subsides after a day or two.
 Shop Drive Auto Products Organizer
You can shop for the Drive Auto Product car organizer by clicking on the "Buy Now" button below. You will be taken to Amazon where you can place the order.
As an Amazon associate, I earn from qualified purchases.
Did not find what you were looking for? Enter a search term in the box below to search other products on Amazon.
Go back to the Pros Cons Shopping home page.