A Dash Camera That Takes Video Every Time You Use Your Car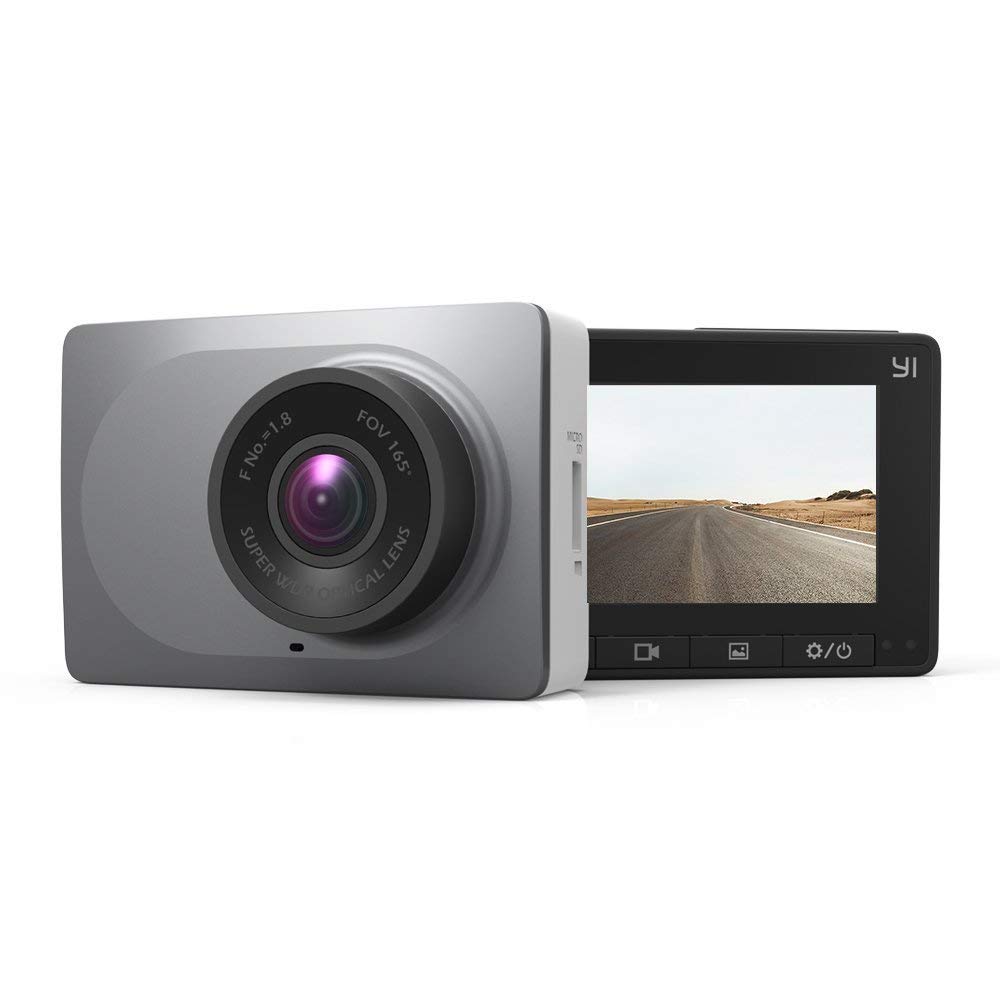 You get up in the morning get dressed and go to work as usual. You go into your car and take the regular route to work as you have done for years. However, on this day it is different, another car somehow hits your vehicle creating an accident. You don't have proof of who is at fault. Now, your worries are over as you can use one of the YI Car Dash Cams to take footage anytime you use the car for anything. This camera takes video using a 165 degree wide-angle to reduce blind spots and obtains a full 3 lane of coverage and will show who is at fault if the accident happened in the front of the car. This is good for the police and the insurance company. The camera automatically starts recording when the car is started and shuts off within 10 seconds after the engine is turned off.
As you travel in your car you need to protect yourself as you never can tell when you will need to prove who is at fault in the event of an accident or mishap. The camera works when you turn on the engine. It also has an option to work for up to fifteen minutes using its internal battery when the engine is off. It can take video even if the car is damaged and the engine cannot start.
A nice feature of this camera is its ability to save footage in the event or events leading up to a collision and immediately after the incident for insurance disputes or other purposes. The continuous loop recording will skip these files when the SD card space is filled to preserve them.
Note: When the SD card space is full, the camera overwrites the oldest files so you will never have to worry about running out of space.
It comes with the ADAS (Advanced Driver Assistance systems) which tells you when you are moving out of your lane and getting close to the car in front of you. The camera has 1080p with 60fps H.264 video recording for sharp clear pictures.
The unit can also be connected via Wi-Fi to your phone, Android, and tablet with the App. If you need to save any video, you just download it to your phone.
The camera uses a class 10 or better SD card from 8 to 64GB. It records video using a 6G lens.
The high transparent 2.7-inch 16:9 LCD widescreen offers a broader view which enables you to monitor the whole road while driving.
You just place the charger into the cigarette lighter and the cable cord into the slot on the charger and you are ready to go.
The built-in voice feature can be turned off in the settings if it bothers you. The voice feature records only the voices inside the vehicle and not outside.
DASH CAM VIDEO
This is an excellent video explaining all the features of this smart car dash camera. It shows the unboxing, reviews the different settings, shows where to install it and actual footage of the camera in use. Take a look!
PRODUCT DESCRIPTION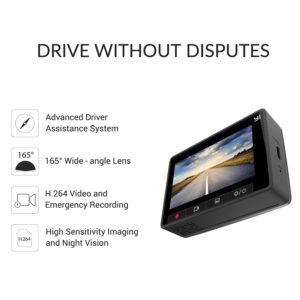 The camera comes with great features like Driver Assistance System ADAS (Advanced Driver Assistance System). It allows you do drive safer thanks to the lane departure warning. The G-sensor Technology records events when a collision is detected which is good for proving who may be at fault.
165° Wide-Angle Lens provides full coverage of three lanes. The powerful F1.8 aperture combined with an extremely powerful 3.0μm x 3.0μm image sensor guarantees excellent pictures even at night.
High Definition and First Class Night Vision HD at 1920x1080p at 60 fps captures fast-moving scenes and creates high-resolution images at high speeds. At 30 fps, a resolution of 2304 x 1296p Ultra HD is possible.
Using the built-in 2.7" 16:9 LCD screen or the YI Dash Cam app, for Android and iOS, makes the operation simple. Large buttons and user-friendly icons allow quick and intuitive navigation through the menus and settings.
PRODUCT PRICING
The price of this YI smart car dash camera is provided to consumers so they can compare them with other similar products.
Price: $49.99
Note: The price for this product is subject to change without notice.
PRODUCT RATING & REVIEWS 
Rating: [usr 4.1]
This product was rated by over 2,990 customers which gave this produce a very good rating. You can read all of these reviews by clicking on the following link: Customer Reviews!
QUESTIONS PEOPLE ARE ASKING
Below are some basic questions people are asking about this camera.
Question: Does this camera have a loop recording mode?
Answer: Yes it does. It deletes and overwrites the oldest file automatically.
Question: Is there an option to disable the Yi logo on pictures or video files?
Answer: Yes you can. Install the app on your phone and connect to camera via wifi. Then go to settings – dashcam settings – display – there is a box that needs to be unchecked.
Question: Can the camera still send the live feed to the app without a memory card? 
Answer: Yes, the live feed works without a memory card.
Question: Can I attach a circular polarizer to this dashcam?
Answer: Yes, a lot of people are using a 49mm CPL with a 37-49mm step-up adapter.  Here are the video instructions: https://tinyurl.com/mewt7at Copy and paste this URL in your browser.
You can read the rest of the 1000+ answered questions by clicking on the following link: Answered Questions!
PRODUCT SPECIFICATIONS
The specifications about this product are listed below.
Manufacture: YI Technology
ASIN: B01C89GCHU
Model: 89006
Weight: 9.6 ounces
LCD Screen Display: 2.7 in. TFT
Color: Grey
Resolution Options: 1920×1080 60P, 2304×1296 30P, 1280×720 30P, & 1920×1080 30P
Dimensions: 6.7 x 4.4 x 2.4 inches
Wide Angel Lens: 165° (Up to three lanes of coverage)
Widescreen: 16:9 LCD
High Definition: Yes, 1920x1080p
Micro SD Card: 8 – 64 GB (Not included – purchased separately)
Batteries: 1 Lithium Polymer Required
Unit Starts: Engine is ON
Unit Stops: Engine is OFF (with a 10 second delay)
Advanced Driver Assistance System: Yes
Sound: Built-In Microphone / Speaker
Sensitivity: 3800mV/lux-sec
Aperture: F2.0
Sensor: 1/2.7", 2 Mega Pixels
Video Codec: H.264
Voice Command: None
Lens: 6G + Infrared Filter
WiFi: Supports single band 2.4GHz and 802.11n standard
Smartphone Platform Support: Android / iOS
WPA2 Wireless Encryption: Yes
Power Cord: 11.5 Feet Length
WiFi Password: 1234567890 (is the system default password)
Cable: Micro USB
Optimal Temperature Operation: Between 14 to 140 degrees F
Power Source: USB Car Charger, Input: 12V-24V Output: 5V
Storage: 8-64 GB Class 10 or above with FAT32 format
Video Recordings: In 1 to 3-Minute Intervals. At the end of the SD Card space, overwrites oldest files first in a continuous loop.
Video Recording Times 64 GB Micro SD Card: 30fps = 8 hrs. & 35 min. 60fps = 7 hrs. & 18 min. (At end of space, automatically starts overwriting the oldest recording going forward.)
Battery: Requires charging and is internal and runs up to 15 minutes on its own power with the engine off for emergencies. Note: The battery charges while the car is driven.
In The Box: 1 Camera, 1 11.5' Cable, 1 USB Car charger, 1 Mount, & Instructions
Email Support: support@yitechnology.com
Help Center Link: YI Help Center
PROS
Users G-Sensor Technology

165° Wide-Angle Lens

1920 x 1080p at 60fps captures fast-moving scenes and high resolution images.

Comes with the Advanced Driver Assistance System (ADAS)

LCD Widescreen 2.7 inch display.

Connects to Android, tablet or phone using Wi-Fi and App.
CONS
Does not come with the Micro SD card as it must be purchased separately.

Only records video in the front and not in the rear of the car.

Uses a 24 hour clock for time.

Does not have voice command.
SHOP YI DASH CAMERA
You can shop for this YI Car Dash Camera by clicking on the image below. You will be taken to Amazon where you can place the order.
As an Amazon associate, I earn from qualified purchases.
64GB Class 10 Micro SD Card
Did not find what you were looking for? No problem. Enter a search term in the Amazon Box below to search on Amazon for other products.
Go Back to Pros Cons Shopping home page.