Makes A Kitchen Counter Top Look Great!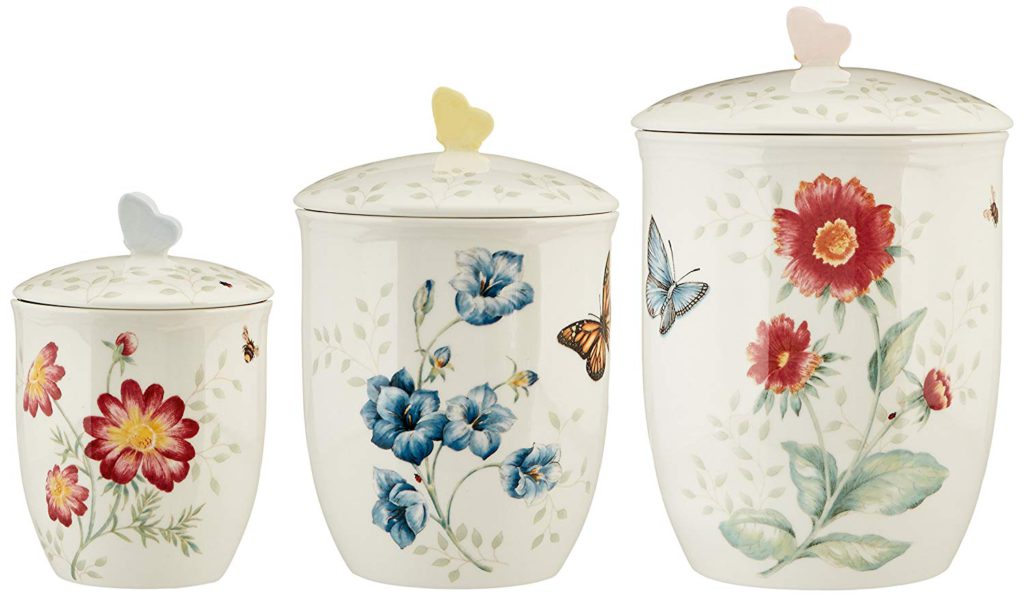 These canisters are based on the artistry of Louise Le Luyer, impacting the Butterfly Meadow which features monarchs, tiger, swallowtails, orange sulfurs and other winged species. The butterfly meadow canister set will make for a great addition to your kitchen countertop. It will allow you to store any foods that require them to be air tight or just for show. Either way, you are the winner of these wonderful canisters that are made by Lenox.
For the money, you get three canisters of different sizes to hold dry ingredients or tea bags or wrapped candy. The large size canister holds about 64 ounces and is 8.5 inches in height. The medium size canister holds about 32 ounces and is 7.5 inches in height. The small canister holds about 16 ounces and is 5.75 inches in height.
You can store any type of dry or packaged foods in these air tight jars. For example, sugar, flour, tea bags, raisins, trail mix, bars, cookies and oatmeal. The list of foods to store is endless.
You get a touch of spring every time you look at these canisters. Guests that come over to visit you will surely give you complements on how well they look.
They are made of fine crafted white porcelain and can be used in the microwave and placed in the freezer including the lids. You can clean them using the dishwasher. It is recommended that the canisters be hand washed and they are PTEE free.
The canisters are rust, weather, odor, and tarnish resistant. They also make for great gifts for any occasion.
Video
Below is a short video about these Lenox canisters. Take a look!
Product Description
This colorful and beautiful Butterfly Meadow 3-piece Canister Set is also quite functional. A sculpted butterfly serves as the final touch on the lid of each canister. And each canister is decorated with a garden scene. It comes with 3 canisters large, medium and small to hold any dry food item or anything dry you want to put in them. They are safe to use in the microwave, place in the freezer and be washed in the dishwasher. It is recommended that these canisters be washed by hand. The canisters are PTEE free, odor, rust, tarnish and weather resistant.
Product Specifications
Below are the product specifications about these canisters.
Manufacture: Lenox
Model No.: 813478
ASIN: B00356209A
Weight: 5 lbs. (3 piece set)
Product Type: Storage Jar
Food Safe: Yes
Product Material: White Porcelain
Lid Material: White Porcelain
Lid Seal: Rubberized Silicone
Large Canister: 8.5 Inches High
Medium Canister: 7.5 Inches High
Small Canister: 5.75 Inches High
Set Size: 3 Canisters (Large, Medium & Small)
Large Canister Capacity: 64 oz.
Medium Canister Capacity: 32 oz.
Small Canister Capacity: 16 oz.
Colors: White/Pink
Weather Resistant: Yes
Rust Resistant: Yes
Tarnish Resistant: Yes
Odor resistant: Yes
BPA Free: No
PTEE Free: Yes
Dishwasher Safe: Yes (Hand washing is recommended)
Freezer Safe: Yes
Microwave Safe: Yes
Airtight Seal: Yes
Where Made: China
In The Box: Set of 3 Canisters with Airtight Lids
Product Pricing
The price of this canister set is provided so consumers can compare them with other similar products. The price of these canisters are subject to change without notice and may not be the actual price you pay at the time you place the order.
3-Piece Set Price: $84.35
Product Rating & Customer Reviews
Product Rating: [usr 4.7]
This product has 471 customer reviews. You can read all of them by clicking on the following link: Customer Reviews!
Questions People Are Asking About This Product
Below are some of the questions people are asking about this product.
Question: Where is this product made?
Answer: It's made in China.
 Question: Do the lids have a seal?
Answer: Yes, they have a rubberized silicone seal.
Question: Does this product come shipped in a matching box?
Answer: No it does not.
Question: Does the box that they come in have the Lenox name on it?
Answer: Yes it does.
Question: Can I purchase any one canister separately?
Answer: No. These canisters are only sold in a set of 3 and cannot be purchased separately. You might want to try eBay, Wayfair etc. to see if a single canister you are looking for is available. You can try replacements.com as another possible option.
To read all of the 19 questions about this product just click on the following link: Answered Questions!
PROS
Safe to use in the microwave.
Safe to place in the freezer.
The lids have an air tight silicone seal.
Canisters are made of crafted white porcelain.
Use canisters to store any dry foods or baked goods.
CONS
Price.
Made in China.
Cannot purchase any of the canisters individually if one should break.
Shop Lenox Canisters
You can shop for the Lenox canister 3-piece set by clicking on the "Buy Now" button below. You will be taken to Amazon where you can place the order for this item or any of the following items with the same Butterfly Meadow design. Condiment set, cookie jar, measuring spoons, napkin holder, salt & pepper shakers, spoon rest and votive.
As an Amazon associate, I earn from qualified purchases.
Did not find what you were looking for? No problem. Enter a search term in the Amazon Box below to search on Amazon for other products.
Go back to the Pros Cons Shopping home page.