Bike Desk Chair Takes Exercising To the Next Level!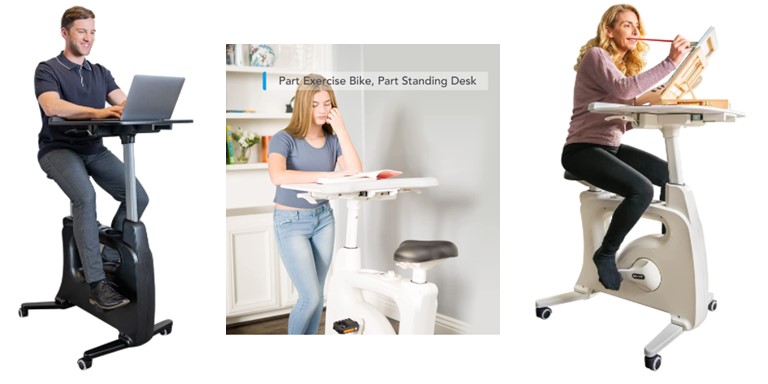 Introduction
A bike desk chair is also known as an under-desk cycle can keep your blood flowing and burn calories while you are working. Strengthens calves and hamstrings. These bikes can also simulate a level of exercise similar to walking that improves overall fitness. By cycling at your desk, you burn more calories than sitting at your traditional workstation.
Some additional physical and health benefits of these desk cycles are improved tone, maintaining healthy joints and improved circulation, just to name a few. Now, you can turn your desk into a workout.
A bike desk chair is a great way for you to get your exercise every day. This also works well for those individuals who work from home. Some desk cycle models also doubles as a standing work desk. When you get tired from sitting and pedaling, you can stand and continue to work.
A nice rule of thumb to use is for every 1 to 2 hours you are sitting, you should stand for 1 hour. The best way to use the desk cycle chair and the standing work desk is to alternate between sitting and standing every 30 to 60 minutes. It is suggested to use this rule be used for individuals that work from home and have a bike desk chair that doubles into a standing work desk.
Video – Bike Desk Chair Review
Below is a video of a review of the bike desk chair. Great information.
Sitting At Your Desk
If you happen to be sitting at your desk all day this is not really good for your overall health. By mixing standing and sitting throughout the day promotes a healthier lifestyle. And if you can do some exercise while working this is even better. This is where the bike desk chair can help in this area.
Some models of desk chairs also double as a standing work desk. So, you can mix your time standing and exercise sitting throughout the day at work or at home. This is the best of both worlds.
Some models double as a standing work desk. The desk portion of the chair can be lowered so it fits below the desk at work. Or just remove the desk portion from the chair to make it fit. This will allow you to exercise and work at the same time.
Advantages & Disadvantages of A Desk Bike
Everyone know that exercise is good but not all exercise equipment is good for everybody. Some people may not be interested in using a desk bike, where others might thik this is cool to get some exercise.
Below we list some advantages and disadvantages of a desk bike:
Advantages:
Burns calories to help promote weight loss.
Improved mood, productivity and energy.
Improves mental health.
Pedaling does not hinder your work.
Helps to hit or maintain weight loss.
Helps ward off sitting disease.
Machine is quiet and will not impede any conference calls.
Great for traveling or work.
Disadvantages:
Sitting on a bike all day.
Limited to the immediate work at hand.
Exercise bike might make you sweat.
More expensive.
Bikes may get uncomfortable over time.
Taller people may have some difficulty.
Keeping the chair from rolling away.
Ultimately, you control the amount of time you can cycle at your desk during the day. We mentioned that mixing cycling and standing throughout the day is best.
Bike Desk Chair Tips
Now that you have your own bike desk chair and standing desk combo, you need to look at the features they have. You should look for some specific features the model you are interested in has. We also included some tips that should help you in deciding on which model to buy.
The desk portion of the bike is adjustable.
The seat is adjustable and comfortable.
The screen position should be between 20 to 28 inches from your face.
Look for bikes that have resistance levels.
The top of the screen should be eye level between 10 and 20 degrees.
The table height should be slightly below elbow height.
Try to align the keyboard with your elbow height.
Optimize the wrist position when sitting or standing.
Always keep your keyboard and mouse at the same level and the wrists straight when typing.
The desk portion has arm supports to help reduce neck and shoulder issues.
Don't forget to take some breaks to move and stretch and clear your head and rest your eyes.
The above are just a few of the tips we can suggest. You might have others that you are looking for. Be sure that the model you purchase has all the features you need for your situation. Also, look for models that double as a standing work desk as they provide
PROS
Burns calories to help promote weight loss
Improves your mood, productivity and energy
Improves mental health
Pedaling does not hinder your work
A great way to exercise to keep your body fit
Some models double as a standing work desk
CONS
Exercise desk bikes are expensive
Might make you uncomfortable over time
Taller individuals may have difficulty using these bikes
Conclusion
The desk bike chair does provide healthful solutions to individuals sitting at their work desks. These models work well for persons who work at home.
We shared that the desk bike is great for your health. Some desk models also double as a standing work desk. This combination is good for alternating between standing and sitting. This gives you the best of both worlds by standing and sitting during the day.
 Shop Desk Bike Chair
You can shop for the desk bike chair by clicking on the image and you will be taken to Amazon where you can place the order. While there you can read the customer reviews and answered questions before making a purchase.
–
–