Protect Your Home From Water Damage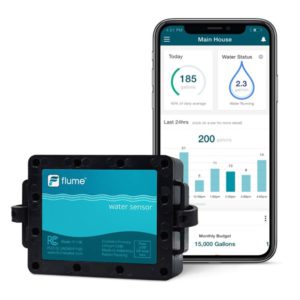 Have you been at work or on vacation and discovered when you got home that you had a water leak? The amount of water that leaked depended on how much time you were away. The best water leak sensor can help you so that the next time you are on vacation, at work, or working outside, when a leak starts, you will be alerted so you can take the appropriate action. Thus, preventing large amounts of water going everywhere in the house preventing damage and costly repair bills.
A water detection device brings homeowners a peace of mind knowing that they are protected from water damage whenever a leaky pipe should burst. As you continue to read, you will find some helpful information about water detectors and why you should have them in your home.
Table of Topics
Leak Detection Video
This is a short video on water leaks and how important leak detectors are.
Importance of Water Detectors 
Having a water detector in the house will be able to detect any presence of leaking water. This is done by measuring the electrical conductivity of the water present and completing a circuit to send a signal to notify you that water is leaking. In some cases, an audible alarm will go off notifying you of a water leak.
Some of these sensors can be programmed to shut off the water (main line) that goes into the house to prevent a small leak from becoming a large one.
The primary purpose of these monitors is to provide the homeowner with a peace of mind whenever they are not home. Knowing, if a leak does happen, they will get notified on their Smartphone with an alert so they can take the appropriate action. Some of these sensors will only make an alarm sound to alert you a leak has happened so you can take action.
Best Rated Water Detectors
Below are some of the best rated water detectors and sensors you can buy. Look them over carefully. Look at the features that come with the system. Then decide on which one is best for you.
FIRST PLACE WINNER
#1. YoLink Wireless Smart Leak Sensors 4-Pack w/Hub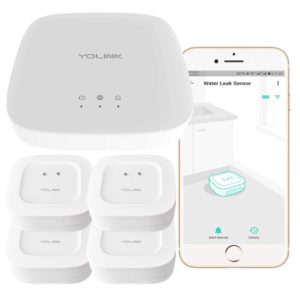 Hub Model: YS1603-UC Sensor Model: YS7903-UC ASIN: B084WYB8PM Ratings: 160 Score: 4.8
This YoLink system comes with 4 sensors and one hub. The system works with Alexa, provides app monitoring, history logs, battery status and app alerts if a water leak is detected. Powered by 2 AAA batteries with a 5-year life. It also has a ¼ mile receiving range that is the best on the market.
PROS
5-year battery life
¼ mile receiving range
Works with Alexa – get voice notifications
Easy setup
Get voice announcements when leaks are detected
App notifications at the first sign of water or moisture
Easy installation just place on floor
Low battery status alert
Setup rules if this then that function
Supports 2.4 GHz WiFi connection
CONS
Price
YoLink products only work in the USA and Canada
100 Feet limit between hub and sensors
OTHER KEY FACTS
Manufacture: YoSmart
Color: White
Weight: 1.35 lbs.
Dimensions: 7.6 x 4.8 x 2.7 inches
Batteries Required: Yes, Included (8 AAA)
Works with IFTTT: Yes
System Requirements: iOS 9 or Higher, Android 4.4 or Higher
Real-Time Status: Yes with YoLink App
Working Temperature: -20°C~50°C (-4°F~104°F)
Humidity: 0 – 90% Non-Condensing
Input: 5V DC
Maximum Current: 1 Amp
Warranty: 2-Years Limited
SECOND PLACE WINNER
#2. Flume F1000 Water Monitor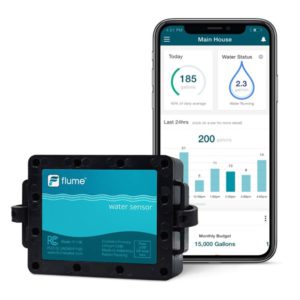 Model: F1000 ASIN: B07GPXKN8Z Ratings: 675 Score: 4.7
This water monitor is compatible with Alexa. It is also compatible with 95% of all water meters. Provides you with 24/7 leak detection. Monitors water usage, alerts send to your smartphone, and has remote water monitoring. Provides information on water used today, current status and used within last 24 hours.
PROS
Remote water monitoring
24/7 leak detection and water control monitoring
Resolve water issues in real time from anywhere
Compatible with Alexa
Easy to install
Alerts sent to your smartphone
Batteries are replaceable
CONS
Price
Not compatible with E-Series, iPerl and Master Meter (1 inch and above)
Flume can only be used in the United States
Does not turn off the water
It's not IFTTT compatible
OTHER KEY FACTS
Manufacture: Flume
Color: Black
Weight: 1 lb.
Dimensions:25 x 1.5 x 3.75 inches
Sensor Bridge Range: 1000 Feet
Batteries: 4 AA (Included)
Battery Type: Lithium
Average Battery Life: 1-Year
Voltage: 110/220V
Temperature Limits: Water Sensor – -40°F to 140°F, Bridge – 32°F to 158°F
Warranty: 1-Year
THIRD PLACE WINNER
#3. First Alert WA100-3 Water Alarm System 3-Pack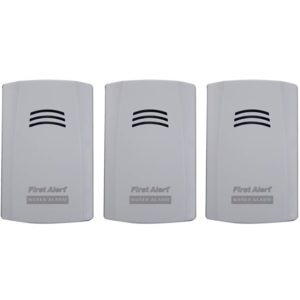 Model: WA100-3 ASIN: B002VECNMQ Ratings: 516 Score: 4.7
Awards: Amazon's Choice
This water alarm system detects unwanted water and sets off an 85 decibel alarm to alert you. The sensors can be placed up to 6 feet away from the alarm unit. It has operating conditions from 32 to 120 degrees F, 80% RH and a storage temperature from -20 to 150 degrees F. Great for monitoring potential leaks in the basement, kitchen, garage, laundry rooms, hot water heater, sump pumps, and bathrooms.
PROS
Sets off an 85 dB alarm when water is detected
Sensors can be placed up to 6 feet away from alarm unit
Alarm sound will continue for up to 72 hours
Each unit has its own 6' wire
Low battery chirp warning sound when batteries need to be changed
CONS
Price
Does not use WiFi
No app functionality
OTHER KEY FACTS
Manufacture: First Alert
Color: Gray
Weight:1 lbs.
Dimensions: 3 x 5 x 1.5 inches
Batteries: 3 @ 9 Volt (Included)
Battery Life: 1-Year
Sensors Attach: To Bottom of Units
Alarm Sound: 85 dB
Alarm Sound Lasts: 72 Hours
Warranty: 2-Years Limited
In The Box: 3 Units, 3 Sensors, 3 9 Volt Batteries, User Manual
HONORABLE MENTION
#4. Glentronics Watchdog Water Alarm
Model: BWD-HWA ASIN: B000JOK11K Ratings: 2,501 Score: 4.6
Awards: Amazon's Choice
This water alarm system detects leaks using a battery that lasts for up to 2-4 years. No installation is required. Place unit on floor of potential water source. Sensor wire extends up to 6 feet. The 110dB alarm will sound for up to 72 hours. Detects water that 1/32" deep. You can add up to an additional 100 feet of wire, if needed. Note: Battery life decreases when placed in hot environments of 100 degrees F or higher.
PROS
Detects water that's 1/32" deep
Sounds an alarm when leaks are detected
Alarm sound lasts for up to 72 hours
Sensor wires can be placed up to 6 feet apart
Alarm is 110dB
CONS
9 Volt battery is not included
No alarm when battery life is low
OTHER KEY FACTS
Manufacture: Glentronics, Inc.
Color: White
Weight:6 ounces
Dimensions:25 x 3.25 x 4.25 inches
Battery: 1 9V (Not Included)
Average Battery Life: 2 to 4 Years
Battery Type: Lithium Preferred (Any 9V will work)
Battery Life Saver: Yes
Alarm Sound: 110dB (Loud as a Car Horn)
Alarm Going Off: Will sound if a drop of water touches the round sensors
Alarm Will Sound: Up to 72 Hours
Low Battery Alert: No
Assembly Required: No
Can Wires Be Extended: Yes (Up to 300 Feet)
On/Off Switch: No
Warranty: 5-Years Limited
#5. Govee Water Detectors 5-Pack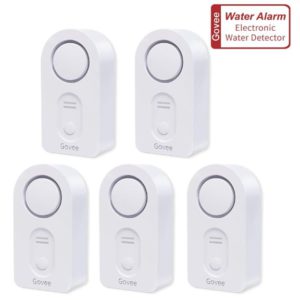 Model: BWP-01 ASIN: B07QSFRSJX Ratings: 322 Score: 4.6
Awards: Amazon's Choice
This water alarm system alerts you when water is detected by sounding a 100dB alarm. It requires no wires or setup is required. Easy to use. It has a low battery alert and is waterproof. These alarms can be placed anywhere a leak could occur.
PROS
Alarm sounds when water is detected
Loud 100dB alarm audio
Low battery alert
No wires or special setup required
Wireless and easy to use
CONS
Not compatible with 5 GHz networks
OTHER KEY FACTS
Manufacture: Govee
Color: White
Weight: 16 Ounces (1 alarm)
Dimensions:46 x 1.77 x 1.04 inches
Alarm Sound: 100dB
Size: 5-Pack
Voltage: DC 3V
Batteries: AAA & Included
Battery Life: 6 Months
Waterproof: Yes
Detection Angle: 360 Degrees
Detecting Water Height:5MM
Low Battery Alert: Yes, Less Than 5% & A Blinking Red Light or Alarm
Warranty: 1-Year Limited
Support: support@govee.com
Note: These alarms can also alert you of a leak to your smartphone. However, you must link them with the Water Leak Detector Kit. The ASIN for this kit is: B07QP153GT. This is a separate purchase. The 2-Pack ASIN: B07DCJXL77
#6. Instapark Water Leakage Detection Alarm & Sensor 3-Pack
Model: IN07A-3P ASIN: B01IWTCLHA Ratings: 1,147 Score: 4.5
Awards: Amazon's Choice
This water sensor alarm provides a powerful sound up to 130dB and travels up to 100 yards. Alarm is triggered when water is present up to 1/32 inches deep. Sensor wire is 44 inches long.
PROS
Sensor alarm level 130dB
Inexpensive
3 pack
Low battery alert
Alarm sounds when water is detected
Alarm can be mounted on wall
CONS
Difficult to turn off the alarm once is sounds (dry sensor pad or remove the battery)
Issues in trying to insert/remove batteries
OTHER KEY FACTS
Manufacture: Instapark
Color: White
Weight:4 ounces
Dimensions: 2 ¾ x 2 ½ x 1 ¼ inches
Batteries: 1 9V (Included)
Battery Life: 2 Years
Detectable Water Depth: 1/32 of an inch
Siren Alarm Level: 130dB
In The Box: 3 IN07A Alarms, 3 Batteries, Bottom Plate, Double-Sided Adhesive Foam Tape Pad, User Instructions, Warranty Registration Card
#7. LA Homieta WA-08 Water Alarm 4-Pack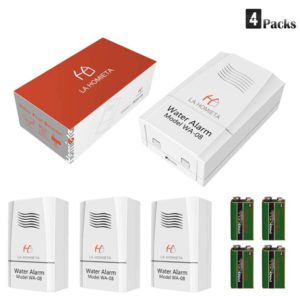 Model: WA-08 ASIN: B07DCKP1KH Ratings: 189 Score: 4.5
This water warning system detects water up to 1/35" deep. Sends out a 100dB alarm. It has a battery life saver feature and a low battery alarm indicator when the batteries need to be changed. It also has a 6' wire which can reach any hard-to-reach corners of potential leaks.
PROS
Loud alarm 100dB when water is detected
Low battery warning
Detects water up to 1/35" deep
6' extension wire
No assembly required
Easy to use
CONS
Some users complained alarm did not sound when water was detected (Test units first to see if they detect water by sounding the alram. If not, return it for a refund)
OTHER KEY FACTS
Manufacture: DBY
Color: White
Weight:04 ounces
Dimensions:86 x 1.34 x 2.36 inches
Power Source: Alkaline 9V Battery (Included)
Wire Length: 6 Feet
Battery Saver: Yes
Low Battery Warning: Yes, Audible Alarm
Continuous Alarm Sound: 100 Hours
Warranty: 1-Year Limited
In The Box: 4 Alarms, 4 9V Batteries
#8. Proteus PSFD07 WiFi Water Detector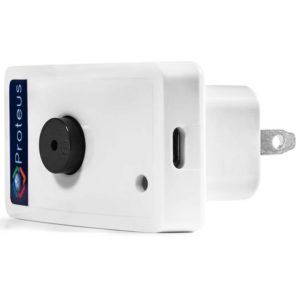 Model: PSFD07 ASIN: B00FG9Y2MC Ratings: 141 Score: 4.5
This WiFi water sensor has no monthly charges. Connects to your home or office WiFi. Ho hub or gateway is required. You get alerts sent to your email or text message sent to your inbox or smartphone. You also receive an audio alert in the event of a detected leak.
PROS
No need to install apps
Easy to setup
5' sensor cable
Built-in power module plugs directly into wall
WiFi water sensor with no monthly charges
Add as many contacts as they are needed
Alerts are not restricted to one email
CONS
Price
Some experienced their unit not functioning as advertised
OTHER KEY FACTS
Manufacture: ProteusSensor
Color: White
Weight: 3.2 ounces
Dimensions: 1 x 0.5 x 2 inches
Wireless Communication Technology: WiFi
Wireless Connectivity: 802.11b/g
Alerts: Audible, Text and Email
Alarm Setup: Trigger Normally – Keep Beeping, Trigger Normally – Snooze After A Set Time Period, Turned Off (Settings can be changed as you like)
In The Box: Alarm, Instructions
#9. Shackcom Water Leak Detector Alarm 5 Pack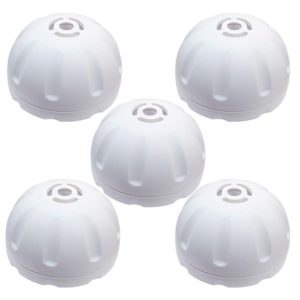 Model: None ASIN: B07SSZN99S Ratings: 103 Score: 4.5
This water leak alarm water detector detects a leak with an audible sound up to 110dB. Power source is an A23 12 volt battery which are included. They can be placed anywhere a water leak can occur.
PROS
Audible warning up to 110dB
Battery operated
Alarm sounds when water is detected
Alarms can be placed anywhere
360 degree coverage and it's waterproof
Alarm sounds up to 24 hours
CONS
Price
Difficulty in installing batteries because of tight lids
OTHER KEY FACTS
Manufacture: Shackcom
Color: White
Weight:8 ounces (1 alarm)
Dimensions:76 x 2.87 x 2.72 inches
Power Source: 23A 12V Alkaline Battery (Included)
Low Battery Notification: No
Audible Alarm: 110dB
Battery Life: 1 to 2 Years
Wiring Required: No
Test Button: No
Waterproof: Yes
Water Depth:2cm or 0.078 Inch
In The Box: 5 Alarms, 5 Batteries, Instructions
#10. Honeywell RWD21 Water Leak Alarm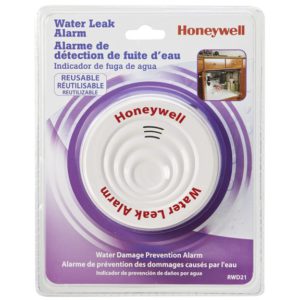 Model: RWD21/A ASIN: B00BIBD4EY Ratings: 464 Score: 4.4
Awards: Amazon's Choice
This alarm detects water up to 1/16 inches deep with an audible sound up to 85dB. There is a low battery chirp warning when battery needs to be changed. This alarm can be placed anywhere to detect water leaks.
PROS
Inexpensive
Detects water up to 1/16" deep
Audible 85dB alert when water is detected
Unlimited use anywhere to protect against leaks
Low battery chirp warning
Alarm will sound up to 24 hours
CONS
9 volt battery not included
Some units failed to warn of leaking water
OTHER KEY FACTS
Manufacture: Honeywell International
Color: White
Weight:52 ounces
Dimensions:5 x 1.38 x 7.25 inches
Power Source: 1 9V Alkaline Battery (Not Included)
Alarm Sound: 85 dB Up To 24 Hours (When water is detected)
Low Battery Warning: Yes, Chirp
Battery Replaceable: Yes
Battery Life: 1-Year
Easy To Reset: Yes (Just dry the device after the alarm sounds)
In The Box: Alarm
#11. Honeywell RWD14 Water Alarm 4-Pack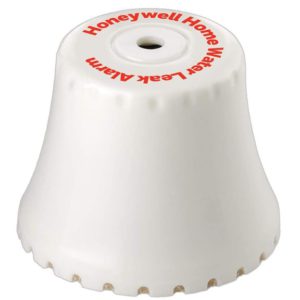 Model: RWD14/A ASIN: B00BDS0YH2 Ratings: 116 Score: 4.4
Awards: Amazon's Choice
This water alarm detects water up to 1/16 of an inch deep and an audible alarm will sound. These are a one-time use water sensors. They come with the battery already built-in. They last up to two years and come 4 to a pack.
PROS
Detects water up to 1/16 of an inch deep
Battery lasts up to 2 years
Battery built-in
Alarm goes off when moisture is detected up to 24 hours
Easy to use
CONS
One time use only
Batteries not replaceable
OTHER KEY FACTS
Manufacture: Honeywell International
Color: White
Weight:8 ounces (1 alarm)
Dimensions:81 x 1.81 x 1.5 inches (1 alarm)
Power Source: Battery
Battery Replaceable: No
Battery Built-In: Yes
Battery Life: 2 Years
Alarm Testable: No (One time use)
In The Box: 4 Alarms
Note: Here is a way in which you can reuse these alarms by B. Bergman.
As others have said, there is no off switch. These guys scream until the batteries die. However, after having set this one off, I see how they work now. There is a yellow sponge (similar to a kitchen sponge, actually) in the base. On top of the sponge is a copper plate. As soon as water hits the sponge, it swells and the copper plate makes a connection, causing the buzzer to sound. Now, if you carefully pull the little white ring off of the bottom, the protective mesh comes off, and you can remove the sponge. Just set it aside and the buzzer stops. When the sponge is semi-dry, put something heavy on it (I used a soup can) for a few days. The sponge will shrink down flat again, and you can re-insert it into the base and put everything back together. I did this with the one that went off, and it's working perfectly. So they ARE semi-reusable, if you care to spend the time to take it apart a bit. Honestly, it'll take you two minutes to do it. Anyhow, good product and I'd buy again.
Update: Lots of folks asked for details on how to reuse these, so read above and check out the pictures on the right. The key is to gently remove the rubber ring and pull the sponge out by the mesh covering. Once you have that off, the alarm stops. I peel the copper sticker off the top, and put a heavy weight on the sponge for about 5-7 days. At that point, the sponge is back to being flat and will stay that way until it gets touched by water again. The important part is to make sure it dries in the flat condition. Then, just put the copper sticker back on, and reassemble it with the rubber ring. You're good to go for another use. I've now done this three times and haven't had any false alarms, and they've worked perfect. These are great little leak detectors.
#12. Leaksmart Water Detection Starter Kit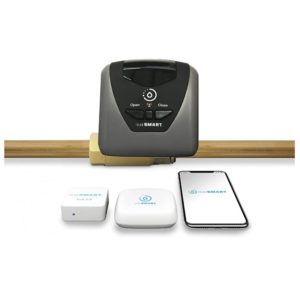 Model: 8881100 ASIN: B071RGVBCS Ratings: 5 Score: 4.4
This detection starter kit works with Alexa, SmartThings, and Wink. Once a water leak is detected, it automatically shuts off the water supply coming into the home within 5 seconds. It sends notification alerts that the water was shut-off and a leak was detected. It provides 24/7 protection. It power goes out or no WiFi, it has a battery backup system to operate for up to 6 hours. Additional LeakSmart sensors can be added (sold separately). Hub accepts up to 32 sensors. Contact your insurance company to see if they offer a discount to your homeowner's insurance policy. Some companies offer rebates or discounts when this system is installed. It's recommended that a professional install this system. Valve sizes are ¾", 1", 1 ¼"
Note: If you own a LeakSMART, Wink, Iris, or other ZigBee system, this complete starter kit is not necessary. Purchase the valve (B06ZYTS8HJ) and sensors (B0722CQQ3S) separately. 1-Inch Starter Kit (B071RGVBCS)
PROS
Provides 24/7 protection
Battery backup in case power goes out
Turn off the water supply when a leak is detected within 5 seconds
System responds instantly
Prevents water damage
Receive notification alerts of a leak or when water is shut-off
Easy to read indicators
Colored lights indicate open (green) or closed (red)
Smart Home compatible (WiFi with Nest, Wink, Iris and SmartThings)
Great customer support
Doesn't take much water to trigger an alert
CONS
Expensive
Requires a professional to install the system besides the cost of the kit
OTHER KEY FACTS
Manufacture: Waxman
Weight:35 lbs.
Dimensions:1 x 7.1 x 6.4 inches
Batteries: Yes 4 AA Alkaline Batteries (Included)
Size: ¾ Inch Valve (1" Valve B07SJH97LG)
Battery Backup: Yes
Warranty: 2-Years
In The Box: Shut-Off Valve, Hub, 1 Sensor, Batteries, Manual
#13. MySpool Water Detector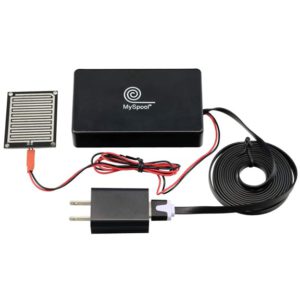 Model: AST01 ASIN: B07BS9Z255 Ratings: 417 Score: 4.3
This WiFi water detector notifies you of leaks with a text or email message. This is a free service. Comes with a 6' power cord and a 2' sensor wire. Does not require any app to install. Place unit anywhere a possible leak can happen. Note: For email notifications, you need to confirm your subscription by clicking on the link in your email box before notifications will be sent.
PROS
If power goes out, unit does not have to be reset
Receive by email or text alerts when a water leak is detected
Uses the 2.4GHz network
View device status & recent activity on web page
All MySpool services are free
CONS
No battery backup if power goes out
Does not have an audible alarm to notify you of a leak
It not compatible with a 5 GHz network
OTHER KEY FACTS
Manufacture: MySpool
Color: Black
Weight:8 ounces
Dimensions: 6 x 3 x 2 inches
Material: Plastic
Batteries Required: No
In The Box: 1 Unit
Warranty: 30-Days
#14. Flood Buzz Water Leak Detector 3-Pack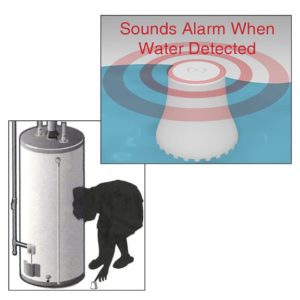 Model: WS03 ASIN: B008380HW2 Ratings: 215 Score: 4.3
This water leak detector sounds an 110dB alarm when water is detected. No batteries are required. Lasts up to 3 years. These alarms can be placed anywhere a potential leak could be a problem. To turn off the alarm, just remove the unit from the water. It's reusable until the expiration date.
PROS
Installation is easy and simple
No batteries are required
Can be placed anywhere to detect water leaks
Sounds a 110dB alarm when water is detected
Good until the expiration date on bottom of alarm
CONS
Batteries are not replaceable
No low battery indicator or alarm
OTHER KEY FACTS
Manufacture: ARCHETYPE, LTD
Color: White
Weight:16 ounces
Dimensions: 5 x 2.5 x 2.25 inches
Material: Plastic
Power Source: Battery
Sound Level: 110dB
Customer Service: 1-866-797-6686
In The Box: 3 Alarms, Instructions
#15. Moen 900-001 Smart Water Shutoff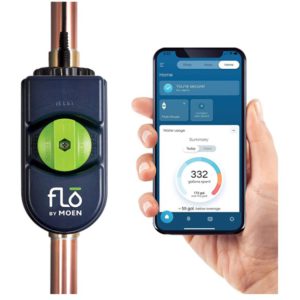 Model: 900-001 ASIN: B00C03D01Q Ratings: 139 Score: 4.3
This Flo By Moen water shutoff from water damage and leaks a full 24/7. It will automatically shut off the water when a leak is detected. It's able to identify leaks as small a one drop per minute and alert you of this situation. It's compatible with Alexa and Google Assistant and a WiFi connection. It's a water damage control device that you can turn water on/off manually using the Moen app. A battery backup unit (B081HYQ43D) can be added for further protection in the event of a power outage while you are away. This item is sold separately. We advise you to check with your insurance agent to determine if this device qualifies for a premium discount on your homeowner's policy after installation.
PROS
Flo By Moen app sends alerts to you in real-time if a leak is detected
Monitor daily water usage
Compatible with Alexa and Google Assistant
Set water consumption goals
The mobile app controls and monitors your water system
Turn water on/off remotely
24/7 leak protection at home or on vacation
CONS
Expensive
Requires a professional to install system
OTHER KEY FACTS
Manufacture: Moen
Color: Black
Weight:28 lbs.
Dimensions:75 x 2.6 x 5.9 inches
Material: Plastic
Required: Standard AC/DC & WiFi Connection
Smart Hub System Required: No
Automatic Water Shutoff: Yes, Manual or App
Model Fits: Pipe Sizes .75 to 1.25 Inches
Batteries: No
Warranty: 1-Year Limited
In The Box:

1 Unit
Shop Best Water Leak Detectors
You can shop for the best water leak detectors by clicking on an image below. You will be taken to Amazon to place the order.
As an Amazon associate, I earn from qualified purchases.
Water Sensors Buying Guide
The buying guide below will help you make the right choice of which water leak detector to buy for your home.
Water Leak Sensors Table of Topics
The Importance of Water Sensors
Water sensors provide a peace of mind for homeowners who worry about water leaking in the house. The sensors detect the presence of water and will alert the homeowner either by phone, text, email or by an alarm. This is valuable because it will save money for not having to repair walls, floors, and other things due to a water leak. This is true when the homeowner is away at work or on vacation.
Water damage is a leading cause of loss in the home. Today, smart technology is helping consumers manage their personal risks. In addition to potentially preventing serious damage, water sensors can also help a homeowner avoid the loss of personal possessions and the hassle of coordinating repairs to your home.
The water sensors can detect a water leak and then notify you with an alert on your smartphone. This allows you to take some action. These water detectors allow you to shut off the water completely using the app that's installed with the system. Saving you thousands in repair bills.
It is an understatement about the importance of water sensors or detectors. In some cases, installing water detectors that shut off the water supply may qualify for discounts off your homeowner's insurance policy. Thus, saving you even more money.
How Do Water Sensors Work?
A water sensor can detect the presence of water, often by measuring the electrical conductivity of the water present and completing a circuit to send a signal. For installations that are not monitored by a professional alarm monitoring company, the sensor and its control module can send out a notification to the homeowner through an app that can be read on a smartphone. If you will be out of town, you can add family members, friends or other caretakers to receive notifications of a leak, so they can quickly prevent further damage.
Some water sensor systems can be programmed to shut off the water to the house to prevent a small leak from becoming a large one. If your home is heated by an older steam heating system, or if it's protected by an automatic fire sprinkler system, check with a qualified professional before installing a sensor activated water shut off device.
Where should water sensors be placed?
This is an excellent question. You should place anywhere there is a possibility of water leaking. Some areas are the basement, kitchen sink, freezer, ice maker, basement windows, water heater, and bathroom just to name a few. Place the sensors where there is a prime risk of water leaks. Don't forget the garage or even the outdoor pool.
In addition to washing machines, failing hot water heaters, leaking dishwashers, damaged supply lines to automatic ice makers and overflowing toilets are some areas where water damage inside the home can occur. Performing regular maintenance and checking for rusty, corroded or damaged water supply lines and other potential problems before you have a leak is one of the best ways to help prevent water damage.
You might want to install water sensors in areas near:
Washing machines
Dishwashers
Refrigerators with ice makers and water dispensers
Hot water heaters
Sinks
Toilets
Furnaces connected to water systems, including hot air system humidifiers
Water sensors and their control modules are available at most home improvement stores. Note that some devices only work once, then need to be replaced, while others are more durable. Also, if you are not comfortable installing them yourself, contact an experienced professional to install them and help ensure that you receive notifications of potential leaks.
Plumbing is among the household maintenance processes which typically requires professional help. Unless you have some plumbing experience, spotting leaks in the pipes and fixing them can prove to be a daunting task. Worse, attempting to fix the plumbing yourself can cause more harm than good, and could cause even greater repair bills..
The good news is that costly repair and maintenance can be avoided as long as you spot leaks in the plumbing early on, thereby allowing you to have repair done right away. But how do you spot leaks in the pipes, especially if you do not know what you are looking for or if the pipes are not immediately accessible? This is where water leak detectors come in.
How Do You Know If Pipes Are Leaking In A Wall?
If you are observant, you can tell if you have a water leak behind a wall. Here are some suggestions to help:
Look for standing puddles of water near a wall. This is the easiest way to tell if a wall has a leaking pipe. Also, if the carpet is wet or notice the floor is always wet in a certain area. You may also see wet floors where there are major appliances like a dishwasher, washing machine, or kitchen and bathroom sink, toilet or shower.
Look for discoloration on a wall. Look if you see on the outer surface of the wall for any discoloration. You may notice sections where the surface of the wall is slightly washed out or has a lighter color than the surrounding area. The shape will be irregular.
Look for a change in texture. Walls with water leaks behind them are likely to develop a bubble-like texture. This causes the paint or wallpaper to twist and buckle that form rips or bubble-like shapes. Drywall that's water-logged will appear to sag downward. You may even see small bubble or drooping sections. If there is an advanced leak, they may appear to curve outward. Eventually, drywall will buckle under the weight if not taken care of.
Note signs of mold or mildew. Leaks in a wall that has been unchecked for some time may develop mold. It may also be growing on the wall. If detected in the early stages, mold looks like a dense cluster of black or brown dots. If you don't see mold on the outside, it is possible it growing in the inside. Mold can cause allergies and lead to other serious health issues. If you see mold, remove it and fix the leak in the wall.
Check for musty smells. If you cannot detect water leaks behind a wall and it is not visible, you may be able to detect it by the sense of smell. Leaky water leaks in a wall never have a chance to dry out and will emit a humid or musty odor. If you should smell a musty odor, this is a potential sign of a leak in the wall.
Check your water bill. If there's a significant amount of water leaking in the walls or somewhere, you should notice an increase in the amount you pay. The EPA suggests that a family of 4 uses no more than 12,000 gallons of water during the cold months. If you are using more than the average, it is a possible clue you have a leak somewhere and it needs to be investigated.
Check if your eaves and downspouts are clogged. If water isn't coming from any inside sources, it is possible your eaves or downspouts are clogged. The excess water or snowmelt with no place to go will eventually seep through your roof and walls that result in leaks. Remove the leaves, pine heedless from the gutters and downspouts to keep them clear. It's important that they are not clogged which can cause water leaks in the roof and walls.
Foundation wall leaks. Water can seep into your house through the foundation walls. When you see water in the basement a crack in the foundation occurred. This happens when water soaks into the wall and begins to drain on the inside of the basement. These leaks are fixed in one of two ways:

By digging a trench around the foundation and sealing the entire underground portion of the foundation with sealant and a protective barrier.
Internally, by removing damaged studs and drywall and patching the crack up with epoxy.
What To Look For When Shopping
You might be surprised by the diverse approaches to what seems like a simple task: detecting the presence of water where it shouldn't be. Some operate on Wi-Fi, others require a hub to communicate. Some plug into an AC outlet, others require a battery. Some come with external sensor cables and mount to the wall, others lay on the floor. Most, but not all, have onboard sirens.
If the recommendations above don't work for you, here are the specs and features you'll want to consider when shopping for a smart home water leak detector.
First, consider your budget. You will need to determine how much you are willing to spend for this protection. Some of these models are inexpensive and affordable and will do the job. Usually these models only warn you of a leak by audible sound. Most of these types operate on batteries. Batteries must be replaced every 1 to 2 years. They don't notify you of a leak when you are away.
The more expensive sensor models will alert you of a leak and send an email or text message to your smartphone or computer. Some are even connected to WiFi and are compatible with Alexa and Google Assistant. The alerts will be sent when you are at home or away. These models offer a greater sense of security.
The last group of water sensors are those that actually shut off the water supply when a leak is detected. An alert will be sent to your email account or text message to your smartphone advising you of a leak and the water was shut off. These models require a professional to install them and are the most expensive. These models offer the homeowner flexibility to manually shut off the water besides the system. They also monitor water usage and the temperature, so if you live in cold climates, an alert notifies you of potential freezing pipes. These models provide you the best protection and security.
Second, consider where you want to place the detectors. This will probably be the most important factor in deciding on which type of sensor model to purchase. Place them in the areas of potential leaking water. Dishwasher, ice maker, water heater, sinks, and bathrooms.
The cheap models come in packs of two or more. Again, they are affordable. Just remember, they operate on batteries and they will need to be replaced. The audible warning will sound when you are at home or away.
Last, which type of water sensor will give you a better peace of mind? If you are away from your home a lot, then the water sensors that send you an alert of a leak should be high on the list. You may even want to consider  models that shut off the water when a leak is detected. This will give you the best security against water damage. Especially if you are away a lot.
Also, if you have a second home, it would be wise to install water leak models that shut off the water supply in both. This will give you the best protection by receiving notifications from both systems.
Bottom line, you must decide on which type is best for your situation and what you can afford.
Advantages of Water Leak Detectors
You may be asking yourself, I haven't installed a water leak detector in the past, why should I install one now? You might want to consider some of the benefits of a water leak detector in your home.
Some of these advantages are:
Easy to install. Installing these detectors does not require any experience. All you do is to place the battery in the sensor and put the device near areas where water damage is likely. The only time you may need professional help is if you decide to integrate in into your smart home. Otherwise, the only maintenance that is required is to change the batteries. Some devices may even warn you when they need to be changed.
Prevent water damage. Water damage is the number one cause of damage to a home. Also, it's the most expensive to repair if not resolved quickly. Leaks tend not to be detected until a substantial amount of water damage has already occurred. Water leak detectors detects leaks early and gives you a warning so you can take corrective action. Like repairing leaking pipes, and fixing faulty fixtures. Thus, saving you lots of money on not having large water repair bills.
Save on your water bill. By finding leaks early, you can save money on your water bill. Leaky pipes, faucets and other related appliances can increase the water consumption without your knowledge. Thereby driving up your water bill. By having water detectors, they will notify you of leaks to help reduce water waste. Thus, saving you money on your water bill.
Lower premiums for home insurance. When you install the smart home water leak detectors some insurance companies may offer a discount, rebate, or a lower premium on your homeowner's policy. You are demonstrating to the insurance company you are doing everything necessary to protect your property. So, you get rewarded for your diligence by receiving a discount on the insurance premium you pay the insurer. Please note: Not all insurance companies offer these discounts. It's best to contact them before you purchase an expensive system to see if they do offer discounts. Whether or not they offer a discount, having a peace of mind you are protected from a water leak is enough.
Receive real-time alerts. Another feature of these modern water leak detectors is you receive alerts. They are sent to your email account, texted to your smartphone or even a phone call. You get notifications of a leak and on some systems the option to have the water shut off. These alerts are sent whether you are home or on vacation. This is the real benefit of these alerts. You may want to consider this feature on the water leak detector system you buy.
The Best Water Detection Kits: Buying Guide
As we mentioned before, most water leak detectors work by using a water sensor. If the sensor gets wet, the device will send an alert and/or set off a water alarm. The majority of leak detectors work in this way. However, not all of them have the same features, characteristics, warranty and return policies, and lifespan. Here are a few things to always keep in mind when buying leak detection kits. Let's look at some of these.
Number of Sensors
How many sensors should I get? Well, you may only can afford just one. Great! You will be better off than those who have none. However, if you can, try for two sensors or more. One for the main supply line and the other for the water heater or some areas of concern. Try to shoot for one for every room where a leak could occur. This may include bathrooms, kitchen, basement, water heater, and ice machines etc. The more sensors means more security. This alone would give you a piece of mind. If the budget is a factor, get one detector for the main supply line or bathroom/kitchen as these places have a history of leaks.
Compactness/Portability
Look for detectors that are easy to move around and small enough to carry. Smaller sizes are less costly and are easier to install. Look for models that are 5 pounds or less.
Durability
Not even the best water leak system lasts forever. On the cheap models they may last from 1 to 5 years. Some models are a one-time use. It depends on the technology used in their manufacturing. Try to find detectors that are made of plastic as they will not rust as metal ones are prone to do.
Auto Shut-Off System
These systems really come in handy. They might even save you in not having to repair water damage which can be costly. The auto shut-off system works when it detects a leak by shutting off the entire water supply coming into the house. Some of these systems allow manually operation to turn off the water supply. Some of these have features where you can add a water usage limit and shut off the water supply if too much water is being used. Also, they may be eligible for a discount or a reduced premium on your homeowner's policy.
The Software
Another part of these leak sensor detection kits is the software being used. Older models only warned you with an audible sound, while newer models sends out an alert to your personalized app. Each brand uses a different software and will vary from brand to brand. Some offer features like temperature, water pressure, water usage and valve regulation. Others allow you to shut off the water supply with a tap of your finger. Some of these features may require you to sign up for a monthly subscription. If you are short on cash, this option can be omitted. The more features you can afford the better. Your safety is at issue here.
What Can You Afford
For most of us, affording an expensive water leak detector is out of our range. However, not all system are very expensive. You can find many good ones under $200. Of course, the cheapest ones are under $20. The systems that allow for shutting off your water supply can be between $300 to $500 dollars. Most of these systems require a professional to install them at an additional cost on top of the original investment of the detector. The bottom line here is to buy only that which you can afford. As more money becomes available, you can always upgrade later. Start small and gradually work up.
Other Features
There are some other features you can look for as you expand your detection safety.
Temperature regulation
Water pressure monitoring
Water usage and waste monitors
Temperature customization
Each of these features do come with a price tag. Look for only the features you can afford.
Is A Leak Detection System Necessary?
The answer is yes, if you are concerned about leaking water whenever you go on vacation or to work. Remember, a tiny leak can lead to larger ones. The larger ones lead to more costly repair bills to fix the leak. Knowing you are protected provides you a peace of mind. If a leak should happen, you will be notified on your smartphone or computer with an email alert or text message. On some systems, an alert will be sent notifying you the water was shutoff. The cheaper models will set off an alarm. Which is only helpful if you are at home to hear it. A leak detection system should be high on your list of appliances to purchase especially if you travel a lot or have a second home. Protecting both homes from potential water damage is a must.
Conclusion
We can agree that water leak detectors may not be at the top of our lists of appliances we need to buy. But, we have shared with you some valuable information on how important they can be. They serve as a warning when a leak has sprung to prevent water damage in your home. The detectors are not hard to install. Just place them where you want to monitor a potential water leak.
Here is some important information for the skeptics out there. Consider, water damage is 5 times more likely to bankrupt you over robbery and fire damage. Almost 40% of all homeowners suffer from excessive water loss, which makes water bills go up. Statistics have shown your home is more likely to experience damage from water then from fire or burglary.
Home ownership comes with responsibilities and one of them is to protect your homes from water damage. Today, the most common cause of property damage is water. You never know when a pipe may burst, water heater fails, or a clogged toilet are leaking water. By installing a water detection system may also bring you a reduction on your homeowner's insurance policy premium which is an added benefit.
Remember, if you experience a water leak and don't have a water leak system or alarm to warn you, you'll be sorry later as you have to deal with the repairs of the water damage made to your home. Protect your home from all this with a water leak detector.
Be proactive, and buy any of these now. You will be glad you did.
Go back to the Pros Cons Shopping home page.