Best Star Wars Popcorn Maker
Star Wars Fans Will Love This Popper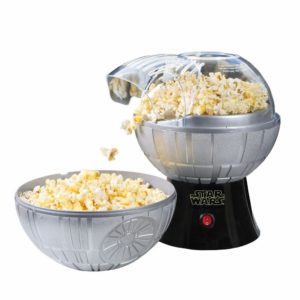 Who does not like freshly made popcorn? I can't think of anyone unless you are allergic to the corn itself. You might want to try using the best star wars popcorn maker on the planet. Well, it's an actual replica of the Star Wars Death Star. This should get some of the family members excited every time popcorn is on the menu.
What makes it the best? Well, for starters:
It makes freshly made popcorn in about 3 minutes from the time you turn it on.
It pops just as fast as a microwave.
It uses no oil which is good for those that like popcorn but not any of the oil that is used to pop it the old fashioned way because it has less calories and fat.
It makes about 8 cups of popped popcorn per batch.
It has a plastic measuring cup holder that melts butter at the same time the unit is popping the kernels.
The Death Star lid doubles as a bowl for the popping kernels.
Another important point to remember; as the popcorn corn is coming out of the popper they will not be salted. You will have to salt it to taste.
This particular popcorn maker is shaped in the form of the Star Wars Death Star. So, this item should make for a great conversation starter for anyone who comes over for a visit.
The top of the Death Star lid also doubles as a bowl to capture the popping kernels. It has a measuring cup that is placed at the top of the unit to melt a couple pats of butter while the popcorn is being popped. Of course, you can melt butter separately for larger groups or friends that are over watching a favorite movie, party or TV program.
Air popped popcorn is the healthiest way to enjoy eating popcorn as it does not use any oil. This unit is an officially licensed Star Wars merchandise. This product is made by Pangea Brands.
Warning: Do not use the popper for more than five minutes as the plastic may be subject to warping.
Just beware as the popcorn pops you will notice some unpopped kernels dropping into the bowl and unpopped kernels at the bottom of the kernel heating element when it reaches the end of the popping cycle. Just remove the lid to dump any unpopped kernels into the garbage. Remember, when you turn off the popper, some of the elements will be hot and can burn. Be sure to wear gloves when emptying the popping cylinder of unpopped popcorn kernels.
You can also use the Death Star top lid to double as a serving bowl when serving to guests, friends and family members.
You can use your favorite popping kernels in the popcorn maker. Do not use microwave popcorn in the popper as they will not pop very well. A popcorn tip, yellow corn pops up "bigger" than white, but white popcorn is softer as its hull is thinner and opens more fully. Remember, you will have some unpopped kernels during the popping cycle whether you use yellow or white popcorn kernels.
The unit is easy to clean by hand and do not use the dishwasher. Do not insert the popping unit into water as it will damage the popper.
Now, you can make the family movie nights a lot more fun using this popcorn popper. This popper also makes for a great gift for Star Wars lovers on your gift list.
Death Star Popcorn Maker Video
Below is a short video showing the complete popping cycle from start to finish using this popcorn popper. Take a look!
Product Description
In the Star Wars movies, the Death Star has enough power to destroy an entire planet. The Death Star popcorn maker is a perfect choice for any Star Wars fan. It's a great way to use the themed air popper and enjoy fresh popcorn while watching your favorite Star Wars film, movie, or TV program. The popcorn maker is easy to clean and is just as fast as a microwave.  Just follow the easy instructions to make a delicious snack any time! Another benefit to skipping microwave popcorn: are the endless possibilities of creating your own unique flavors. For example, blend your favorite spicy mix or add some caramel with nuts. Or, like most people, butter and salt. Using various blends and flavors are up to your creativity. Lastly, you'll be able to demonstrate your true fandom of Star Wars.
Product Specifications
Manufacture: Pangea Brands
ASIN: B01I3EH6FQ
Model: POP-SRW-DST
Weight: 2.2 lbs.
Dimensions: 9 x 11.4 x 9 inches
Color: Grey with Metallic Finish
Material Type: Plastic
Plastic BPA Free: No
Dishwasher Safe: No, Hand Wash
Popper Type: Hot Air
Wattage: 1100 Watts
Voltage: 120V, 60 Hz
Kernel Capacity: ½ Cup of Un-Popped Kernels
Fresh Popcorn Popped Capacity: 8 cups
Popping Time: 3 Minutes
Steam Vents: Yes
Returnable: Yes, within 90 Days
Warranty: 1-Year
In The Box: Popcorn Popper, Plastic Measuring Cup, Plastic Cover, Plastic Shoot, Lid Serves as A Bowl, & Instructions
Product Pricing
The price of this popcorn popper is provided so consumers can compare them with other similar products. The price of this product is subject to change without notice and may not be the actual price you pay at the time of purchase.
Price: $29.99
Product Rating 
Rating: [usr 3.8]
This product was by over 140 customers that gave this rating.
Customer Reviews
You can read all of the customer reviews concerning this product by clicking on the following link: Customer Reviews!
What Questions Customers Are Asking
Below are a few of the questions some customers are asking about this product.
Question: How much popcorn can you make at one time?
Answer: Pour in 1/2 cup of kernels which yields up to 8 cups of popped popcorn.
Question: Can the plastic melt?
Answer: Do not operate the machine for more than 5 minutes. Otherwise, damage to the machine may occur.
Question: Where is the popcorn machine made?
Answer: In China.
Question: How long does it take to make popcorn from start to finish?
Answer: Between 3 to 4 minutes.
Question: Is the machine dishwasher safe?
Answer: Not the electronics and the base. The top bowl and measuring cup are.
This product has 140 answered questions. You can read all of them by clicking on the following link: Answered Questions!
PROS
Makes up to eight cups of popcorn per batch.
Pops the kernels in three minutes.
Measuring cup holder melts butter while kernels are popping.
Hot air popping makes it the healthiest way to enjoy eating popcorn.
Unique conversation piece.
CONS
Price.
Not all kernels will pop as some will remain un-popped.
Do not operate the popper for more than 5 minutes as warping may occur.
Shop Star Wars Death Star Popcorn Popper
You can shop for the Death Star Popcorn Maker by clicking on the "Buy Now" button below. You will be taken to Amazon where you can place the order.
As an Amazon associate, I earn from qualified purchases.
Did not find what you were looking for? Enter a search term in the Amazon Box below to search on Amazon for other products.
Go back to the Pros Cons Shopping home page.