Now Enjoy Eating Movie Theater Popcorn At Home!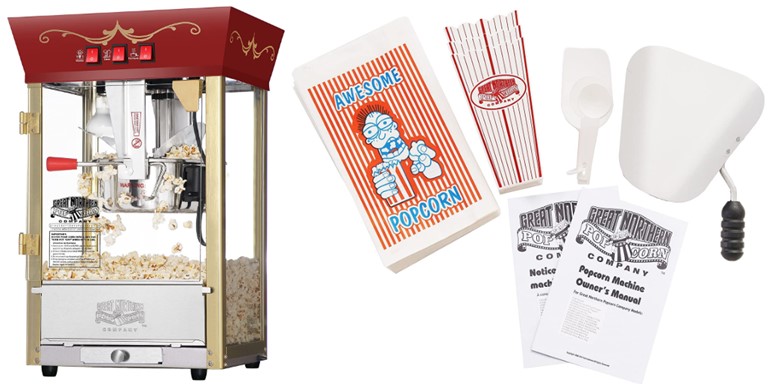 Just Think! 
✓ Make Theater Popcorn In Your Home
✓ Great Tasting Popcorn At Anytime
✓ Use Theater Popcorn Ingredients
✓ Great For Parties & Family Game Nights
–
Everyone in my family just loves popcorn. I am sure it's the same in your family as well. When my family members come home from the movies, they always say to me how come our popcorn doesn't taste like it does at the movie theater. This is where the best rated popcorn popper will help you make popcorn at home just they do at the movies.
Here are interesting facts about popcorn. Popcorn in the early 1800s, Americans consumed popcorn as a breakfast cereal. It was eaten with milk and a sweetener. Also, the average American consumes about 72 quarts of popcorn a year. We also consume 17.3 billion quarts of popcorn per year. One final fact, January 19th is National Popcorn Day. Now, you can celebrate that day with the best tasting popcorn at home just like it is at the movies.
To make popcorn just like it is at the movie houses, knowing the kernels, oil and seasonings they use would be helpful. This article reveals the secret ingredient movie theaters use, kernels, and oil when popping their popcorn and selling it movie goers like us.
Table of Topics
Video – How To Make Movie Style Popcorn At Home
Below is a short video on how to make movie theater popcorn at home. The ingredients are revealed so you too can make great tasting popcorn just like you were at the movies.
Top Rated Popcorn Poppers
Below are some of the best rated popcorn poppers that can help you to achieve the theater popcorn taste.
FIRST PLACE WINNER
#1. Cook N Home 6 Quart Stovetop Popper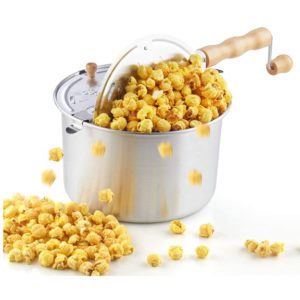 Model: 02626 ASIN: B07PNLP3J9 Ratings: 441 Score: 4.6
Awards: Amazon's Choice
This popcorn popper has a 6-quart capacity and a nice manual turning handle so the kernels won't get burned. Works on all types of stoves accept for induction. It's made of aluminum for even heat distribution during popping.
PROS
6 quart capacity
Turning handle so popcorn doesn't burn or stick
Steam vents on lid keeps popcorn crisp not chewy
Even heat distribution
Popper made out of aluminum
CONS
Does not work on induction stoves
OTHER KEY FACTS
Manufacture: Cook N Home
Color: Silver
Weight: 1.75 lbs.
Dimensions: 16.75 x 9.25 x 7.5 inches
Size: 6 Quarts
Material: Aluminum
Lid: Steam Vented
Gears:

Durable all metal
SECOND PLACE WINNER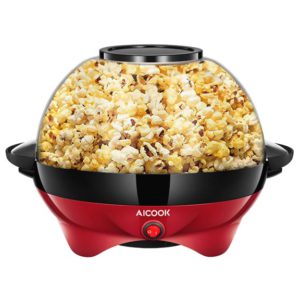 #2. AICOOK RH-906 Popcorn Popper
Model: RH-906 ASIN: B083LFLM7W Ratings: 93 Score: 4.5
This electric popper has a 6 quart capacity with 800 watts of power. Has its own serving bowl, vented lid to let moisture escape, and its dishwasher safe for cleaning.
PROS
6 quart capacity or 24 cups of popped popcorn
Motorized stirring rod
Vented lid
Easy to clean and it's dishwasher safe
Lid acts as a serving bowl
CONS
OTHER KEY FACTS
Manufacture: AICOOK
Color: Red/Black
Weight: 3.85 lbs.
Dimensions: 13.98 x 11.81 x 9.84 inches
Lid: Transparent
Heating Surface: Teflon
Watts: 800
Voltage: 110V – 120V
Frequency: 60 Hz
Warranty:

2-Years Limited
THIRD PLACE WINNER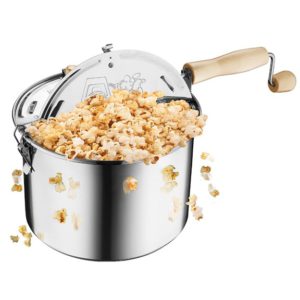 #3. Great Northern Stovetop Popcorn Popper
Model: 6251 SS ASIN: B00608D66G Ratings: 2,775 Score: 4.4
This popper has a 5 quart capacity. It has wood handles and knobs that won't get hot. Spinner mechanism prevents burning and kernels from sticking. Lid is vented for moisture to escape curing popping to keep popcorn crisp.
PROS
Easy pour lid
Vented lid
Wood safety handles
Easy to clean
5 quart capacity
CONS
Made in China
Does not work on induction stoves
OTHER KEY FACTS
Manufacture: Great Norther Popcorn
Color: Silver
Weight: 2 lbs.
Dimensions: 17 x 10 x 8 inches
Vented Lid: Yes
Size: 5 Quarts
Material: Stainless Steel
Warranty:

1-Year Limited
HONORABLE MENTION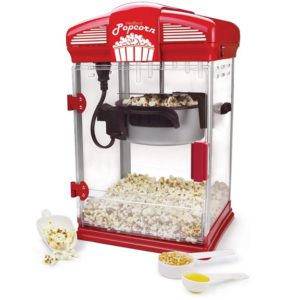 #4. West Bend 82515 Theater Style Popper
Model: 82515 ASIN: B01HRGJE88 Ratings: 713 Score: 4.5
This theater looking style popcorn machine has 480 watts of power and cooks 5-6 servings in minutes. Non-stick coated kettle and removable lid makes it easy for cleaning.
PROS
4 quart capacity or 16 cups
Non-stick surface on kettle
Kettle removable for easy cleaning
Tilt door for easy serving
CONS
Price
Made in China
Some assembly required
OTHER KEY FACTS
Manufacture: West Bend
Color: Red
Weight: 7.5 lbs.
Dimensions:27 x 10.87 x 17.72 Inches
Kettle Size: 4 Oz.
Capacity: 4 Quarts or 16 Cups
Material Type: Plastic
Batch Time: 5 Minutes
Includes: Measuring Cup, Spoon, Popcorn Scope
Kettle Type: Non-Stick Surface
Watts: 480
Volts: 120
Warranty:

1-Year Limited
#5. Great Northern 83-DT5628 Popcorn Machine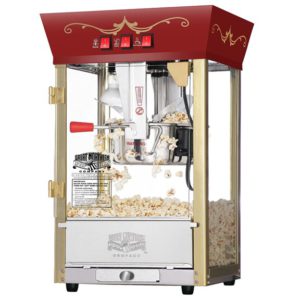 Model: 83-DT5628 ASIN: B002Z9GDYG Ratings: 1,996 Score: 4.4
Awards: Amazon's Choice
This theatre antique looking popper provides all you need to make great tasting movie popcorn. It has 860 watts of power makes between 2 to 3 gallons of popcorn per batch. It has tempered glass and a built-in warmer light along with a reject kernel tray.
PROS
Makes large amounts of popcorn per batch
Reject kernel tray
Built-in warmer light
Great for churches, large parties and schools
Easy to clean with water
Antique style machine
CONS
Price
Heavy and is not easy to move around
Some assembly is required
OTHER KEY FACTS
Manufacture: Great Northern Popcorn
Color: Red
Weight: 31 lbs.
Dimensions: 13.6 x 14.4 x 22.8 inches
Watts: 860
Volts: 110
Control Switches: 3 (Lightwarmer, Stirrer, Pot Heater)
Reject Kernel Tray: Yes
Batch Time: 10 Minutes
Kettle Size: 8 Ounces
Warranty: 5-Years
In The Box: Machine, 3 Plastic Serving Cups, 50 Popcorn Bags, Measuring Cups, Popcorn Scope
#6. Franklin's Whirley Pop Popper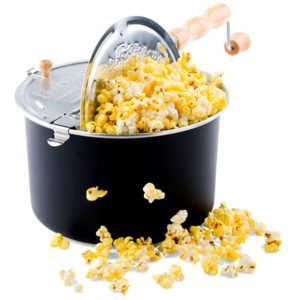 Model: FBA_COMINHKPR107344 ASIN: B01DOF8Y78 Ratings: 603 Score: 4.3
This popper has a 6 quart capacity and a metal stirring design to prevent kernels from burning and sticking. Wooden handles to prevent burning hands. The popper will give you the movie theater taste. Easy to clean up as well.
PROS
Wooden handles
6 quart capacity
Stirring design prevents kernels from sticking and burning
Simple clean-up
Works on all types of stoves including induction
CONS
Price
Made in China and assembled in the USA
OTHER KEY FACTS
Manufacture: Franklin's Gourmet Popcorn
Color: Silver
Weight: 2.64 lbs.
Dimensions: 11.6 x 7.7 x 16.6 inches
Capacity: 6 Quarts
Gears: Made of metal
Warranty: Lifetime
#7. West Bend Stir Crazy Electric Popper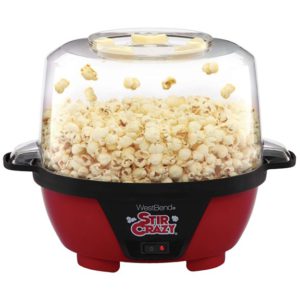 Model: 82505 ASIN: B00KL8SM92 Ratings: 4,876 Score: 4.3
This model has a vented cover to prevent soggy popcorn and has a 6 quart capacity. The lid also serves as a serving bowl. Motorized stirring rod helps prevent kernels from burning. It has 850 watts and is easy to clean.
PROS
Motorized stirring rod prevents burning
6 quart capacity
Batch time 4-5 minutes
Non-stick coating for easy cleanup
Lid becomes a serving bowl
CONS
OTHER KEY FACTS
Manufacture: The Legacy Companies USA
Color: Red
Weight: 3.35 lbs.
Dimensions: 11.5 x 11.7 x 7.5 inches
Voltage: 120
Type: Electric
Watts: 850
Uses Oil: Yes
Lid Capacity: 6 Quarts or 24 Cups
Batch Popping Time: 4-5 Minutes
Heating Surface: Non-Stick
Warranty: 1-Year Limited
 #8. Great Northern Little Bambino Tabletop Popper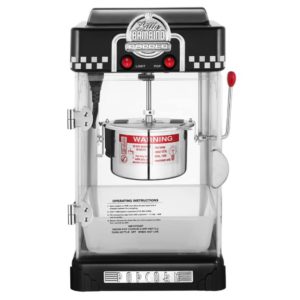 Model: 6072 GNP ASIN: B0057XO99I Ratings: 883 Score: 4.3
Awards: Amazon's Choice
This tabletop electric popper has 330 watts of power to pop up to 8 to 10 cups in one batch. Great for small families. Has a removable catching tray that doubles for serving.
PROS
Removable serving tray
Two control switches
Kettle handle for dumping kernels is on outside of unit
Warming light
CONS
Price
Some assembly is required
OTHER KEY FACTS
Manufacture: Great Northern Popcorn
Color: Black
Weight: 12.57 lbs.
Dimensions: 9.75 x 11 x 18.75 inches
Kettle Size:5 Ounces
Warming Light: 10 Watts, Included
Included: 2 Popping Kettle Hangers, Popcorn Tray, Measuring Spoon, Measuring Cup
Warranty: 1-Year Limited
#9. Great Northern Antique Lincoln Popper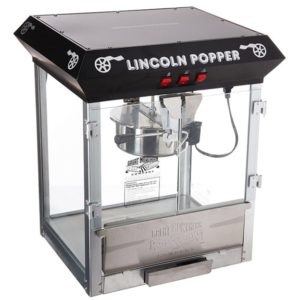 Model: 6015 ASIN: B000QWCAB4 Ratings: 608 Score: 4.3
This antique electric popper pops up to 3 gallons of popcorn in one batch. It comes with an 8 ounce stainless steel kettle, reject kernel tray, and has a built-in warmer light. It uses 860 watts of power.
PROS
Made with heavy-duty powder coated steel
One batch makes 3 gallons
Reject kernel tray
3 switches
Unique antique style design
Great for large gatherings at church, school or office
CONS
Price
Made in China
Some assembly is required
OTHER KEY FACTS
Manufacture: Great Northern Popcorn
Color: Black
Weight: 42.7  lbs.
Dimensions: 18 x 21 x 25 Inches
Kettle Size: 8 Ounces
3 Switches: Warmer, Stirrer, Pot Heater
Watts: 860 (Commercial Quality)
Volts: 110
Material: Stainless Steel Construction
Warranty: 5-Years Limited
Included: Kernel & Oil Scoop, 3 Plastic Service Cups, 50 Paper Popcorn Bags, & Popcorn Scoop
#10. Cuisinart Electric Classic Style Popper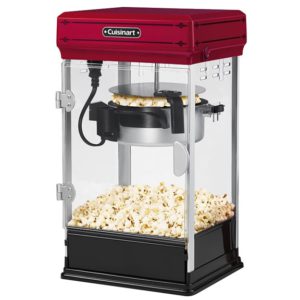 Model: CPM-28 ASIN: B01JCECNN6 Ratings: 146 Score: 4.3
This classic style popcorn popper will amaze your friends. Door and non-stick kettle are removable for easy cleaning. Makes up to 10 cups of popcorn per batch. Has 500 watts of power.
PROS
Motorized spinner ensures even cooking
Door and non-stick kettle are removable for easy cleaning
Makes up to 10 cups of popcorn or 2 quarts
Ideal for small families
CONS
Price
Some assembly is required
Flimsy plastic around the base
OTHER KEY FACTS
Manufacture: Cuisinart
Color: Red/Black
Weight: 9.63 lbs.
Dimensions: 11.75 x 11.75 x 21.88 Inches
Watts: 500
Batch Capacity: 10 Cups
Includes: Popcorn Scope, Kernel Measuring Cup, Oil Measuring Spoon
Warranty: 3-Years Limited
#11. Time For Treats Poppy Electric Popper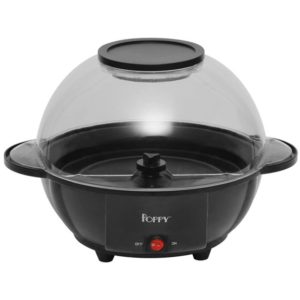 Model: VKP1163 ASIN: B01H326A4W Ratings: 35 Score: 4.2
This popper has a 6 quart capacity and 850 watts of power. The lid also can be used as a serving bowl. Stirring rod can be removed for easy cleaning and keeps kernels from burning. Produces popcorn in about 5 minutes.
PROS
Ventilated lid allows moisture to escape during cooking
Lid doubles as a serving bowl
5 minutes for a 6 quart batch of popcorn
Motorized stirring rod ensures every kernel get heated evenly with no burning
Easy cleaning both lid and base
CONS
Price
Some has issues with motorized stirring rod
OTHER KEY FACTS
Manufacture: VKP Brands
Color: Black
Weight: 3.8 lbs.
Dimensions: 11.25 x 14 x 10 Inches
Cord Length: 36 Inches
Cooking Base: Has A Non-Stick Coating
Material: Plastic
Watts: 850
Warranty: 1-Year Limited
#12. Presto 5204 Stirring Electric Popcorn Popper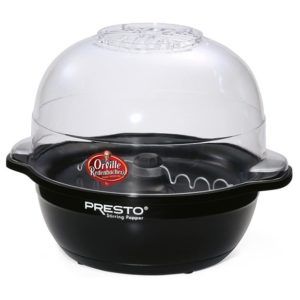 Model: 5204 ASIN: B017EW4958 Ratings: 466 Score: 4.1
Awards: Amazon's Choice
This 6 quart electric popper has 900 watts of power. The non-stick surface makes for easy cleaning. The motorized stirrer keeps the kernels from burning and sticking. Lid doubles as a serving bowl.
PROS
6 quart capacity
Motorized stirrer for evenly heated kernels
Nonstick popping surface for easy cleaning
Lid cover also doubles as a serving bowl
CONS
OTHER KEY FACTS
Manufacture: Presto
Color: Black
Weight: 5.4 lbs.
Dimensions: 13 x 8 x 13 inches
Watts: 900
Volts: 120 AC
Capacity: 6 Quarts or 24 Cubs
Material: Plastic
Hardware Material: Stainless Steel
Warranty:

1-Year Limited
Shop Best Rated Popcorn Poppers
You can shop for the best rated popcorn poppers. Click on any image of interest and you will be taken to Amazon to place the order.
As an Amazon associate, I earn from qualified purchases.
1. Cook N Home
2. AICOOK
3. Great Northern
4. West Bend
5. Great Northern
6. Franklin's
7. West Bend
8. Great Northern
9. Great Northern
10. Cuisinart
11. Time For Treats
12. Presto
Shop Home Theater Popcorn Supplies
In this section you will find popcorn supplies for making popcorn at home. Included are popcorn kernels, coconut oil, seasonings, scoops and paper bags. Now you can make your home popcorn taste just like you get at the movies.
Franklin's Popcorn
Orville's Popcorn
Amish Popcorn
Great Northern
Franklin's Oil
Dutchmans Oil
Snapy White Oil
Snappy Oil
Paragon Oil
Nutiva Oil
At-The-Movies
Popcorn Kit
Flavacol
Flavacol 3-Pack
Flavacol Combo
Butter Topping
200 Bags & Scoop
Salt Shaker
500 Bags
Kernel Seasons Variety Pack 7 Flavors
Kernel Seasons
Buying Guide For Popcorn Poppers
You will find some interesting topics all about popcorn and popcorn poppers. How to make home popcorn taste just like you get at the movies. You will also find out some very interesting facts about the oil used in making theater popcorn and the seasonings they use to hook us on eating popcorn.
Buying Guide Table of Topics
Below you will find topics of interest. Just click on topic of interest. You will be taken directly to that section. Or, you can scroll down to read them all.
Introduction
Popcorn is a healthy snack and everyone who has gone to the movies likes to emulate the movie theater popcorn taste. In order to duplicate the movie theater popcorn experience you need to know the kernels, oil, and seasonings they use. Knowing this information you will be able to bring the movie theater popcorn into your home every time you have family movie night, game night or any other celebration.
Popcorn Kernels Theaters Use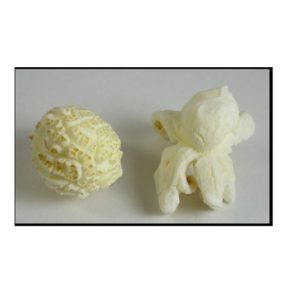 There are two types of popcorn kernels on the market you can buy and they are yellow or white. White popcorn has a subtle flavor and is lighter in texture when it's popped. Yellow popcorn on the other hand is denser and has a nuttier, sweeter flavor. Movie theaters use yellow kernels.
Another difference is the variety of the popped corn and they are butterfly or mushroom kernels. Movie theaters use the butterfly because it pops bigger and looks better in the popping machine. It also pops sturdier and it stands up better to added flavorings like butter and salt.
The mushroom popcorn looks like a mini baseball which is large and round. This type of popcorn can withstand coatings like chocolate and syrup drizzles and the like. The mushroom type of popcorn produces a chewier type of popcorn.
Whether you use yellow or white depends upon your taste. Here is an interesting fact; 99% of all popcorn produced in the United States is the yellow variety.
Depending on what you are going to do with the popped corn will determine which variety you are going to use. If you are adding butter and salt, the butterfly variety works best. If you are adding caramel, chocolate and other flavors, then the mushroom variety works best.
In conclusion, theaters use yellow kernels and the butterfly variety.
Movie Theater Oil
The type of oil you use in making popcorn like the movie theater is important. Theaters use refined coconut oil. Some may use canola oil or a combination of both for a unique taste.  However, coconut oil is the number one choice today. The refined coconut oil has beta carotene in it and it's the type of oil most movie theaters use. The difference between refined and unrefined coconut oil is the refined coconut oil removes the coconut flavor from the oil during processing. Unrefined coconut oil retains the coconut flavor which some people like.
You can purchase coconut oil without beta carotene in it. It all depends on which flavor you like.
When popping corn, always melt the oil first than put in the seasonings and then add the kernels. Another way to test that the oil is ready is to place a couple of test kernels in the kettle or pot. When they pop, add the rest of the kernels.
Movie theaters use refined coconut oil with beta carotene in it when popping their popcorn. However, if you like a coconut flavor on your popcorn, use unrefined coconut oil.
Movie Theater Popcorn Makers (Machines)
Generally, when you walk into a movie theater you always see popcorn popping. Thus, creating a great smell which is difficult to pass up in not buying some. The theater popcorn makers are commercial grade units and are very expensive. However, you can get similar models for home use and do not have to break the budget doing it.
As you consider which type of popcorn machine to purchase, be sure to look for one that has a motorized stirrer. This ensures that all kernels get oil and a majority of them will get popped. Also, look for a machine that has an old maid tray to eliminate many of them as possible while popping. This way you will not be serving any to your guests or family members. Old maids can chip teeth. So, it's important that your unit has this feature.
Any popcorn maker that has a motorized stirrer is a must. Or, there are some stove models in which you stir the kernels as they are popping. Another feature is to ensure there are vents to allow the steam to escape during the popping cycle. This is the main cause why popcorn being tough to chew. Failure to allow the steam to escape. Home machines may not have this feature.
The only other method left for you to try to simulate theater popcorn is to move the pot while it's popping to get most of the kernels to pop. Be sure to leave a little room at the top to allow the steam to vent.
These units are a lot cheaper and will provide that theater tasting popcorn when used with the proper oil and seasonings.
The Secret Ingredient Is Flavacol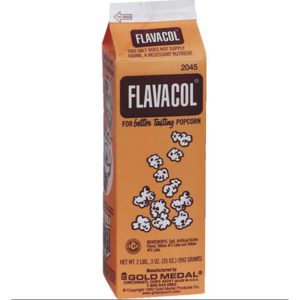 The biggest secret ingredient of theater popcorn are the seasonings they use. The main one they use is Flavacol. This is a special salt seasoning with a buttery flavor that is added before the kernels. The oil is melted first. Then add Flavacol. Allow the mixture to stir a couple of seconds. Then add the kernels. This gives the finished popcorn that yellowish look and great taste.
When using Flavacol for home use, remember a small amount will go a long way. Use about a ½ a teaspoon and add it into the oil. Then add the kernels. A carton of Flavacol will last a long time as it comes in 35 ounce containers. You may have to experiment to determine exactly how much Flavacol to add. It probably depends on the amount of popcorn being popped per batch.
So, if you want that theater popcorn taste at home, you must use Flavacol.
Flavacol measurements table per ounces of kernels:
4 oz. of kernels: 1/2 teaspoon of Flavacol
6 to 8 oz.: 1 teaspoon of Flavacol
12 to 14 oz.: 2 teaspoons of Flavacol
16 ounces: 2 1/2 teaspoons of Flavacol
20 ounces: 1 tablespoon of Flavacol
32 to 36 ounces: 2 tablespoons of Flavacol
48 to 52 ounces: 3 tablespoons of Flavacol
60 ounces: 3 1/2 tablespoons of Flavacol
These are the recommended amounts of Flavacol to add into a batch of popcorn based on the ounces of kernels used. You may need to experiment here by using a little less or adding a little more. It will all depend upon your taste of the finished product.
For hot air popcorn uses out there, you can add Flavacol to the finished product before serving it to others. When adding Flavacol, be sure to mix it well before serving so most of the popcorn will get some of the seasoning. I would start with 1/4 of a teaspoon.
Other Machine Popper Features
Some nice features to look for on a popcorn maker will be mentioned below.
Warmer
Pot Heater
Stirrer
If you can find a unit that has a warmer, stirrer, and pot heater, this is ideal. It means there are separate switches to control the heat, stir the popcorn and keep the popped popcorn warm.
Some units may only come with the power switch which controls the pot heat. These units will also work. As you increase the features expect to pay a little more for them.
Another feature for home theater popcorn is a vented top. Popcorn as it is being popped is actually letting off steam. Failure to allow this steam to escape, makes the popcorn that is already popped get soggy and tuff or chewy. So, be sure to find models that allow the moisture to escape as the popcorn is popping in the machine.
How Do You Store Popcorn Kernels?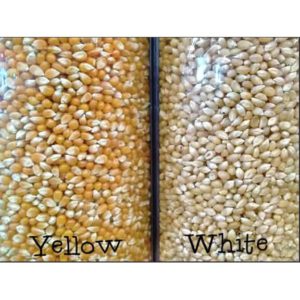 This is important if you want your kernels fresh. Your goal is to prevent the kernels to avoid moisture loss. Popcorn requires between 13% to 15% moisture to pop. Avoiding moisture loss is a key for popcorn to pop. This is why some may have experienced kernels not popping when normally they would. This is a sign of stale popcorn kernels.
The best place to store un-popped kernels is in a cool place like a cupboard. Avoid storing the kernels in the refrigerator. Doing this could dry out the kernels quicker.
The best container to store kernels is an airtight plastic or glass container. It will allow the popcorn to stay fresh for up to two years. Don't forget to store it at room temperature.
You may be asking can you vacuum seal popcorn kernels. Yes you can. It's a great way to store sizable portions of kernels in bags and use them only as needed. Another plus it keeps them air-tight
Can I Freeze Popcorn Kernels?
In a short answer, no. It is not best to freeze them. Freezing the popcorn kernels may affect the popping ability of the kernels. However, it is not unsafe to actually store them in the freezer. But, beware that the kernels may not pop like they used to in prior batches. You'll find yourself throwing away lots of un-popped kernels. Save yourself this aggravation. Store them at room temperature in a plastic or glass jar.
Movie Theater Popcorn Recipe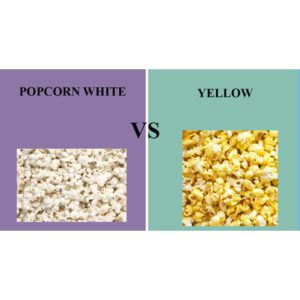 There is a proper way for you to duplicate the movie theater experience at home on movie night or any other night. You will need to follow the instructions for preparing a batch of popcorn that came with the machine.
Here are some of the basic instructions for making a batch of theater popcorn:
½ cup of gourmet yellow corn kernels (Note: Your machine may call for more or less kernels. Follow your machine's user manual for the correct amount.)
1 Tablespoon of un-refined coconut oil with beta carotene. (Any brand is ok)
½ Teaspoon of Flavacol seasoning
*3 Tablespoons of melted butter or butter topping
*This step may be omitted
Begin by pre-heating your popcorn machine.
Add the oil and let it melt.
Add the Flavacol seasoning.
Add the kernels and cover.
After a few minutes you will hear popping. When the popping slows to 2 to 3 seconds between pops, the cooking is done. Turn off the unit.
Empty contents into a bowl.
Add the butter to taste.
For another batch, start with step 2.
Follow the owner's manual to clean the machine after it cools.
Does Flavacol Contain Diacetyl
Some of you may have heard about the ingredient diacetyl. This ingredient was primarily used as a butter flavor in microwave popcorn. This ingredient was found to be unhealthy when breathed into the lings. Causing some health issues. Flavacol does not contain diacetyl. So, you can use it without any worry about its affect to your health.
Diacetyl symptoms may include a dry cough, shortness of breath when using extra energy, and wheezing. Diacetyl vapors can sting or burn the eyes. Diacetyl can also irritate the skin. If you should experience any of these symptoms, stop using the product immediately.
The largest makers of microwave popcorn have stopped using this ingredient. These brands are ConAgra, General Mills, American Pop Corn Company and Pop Weaver. Also, Act II, Orville Redenbacher, Pop Secret, Pop Weaver, and Jolly Time. You can buy these products without any worry to your health.
However, beware of other products that have a buttery flavor added to them. They may just contain diacetyl.
Why Is Homemade Popcorn So Tough?
What most people don't realize is popcorn as it is popping actually releases a burst of steam. This steam can get trapped in a popcorn popper with the freshly-popped corn and will make them tough and chewy. So, the answer to this question is whenever you are popping popcorn, don't cover it while it popping. You need to allow for the steam to escape.
When popping popcorn using a stove be sure that the cover or lid has a little space to allow the steam to escape. This will make the popped kernels to taste better and not tough or chewy.
Some popcorn poppers come with air holes in the top of the lid to allow for the steam to escape.
The bottom line is to ensure your popcorn is not tough and chewy, allow for the air to escape as it's popping. When looking for popcorn poppers look for this feature.
Is Coconut Oil Healthy For You
You may remember in the late 1980's coconut oil was declared bad for your health. Many movie theaters had to use a different oil in making popcorn. Many stated coconut oil was bad for your heart because it was a saturated fat and we had to consume less of this fat in our diets.
We can now update you on the news of coconut oil.
Why It's Healthy
Let's look at some of the goodness coconut oil provides for our health.
Fat Is Not All Bad – We know there are good and bad fats we eat. Good fat has lot of healthy potential. It is a source of energy that helps absorb vitamins and minerals. Fat is essential for building cell membranes, improving muscle movement, fighting inflammation and clotting the blood.
Coconut Oil Is A Saturated Fat – This oil makes popcorn taste delicious and it's healthy.
Coconut Oil Benefits – It's high in medium chain triglycerides (MCTs), is used as a quick source of energy. 2. It has been shown to increase the amount of calories you burn in 24 hours by as much as 5%. 3. Fatty acids in coconut oil are able to kill harmful pathogens in the body like bacteria, fungi and viruses. 4. Coconut oil can help raise your good HDL cholesterol. 5. More and more scientists and chefs and wellness nuts are agreeing: the fats we've been told to eat for the past 50 years – the poly-unsaturated, so-called "vegetable" ones – are, in fact, the worst stuff we can put in our bodies. And the fats we've been told to never touch – the saturated ones – are actually the healthiest, safest and, in fact, are the least "fattening".
Popcorn Is Healthy
Popcorn is healthy provided it is limited to few seasonings. Plain popcorn is the healthiest. Below are some reasons why popcorn is healthy and good for you.
A Whole Grain
Everyone knows that whole grains are good for you. Let's educate you here. The whole grain includes three parts: the germ, the bran and the endosperm. The germ contains the healthy oils, vitamin E, protein, many B vitamins and minerals. The fiber is found in the bran and B vitamins, minerals, protein and antioxidants. The endosperm is primarily composed of starch that has some protein and fiber.
Popcorn corn gives you the benefit of whole grain because you get the benefits from all three components of the whole grain.
Fiber
One benefit of whole grains is fiber. Popcorn provides about 4 grams of dietary fiber for every 4 cups of popped corn. Most Americans do not consume their recommended daily intake of fiber. For men its 38 grams and women is 25 grams a day. Adequate fiber helps you stay regular, lower risk of cardiovascular disease, reduce blood cholesterol and type 2 diabetes by regulating blood sugar.
Bottom line, popcorn is good for everyone unless you are allergic to corn. Some individuals may experience this allergy.
Polyphenols
The University of Scranton reported a study in 2012 that found the antioxidant concentration of popcorn to be much higher than anticipated. In fact, the study found the concentration of polyphenols in popcorn surpassed that of most fruit. Popcorn is only 4 percent water, compared to the 90 percent water content of most fruits and vegetables, so the polyphenols aren't diluted at all. These nutrients were found within the hull and so popcorn without the hull may not contain this healthy antioxidant.
According to research in a 2013 issue of Nutrients, polyphenols possess numerous health benefits, including the prevention of degenerative diseases such osteoporosis, cardiovascular disease, cancer, neurodegenerative diseases and diabetes. Don't ditch your fruit just yet, however; popcorn doesn't have all the vitamins and minerals offered in many fruits.
Air pop or use coconut oil to pop whole kernels. Lightly season it with sea salt or a very small bit of butter, if you can't eat it any other way.
Nutrition Facts About Popcorn
Popcorn can be a perfect snack for people who are looking to eat healthier or to lose weight. Even if you're not trying to lose weight, popcorn is whole grain food that offers many of the same benefits of corn, rice, wheat, barley, and oats.
The nutrition information is provided by the USDA based on 3 cups of popcorn (24g) air-popped without added butter, salt, or oil.
Calories: 93
Fat:1g
Sodium:9mg
Carbohydrates:6g
Fiber:6g
Sugars:2g
Protein: 3g
Micronutrients in Popcorn
Believe it or not, popcorn offers an impressive amount of essential vitamins and minerals. This is based on the reference dietary intake (RDI) issued by the U.S. food and Drug Administration, on a single 3 cup serving of air-popped popcorn.
Iron: 4.2% of the RDI
Copper: 13% of the RDI
Magnesium: 36% of the RDI
Manganese: 56% of the RDI
Phosphorus: 36% of the RDI
Potassium: 2% of the RDI
Vitamin B1 (thiamine): 7% of the RDI
Vitamin B3 (niacin): 12% of the RDI
Vitamin B6 (pyridoxine): 8% of the RDI
Zinc: 21% of the RDI
Nutrition Information for Common Toppings
Below are some nutritional information for common toppings on popcorn.
Popcorn popped in oil: Provides 192 calories and 14 grams of fat per 3 cup serving.
Butter topping: Adds another 102 calories, 12 grams of fat, 7 grams of saturated fat, and 91 milligrams of sodium.
Grated parmesan: Adds another 22 calories, 2 grams of protein, 1 gram of fat, and 76 milligrams of sodium per tablespoon.
Note: The average movie house popcorn, topped with buttery powder knowns as Flavacol, delivers 20 grams of fat, 300 milligrams of sodium, and 40 grams of carbohydrates.
Digestion
Most of the fiber in popcorn is insoluble, the type that helps keep you regular. Rather than drawing water from the intestines, it builds bulk in stool and speeds the transit time through the intestines. It works much in the same way as psyllium, providing gentle relief of constipation while reducing the risk of hemorrhoids and gut infections.
The fiber in three cups of popcorn is equal to that of one cup of cooked brown rice or oatmeal. While this shouldn't suggest that popcorn is a reasonable substitute for nutrient-packed whole grains, it does illustrate popcorn's value in maintaining a healthy balanced diet and good digestion.
Popcorn Helps Control Weight
Popcorn is all starch but light in weight. What this means is it does not need to be converted by the body into carbs and fats. This is what fattens you up. On the plus side, popcorn is low on sugar content. This will not cause the blood glucose to spike on the inside of the body like other snacks tend to do. So, you can consume popcorn even if you have diabetes.
Because of its low calorie content, low energy density, high fiber content and increased satiety, eating popcorn may help you eat fewer calories and lose weight.
This is just a healthy snack provided you don't add lots of toppings.
It's best to keep salt, butter and additional toppings to a minimum to enjoy the healthful benefits of eating popcorn.
Conclusion
I think you can agree, popcorn is a healthy snack. It even provides some healthy bonuses to your health like vitamins, minerals and fiber. The main issue is the amount of toppings individuals put on their popcorn. This is where the healthy part of the popcorn breaks down.
We also shared information that popcorn is virtually good for everyone accept for those who are allergic to corn. So, enjoy eating your popcorn and limit those toppings. If you do, you reap all of the benefits mentioned in this article.
We shared the ingredients movie theaters use when making their popcorn. You know the secret ingredient of Flavacol. So, the next time you have family movie night, the members of the household just might say "hey dad" the popcorn tastes just we are at the movies.
Happy popcorn eating!
Go back to the Pros Cons Shopping home page.