Losing Weight Can Be Fun Using An Exercise Bike!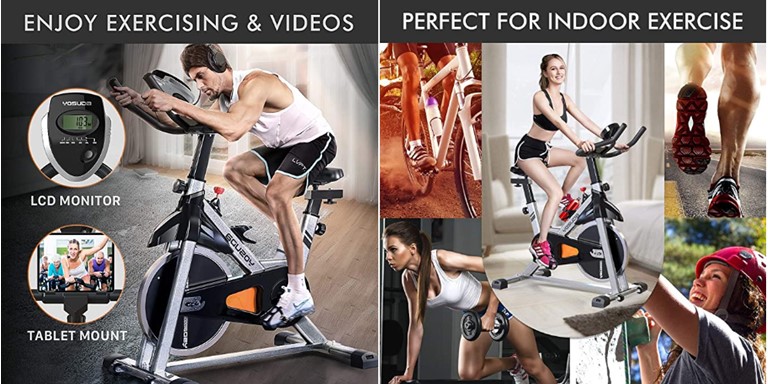 Just Think! 
✓ Comfortable & Adjustable Seat
✓ Adjustable Handle Bars
✓ Frame Made of Heavy-Duty Steel
✓ Monitors Your Time, Speed and Calories Burned
✓ Move Bike Easily Using Transport Wheels
✓ Fits Tall & Short Riders with Ease
–
An Excellent Indoor Exercise Bike To Remove Excess Pounds! 
✓ Water Bottle Holder
✓ Resistance Is Adjustable For A More Challenging Workout
✓ Track Distance Traveled with Odometer
✓ 35 lb. Flywheel
✓ Ride Comfortably With A Superior Soft Cushion
–
YOSUDA indoor cycling bike can make your exercise routines a joy to look forward too. These bikes are also known as stationary bikes. Using these bikes is a great way to track your exercise, number of calories burned, miles traveled, and weight lost. For the most effective usage of the exercise bike it's recommended to try to schedule 30 minutes for each workout. This only needs to me done a few days a week.
As you start your exercise routine you will be amazed how easy it is to lose those excess pounds you have been trying to remove for years. Now, you can schedule your workouts according to your situation and times that are available to you.
The most important thing to do is to try to schedule your workouts at the same time of the day. Most fitness experts agree that riding a bicycle is one of the best cardiovascular and muscular endurance/strength exercises people can do to lose weight or improve their health.
You will no longer have to get up early to get to the health club to hold your daily workouts as they can be done right in your own home. This cycle bike will allow you can get your exercise in before you go off to work. How great is that!
Video of Using The YOSUDA Indoor Bike
Below is a short video of this exercise bike.
Differences between Exercise and Spin Cycle Bikes
Many of you are aware of exercise and spin cycle bikes but there are differences between them. They both are stationary but the biggest difference is the flywheel. On exercise bikes the flywheel does not have much resistance when pedaling. On spin bikes the flywheel is heavier and also has a resistance knob to increase or decrease resistance as you are riding. This allows the rider to use more energy while cycling to burn off more calories per session.
YOSUDA Indoor Cycling Bike
Model Number: L-001A ASIN: B07D528W98 Ratings: 3,728 Score: 4.4
Awards: Amazon's #1 Best Seller
This indoor cycling bike can be easily moved around using the front mounted wheels. As you exercise your pounds away you can monitor your results with the LCD monitor. This monitor will track your time, speed, distance, calories burned and odometer. While you are exercising you can enjoy listening to music or watch videos with the iPAD holder and flat bracket. All of the parts are protected with a 1-year parts replacement warranty. It has a comfortable seat that is adjustable going forward, backward, up and down, so it should fit most people tall and short. Adjustable cage pedals on spinning bike protects you from a fast ride. Press the resistance bar to stop the flywheel immediately. The water bottle holder allows you to replenish water as you are riding. Transport wheels help you easily move this cycle machine from one location to another.
PROS
Flywheel is 35 lbs.
Comfortable Seat
Frame is made of heavy-duty steel
Transport Front Wheels
Silent belt drive system
It has a smoother and quieter ride that won't disturb neighbors or sleeping kids
Water bottle holder
Silent belt drive
Adjustable seat and seat post
Adjustable handle bar post
Padded seat for comfortable ride
LCD monitors speed, time, distance, calories burned and odometer
iPad mount
270 lbs. weight capacity
CONS
Price
Assembly is required allow up to 1 hour
OTHER KEY FACTS
Manufacture: YOSUDA
Model: L-001A
Weight: 69 lbs.
Dimensions:16 x 21.65 x 46.06 inches
Batteries: 2 AA Required (Included)
Flywheel: 35 lbs.
Break Pad: Yes (Extra Pad Included)
Cage Pedals: Yes
Adjustable Seat: Up/Down & Front/Back
Adjustable Handle Bar: Up/Down
Adjustable Resistance: Yes
Digital Monitor: Yes
Drive System: Belt Drive
Resistance: Friction Resistance, Adjustable
Horizontal Adjustment Knob: Yes
Inseam Height: 25 – 35 inches
Maximum User Weight: 270 lbs.
Warranty: 1-Year All Parts
In The Box: Frame, Extra Brake Pad, Tool Kit, Installation Manual, Multifunction Monitor, iPhone Holder, Cage Type Pedals
Shop YOSUDA Stationary Exercise Bike
Shop for this wonderful indoor exercise bike. You will be taken to Amazon to place the order.
YOSUDA Bike
 
Go back to the Pros Cons Shopping home page.