Hand Blenders Make Foods Come Together!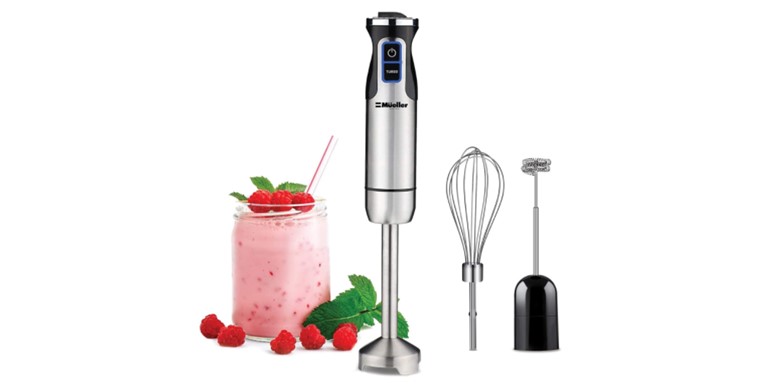 A hand held blender is an appliance that allows you to puree, mix blend and chop for great tasting foods. Helps make food preparation a lot easier. Now, make homemade recipes come to life with ease. The best rated hand held blenders provides you with a list of the top rated blenders on the market.
If you are a person who likes to cook and make homemade recipes a hand held blender may be an appliance you need to make great tasting foods.
There are a lot of utensils in the kitchen but a hand held blender may be the most useful one. One of these tools is an immersion or stick blender. The blenders come in cordless or corded models.
This appliance makes soups, purees, smoothies, mixes drinks, and a lot more. This appliance works well with either hot or cold liquids.
Advantages of Hand Blenders
Let's give you some benefits of hand held blenders.
They are small and portable: They fit in the hand very nicely so it's easy to use. With kitchen space being limited, it's an appliance that will come in handy. A cordless model takes even less space than one with a cord.
Versatile: A great feature of these blenders is their versatility. They chop as well as blend. Make smoothies, baby food, beating eggs and whipping cream and the list goes on.
Silent Operation: Most of these blenders are very silent during operation since the motor is covered in the handle.
Cleanup: These blenders are very easy to clean after use. Most of these blenders are waterproof.
Better Efficiency: This tool is not limited to a bowl size. It can be used in a pot, pan or bowl. Easy to work with large amounts of liquids and soft ingredients. You can also use this tool even with hot liquids.
Materials: Blenders are made with plastic or stainless steel shafts. If you choose a plastic model, be sure it's BPA-Free food grade plastic. If you can afford it, select the stainless steel model.
Tips for Choosing The Best One For You
As you are looking through blender brands, you can look for some of the following features:
Suitable Motor: Look for a model that the motor will provide the power you need to perform the tasks you will be using it for. 100-200 watts good for pureeing. 200-300 watts for chopping. 400 watts or more crushing ice and other heavy tasks.
It's Design: Look for a model that will be comfortable to hold and easy to use. The power button should be easy accessible during use. Lastly, it should be lightweight so it's easy to carry around and store.
Cleaning: Many of these models have a shaft that's detachable which makes cleaning them a lot easier. Models that don't have this feature, might get damaged during washing.
Attachments: The more of these the better as you can do more with the blender. Look for attachments you need to use for most of your foods that require its use.
Warranty: Witch ever model you buy, be sure it has a warranty to cover it. When looking for the best warranty also look for if the company has good customer service. You can check this out by reading answered questions, and customer reviews.
Now, that you are armed with this information, you are ready to look for the blender that is best for your needs.
Shop Hand Held Blenders
You can shop for hand held blenders by clicking or selecting on a blender of interest. You will be taken to Amazon where you can place the order, read customer reviews and answered questions before purchase.